Growing up in the porn capital of the world in the 80's and 90's, I inevitably developed a valley accent. One night I said to my dad over a dinner of Trader Joe's quiche, 'Is this crust, like, whole wheat?' My dad smirkingly replied, 'It's not only like whole wheat, it is whole wheat.'
You thought you were pretty clever, huh, dad?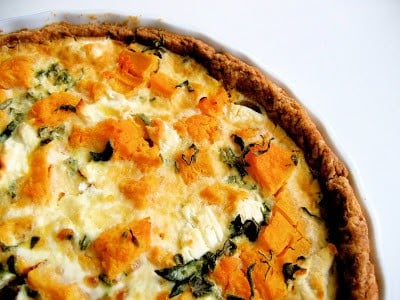 The nutty richness of this tart crust reminds me of those heady days spent shopping at the mall, seeing movies at the mall, and just hanging out… at the mall. Of course, it never got as cold in LA as it does here. A snap like this makes it virtually impossible not to make a savory roasted squash tart with gruyere, goat cheese and truffle oil.
I mixed up a sourdough pate brisee, let it chill, then rolled it out and fitted it into a ceramic tart pan, which I like to use when making custard based tarts. While living in Santa Cruz, transitioning from a valley girl into a dirty hippy of whom people would often say, 'Wow, I can't believe you're from LA,' I once had the traumatic experience of making a quiche with a quinoa flour crust. I know; I'm better now. Since quinoa contains no gluten, my parbaked crust ended up peppered with dozens of tiny cracks and holes. I thought, what the heck, and poured my custard filling into the crust, which had been baked in a tart pan with a removable bottom. No, I had not placed the pan on a rimmed baking sheet. Yes, the filling leaked all over the oven. Disaster. Now I fearlessly use a one piece ceramic dish when making custard-based tarts, and I also reserve the dough scraps so that if the crust bakes up with a tear or hole, I simply patch it up before pouring in the filling. If using a two-piece pan, though, for the love of god, set it on a rimmed baking sheet before you go putting it in the oven willy-nilly. Unless you like scraping up burnt egg from the oven floor, in which case, don't listen to me.
For the filling, I sauteed some chopped leek in butter and olive oil (yes, everything needs some of both) then tossed it with some white truffle oil, a secret weapon that I keep hidden in the cupboard which gives any food you put it on what the French call a little 'I don't know what.' Cauliflower velouté, potatoes dauphinoise, wild mushroom duxelles, you name it. I have yet to make truffle oil ice cream, but it's only a matter of time.
The leek got layered in the shell along with grated gruyere, cubes of roasted winter squash, goat cheese, sage, and some eggs beaten with milk and cream. Baked for 40 minutes and voila. The squash cubes make a pretty mosaic when the tart is sliced, and the velvety pockets of warm goat cheese contrast the flakey, crisp tart shell. Just the sort of thing to eat on a frigid 40º San Francisco evening… or morning.
My ideal accompaniment to this tart would be a crisp salad of arugula and chicories and a glass of sauvignon blanc or cava. It would be, like, rilly good.
Roasted Winter Squash Tart with Gruyere, Truffle oil and Sage
Makes one 10″ tart
Sourdough pate brisee:
You can substitute any pie dough for the crust, such as a half batch of
Martha's pate brisee
. I prefer the following recipe as I always have an abundance of sourdough starter to use up. The starter gives the crust a little extra flavor and flake.
1 1/4 cups flour (all purpose, whole wheat or spelt, or a combination)
1/2 cup (4 oz.) unsalted butter, cold, cut into 1/2″ dice
1/2 teaspoon salt
1/4 – 1/2 cup liquid sourdough starter, cold or room temperature
Combine the flour and salt in a medium bowl. Add the butter and work with your fingertips or a pastry blender until the mixture resembles coarse meal with some larger, pea-sized chunks remaining. Gradually add the starter tossing the mixture with a rubber spatula or your hands, pressing it against the sides of the bowl, until the dough barely holds together when squeezed. You may not need all the starter, or you may need to add more. Gather the dough into a ball, put it in a plastic bag, and squash it into a 6″ disc. Chill at least 1/2 hour.
Place a rack in the lowest position of the oven and place a baking stone on it if you have one. Remove the other racks. Preheat the oven to 400º.
On a lightly floured surface, roll the dough into a 12″ round. Fit into a 10″ tart pan, double over the sides and press to even them out. They should be flush with the top of the pan. Chill at least 1/2 hour.
Line the crust with parchment paper and pie weights, dry garbanzos or cleaned pennies (I keep mine in a cheesecloth bag and put the whole thing atop a round of parchment placed in the crust). Press the weights so they snuggle into the corners, and bake on the stone until the bottom is mostly dry, about 10 minutes. Carefully remove the weights and parchment and continue baking until the bottom is dry and firm, another 10 minutes or so. Lower the oven to 375º.
Tart filling:
1 large leek, sliced, washed thoroughly and drained
1 tablespoon butter
1 tablespoon olive oil
1 teaspoon white truffle oil
2 oz. gruyere cheese, grated
1 1/2 – 2 cups roasted winter squash cubes (roast squash, cool, peel and cut into 1″ cubes)
2 oz. fresh goat cheese
2 tablespoons slivered fresh sage leaves
2 large eggs
3/4 cup whole milk
3/4 cup heavy cream
salt
Melt together the butter and olive oil in a medium skillet over medium heat. Saute the leek with 1/4 teaspoon salt until very tender and beginning to brown in places, 10 – 15 minutes. Remove from heat and toss in the truffle oil. Set aside.
Sprinkle the gruyere evenly over the bottom of the parbaked tart shell. Sprinkle the leeks over the cheese, then the squash chunks and the goat cheese in marble-sized bits, and finally the sliced sage. Sprinkle 1/4 teaspoon salt over the squash. Beat together the eggs with 1/2 teaspoon salt until very smooth, then beat in the milk and cream.
Place the tart on the baking stone and carefully pour in the milk/egg mixture until the tart is as full as possible without overflowing. (A tip from the
Tartine
cookbook: when the custard has barely set, make a small hole in the center of the tart with a knife, and pour in any extra custard.) Bake at 375º until slightly puffed, set, and browned in places, about 40 minutes. Remove and cool slightly before slicing into wedges and serving.