These thick and chewy chocolate chip oatmeal cookies can be made wheat-free with spelt flour. (Make these if you're looking for gluten-free chocolate chip oatmeal cookies!)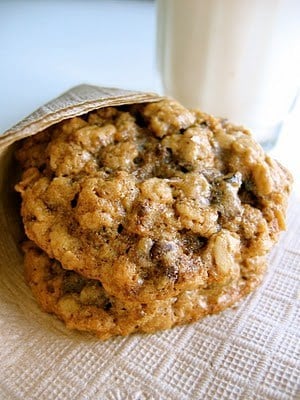 When the weather turns cold and rainy, I find few activities as satisfying as baking chocolate chip oatmeal cookies. Curling up in bed with a cup of tea and a juicy novel can be nice. Watching Fawlty Towers while munching homemade popcorn is grand. A hot bath and the music of the rain's rhythmic drumming has its charms.
But nothing really does it quite like baking the aforementioned cookies. You turn on the oven to preheat, hoist your stand mixer down from where it lives on top of the fridge, get out a couple of baking pans, and set to work.
But what's this? You don't own a stand mixer/are too lazy to haul it down from the top of the fridge? Well, well. Have I got a recipe for you.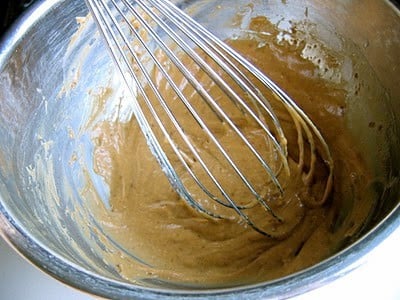 Years ago, I got super spoiled by Cook's Thick and Chewy Chocolate Chip Cookies, in which the butter gets melted and effortlessly stirred into the eggs and sugar rather than laboriously creamed. Not only were these the yummiest chocolate chip cookies I'd ever made, they were also the quickest and easiest.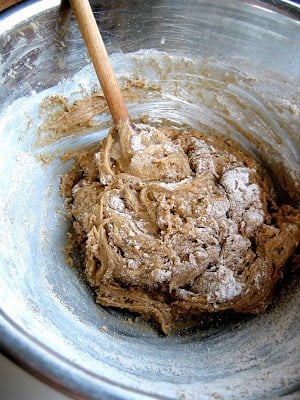 I knew in my heart that there must exist a similarly simple recipe for chocolate chip oatmeal cookies, which happen to be both Jay's fave cookies and THE essential bojon rainy day baking activity. But I never found it and remained too chicken to try melting the butter in a regular creaming-method-style recipe.
I also hadn't found the perfect recipe for this type of cookie yet. Some contained ingredients that I found superfluous, like orange zest or spices. Some spread too much, some not enough. Some were tooth-achingly sweet, or not oaty/chocolaty enough. Some called for stirring melted milk chocolate into the batter, which tasted good, but I don't usually keep milk chocolate in the house, and schlepping out in the rain to buy milk chocolate is certainly not up there on my list of ideal rainy day activities. Not at all, at all.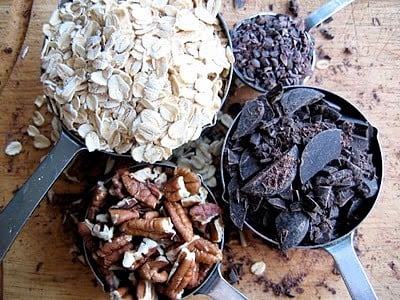 So one night, Jay and I found ourselves at the home of our friend. After dinner, she oh-so-casually got some cookie dough out of the fridge and baked it off.
And it was then that I tasted the perfect chocolate chip oatmeal cookie.
When I asked (begged! pleaded!) for the recipe, she replied nonchalantly, 'Oh, I just got it off the back of the oats container. But I use whole wheat flour instead of white, and I melt the butter.'
Bingo!

Maldon salt's pyramid-shaped crystals - pretty, and tasty, too
She kindly wrote out the recipe, and I've been in oatmeal chocolate heaven ever since. Jay, too.
I've come to make several minor tweaks to the recipe, like doubling the specified amount of nuts (toasted pecans) and chocolate (70% wafers chopped into chunks). I also add some cacao nibs and flaky salt to the batter, because they pretty much make everything better. And I use whole spelt flour in place of the wheat, and unrefined sugar in place of the brown, because I am a dirty hippy.
Just kidding, it's because I like the rich flavor they both add to the cookies.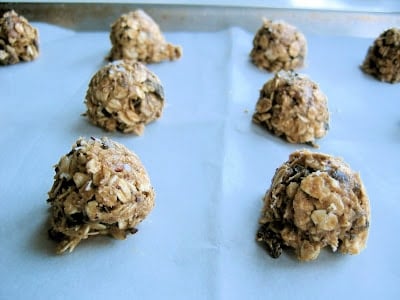 Mostly oats and other goodies bound together by a toffee-flavored dough, these cookies stay moist and chewy for up to several days. A few flecks of Maldon salt on top make them extra addictive.
But don't worry too much; they're fairly healthy, as far as cookies go. And not difficult to make. Or eat. Not at all, at all.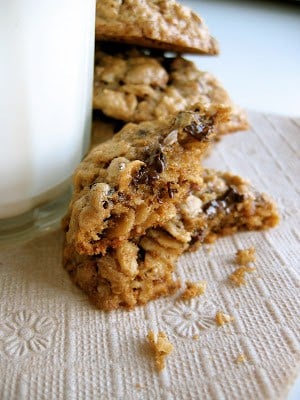 More oatmeal cookie recipes:
*Bojon appétit! For more Bojon Gourmet in your life, follow along on Instagram, Facebook, or Pinterest, purchase my gluten-free cookbook Alternative Baker, or subscribe to receive new posts via email. And if you make this spelt flour chocolate chip oatmeal cookie recipe, I'd love to know. Leave a comment and rating below, and tag your Instagram snaps @The_Bojon_Gourmet and #bojongourmet.*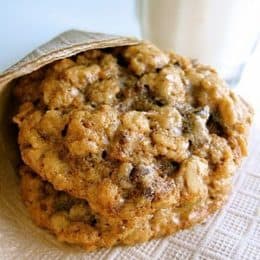 Nibby Chocolate Chip Oatmeal Cookies
Print Recipe
Pin Recipe
The perfect oatmeal chocolate chip cookies, with extra goodness from (optional) cacao nibs.
Servings:
24
2 to 3-inch cookies.
Ingredients
4

ounces

unsalted butter, melted and cooled

(1 stick, 1/2 cup)

1

egg

3/4

cup

packed unrefined sugar (4 1/4 ounces, preferably Alter Eco brand)

or light brown sugar (6 ounces)

1

teaspoon

vanilla extract

3/4

cup

whole spelt flour (or whole wheat pastry flour or all-purpose flour)

1/2

teaspoon

baking soda

1/4

teaspoon

sea or kosher salt

1/4

teaspoon

flaky salt, such as Maldon, plus extra for sprinkling

1 1/2

cups

old-fashioned rolled oats

(5 1/2 ounces)

1/2

cup

pecan halves, toasted, cooled, and broken into coarse pieces

1/2

cup

dark chocolate wafers, coarsely chopped

(3 ounces)

2

tablespoons

cacao nibs (optional)
Instructions
Position two racks in the upper and lower thirds of the oven and preheat to 350º. Line two baking sheets with parchment paper.

In a large bowl, whisk together the sugar and egg until combined. Whisk in the melted and cooled butter, then stir in the vanilla.

In a medium bowl, whisk or sift together the flour, baking soda and sea salt. Stir the flour mixture into the egg mixture until almost combined, then stir in the flaky salt, oats, nuts, chocolate chunks and nibs until just combined.

Drop the dough by heaping tablespoons (or use the purple-handled spring-loaded ice cream scoop) onto the lined baking sheets, spacing them at least 2 inches apart. Flick a few grains of flaky salt on the tops.

Bake the cookies until just set on the edges, and puffed and wet in the centers, 10 - 12 minutes, rotating front to back and top to bottom halfway through. The cookies will look underdone, but will continue to cook as they cool. (If you accidentally over bake, remove the cookies from the pans and onto cooling racks immediately.) Cool the cookies completely on the pans. Store in an airtight container at room temperature for up to a few days.
Notes
Feel free to double this recipe, as this makes a fairly small batch of cookies, as far as batches of cookies go.
If you don't want to eat them all at once, scoop the remaining dough into balls and store in an airtight container in the fridge (the dough is hard to scoop when cold). Cookies baked from chilled dough don't spread as much, yielding a thicker cookie.
Variation: Coconut Pecan Oatmeal Cookies
My teacher from pastry school, Claire, came up with this version. Omit the chocolate and add 1/3 cup shredded coconut or coconut flakes and 1/4 cup raisins along with the nuts. Feel free to add a little cinnamon here if you like!
Nutritional values are based on one of twenty four cookies.
Nutrition
Calories:
113
kcal
Carbohydrates:
12
g
Protein:
1
g
Fat:
6
g
Saturated Fat:
2
g
Cholesterol:
18
mg
Sodium:
73
mg
Potassium:
26
mg
Fiber:
1
g
Sugar:
6
g
Vitamin A:
130
IU
Calcium:
6
mg
Iron:
0.5
mg