This Moroccan-inspired cocktail fuses two of my favorite drinks: Moroccan mint tea and Cuban mojitos, all kissed with cardamom and rosewater. Simple, refreshing, and complex!
Find all my favorite cocktail recipes here.
I often notice bartenders.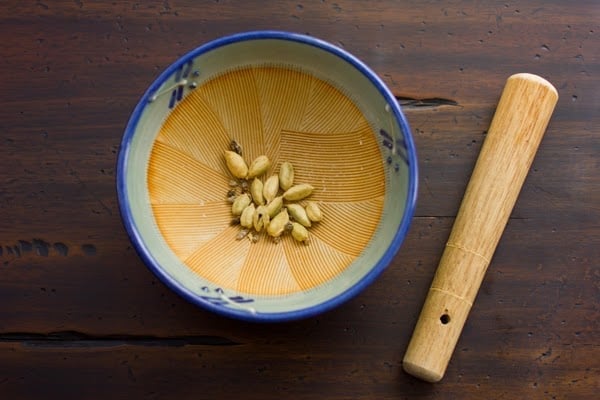 Erm, that is to say, I often notice bartenders tasting cocktails before serving them to customers. They stick a straw in the glass, stop up the straw with a finger, and lift the liquid-filled straw to their lips, usually pronouncing the beverage in question adequately quaffable before sliding it across the bar to a waiting customer.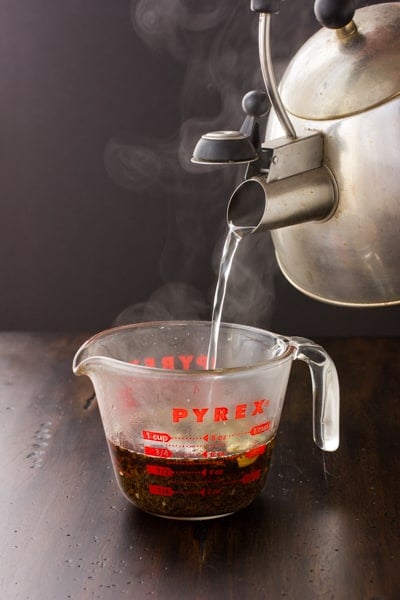 I always assumed that they performed this boozy ritual in order to get shitfaced. After all, why else become a bartender?
But I'm now realizing that tasting is just as important for bartenders as it is for cooks, as bar ingredients can vary in flavor just like those in the kitchen. Case in point, when developing this Moroccan drink recipe, I mixed up a pitcher using 6 tablespoons of lime juice to get the drink just tart enough.
The limes in question were on the yellow side, yellow actually being a sign of a ripe lime. They were also generous with their juice, and the finished drinks tasted perfectly balanced to my palate.
The next time I made a batch, I invited a friend over. She (very tactfully) suggested that the drinks were quite tart. I realized that she was spot on, and that this time the strength of the lime overpowered the other, more subtle flavors of black tea, cardamom and rose.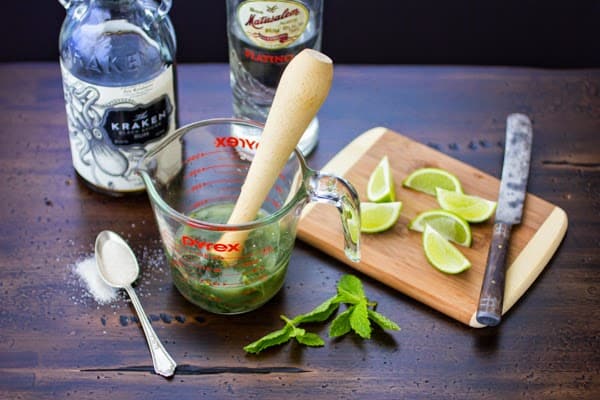 I chalked this up to faulty recipe writing on my part. But then a reader commented on my Sopa Azteca, saying she found the broth, which is full of lime juice, overly sour. I finally put it together that limes vary in tartness. Duh! That's why good bartenders taste test their creations, not just because they're complete lushes.
For my next batch, (speaking of complete lushes, we've gone through 6 pitchers by now) I dialed back the lime juice to three tablespoons.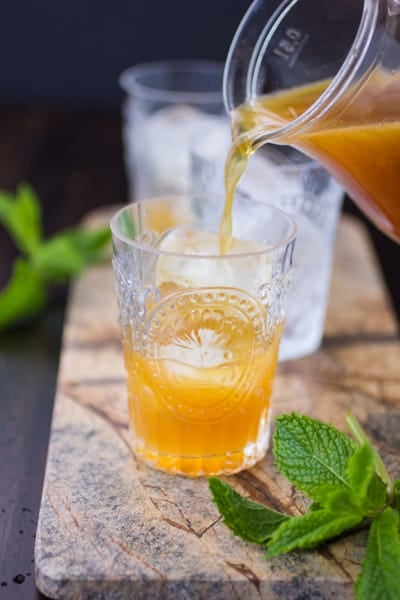 So what is this magical mixture of limey goodness? It's a drink based on a Moroccan Mojito recipe from Aziza that I found in an issue of Bon Appetit about 8 years ago. (Here's the original.) Made with cardamom, orange liqueur, lemon juice, and dark rum in addition to the usual mojito suspects, it became my favorite drink for several summers.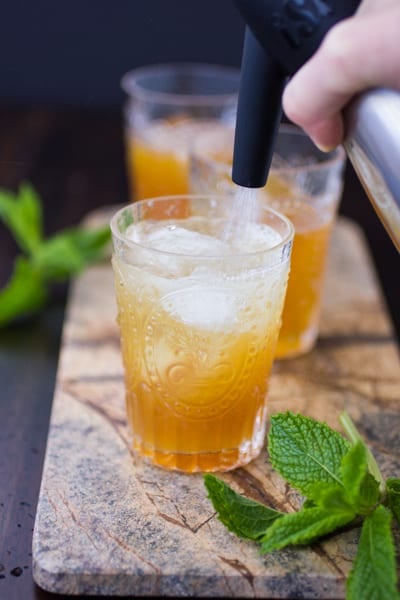 I decided to add tea to the mix, recalling the Moroccan mint tea I enjoyed one evening in London many years ago. Highly sweetened and flavored with black tea and fresh mint, my best friend and I drank it from ornate glasses in the company of some British gentlemen we had met at a club (who, for once, weren't bartenders).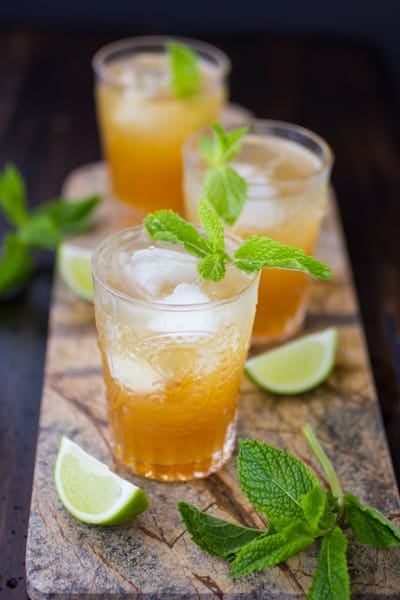 I tried using oolong in the mojitos at first, but the mild flavor just disappeared into the other ingredients. Black tea, an English Breakfast from our co-op, was the way to go. I nixed the orange liqueur and tweaked the other flavors to compensate for the bitterness of the tea. As a further deviation, I decided to add the cardamom to the steeping tea as this seemed to extract the flavor of the expensive spice better than muddling. I call them "Moroccan Mo-Tea-Tos;" they're my favorite drink of the moment.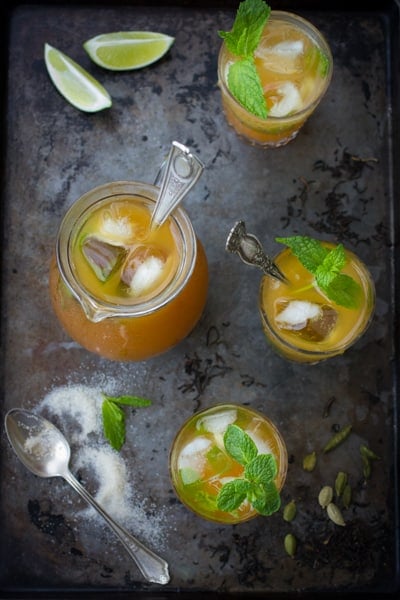 The tea, cardamom and rose blend together to create a mysterious backbone of flavor, setting off the bright citrus and cooling mint. The dark rum adds some light caramel notes, and the citrus and sugar keep the drink mildly sweet and refreshing. When I handed one to my sister, her eyes lit up upon the first sip and "Mmmmm!" emanated from her mojito-tasting lips. Since my sister is the mojito maven, I considered my mission accomplished.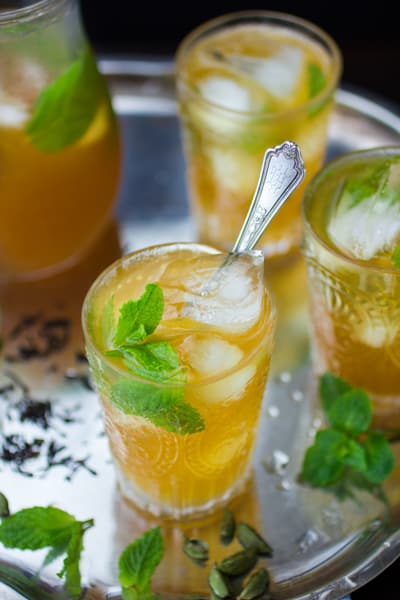 I hope you enjoy "taste testing" these drinks as much as I do.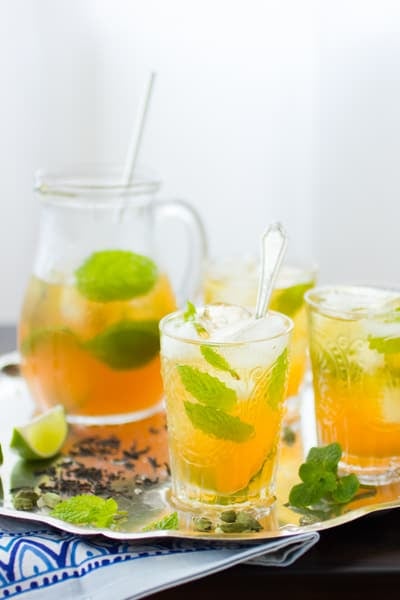 Cheers, you lushes. :)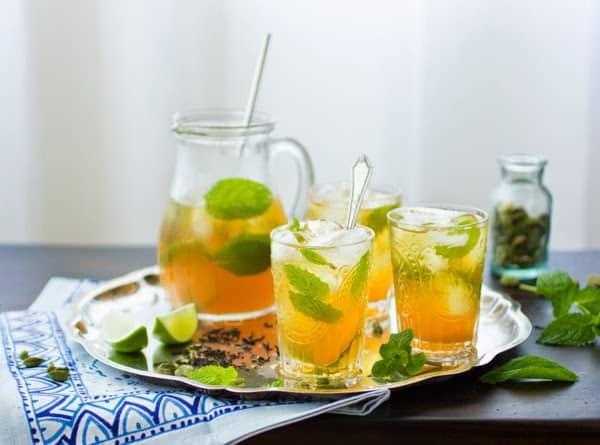 *Bojon appétit! For more Bojon Gourmet in your life, follow along on Instagram, Facebook, or Pinterest, purchase my gluten-free cookbook Alternative Baker, or subscribe to receive new posts via email. And if you make this Moroccan mojito recipe, I'd love to know. Leave a comment and rating below, and tag your Instagram snaps @The_Bojon_Gourmet and #bojongourmet.*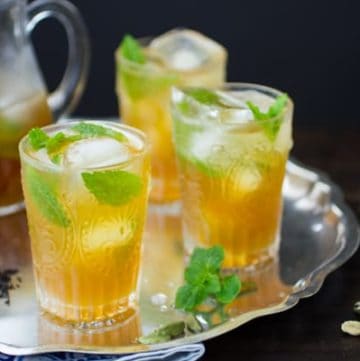 10-Minute Moroccan Mojitos
Print Recipe
Pin Recipe
This Moroccan-inspired cocktail fuses two of my favorite drinks: Moroccan mint tea and Cuban mojitos, all kissed with cardamom and rosewater. Simple, refreshing, and complex!
Ingredients
2

tablespoons

loose black tea leaves, such as English Breakfast

20

green cardamom pods, crushed

boiling water

(see instructions for amount)

3

tablespoons

sugar

(I use organic granulated)

¾

cup

packed fresh spearmint leaves, plus extra for garnish

2-3

tablespoons

fresh lime juice

2-3

tablespoons

fresh lemon juice

5

ounces

white rum

(½ cup plus 2 tablespoons)

1

ounce

dark rum

(2 tablespoons)

1 ½

teaspoons

rosewater

ice

sparkling water
Instructions
Make the cardamom tea concentrate:
Place the tea and crushed cardamom pods in a heatproof measuring cup, and add boiling water to bring the mixture to the ¾ cup mark. Let steep 10-20 minutes. (If finishing the drinks later, strain the tea mixture into a jar, squeezing the liquid out of the tea, and chill. The mixture may become cloudy; this is fine.)
Finish the mojitos:
Meanwhile, muddle the mint leaves and sugar together in another measuring cup to bruise the mint. Add the lime and lemon juices, starting with the smaller amounts; stir to dissolve the sugar.

When the tea has steeped, strain it into the mint mixture, squeezing the tea and cardamom pods to extract all the liquid.

Strain the mint/tea mixture into a pitcher, squeezing the leaves to extract all the liquid. Stir in the white and dark rums and the rosewater. Taste, adding additional lime and lemon juice if you like.

Fill four large tumblers with ice and several mint leaves. Divide the cocktail mixture among the glasses, leaving room for sparkling water. Top each with a bit of sparkling water, stir, and serve.
Notes
Inspired by Aziza's recipe via Bon Appetit.
This cocktail fuses two of my favorite drinks: Moroccan mint tea and Cuban mojitos, all kissed with cardamom and rosewater.
Since citrus fruits vary in tartness, start with the smaller amount of lime and lemon juice and add more to taste.
I use Matusalem white rum and The Kraken dark rum here.
If you wish to forgo the caffeine, use a decaffeinated black tea (green and oolong teas are too subtle in flavor).
All ounce measurements are by volume.
Nutritional values are based on one of four drinks.
Nutrition
Calories:
174
kcal
Carbohydrates:
18
g
Protein:
1
g
Fat:
1
g
Saturated Fat:
1
g
Sodium:
17
mg
Potassium:
160
mg
Fiber:
3
g
Sugar:
9
g
Vitamin A:
360
IU
Vitamin C:
9.9
mg
Calcium:
59
mg
Iron:
1.8
mg