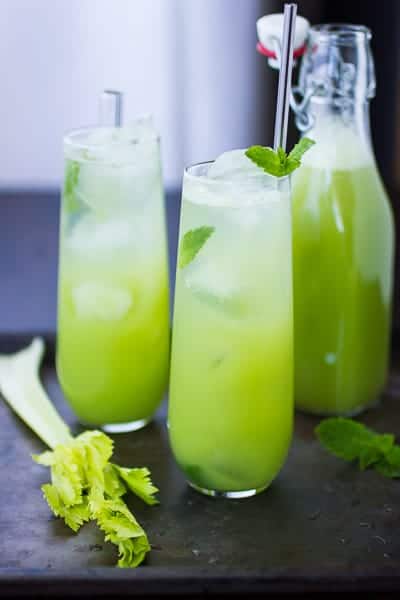 I never gave celery much thought. It was stringy and bland, a sometimes necessary component in soups or potato salad, easily substituted by its smaller and more flavorful cousin, fennel. I didn't like it dipped in peanut butter. I did like it filled with cream cheese, but only because anything will taste good with enough cream cheese on it.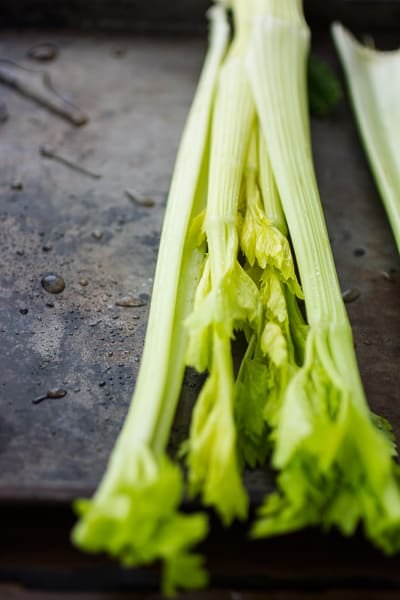 But that was before trying Chris Tunstall's homemade celery soda. Now I can't stop thinking about it.
Chris is the mixology maestro at Wayfare Tavern, and I had the pleasure of meeting him and his tech-savvy other half, Julia, at a food blogger meetup in April. Chris and Julia showed up with three large bottles of pale green liquid, which they poured into cups. Sips were taken, eyebrows raised, and the room was filled with exclamations like, "Wow, this is really good!" It was a hot day, and the crisp drink, slightly sweetened and punctuated by a touch of lemon juice, was all I ever wanted to ingest. I refilled my glass four times.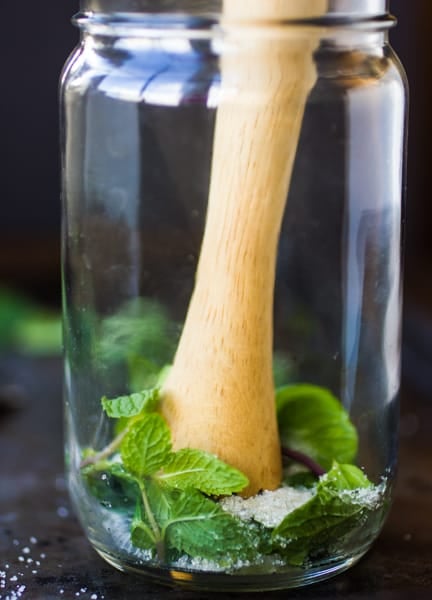 I grilled Chris about his celery soda-making method, which began by shoving a whole head of celery through a juicer. A juicer that I didn't have. I moped around the house a bit, contemplating whether a life without fresh celery soda was worth living, when, as luck would have it, my mom waltzed into town, dumped a Champion on our counter, and left. (Not before making me drink a vile concoction of ginger juice, lemon and oregano oil designed to knock out the cold I've had for the last week and a half, which made my whole body burn for about 20 minutes. Thanks, Mom. :))
It's been quite heatwavy here in San Francisco, and I can't seem to get enough of this soda. I add muddled mint to it, which brings a bit of depth and complexity to the mildly vegetal celery. (I tried juicing the mint with the celery, but it browned immediately, turning the drink a murky pond scum green. Muddling was [literally] the clear winner.) I find the slightly salty celery quite addictive, particularly on hot days; it soothes and cools in the same way as cucumber, which isn't yet in season here. As a bonus, celery is full of vitamin C and potassium, making this soda exponentially healthier than anything you can buy in the store. It's an all-around win.
I've heard that people who have recently acquired juicers tend to juice everything in sight for about a week, then relegate their juicer to storage. My theory is that these people don't actually like the taste of what's coming out of their juicer. They feel that they ought to juice for health reasons, but their heart and tastebuds aren't in it. To those people I say, make this celery soda – you will fall in love with your juicer all over again.
For those of you who don't have a juicer, don't despair! A couple of loverly posts (Reclaiming Provincial's A Walk in the Weeds [celery, gin and lime cocktail – yum!] and Minimalist Baker's Apple Carrot Beet Ginger Juice) have recently been written about juicing without one. Just chop up your celery, puree it in a blender or food processor, then strain the crap out of it with a fine sieve or nut milk bag.
If you want to add some hard stuff to this soft drink, go right ahead. We tried it with both gin and tequila. I think the salty bite of tequila (Cazadores) blends better with the celery, but Jay prefers the complex contrast of gin (we used Death's Door, but I think Hendrick's would be ideal, as per A Walk in the Weeds, linked above).
I like the soda plain best of all, however; a fact which I find about as shocking as my new found love of celery.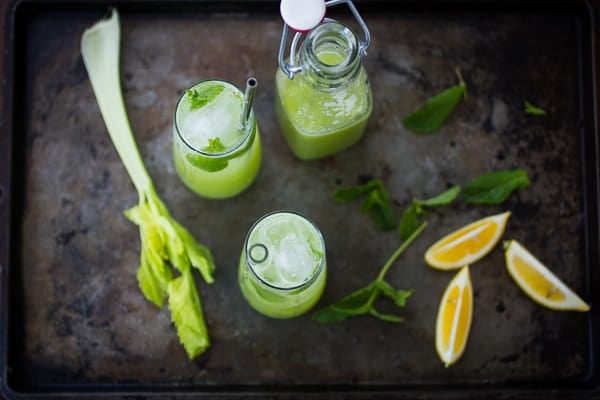 Good libations:
Strawberry Blood Orange Rum Punch
Pink Grapefruit Vieux Mot
Homemade Irish Cream Liqueur
One year ago:
Mint and Celery Soda
Inspired by Chris Tunstall
Conventional celery is one of the "dirty dozen" most contaminated vegetables, so I especially recommend using the organic stuff here (though if it were up to me, there would only be organically grown produce). I like this drink straight up, but try it with a shot of gin or tequila if you like. Grocery store celery tends to be more mild and watery than farmer's market celery, which can be dark green and have a sharper flavor. I used the mild stuff here. If using more intense celery, you could try adding more sugar, lemon and sparkling water. Oh, and don't try to be clever and juice the mint, too – mine oxidized instantly and turned the whole drink a revolting pond-scum green. Muddling is the way to go. If you don't have a juicer, see instructions in the post above for making juice without one.
Makes 2 large or 4 small drinks
leaves from 4 bushy mint sprigs, rinsed, plus extra for garnish
2 tablespoons organic cane sugar
1/4 cup strained lemon juice (from 1-2 lemons)
1 pound celery stalks (1 small head, or 1/2 of a very huge head), leaves ok, washed well
ice cubes
2-3 cups sparkling water
In the bowl or pitcher in which you will catch your celery juice, muddle together the mint, sugar and lemon juice until the mint is bruised. Place the pitcher under the spout of your juicer; the lemon will prevent the celery juice from oxidizing.
Juice the celery into the pitcher. Strain the mixture, squeezing the liquid out of the mint leaves. Pour the liquid into ice-filled glasses, top off with sparkling water to taste, and garnish with some fresh mint leaves.
This soda is best served shortly after being made, as the celery juice will eventually oxidize.