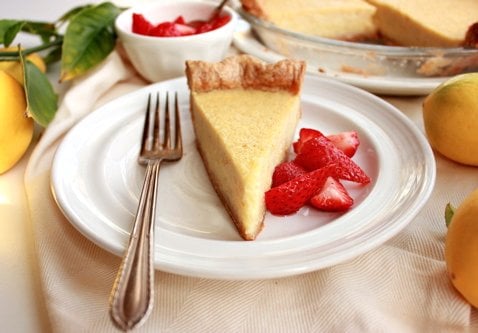 Full disclosure: I have never tasted a buttermilk pie other than this one (well, this one and the three incarnations that led up to it). Buttermilk pies are apparently a southern thing, and I've never been to the south (unless you count southern California, which you oughtn't). I had a chance recently at Chili Pies; but, typically, I went for the Mexican chocolate pecan instead. But I couldn't get the notion of lemon buttermilk pie out of my head. It seemed like just the dessert to transition from winter to spring. And while the pecan pie was good, I found it a bit sweet and bland when compared to my maple bourbon pecan pie(though, of course, I'm biased). So I wasn't about to shell out another five bucks for a piece of potentially mediocre pie when I could make one myself for little more.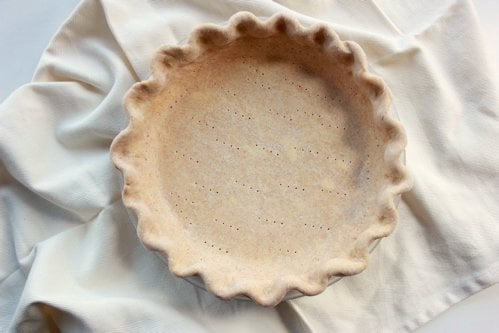 Opportunity arrived when some friends gave me a large bag of meyer lemons from their tree. I read through a dozen or more recipes, but didn't find anything that sounded definitive. I usually turn to Cook's for pie advice, as pies can be finicky and time consuming and pose myriad problems (soggy crust, wet filling) and after all that work, who wants something less than practically perfect? But it appears that Cook's cooks have yet to brave the buttermilk pie.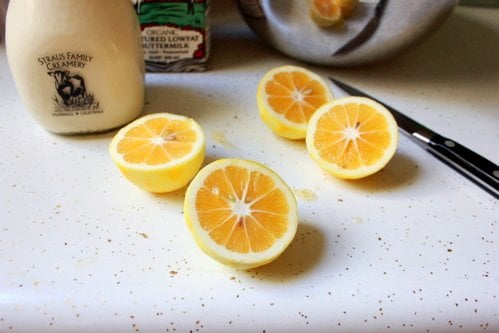 So it seemed I would have to be my own recipe tester. But the recipes that I researched varied so widely, I wasn't sure where to start. All asked for buttermilk and sugar, and either whole eggs or egg yolks. Most used a bit of flour, though amounts ranged from 1-4 tablespoons, and many called for butter, ranging from 0 - 8 tablespoons. Buttermilk ranged from 1/2 cup - 2 cups, and ditto for the sugar. Most asked for the zest of just one lemon, and some contained lemon juice as well, but only a tablespoon or two.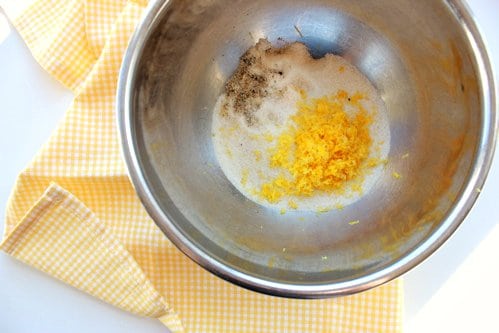 Despite not knowing how a buttermilk pie should taste, I did know how I wished it to taste. I wanted a substantial amount of buttermilk, more so than any other ingredient - it is a buttermilk pie, afterall - and I wanted the bright, floral flavor of the meyers to come through boldly. I wanted enough sugar for good flavor and to counter the tartness of buttermilk and lemon, but not too much as to be cloying, and I wanted just enough egg to set the pie without giving it an eggy flavor or texture. The addition of butter mystified me, and though I, clearly, love butter, I wondered if swapping it for heavy cream would result in a creamier, more custardy pie. I also love fresh vanilla beans with meyer lemons – the sweet, floral complexity of each heightens the other – so I wanted to add some vanilla seeds.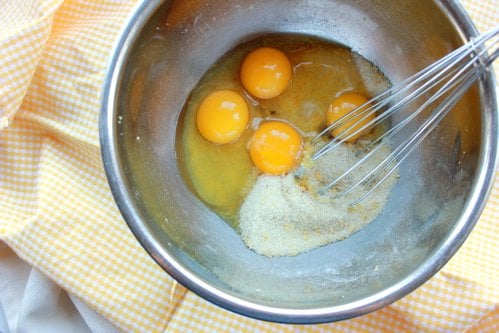 I took a stab at an initial recipe, using Heidi Swanson's maple buttermilk pie, and Cook's custard pie, as rough guides. I used the zest and juice of 2 lemons, two whole eggs plus 2 yolks for richness, 1 cup of sugar, 1/4 teaspoon salt, 1/4 cup flour, 1 1/2 cups of buttermilk and 1/2 cup of heavy cream. Most recipes I read called for adding the custard to an unbaked pie crust, but the photos of these showed a pale crust that probably didn't stay crisp for long, if at all. Heidi and Cook's both called for pre-baking the crust, which seemed like a no-brainer if other custard-based pies, and pies with wet, fruity fillings, were any indication.
I whisked together the custard, poured it into a hot, pre-baked crust and baked the pie at 350º until it was puffed but still wobbled slightly when jiggled, about 45 minutes; or at least, I tried. When I checked the pie halfway through the baking time, I saw that my poor, old oven had shot up to almost 400º. I waited for the pie to cool, then I chilled it as well. As it cooled, large, chasm-sized cracks formed in the face, I assumed, from overbaking. When I cut into the pie, however, the filling was barely set. The soft custard stuck to the knife, and though it tasted like a luscious pastry cream bursting with lemon flavor, it was just too soft to be a pie. (Not that that stopped myself or anyone else from devouring the whole thing in a day.)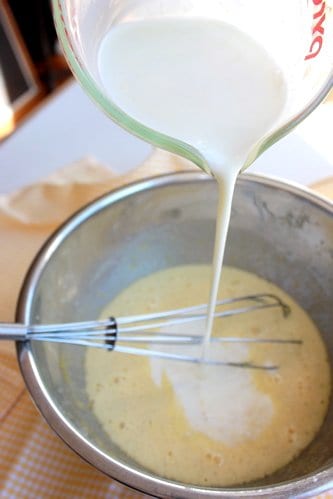 I turned back to Cook's custard pie recipe, which involves cooking the custard on the stove as though making a crème anglaise or pastry cream, then baking the filling briefly. This has proved a brilliant method in pumpkin and pecan pies, but I wasn't sure how the buttermilk would react when cooked like this: would it break or curdle the custard? I gave it a shot anyway, hoping that warming the custard first would lessen the baking time, keep the crust crisper, and prevent the cracking problem. I decided to try cornstarch as a thickener, as per the custard pie recipe and because I prefer the lighter texture of pastry creams thickened with cornstarch to heavier flour. As I stirred the custard on the stove, instead of thickening, it became thinner and thinner until it showed little flecks of white where the buttermilk solids had separated, not what I was going for. I poured the filling into the crust anyway, and it still needed 45 minutes in the oven to set. This pie was still tasty, but the texture, though firm enough to slice, carried the graininess of the cooked custard.
For trial 3, I began wondering about the butter. Maybe its purpose in this pie was to help it firm up when cool, so that the custard could be softly set, as in trial 1, but would become firm enough to slice. I tried substituting 6 tablespoons of butter for the heavy cream, and I warmed the eggs, lemon, sugar and flour on the stovetop, then whisked in the butter to melt it, then the buttermilk, in a similar method to making thisblood orange tart. But this filling, though sliceably firm when chilled, tasted too much like lemon curd to me. It was still tasty, but not the creamy custard I was going for.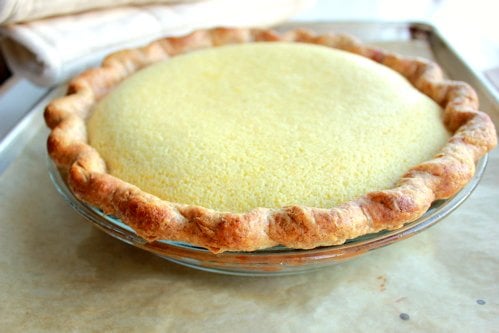 So for trial 4, I began wondering if the problem with trial 1, which was thus far my favorite pie in both texture and flavor, wasn't the method or the ingredient list, but merely the oven temperature and baking time. I decided to decrease the liquid in the recipe just a smidge: 1/4 cup less buttermilk and only 1/4 cup of lemon juice instead of the full 2 lemons' worth. This time I dialed down the oven temperature to 325º after pouring in the custard and kept a vigilant watch on the oven to make sure it never went higher than that. I baked the pie longer, for exactly 1 hour, until the pie puffed all over and was set when wiggled.
For trial 4, I also tweaked the crust. Inspired by Joy the Baker, I added a bit of buttermilk to the dough since I had it on hand, and, inspired by Heidi Swanson, gave the dough a fold as though making puff pastry. This yielded possibly the flakiest pie crust I had ever made, the dough supple and smooth to work with, the crust puffing high above the lip of the pan.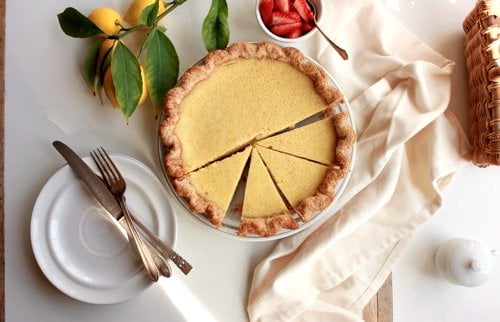 I cut into the cooled-to-room-temperature pie, and the filling held its shape beautifully. Shards of flaky crust shattered everywhere. The custard, laced with lemony threads of zest and dark flecks of vanilla bean, played against the salty crunch of crust, exuding flavors of sunshine and flowers. I fell in love with lemon buttermilk pie.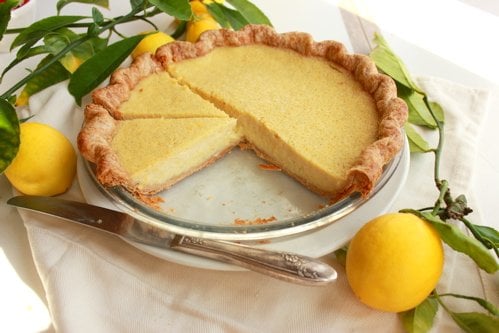 No dainty tart, this pie is thick and substantial, reminiscent of a flaky croissant slathered with lemon cream.It's the sort of dessert I want to both hoard for myself and make for everyone in the world, to spread the gospel of the luscious, rich, refreshing wonder that is meyer lemon buttermilk pie. We've almost made our way through 4 pies, and Jay is already requesting a fifth(!).
I can't believe it took me this long to bake/eat a lemon buttermilk pie; I'd recommend that you don't make the same mistake.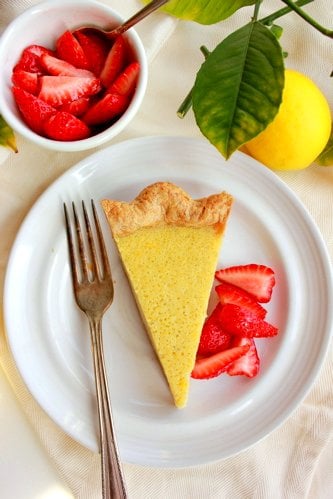 If you find yourself a) craving pie, b) impatiently awaiting the rhubarb and berries of spring, c) wondering how to make use of the meyer lemons on your/a friend's tree, or d) all of the above, bake up one of these pies. It's perfect plain, but it also makes a lovely foil for the berries of spring and summer. Or you could make a lovely plated affair with blood orange reduction and segments and a dollop of softly whipped cream.
Though I admit that my favorite way to eat this pie is standing over the pan, cutting slender slices with a knife and eschewing fork and plate in favor of my fingers.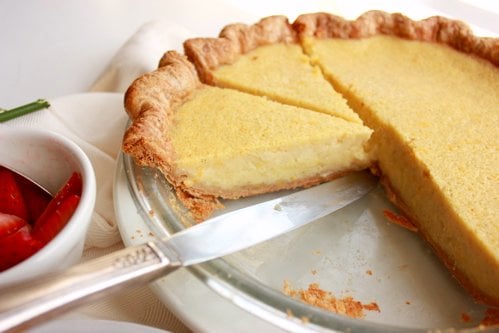 More Citrus Desserts:
*Bojon appétit! For more Bojon Gourmet in your life, follow along on Instagram, Facebook, or Pinterest, purchase my gluten-free cookbook Alternative Baker, or subscribe to receive new posts via email. And if you make this meyer lemon buttermilk pie recipe, I'd love to know. Leave a comment and rating below, and tag your Instagram snaps @The_Bojon_Gourmet and #bojongourmet.*
Meyer Lemon Buttermilk Pie
Print Recipe
Pin Recipe
A delicious buttermilk pie that is meant to be shared!
Servings:
8
to 10 servings.
Ingredients
Flakiest, all-butter pie crust:
3/4

cup

all-purpose flour

1/2

cup

whole spelt (or whole wheat pastry)flour

1

teaspoon

sugar

1/2

teaspoon

fine sea salt

4

ounces

cold, unsalted butter, in 1/2" dice

(8 tablespoons/1 stick)

2

tablespoons

buttermilk

2

tablespoons

ice water, more as needed
Lemon Buttermilk Filling:
1

cup

sugar

zest from 2 medium meyer lemons

seeds from 1 vanilla bean

1/4

cup

flour

1/4

teaspoon

salt

2

eggs

2

egg yolks

1 1/4

cups

buttermilk

1/2

cup

heavy cream

1/4

cup

meyer lemon juice, from 1-2 lemons
Instructions
Make the crust:
In a large bowl, stir together the flours, sugar and salt. Scatter the butter pieces over the flour, and rub in with your fingertips until the mixture resembles sand with lots of pea-sized butter chunks. Stir together the buttermilk and ice water. Drizzle this mixture over the flour mixture, 1 tablespoon at a time, tossing with a rubber spatula, until the dough will hold together when you give it a squeeze, adding more ice water by the teaspoon directly to the dry bits as needed.

You can call it here, or you can do either or both of the steps below for extra flake:
Option 1 - fraisage:
Dump the dough out onto a counter, divide it roughly into 6 portions, and fraisage by dragging a portion of dough across the counter using the heel of your hand. Scrape up the dough (a metal bench scraper works well here), gently press it into a ball and flatten into a disc. Slip it into a plastic bag, and chill for at least 30 minutes or up to 2 days.
Option 2 - roll, fold, roll:
On a lightly floured surface, roll the chilled dough out into a rough square that is about 1/4" thick. Fold it in thirds like you're folding a letter, then roll up from a skinny end into a loose spiral. Gently press to flatten it slightly, and chill for 30 minutes to 1 hour.

Remove the dough from the fridge, unwrap, and place on a lightly floured surface. Roll out the dough into a 12" circle, dusting the dough lightly with flour as needed, rotating and flipping it to prevent it from sticking. Ease the dough into a 9" glass pie plate, fit it into the corners, and trim it to a 1" overhang. Fold the overhang under, and flute the crust by pressing it between the thumb of one hand and the index finger and thumb of the other hand.

Chill the crust for 30 minutes or until solid.

Position a rack in the lower third of the oven and preheat to 400º. Remove all other racks from the oven.

Place the cold crust on a rimmed baking sheet. Line it with a piece of parchment paper, and fill with pie weights, dry beans, or clean pennies, pressing the weights into the sides and corners of the crust.

Bake the crust for 15-20 minutes, until the dough will hold its shape when you lift off the parchment, then remove the weights and parchment and bake until the bottom is dry and lightly golden, about 5 minutes longer. Keep the oven at 400º.
Meanwhile, make the filling:
Place the sugar in a medium bowl. Zest the yellow part of the lemons' peel directly into the sugar to catch all the oils. Slit the vanilla bean down the center and use the back of the knife to scrape out the seeds, and add them to the sugar. Rub the sugar with your fingertips until it feels damp and slightly clumpy.

Whisk the flour and salt into the sugar until no floury lumps remain, then whisk in the eggs and yolks until smooth; whisk gently to avoid incorporating excess air into the batter.

Slowly whisk in the buttermilk, then the cream and lemon juice until smooth.

If your pie crust has cooled, return it to the oven for about 5 minutes to get it hot. With the par-baked crust still in the oven, carefully but quickly pour the filling into the crust. Close the oven door and decrease the oven temperature to 325º.

Bake the pie at 325º until just set, about 55 minutes. It will be puffed all over, and will barely wiggle when you give it a shake. Cool the pie completely, about 2 hours, then serve at room temperature or chill (chilling will give you cleaner slices).

The pie is best at room temperature shortly after cooling, but store extras in the fridge; they will keep well for up to 3 days.
Notes
This pie is at its peak the day it is baked, when served at a cool room temperature.
The crust needs several bouts of chilling, and one of par-baking, but any or all of these steps can be done ahead.
Once the crust is ready, the filling takes just a few minutes to whisk together, an hour to bake, and about 2 hours to cool fully. Chilling the pie will give you cleaner slices, but I like the flavors and textures best at room temperature.
This pie is excellent on its own, but you can dress up plates with berries, whipped cream, slices of blood orange and/or a drizzle of blood orange reduction.
You can make the pie dough in a stand mixer, with a paddle attachment, on low speed if you prefer. If you go to the trouble of giving the dough the fraisage and extra folds, which make it flaky almost to the point of puff pastry, I would recommend making a double batch.(See this post on making puff pastry for photos of the fraisage/rolling/folding process.). The extra portion of dough can be kept, double-wrapped, in the freezer for up to a couple of months. (Defrost in the fridge overnight, then roll it out and proceed with any single-crust pie recipe.)
Save your vanilla pod to stick in a jar of sugar, or to add to an ice cream or pudding recipe. If you lack vanilla bean, whisk in a teaspoon or so of vanilla extract with the lemon juice.
The baking instructions here are different than that of most custards. The acids in the buttermilk seem to prevent the custard from setting the way others do, so you must bake this pie longer, until puffed all over and just set when you give it a shake.
Nutritional values are based on one of eight servings.
Nutrition
Calories:
398
kcal
Carbohydrates:
46
g
Protein:
6
g
Fat:
21
g
Saturated Fat:
12
g
Cholesterol:
145
mg
Sodium:
287
mg
Potassium:
107
mg
Fiber:
2
g
Sugar:
28
g
Vitamin A:
760
IU
Vitamin C:
3.9
mg
Calcium:
74
mg
Iron:
1.4
mg