Roasted brussels sprouts, potatoes, sweet potatoes, and cabbage meet earthy braised beans and your favorite burrito in these Mexican Roasted Veggie Bowls with Beer Beans. Adapted from Love Real Food by Kathryne Taylor.
I've been a fan of Kathryne's vegetarian blog Cookie + Kate for as long as I can remember. Last year, I had the pleasure of testing a few recipes for her long-awaited debut cookbook Love Real Food: More Than 100 Feel-Good Vegetarian Favorites to Delight the Senses and Nourish the Body. After making the Mexican Roasted Veggie Bowl with Beer Beans, it was pretty much all I wanted to eat. I counted down the days until the book came out so that I could share the recipe.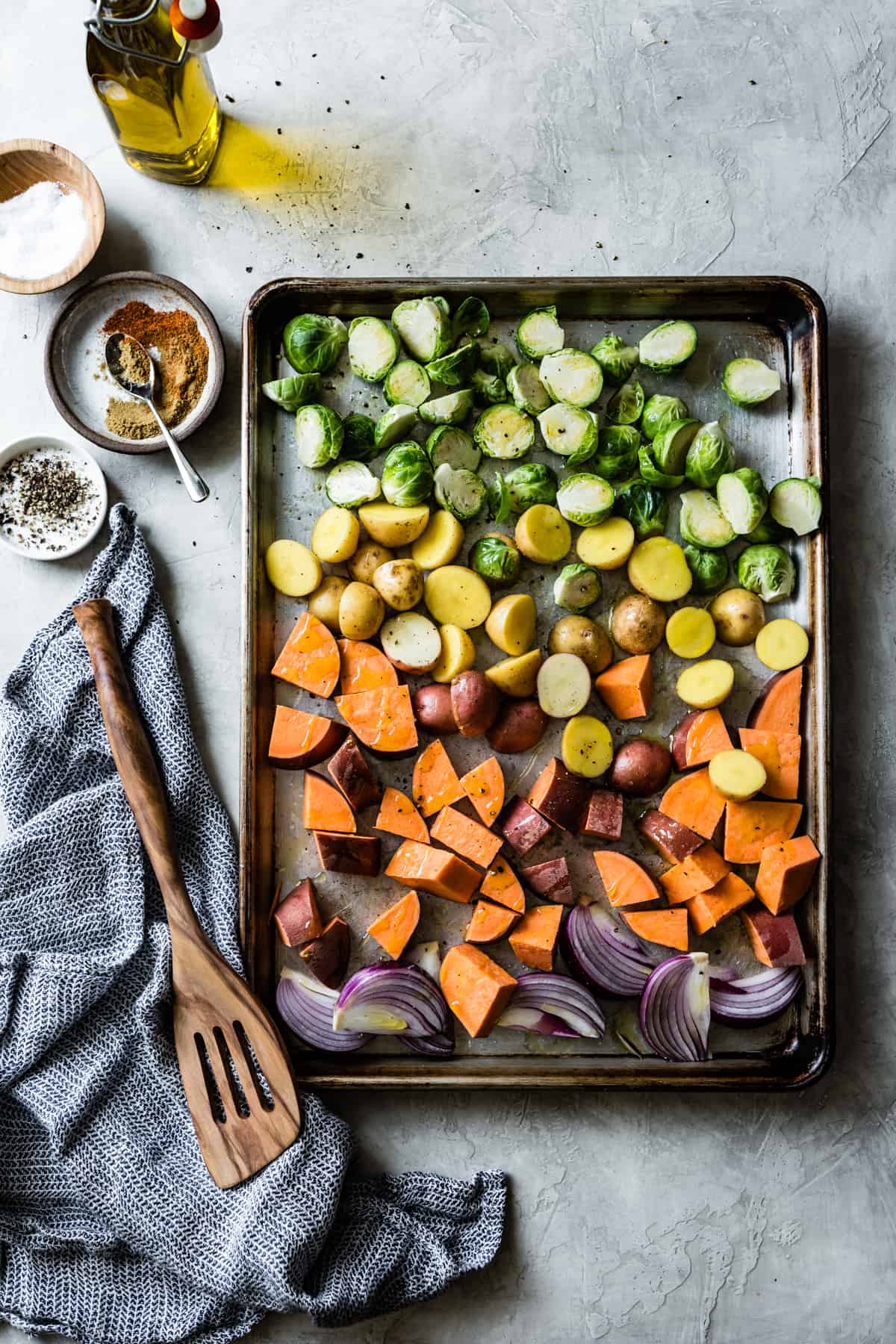 Like all of Kathryne's recipes, these roasted veggie bowls have been meticulously tested. They're effortlessly vegetarian, loaded with protein, and though simple to put together and foolproof, they pack enough interest to warrant making them for dinner every night. Just pop a bunch of veggies in the oven, toss with oil and spice, and while they do their thing, saute some onions and garlic, add some cooked beans and a pour of mild beer, and let them simmer. Then pile everything into bowls with your toppings of choice. The original recipe uses sweet peppers instead of the brussels sprouts I added here, and lettuce instead of red cabbage slaw, but all iterations are divine.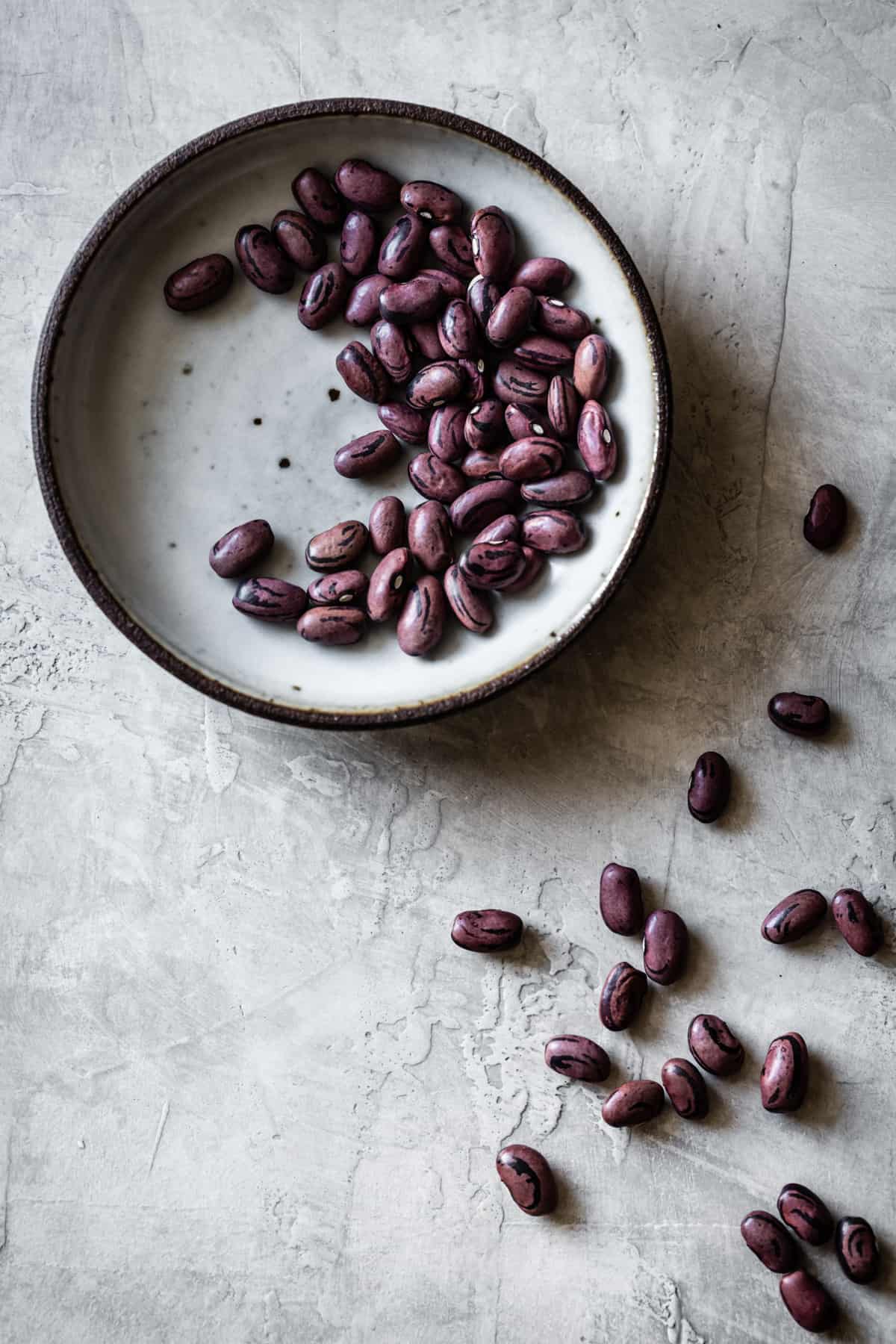 Start with cooked pinto beans, and you can have these on the table in about an hour. Or if you remember in time, you can soak dried beans of any type overnight and cook them up the next day. I found these pretty heirloom Rio Zape beans at my co-op. They taste like pintos crossed with black beans – creamy but with an earthy chocolateyness that melds beautifully with the beer. The beer adds big flavor to these brothy beans. Roasted root vegetables soak up the broth, and a few choice toppings – lettuce or cabbage, avocado, cilantro, and pumpkin seeds – add a burst of freshness and crunch.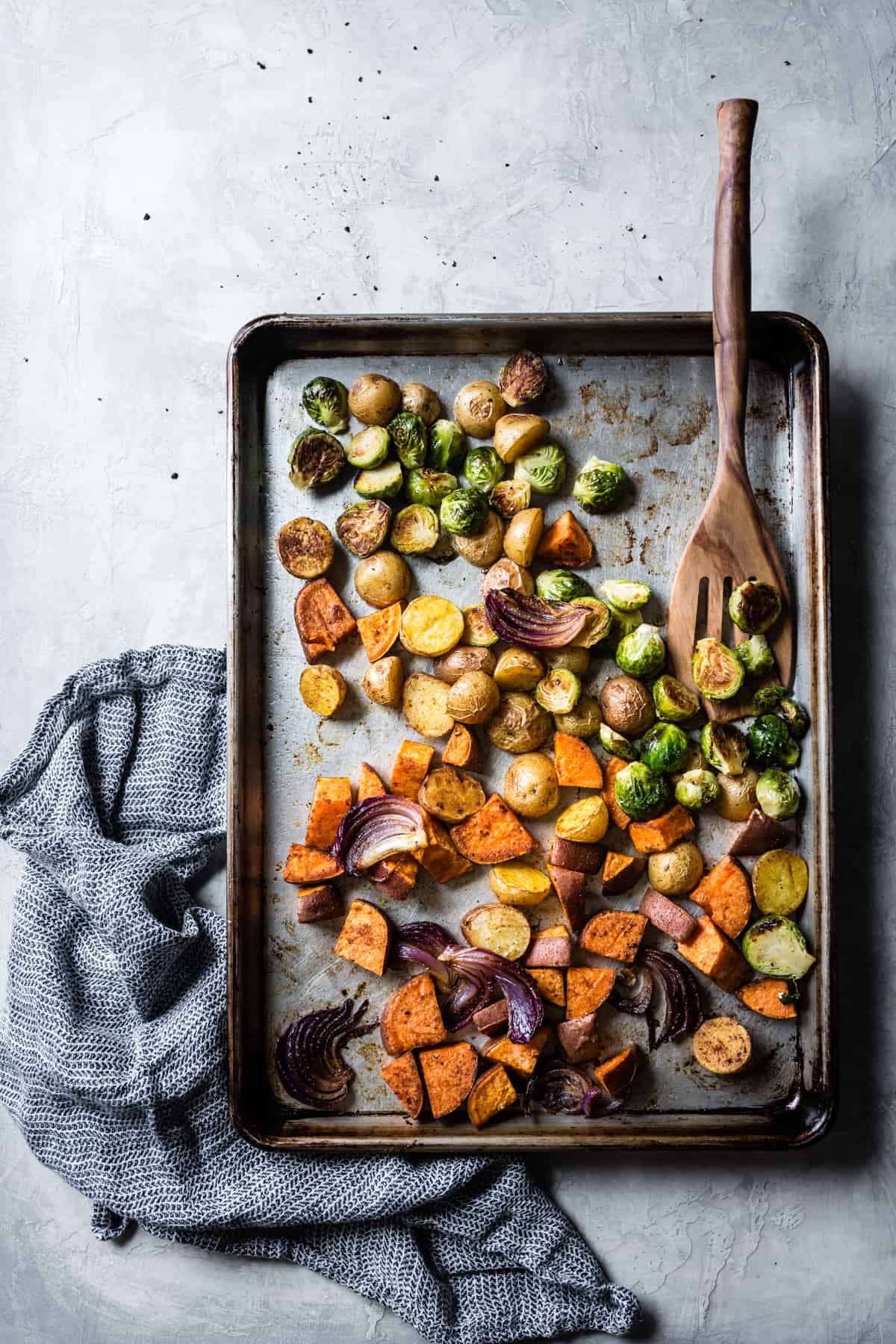 Like all of Kathryne's recipes, these roasted veggie bowls manage to be completely healthy while also filling you up. Love Real Rood is overflowing with recipes like this. There are satisfying salads, badass breakfasts, hearty soups, low-maintenance mains, and sweet treats that still pack a nutritional punch. I especially appreciate her section Five Steps to an Epic Salad, which includes tips on how to optimize your greens (preferably organic, dry leaves so the dressing can coat the leaves), use contrasting textures to add interest, and improvise with a theme (say, your favorite dish in salad form).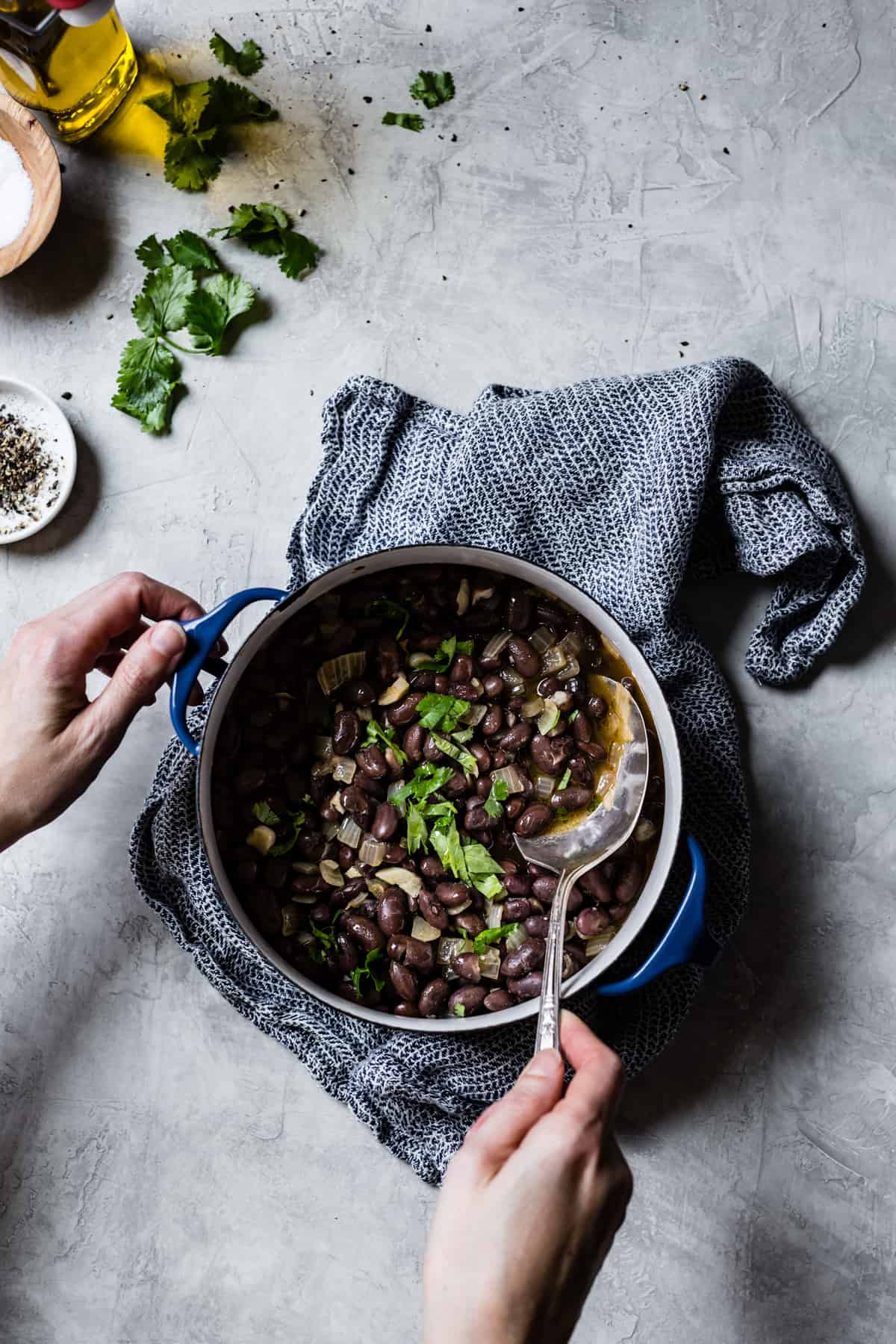 While Love Real Food isn't 100% gluten-free, Kathryne includes footnotes at the end of every recipe for GF substitutions as well as suggestions for other dietary restrictions such as dairy-free, vegan, and egg-free. I was thrilled to see that many of her dessert recipes are naturally GF, such as the dark cherry almond crisp made with oats and almond meal in the topping. I'm all over that.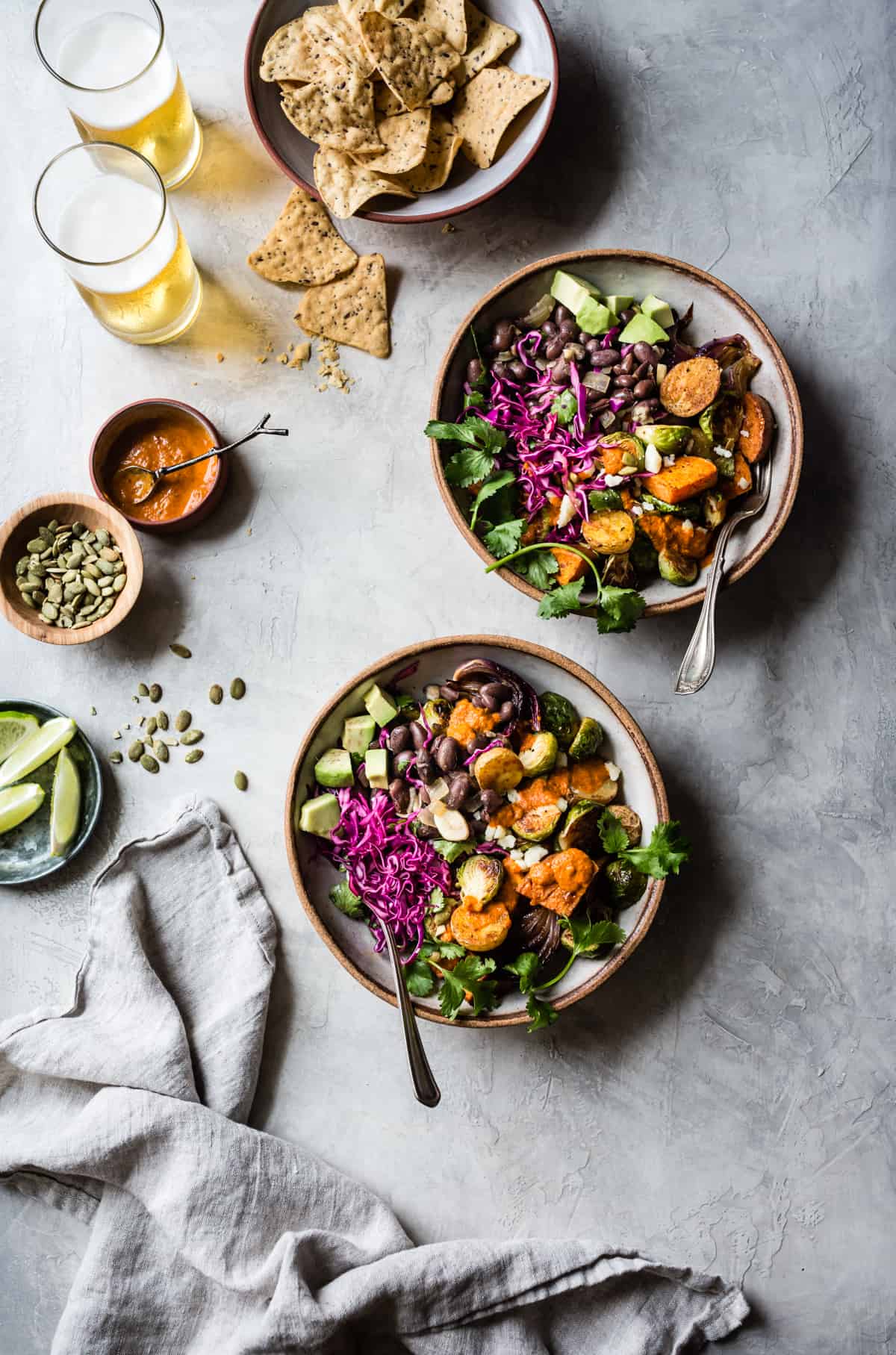 Other recipes I have my eye on are:
Roasted Cauliflower Kale Spaghetti with Toasted Almonds
Mango Lassi Smoothie Bowl with Toasted Coconut Muesli
Tahini Kale Caesar Salad with Whole-Grain Croutons
Butternut Squash Chipotle Chili
Creamy Roasted Cauliflower Soup
Green Goddess Hummus
Avocado Spinach Artichoke Dip
Vegan Banana Pecan Date Shakes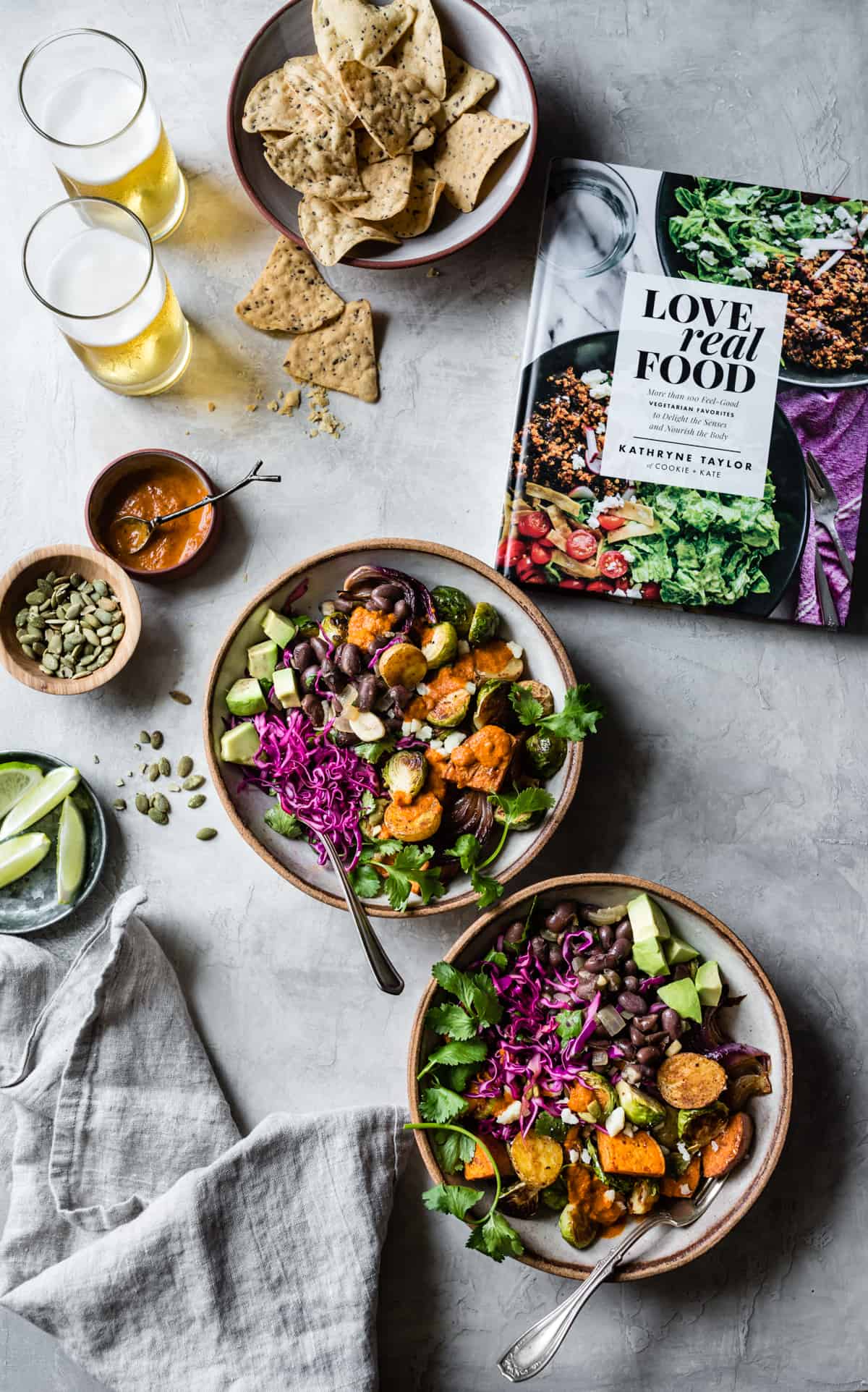 Kathryne gathers flavors from around the world, creating recipes that feel fresh and unique, but also friendly and familiar. They're the beautifully distressed new pair of jeans you just slipped on but feel like you've owned for a year; the friend you just met but feel like you knew in a past life. If Kathryne's recipe creating prowess weren't enough, she also styles and shoots all her images herself. Her images make you want to dive right into the food, and there's a photo for every recipe. I love how the photos manage to feel artistic but also completely accessible at the same time.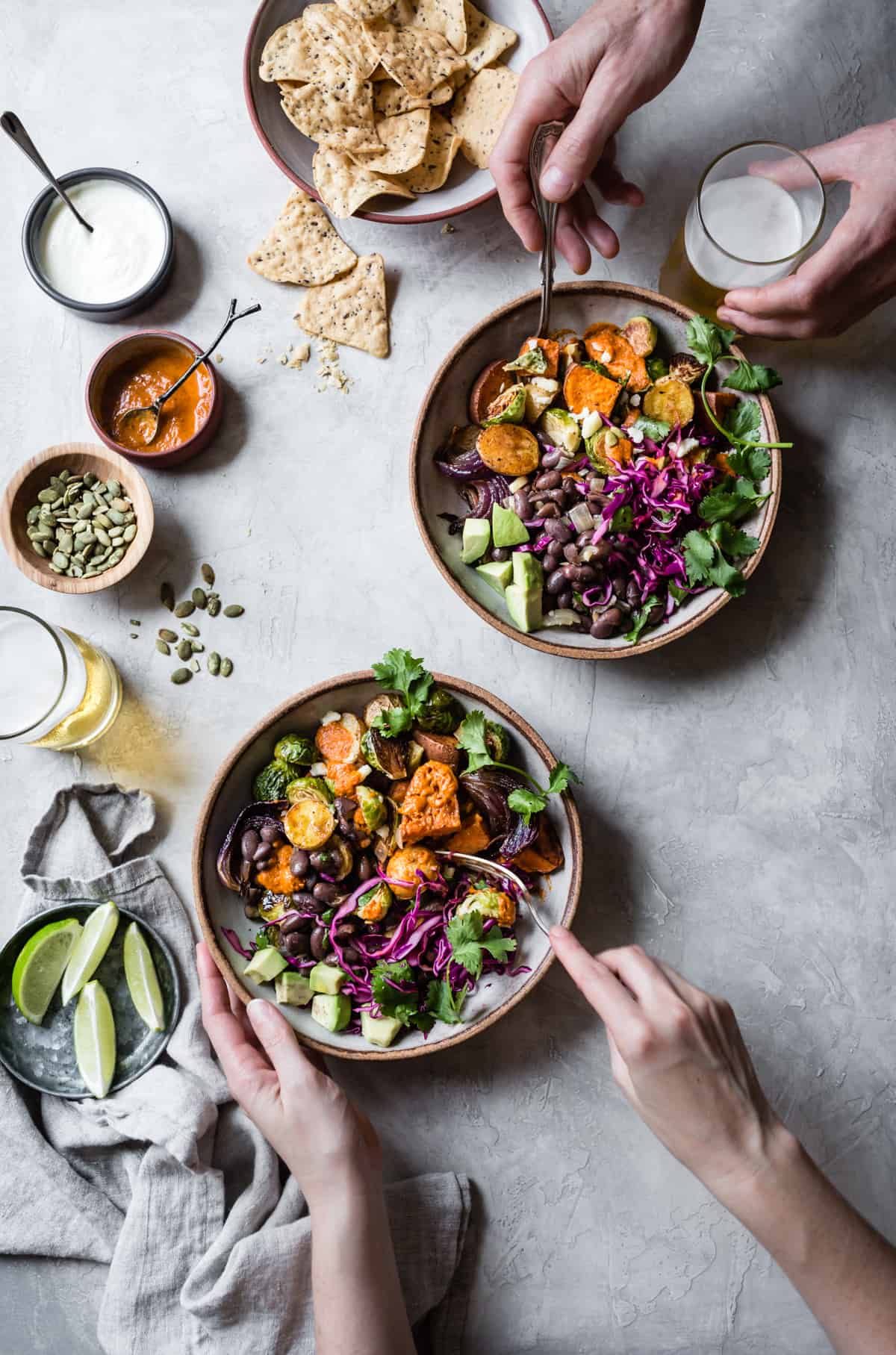 I highly recommend getting your hands on a copy of Love Real Food, and whipping up a batch of roasted veggie bowl goodness, ASAP.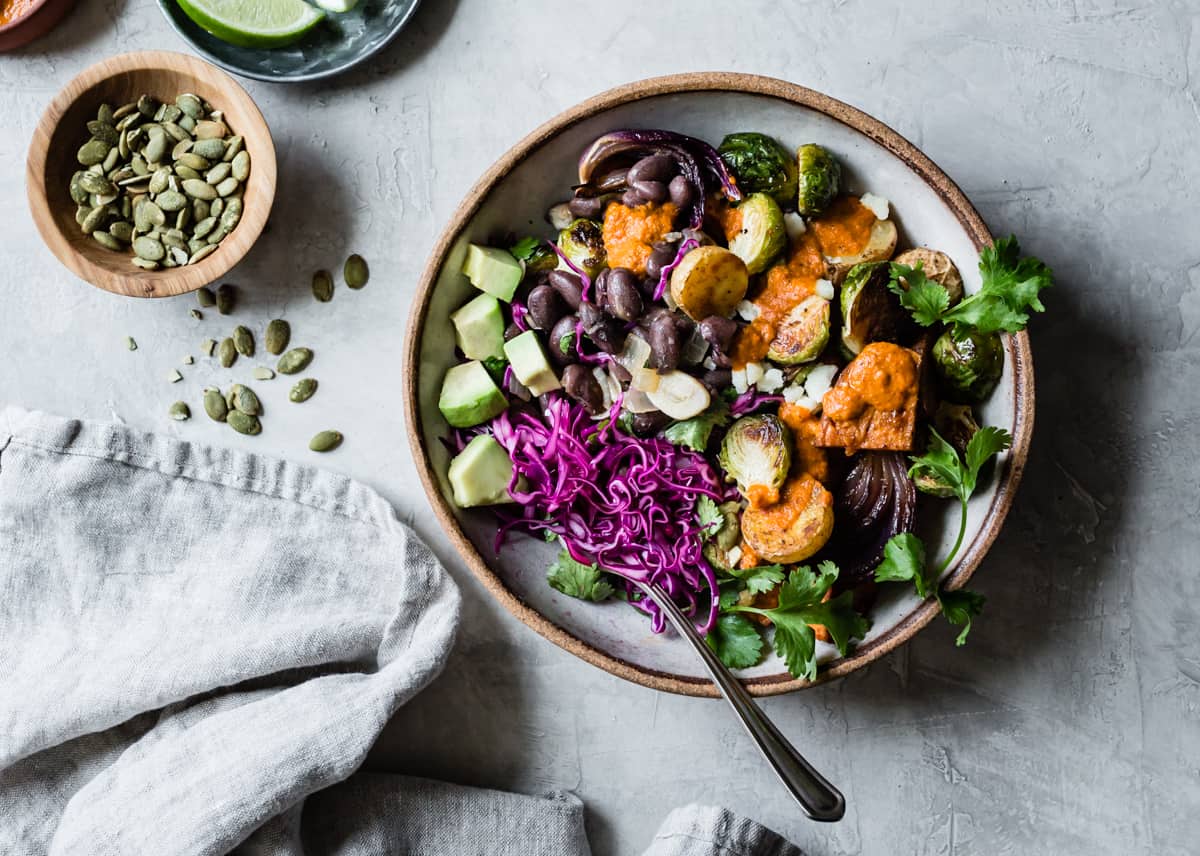 More Bowl Recipes:
*Thanks for reading! For more Bojon Gourmet in your life, follow along on Facebook, Instagram, or Pinterest, or subscribe to receive new posts via email. And if you make these roasted veggie bowls, I'd love to see! Tag me on Instagram @The_Bojon_Gourmet and #bojongourmet.*
Mexican Roasted Veggie Bowls with Beer Beans
Print Recipe
Pin Recipe
Roasted brussels sprouts, potatoes, sweet potatoes, and cabbage meet earthy braised beans and your favorite burrito in these Mexican Roasted Veggie Bowls with Beer Beans.
Ingredients
Beer Beans:
3

cups

cooked beans (see headnote for cooking instructions, or use two 15-ounce cans or jars of cooked pinto beans, drained)

1

tablespoon

(15 ml) extra-virgin olive oil

½

medium yellow onion, diced

2

large cloves garlic, peeled and sliced

¼

teaspoon

fine sea salt

½

teaspoon

chili powder

¼

teaspoon

ground cumin

¾

cup

(175 ml) Mexican beer or mild lager or pilsner (gluten-free if needed)

2

tablespoons

chopped fresh cilantro (plus more for garnish)

1

tablespoon

(15 ml) lime juice, plus lime wedges for serving
Roasted Veggies:
10

ounces

(280 g) Brussels sprouts, trimmed and halved

1

pound

(450 g) sweet potatoes, scrubbed and cut into 1-inch chunks

12

ounces

(340 g) small potatoes, scrubbed and cut into 1-inch chunks

1

large red onion, peeled and cut into ½ - inch thick wedges

2

tablespoons

(30 ml) extra-virgin olive oil

1

teaspoon

ground cumin

½

teaspoon

chili powder

¼

teaspoon

cayenne pepper

fine sea salt
Toppings:
2

cups

slivered red cabbage

juice from ½ a lime

fine sea salt

handful cilantro leaves

red salsa

crumbled cheese such as feta or cotija

avocado chunks or guacamole

toasted pumpkin seeds

tortilla chips or warm corn tortillas
Instructions
Make the beans:
In a medium saucepan, warm the olive oil over medium heat until shimmering. Add the onion, garlic, salt, chili, and cumin and cook, stirring occasionally, until the onion is tender, 4-6 minutes. Add the cooked beans and the beer. Increase the heat to medium-high and bring to a simmer, then reduce the heat to maintain a gentle simmer and cook, stirring occasionally, until the beans are tender and the broth has condensed a bit, 15-18 minutes. Remove from the heat and stir in the cilantro and lime juice. Season to taste with additional salt if you feel the beans need it.
Meanwhile, make the roasted veggies:
Position a rack in the center of the oven and preheat to 425ºF. Place the prepared Brussels sprouts, sweet potatoes, potatoes, and onions on a large rimmed baking sheet. Drizzle with the olive oil and sprinkle with the cumin, chili powder, cayenne, and a few big pinches of salt. Toss the veggies to coat them in the oil and spices, keeping the Brussels sprouts separate (they will cook more quickly). Roast the vegetables in the oven until golden and tender, 15-20 minutes for the Brussels sprouts and 30-40 minutes for the rest, flipping the vegetables once or twice to cook evenly.
Make the bowls:
In a medium bowl, toss the cabbage with the lime juice, cilantro, and a few pinches of salt. Divide the beans and veggies among 4 bowls and top with the cabbage, salsa, cheese, avocado, and toasted pumpkin seeds and serve with lime wedges and chips or tortillas on the side.
Notes
Adapted from Love Real Food by Kathryne Taylor.
Feel free to use different veggies depending on what's in season. Try winter squash, fat slices of sweet peppers, or corn and zucchini in the summer.
If making this with dried beans, soak 1 ¼ cups of dried beans (I used Rio Zape beans from Rancho Gordo, otherwise use pintos or black beans) overnight. The next day, drain the beans and place them in a large saucepan covered with 3-4 inches of cool water and a bay leaf. Bring to a boil, then simmer, partially covered, until mostly soft; this can take anywhere from 30 minutes to 1 hour depending on your beans. Add 1 ½ teaspoons salt and simmer until tender. Let cool in their liquid and refrigerate airtight for up to 1 week. I usually make a double batch of beans to use in tacos throughout the week.
Be sure to use gluten-free beer if needed, and leave off the cheese for vegan bowls if you like.
Nutritional values are based on one of four servings without toppings.
Nutrition
Calories:
434
kcal
Carbohydrates:
70
g
Protein:
13
g
Fat:
12
g
Saturated Fat:
2
g
Sodium:
595
mg
Potassium:
1451
mg
Fiber:
15
g
Sugar:
10
g
Vitamin A:
16835
IU
Vitamin C:
85.2
mg
Calcium:
151
mg
Iron:
4.7
mg