Honey softens tart kumquats in this savory-sweet, fancied up toast topped with fromage blanc, olive oil, pistachios, and plenty of flaky salt and pepper.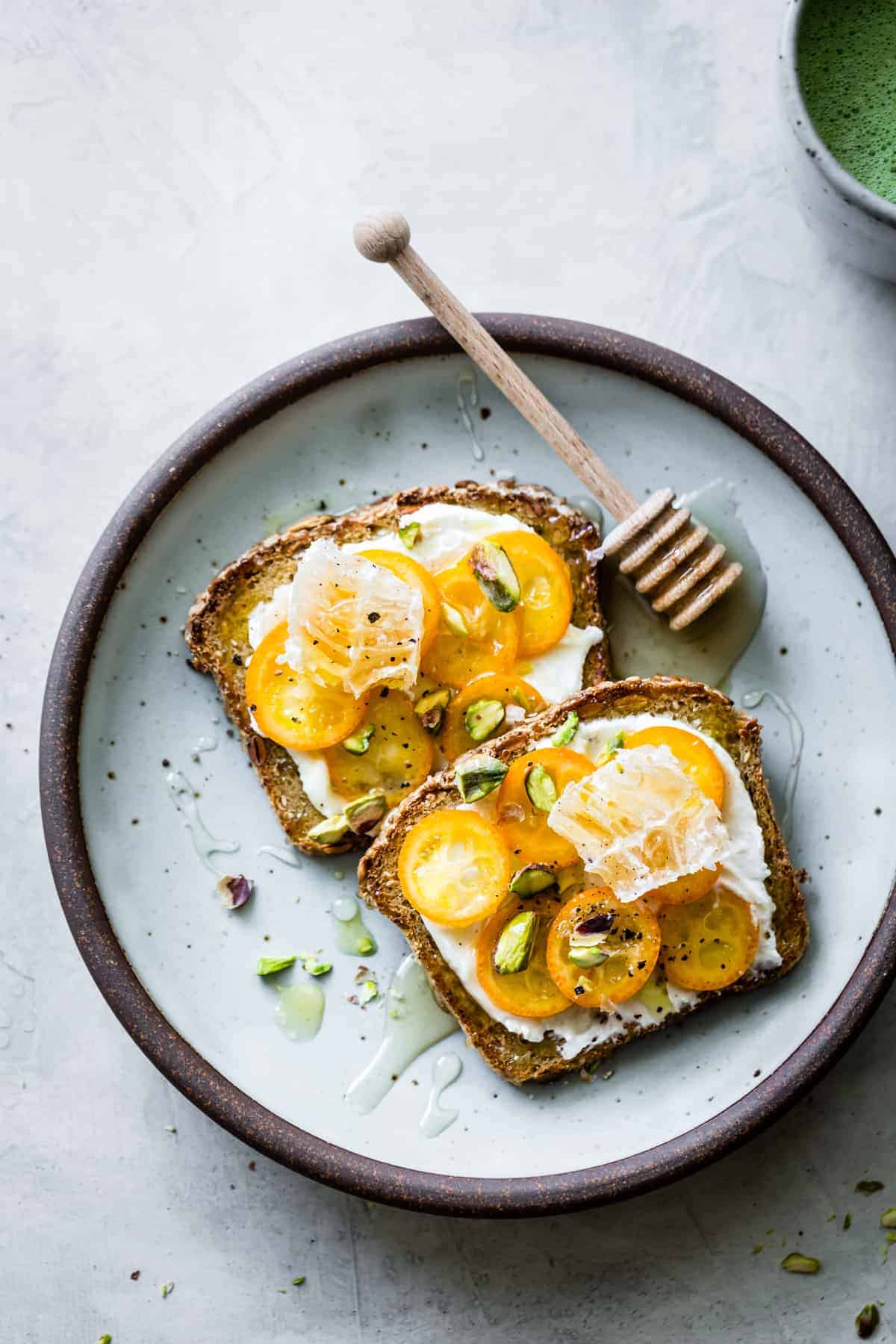 I met Terry, the founder of Urban Bee SF, at a protest rally in Sacramento in early December. I had driven the long road to the state capital alone, spent 20 minutes trying to find the location, then another 10 looking for a parking lot. I'd stopped into a cafe to purchase a sad cup of tea – the water lukewarm and only drawing out a hint of flavor which mixed with honey and cream to look and taste like dishwater. I'd felt emotionally numb in the weeks since the election, filled with a constant, gnawing dread, which is why I found myself in the middle of Sacramento on a Monday morning heading to my first ever protest rally.
It was cold and sunny in the square when I finally arrived, and there was a sense of camaraderie among the hundred or so protesters who gathered to listen to Rebecca Solnit urge the electoral college to take a stand. One woman held a sign that said simply "#NotNormal," which summed up in two words how I'd been feeling.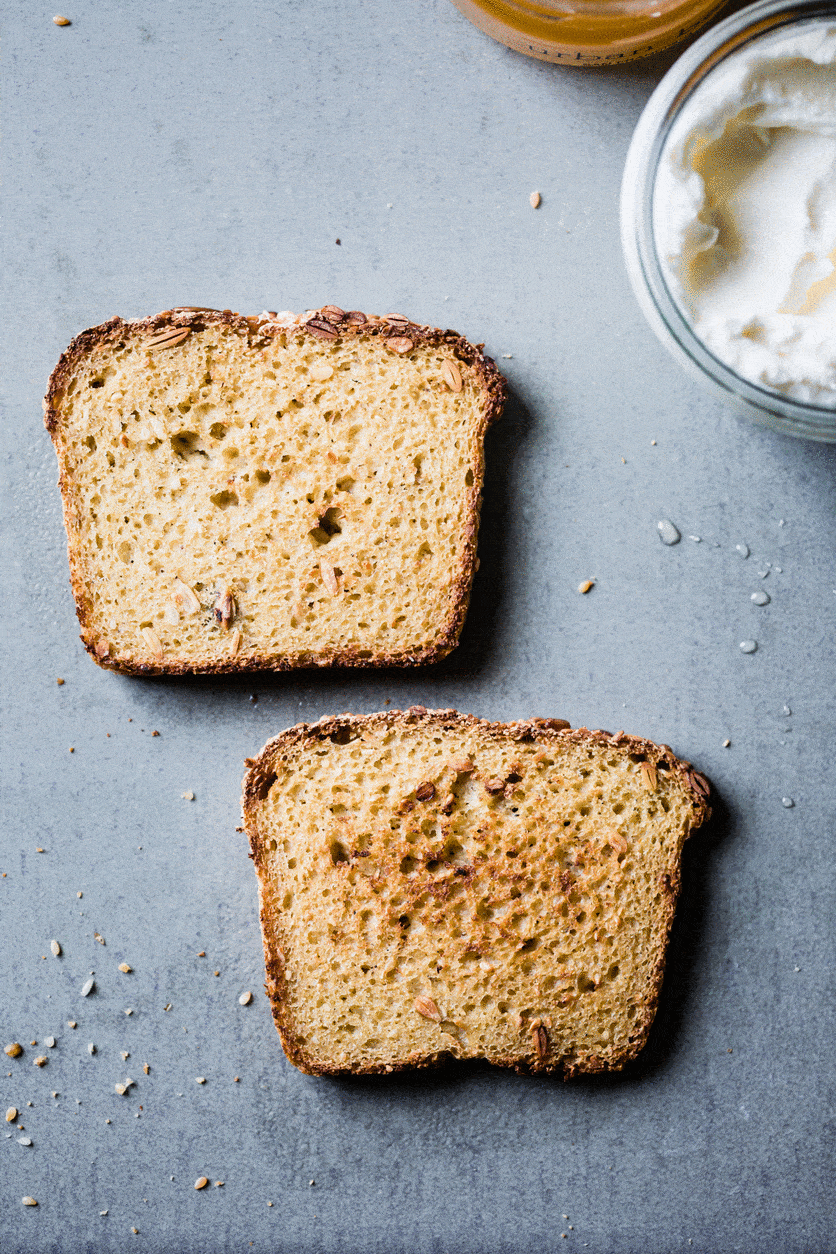 We struck up a conversation and quickly realized that we both live in San Francisco and work in the field of sustainable food. While this was my first protest, it wasn't Terry's – she's a seasoned activist in the world of bees. Terry has hives on rooftops all throughout the city, including on the Heath building near my house. The bees forage on local plants and Terry captures their honey into precious pots of gold which she only sells wholesale to local restaurants. She generously shared a jar with me along with a chunk of honeycomb, and we got to pay a visit to the Heath hives, which are crowned with Heath tile roofs and overlook the Mission.
There is much concern about the decline of bees due to climate change, loss of habitat, and bee-killing pesticides, all of which is quite the hot topic (no pun intended) with the current administration seeming to give zero fucks about the environment. We rely on bees not only for their delicious honey, but also for all of the crops they pollinate for us – about 70% of our crops and 90% of the world's nutrition. Supporting people like Terry who are doing admirable work in the field of bee sustainability feels more important than ever.
But I didn't write this post to depress you, so let's move on to sunnier topics: breakfast. I threw these tartines together the other morning on a whim. I'd bought kumquats for no particular reason, and there was bread in the fridge and fromage blanc left over from blintzes. I remembered Terry saying that her favorite way to enjoy honeycomb is on toast with brie, so I added some honeycomb, and pistachios for color. The colors, flavors, and textures came together so beautifully that I managed to snap some shots before devouring the beauties, along with a honey-sweetened matcha latte, which is an ideal accompaniment.
Terry's bees forage on the flowers of San Francisco fennel, citrus, and bottlebrush, and the subtle fennel notes swing the honey to the savory side, pairing beautifully with a drizzle of peppery olive oil. In fact, fennel pollen would be sublime on these toasts should you come across any. The bite of honeycomb is extra decadent as your teeth crunch through the brittle wax structure and fragrant honey oozes out, filling your senses with sweetness, sunshine, and flowers.
If you'd like to get involved in bee advocacy, the first thing you can do is be sure to support organic farming practices whenever possible. You can also support the Honeybee Conservancy through donations, sponsor a hive, and learn how to make your garden bee-friendly.
More Honey Recipes:
*Thanks for reading! For more Bojon Gourmet in your life, follow along on Instagram, Facebook, or Pinterest, purchase my gluten-free cookbook Alternative Baker, or subscribe to receive new posts via email. And if you make these kumquat honey tartines, I'd love to see! Tag your Instagram snaps @The_Bojon_Gourmet and #bojongourmet.*
Kumquat Honeycomb Tartines
Print Recipe
Pin Recipe
Honey softens tart kumquats in this savory-sweet, fancied up toast topped with fromage blanc, olive oil, pistachios, and plenty of flaky salt and pepper.
Ingredients
2

slices

bread, toasted

2-4

tablespoons

fromage blanc

4

large kumquats, thinly sliced, seeds removed

2

chunks of honeycomb

1-2

tablespoons

chopped pistachios

honey, for drizzling

good olive oil, for drizzling

flaky salt and freshly cracked black pepper
Instructions
Spread the toast with the fromage blanc and top with the kumquats, honeycomb, and pistachio. Drizzle with the honey, olive oil, salt, and pepper and serve.
Notes
You don't really need a recipe to make these, so feel free to play with the quantities depending on your taste and the size of your bread.
These fairly small slices are from Grindstone Bakery's Gluten-Free Sprouted Seed Sourdough, which is made from freshly ground millet and quinoa.
Fromage blanc is a lean cheese similar to ricotta; if you can't find any, feel free to substitute any soft cheese such as a good whole-milk ricotta or chèvre.
Feel free to swap in other fruit for the kumquats such as pears in the fall, apricots in the spring, and peaches or plums in the summer.
Nutritional values are based on one serving.
Nutrition
Calories:
549
kcal
Carbohydrates:
147
g
Protein:
11
g
Fat:
20
g
Saturated Fat:
7
g
Cholesterol:
32
mg
Sodium:
291082
mg
Potassium:
486
mg
Fiber:
8
g
Sugar:
115
g
Vitamin A:
610
IU
Vitamin C:
33.3
mg
Calcium:
333
mg
Iron:
5.9
mg