The Holidaze (a.k.a. Alcoholidays) are here, and what better time to eat yourself into a sugar- and booze-induced coma? (I kid.) But seriously, here are some luscious holiday treats from the past year of Bojon for your consuming and gift-giving pleasure.
First things first, cookies! Masala Chai Snickerdoodles are possibly my favorite (non-chocolate) cookie, ever. They're thick and chewy, and generously kissed with sugared black tea, ginger, cinnamon, and cardamom. (The spiced sugar also makes a perfect instant chai to mix into hot milk.)

These Coconut Almond and Brown Butter Macaroons will blow you away with their moist texture and bold flavors of vanilla, browned butter, and almond paste.


Salty Double-Rye Chocolate Chip Cookies are pure deliciousness. (I gave some to my yoga teacher this past summer, and she still talks about them every time I go to class.)

Or bake up some Chocolate Oatmeal Stout Cookies (and keep the stout ice cream that goes with them for yourself).

Get yourself libated with Bergamot Mojitos,


Homemade Irish Cream Liqueur,


Or Pink Grapefruit Vieux Mots.

Give the gift of granola in the form of Maple Bourbon Pecan,


Rum-Kissed Coconut,


or Gingersnap.


Gluten-Free Buckwheat Cheese Blintzes always make for a comforting breakfast. Even on Christmas? Jesus was a Jew, so sure! They can be assembled the night before and fried up to order.
No one in their right mind will turn their nose up at a Gluten-Free Chocolate Banana Buckwheat Muffin for breakfast.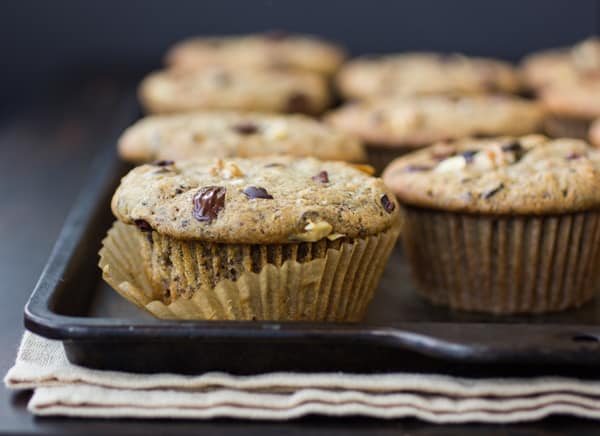 Ditto for Chocolate Bergamot Scones,


Gluten- and Dairy-Free, Breakfast Bars with Apricots, Prunes and Almonds,

and Cointreau-Glazed Cranberry Clementine Tea Cake.
Or try this Skillet Custard Cornbread with frozen berries, or fresh cranberries in place of the blue and raspberries.
One of my favorite finds of the year has been Bourbon Cacao Nib Caramel Corn. I can't imagine a more perfect (or more evilly addictive) edible gift. Give some to your friends (or maybe your frenemies).
(Except, perhaps, Vegan Chocolate Chile Coconut Milk Truffles.)




Flaky Citrus Almond Tart makes use of the many varieties of oranges, tangerines, and kumquats that are just coming into season. It can work at a brunch buffet, cocktail party, or on a plate with a plume of whipped cream for a snazzy dessert.



Coffee Stout Sticky Toffee Puddings kissed with ginger make a gooey (though not-too-sweet) dessert on chilly evenings.
I like to have a pot of soup on the stove for guests to help themselves to, and this Curried Red Lentil Soup with Kale and Sweet Potato has been a favorite. Its bright colors and flavors help to oust the most stubborn December Doldrums.
Wishing everyone out there a healthy and happy holiday season!
Check Out These Other Holiday Recipes
For more Bojon Gourmet in your life, follow me on Facebook, Twitter, or Pinterest, or subscribe to receive posts via email.