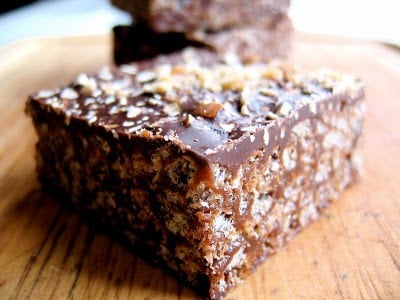 The other night after rehearsal my dancemate and friend, T, requested that I post a simple recipe, something for people lacking things like stand mixers and food processors. Something that could be made in a kitchen the size of (hand-gesture implying) 1-square-foot.

Though T is on the small side, I hope for her sake that her kitchen is slightly larger than 1 square foot. But I ignored that, and instead told her that I had just the recipe.

These are stupid simple to make. They take about 10 minutes to assemble, and an hour or so to set. You don't need any fancy equipment, not even an oven. You could make these in a college dorm room, camping, or with kids. Heck, you could even be a hippie and still make these (dorm room/camping/kids optional).
You do need something which produces heat, like a burner, hotplate, propane stove, or microwave, as well as a saucepan, loaf pan and a rubber spatula. A piece of parchment paper is handy, but you could use wax paper, foil, or a greased pan instead. But that's pretty much it.

Yes, but what are these magical mystery treats, you ask?
Well, several months ago I developed an odd craving for rice crispy (I refuse to spell that with a 'k') treats but couldn't bear to buy cheap marshmallows (scary), didn't want to shell out the cashola for upscale mallows (like the veg ones at Rainbow) and was too lazy and scared of breaking my kitchenaid (which happened the last time) to make my own. I like the flavor of Heidi Swanson's version, which uses peanut butter, maple syrup and agar agar, but wanted a bit more chew and goo. I also wanted them to be chocolaty, but knew it would be a balancing act to get the chocolate to set the bars just enough. I imagined using an unrefined liquid sweetener in place of the mallows, nut butter for gooey richness, and chocolate to temper the sweetness.

My first attempt tasted good, but wasn't nearly gooey enough. I lost heart and moved onto other culinary obsessions. Several months later I stumbled across the love of my life (David Lebovitz)'s recipe for Triple Chocolate Scotcheroos, which are essentially rice crispy treats made (marshmallow free!) with butterscotch chips, nutella, sugar and rice syrup. I took a cue from David and boiled the sweeteners (I used maple instead of the sugar, which worked great) and used a combination of almond butter, coconut oil and chocolate instead of the nutella. The result was chewy, gooey, chocolaty crispy treats made with ingredients you can find at your local health-food co-op, a minimal amount of refined sugar, and no trans fats or gelatin. They also happen to be gluten-free and vegan, and are quite sturdy enough to pack into a lunchbox or take on a hike, picnic, or peace rally.

Feel free to go crazy with different nut butters, nuts and even chocolates. I've a mind to try some with hazelnut butter and topped with toasted hazels, and another batch with peanut butter, dark milk chocolate and salted peanuts. Pistachios would make a striking topping, perhaps with a bit of cardamom in the bars, or coconut butter. Finely ground espresso powder and chocolate covered beans on the top would be a treat for coffee lovers, as would cacao nibs for chocophiles.
See? They're kinda healthy. Like something a hippie might eat. A hippie with serious munchies.

Or a svelte dancer with a sweet-tooth cooking out of a 1-square-foot kitchen.

I gave some of these to my yoga teacher and told her they were 'like healthy rice crispies treats.' The following week after class she demanded to know what was healthy about them, since they certainly didn't taste at all healthy, which I took as quite the compliment.
(Gluten-)Free at last:
Flourless Chocolate Peanut Butter Cookies
Gluten-Free Whiskey Brownies
Gluten-Free Congo Bars
Hippie Crispy Treats
Makes eight 2″ squares in an 8×4″ or 9×5″ loaf pan
(Recipe updated 10/30/12)
If you are very sensitive to gluten, make sure to get crisp rice cereal that is certified gluten-free; some cereals contain barley malt. I've gotten the best results using Barbara's Bakery Crisp Brown Rice, which is fruit juice sweetened and seems to hold up the best and stay the crispiest.
Feel free to double the recipe and form the squares in an 8 or 9″ square pan, which is advisable since these disappear quickly. Double the chocolate and coconut oil in the topping if you are an ardent chocophile, and/or top the treats with cacao nibs in addition to the almonds. See the post above for some possible variations. These treats are crispest the day they are made, but will keep refrigerated or at room temperature for up to a few days. All ounce measurements are by weight.
The bars:
1/4 cup (3 ounces) maple syrup
1/4 cup (2 3/4 ounces) brown rice syrup
1/4 cup (2 ounces) almond butter
1/4 cup (1 1/4 ounces) chocolate wafers, or coarsely chopped chocolate (preferably 70% cacao mass)
1 tablespoon (1/2 ounce) coconut oil
1/8 teaspoon fine sea salt
2 cups crisp rice cereal (not 'puffed' rice)
The chocolaty topping:
1 tablespoon (1/2 ounce) coconut oil
1/4 cup (1 1/4 ounces) chocolate
2 tablespoons chopped, toasted almonds
1/8 teaspoon flaky sea salt
Line an 8×4 or 9×5″ loaf pan with a sling of parchment paper.
In a large saucepan, bring the maple and rice syrup to a rolling boil for 1 minute, stirring frequently with a heatproof spatula or wooden spoon (be careful not to let it boil over). Remove from the heat and stir in the nut butter, 1/4 cup chocolate, 1 tablespoon coconut oil and 1/8 teaspoon fine salt until smooth and the chocolate is melted. Fold in the rice cereal and pack the mixture firmly and evenly into the lined pan (damp fingers can help here).
In a small saucepan (or the same big one, if you've scraped it clean), melt the remaining 1/4 cup of chocolate and 1 tablespoon coconut oil together over very low heat, stirring constantly just until melted (be careful not to scorch the chocolate). Pour the chocolate mixture over the rice mixture, spreading to smooth. Sprinkle the nuts and flaky salt over the top.
Let the bars set at cool room temperature (about 1 hour) or in the fridge (about 1/2 hour) until firm. Lift the sling out of the pan, trim away the edges if you like, and cut into 8 squares.
These treats are best the day they are made. They will keep at room temperature for several days, though the cereal will soften slightly.