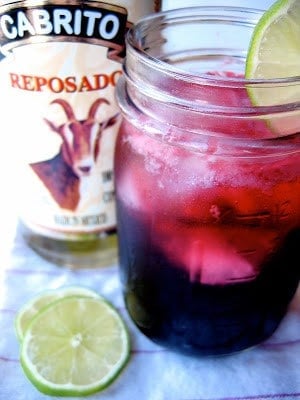 I secretly call this drink 'Jamaica Me Crazy.' In Mexico, where hibiscus water (agua de jamaica) originates, they actually pronounce it 'huh-MY-cuh,' making this pun slightly less clever. But some folks complain that tequila causes them to act nutso, so I find the name apropos.
Others claim that tequila is the 'cleanest-burning' of the boozes and the easiest on the body. (But then, they also said that about agave, and now everyone's freaking out about it not being the answer to all their problems.)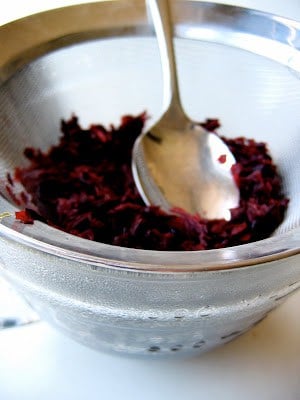 In my opinion, booze is booze and sugar is sugar. And everything is ok in moderation. Even (especially) moderation itself.
If there's one thing I know for sure it is that these bevvies are insanely good.So mix yourself up a tangy and refreshing Jamaica-Tequila Spritzer and enjoy a bit of moderation today.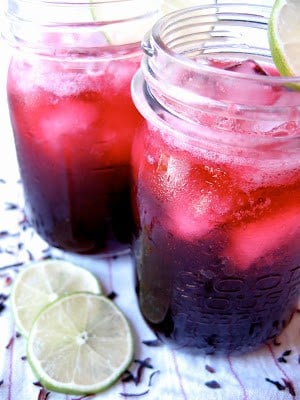 Salud!
Drink up:
Sparkling Whiskey Gingerade
DIY Tonic Water
Bojon Masala Chai
Jamaica-Tequila Spritzers
Feel free to omit the tequila for refreshing virgin drink.Props to Heidi Swanson for introducing this delicious drink to hippy bakers like myself in her book Super Natural Cooking.
1/2 cup jamaica petals
2 cups water
ice cubes
1/2 cup agave nectar
1 cup tequila
juice of 2 limes, plus 6 lime slices or wedges for garnish
about 1 quart sparkling water
In a stainless steel saucepan, bring the jamaica and water to a boil. Turn off the heat, cover and let steep for 10 or 20 minutes. Carefully (it's very stainy!) strain through a fine mesh sieve and into a quart-sized jar or measuring cup, pressing on the flowers to extract all the liquid. Add the agave and stir to combine.Add ice cubes to the mixture to increase it to three cups, and let the ice melt, stirring, until the mixture is cold.
For 6 drinks:Add 1 cup of tequila and the juice of two limes to the mixture. Fill six glasses halfway with ice cubes, divide the jamaica mixture among them, and top with sparkling water. Garnish with lime slices and serve.
For single drinks: pour 1/2 cup of the Jamaica mixture into a cup filled halfway with ice. Add 3 tablespoons (1 1/2 ounces/1 jigger) of tequila, add a squeeze of lime juice, and top with sparkling water. The jamaica mixture will keep in the fridge for at least a week.