Marinated in a toasted cumin maple dressing and tossed with a mess of herbs, pomegranate, persimmon, and walnuts, kale salad never tasted so good.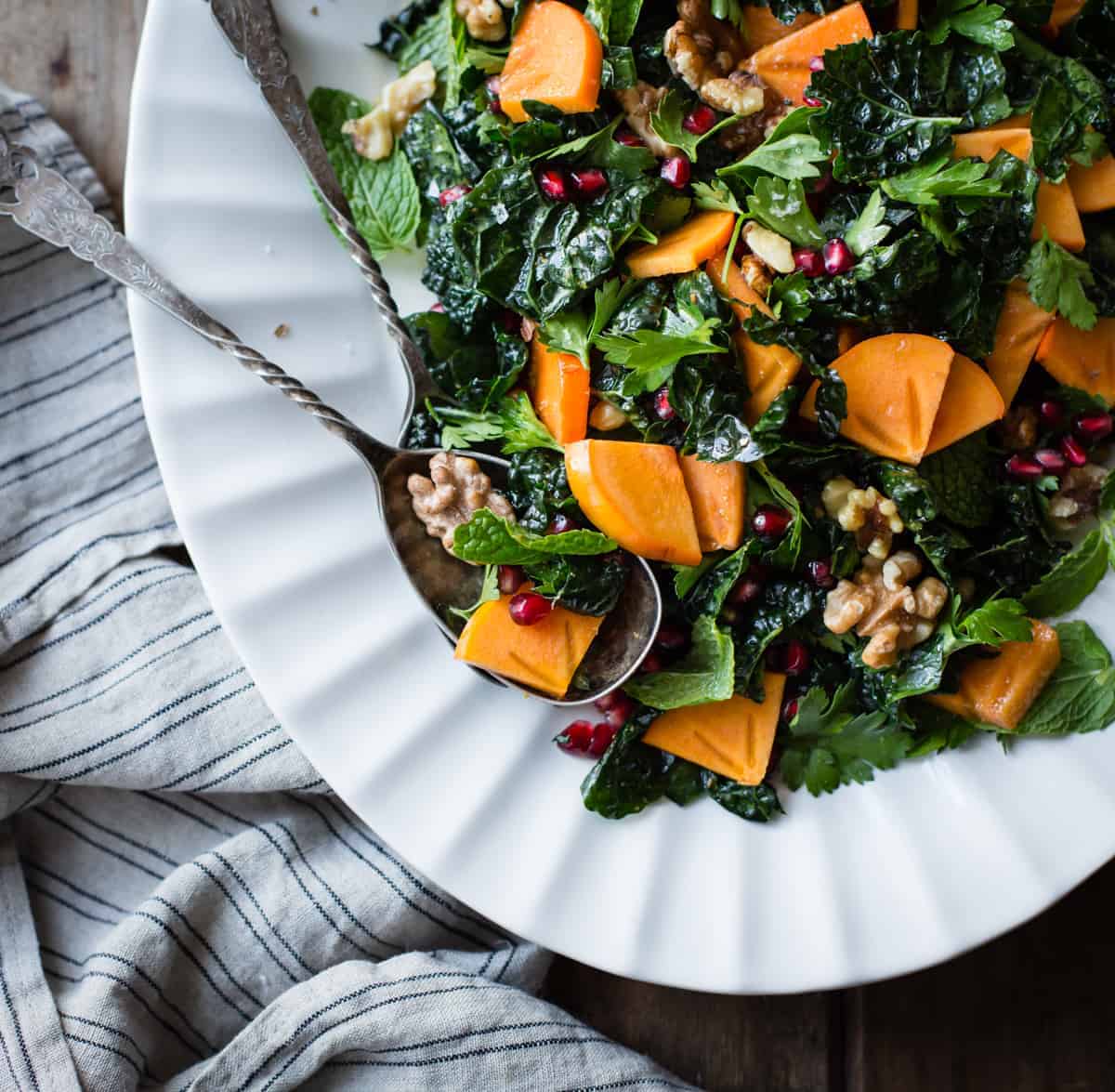 I'm pretty sure that, if left to his own devices, Jay would eat salad for every meal of the day, every day of the year, with the occasional burrito thrown in for variety. This is a very good thing, because I hate making salads, but I like eating them and appreciate their healthfulness.
Why do I hate making salads so? I don't really know. But before Jay came along, I would buy bags of pre-washed greens which would rot in the crisper before I could force myself to throw some bottled dressing on them and call it a meal.
But Jay whips up vinaigrette every few days. He makes sure we always have some pretty heads of lettuce on hand and whatever vegetables look good. If we run out, he'll pop by the store just to pick up some more. (He vacuums too. Be jealous.)
Jay's salads are always the same: big bowls brimming with torn lettuces, crunchy vegetables, vinaigrette, some crumbled feta; simple, healthy, and delicious. He makes one, without fail, every day, which we usually accompany (at my insistence) with other food. And though I sometimes whinge about the big bowls of greens, particularly on cold or drizzly days, I love knowing I'll get a dose of fresh veggies without having to do any salad-making of my own.
In general, Jay is an equal-opportunity salad-eater, with one glaring exception: kale salad. The man won't touch it with a ten-foot pole.
"Kale salad," he'll say, curling his lip in disgust, whenever the subject comes up. This was the case last week, when, after styling this salad with Sarah, I came home with two huge bags full of fresh herbs. I have a pet peeve about herbs: the ones you need a lot of at a time - basil and mint - come in tiny bunches, whereas the herbs that are only called for a tablespoon or so at a time in recipes - cilantro, parsley, dill - come in giant shrubberies that linger in the crisper, becoming increasingly black and slimy, before being shoved into the compost amidst a flurry of shame and self-disgust at having let so much food go to waste.
We pondered how to tackle the herbs on said evening, and what with the fall weather, kale salad popped into my mind. We could have just made more of the delicious Ottolenghi salad, but I wanted something that could keep longer. So I mentioned the K-word. And when Jay's face became a mask of disgust complete with gagging noises, I thought to myself, "Challenge accepted. I WILL make you love kale salad."
Jay loves toasted cumin, so that was a no-brainer. He complains of kale being tough and fibrous, hence the genius and well-trodden solution of massaging the greens with acid to soften the little buggers up and break down the walls of cellulose that trap moisture. This makes the kale tender and juicy, allowing it to absorb the other flavors. Kale is bland – herbs to the rescue. Kale is bitter – sweet persimmons, pomegranate, and a drop of maple syrup will fix that. Kale salad is boring – try saying that with a mouthful of bright herbs, tangy dressing, and toasty walnuts.
My plan worked, to some extent. There were no leftovers as we devoured the whole thing. Through mouthfuls, Jay mused over how bright and clean the herbs tasted, and how the salad would make a good accompaniment to a holiday meal with its penchant for cutting through richness like a honed knife. Kale salad: 1, kale salad haters: 0.
But the joke was on me. "Hey, when are you gonna make that kale salad again?" Jay now asks.
Damn.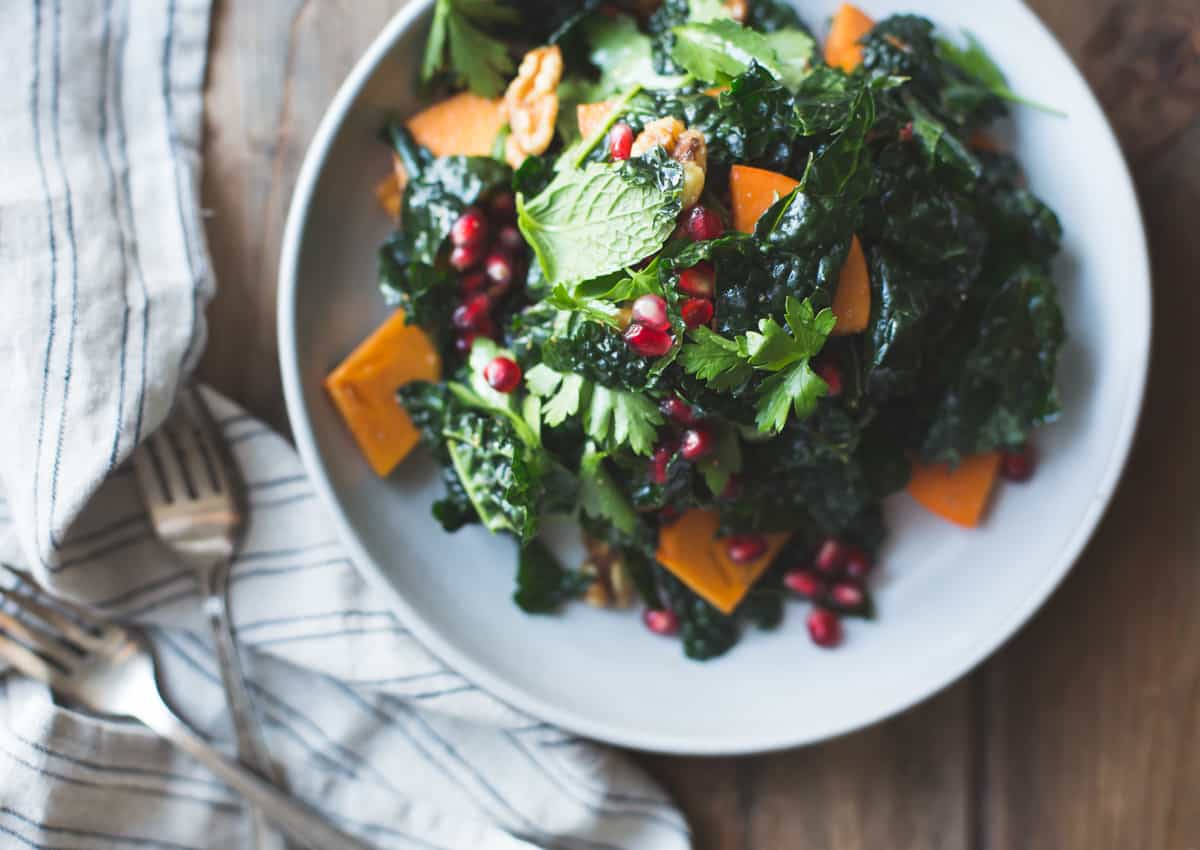 *Many thanks to Cogworks for sponsoring the blog this month! Their beautiful and affordable wood serveboards spruce up any table, and they make great gifts for foodies, too.*
More Salad Recipes:
*Bojon appétit! For more Bojon Gourmet in your life, follow along on Instagram, Facebook, or Pinterest, purchase my gluten-free cookbook Alternative Baker, or subscribe to receive new posts via email. And if you make this herbed kale salad recipe, I'd love to know. Leave a comment and rating below, and tag your Instagram snaps @The_Bojon_Gourmet and #bojongourmet.*
Herbed Kale Salad with Persimmon, Pomegranate and Maple-Cumin Dressing
Print Recipe
Pin Recipe
Marinated in a toasted cumin maple dressing and tossed with a mess of herbs, pomegranate, persimmon, and walnuts, kale salad never tasted so good. Goat cheese optional.
Servings:
2
large or 4 smaller servings
Ingredients
1 ½

teaspoons

cumin seed

3

tablespoons

good olive oil

2

tablespoons

lemon juice

1

tablespoon

maple syrup

¼

teaspoon

fine sea salt

1

bunch dino kale, stems removed, leaves chopped into 2" pieces

(6 cups loosely packed)

1

cup

loosely packed parsley and/or cilantro leaves

½

cup

loosely packed mint leaves

1

cup

toasted walnuts

(or pecans)

2

large fuyu persimmons

(or apples)

½

cup

pomegranate arils

optional: crumbled goat cheese, feta or ricotta salata
Instructions
Place the cumin in a small, dry skillet and toast over medium heat, shaking frequently, until fragrant, about 2 minutes. Let cool, then grind in a spice grinder or mortar and pestle. In a bowl or measuring pitcher, whisk in the olive oil, lemon juice, maple syrup, and salt. Place the prepared kale leaves in a large bowl and toss with the dressing, using your hands to squeeze and squish the kale; this helps to make it tender and absorb the dressing. Set aside while you prepare the remaining ingredients, at least 5 minutes or up to 30 minutes.

Add the herbs, nuts, and fruit to the bowl and toss well to coat. Toss with crumbled cheese if using and serve immediately, or chill for up to several hours.
Notes
With inspiration from Yummy Supper.
Feel free to use any combination of soft herbs that you like here, including dill, fennel fronds, tarragon, cilantro, basil, or celery leaves.
Nutritional values are based on one of two large servings without cheese.
Nutrition
Calories:
622
kcal
Carbohydrates:
46
g
Protein:
20
g
Fat:
62
g
Saturated Fat:
7
g
Sodium:
394
mg
Potassium:
1621
mg
Fiber:
8
g
Sugar:
14
g
Vitamin A:
23085
IU
Vitamin C:
296.1
mg
Calcium:
452
mg
Iron:
8.3
mg