These savory, gluten-free spaghetti squash cakes starts with garlic-infused roasted spaghetti squash laced with chives and coriander. Topped with spinach, harissa, and poached eggs, they make a a simple one-dish meal. From Smitten with Squash by Amanda Paa.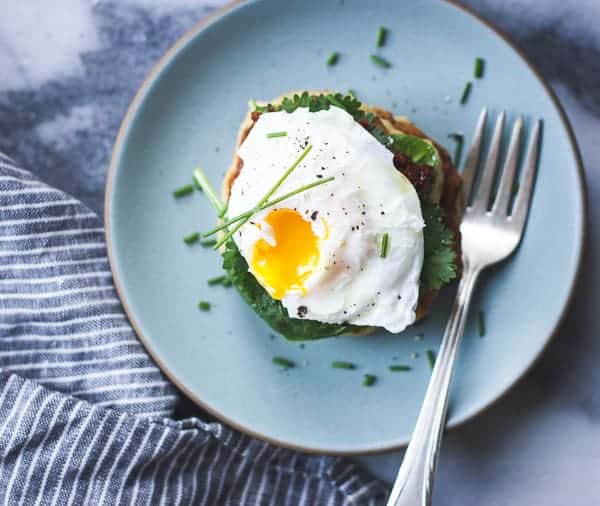 Lately, I've noticed something odd: my tastes are changing. I suppose this is a sign of my getting older growing up, but I find myself preferring a cheese plate over a slice of chocolate cake, and struggling to find wines that are dry enough for my liking. I was the kid who squirreled candy away in her room, lived for ice cream, and dreamed of one day becoming a pastry chef. I'm the cookbook junkie who flips to the back of prospective purchases to make sure the dessert section is ample enough, the person who secretly believes that people who claim to lack a sweet tooth are actually aliens from another planet devoid of chocolate.
I still like the regular post-prandial nibble of good chocolate (and am currently obsessed with this milk chocolate caramelized crisp rice bar from Charles Chocolate), and there is still plenty of baking happening in my kitchen, but I find myself cutting back on sugar more and more; not because I feel I should, but because too much is a turn off.
It's all very odd.
When my friend Amanda, creator of HeartBeet Kitchen and author of Smitten with Squash, asked me to share a recipe from her new book, I was surprised to find myself pulled toward not only a savory recipe, but one made with the least sugary of the winter squash varieties: spaghetti squash: spaghetti squash cakes. (Though to be fair, the recipe still contained the word "cake.")
Spaghetti squash are oblong, yellow vegetables containing fibrous strings reminiscent of pasta. They have more water and less sugar than their starchy brethren. For this reason, I've always passed them by.
But Amanda's tantalizing recipe promised a better way with spaghetti squash. The squash is halved and roasted with garlic, squeezed of liquid, and mixed with a rice flour and egg batter laced with toasted coriander and chives. The batter is pan-fried into delectable little spaghetti squash cakes. To finish, top with wilted spinach, cilantro, harissa, and a poached egg. Heaven for breakfast, lunch, or dinner.
When I first roasted the squash, it was delicious that I had a hard time not devouring it all before it could make it into spaghetti squash cakes. Seasoned simply with salt, pepper and olive oil and infused with roasted garlic, I would have gladly eaten all three pounds in one sitting. I exercised restraint, however, and soldiered ahead.
I'm very glad I did. These gently spiced spaghetti squash cakes do not disappoint.
Amanda is one of the kindest souls I know, and her generosity of spirit comes through in her writing. Reading through this book, you can tell you're in the hands of a capable chef and teacher, one who takes the time to explain things thoroughly, and adds little touches to her recipes to make each one shine.
Here, toasted coriander, chives, and parmesan combine in the batter to build flavor. Spinach and cilantro lend freshness along with their myriad nutrients. Store-bought harissa adds a bit of kick, and a poached egg turns it into a one-dish meal that works as well for brunch as it does for dinner.
I'm happy to say that through this recipe, spaghetti squash and I have reconciled our differences. I no longer resent it for lacking the sweetness of kabocha, the rich texture of butternut, or the cute rotundity of pumpkin. Spaghetti squash, you're alright.
Another thing that's alright? This book, whether or not you have a sweet tooth. Each recipe features winter or summer squash used in an innovative way, from refreshing salads to decadent desserts. All recipes are gluten-free, and many are vegetarian or vegan.
Other sweet and savory recipes I have my eye on are:
Stuffed Squash Blossoms with Burrata and Capers
Decadent Zucchini Brownies with Chocolate Buttercream
Maple Cardamom Zucchini Snack Cake
Vanilla Bean Butternut Apple Crisp
Delicata, Spinach, and Chickpea Red Curry
Here are some beautiful squash recipes from Smitten with Squash via the blogosphere:
Caramelized Onion and Acorn Squash Soup from A Brown Table
Autumn Harvest Breakfast Bread from The Vanilla Bean Blog
Wild Rice and Butternut Squash Salad with Maple Balsamic Dressing from HeartBeet Kitchen
Delicata Squash Donuts from Will Frolic for Food
More Winter Squash Recipes:
*Bojon appétit! For more Bojon Gourmet in your life, follow along on Instagram, Facebook, or Pinterest, purchase my gluten-free cookbook Alternative Baker, or subscribe to receive new posts via email. And if you make this spaghetti squash cake recipe, I'd love to know. Leave a comment and rating below, and tag your Instagram snaps @The_Bojon_Gourmet and #bojongourmet.*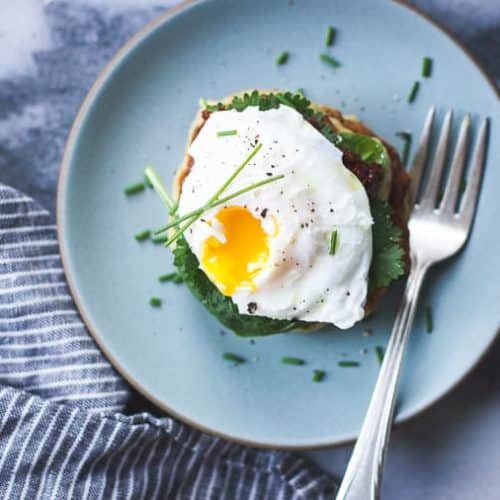 Savory Spaghetti Squash Cakes with Poached Eggs and Harissa + a Cookbook Giveaway
Print Recipe
Pin Recipe
A savory, gluten-free griddle cake recipe made with garlic-infused spaghetti squash laced with chives and coriander and topped with spinach, harissa, and poached eggs for a simple one-dish meal.
Ingredients
For the cakes:
1

medium spaghetti squash (about 3 pounds), halved and seeded

olive oil, as needed

fine sea or kosher salt

black pepper

2

large cloves garlic, peeled

3/4

teaspoon

coriander seeds

2

tablespoons

finely chopped chives

1

large egg

1/4

cup

+ 2 tablespoons brown rice flour

1/4

cup

sweet white rice flour (mochiko)

2

tablespoons

tapioca flour

1/3

cup

grated Parmesan cheese

ghee or sunflower oil, for frying the cakes (as needed)
For the poached eggs and garnish:
1

tablespoon

rice vinegar (or another neutral vinegar)

4

large eggs

1

cup

lightly packed spinach leaves, washed and spun dry

a few handfuls cilantro leaves, washed and dried

a few tablespoons of store-bought harissa
Instructions
Roast the squash:
Position a rack in the center of the oven and preheat to 375ºSprinkle the squash lightly with salt and pepper. Lightly oil a rimmed baking sheet and place the squash cut-side down. Tuck a garlic clove under each squash. Roast the squash until strands pull away from the skin and are al dente, 25-30 minutes. Let cool, reserving the garlic. Use a fork to gently scrape up the strands. Measure out 3 cups and set aside the rest for another use (such as putting in your face).

Place the squash strands in the center of a clean towel, roll it up, and wring out the liquid.
Make the batter:
In a small skillet set over a medium flame, toast the coriander, shaking the pan occasionally, until it smells toasty, 1-2 minutes. Cool, then grind with a mortar and pestle or a clean spice or coffee grinder.

In a large bowl, mash the roasted garlic cloves, then whisk in the egg. Add the squash strands, chives, coriander, flours, Parmesan, and 3/4 teaspoon salt, and stir to combine. The mixture should hold together, but still be a little wet and sticky. If it's too wet, add 1 tablespoon brown rice flour at a time until it holds together. (I added an additional 4 tablespoons.)
Cook the cakes:
In a large skillet set over a medium flame, add enough ghee or oil to the pan to form a thin film, a couple tablespoons or so. When it shimmers, drop 1/4 cup portions of batter in the pan, spacing well apart, and flatten each into a disk. Cook for 4-5 minutes on each side, until golden and cooked through. Remove to a plate and repeat with the remaining batter.
Poach the eggs:
Fill a skillet with 2 inches of lightly salted water and bring to a boil. Crack the eggs into 4 separate small cups or bowls. Add the vinegar to the water, reduce the heat to hold the water at a bare simmer. Holding a cup close to the surface of the water, slip in an egg. Repeat with the remaining eggs, placing them well apart. Cook for 4 minutes for a medium poach. Slip a slotted spoon under each egg to make sure they aren't sticking to the pan, and remove to drain on paper towels.
Serve the cakes:
Top one or two cakes with a smear of harissa, a bit of spinach and cilantro, and a poached egg. Drizzle with olive oil, chives, pepper, and a pinch of flaky salt if you like, and repeat with the remaining ingredients. Serve immediately.
Notes
Adapted from Smitten with Squash by Amanda Paa.
Amanda's recipe originally calls for a gluten-free flour blend that contains xanthan gum. I played fast and loose with the flours and nixed the gum, as written here. Feel free to make this with Cup 4 Cup flour, which Amanda used to test her recipes. If gluten isn't an issue for you, trade the flours here for 3/4 cup all-purpose.
Nutritional values are based on one of four servings.
Nutrition
Calories:
375
kcal
Carbohydrates:
44
g
Protein:
14
g
Fat:
17
g
Saturated Fat:
6
g
Cholesterol:
222
mg
Sodium:
413
mg
Potassium:
486
mg
Fiber:
6
g
Sugar:
8
g
Vitamin A:
1675
IU
Vitamin C:
11
mg
Calcium:
192
mg
Iron:
2.5
mg