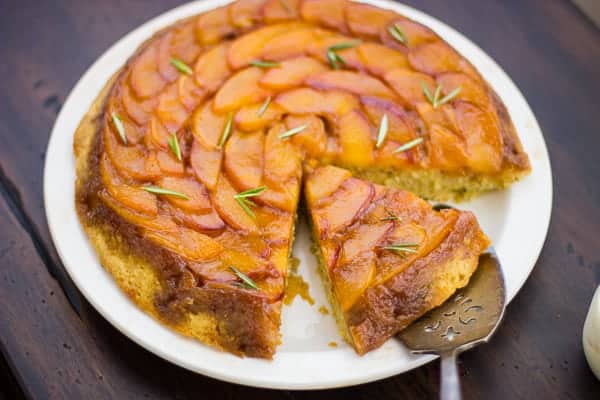 As Paul F. Tompkins so astutely points out, there has been a debate raging in our society for many, many years: some people like pie more than cake, while other people like cake more than pie. I don't hope to offer a solution to this age-old conflict of dessert interests, but I do have something that will bridge the gap (and it isn't putting frosting on pie).
It is this cake. Yes, it is a cake, but due to a ton of gooey, baked fruit, it eats like a pie, especially when warm from the oven and dolloped with crème fraîche. It is a cake for pie-lovers.
The idea for this cake came by way of my friend Molly, who works for Happy Child, the CSA of renowned Frog Hollow Farm. Frog Hollow grows some of the most delicious, organic fruit in California, and their CSA boxes brim with seasonal goodness of the highest quality. When Molly showed up last week with a box piled high with red grapes, Emerald Beaut plums, August Fire nectarines and Cal Red peaches, I thought I might die of happiness (or at least sign up for their CSA).
Molly wanted to bake a vanilla-rosemary cake, and we decided to turn it into a peach upside-down cake, and to make the batter gluten-free. Neither of us is allergic to gluten, but we both try to reserve our wheat-eating for special occasions.
Molly looked at recipes for gluten-free yellow cakes and did complicated math to adapt the recipe to the flours we had, and the proportions of my go-to upside-down cake recipe, while I mixed up some rosemary peach cocktails to, uh, help us work. We settled on a combination of cornmeal and sweet rice, tapioca, oat, and millet flours and a touch of xanthan gum (for the cake, that is – not the cocktails).
We melted butter and brown sugar together in a skillet, then Molly layered nectarine slices in concentric circles. For our cake batter, we creamed together butter, sugar, rosemary, vanilla bean seeds and extract, then added a couple of eggs, a spot of crème fraîche, and the flour mixture. Since there's never enough fruit in an upside-down cake for my liking, we folded some chopped nectarines into the batter as well.
The batter topped the fruit, and into the oven went our experimental creation.
The turned-out dessert looked beautiful, bronzed nectarines glistening atop a cake sticky with caramelized fruit juice and buttery brown sugar. When we each bit into a slice, I said, "Oh my god, it's perfect!" while Molly said, "um – best cake ever!" I made a second one the very next day, just to double check the ingredients. Not because I needed to have an entire cake all to myself. Definitely not.
The gold standard for gluten-free goodies is that they have a texture that is as good as its wheaty equivalent. This cake goes above and beyond: its texture is more melt-in-your-mouth tender than any wheat-based cake I've ever had. It is what every cake wants to be. (Minus the frosting.)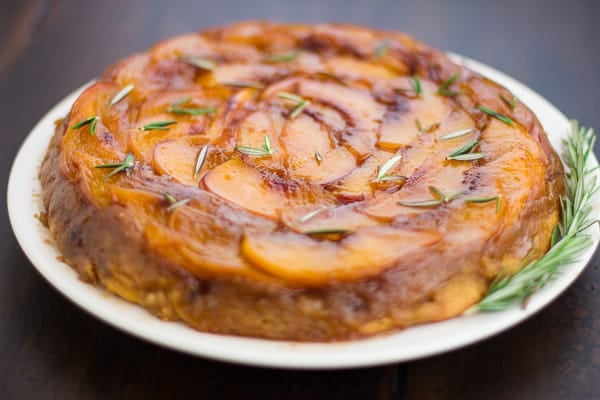 You first taste the soft, caramelized fruit – a little sweet, a little tangy. Then you get the subtly savory hint of rosemary that makes its presence known, but doesn't take over. Next, you taste the heavenly pillow of sweet and tender cake. Just when you think the show is over, you get a few crunchy nubs of cornmeal as a last-minute surprise.
This is one of those excellent transitional summer-to-fall desserts; bright with summer fruit, but gooey and comforting at the same time, with wintery notes from the rosemary.
I don't like to use the "P" word, but I truly believe that this is the perfect cake...
...because it tastes like pie.
More Peach Recipes:
*Bojon appétit! For more Bojon Gourmet in your life, follow along on Instagram, Facebook, or Pinterest, purchase my gluten-free cookbook Alternative Baker, or subscribe to receive new posts via email. And if you make this gluten-free nectarine cake, I'd love to see. Tag your Instagram snaps @The_Bojon_Gourmet and #bojongourmet.*
(Gluten-Free!) Rosemary Nectarine Upside-Down Cake
Print Recipe
Pin Recipe
This is one of those excellent transitional summer-to-fall desserts; bright with summer fruit, but gooey and comforting at the same time, with wintery notes from the rosemary.

Servings:
10
servings (makes one 10" round cake).
Ingredients
For the fruit topping:
3

tablespoons

unsalted butter

(1 1/2 ounces)

1/2

cup

packed light brown sugar

(3 ounces)

1 1/2

pounds

ripe but firm nectarines

(about 3-4 large, or 6 medium)
For the cake:
8

tablespoons

unsalted butter, softened to room temperature

(4 ounces/1 stick)

1/2

cup

granulated sugar

(4 ounces)

seeds from 1 vanilla bean (bean split lengthwise, seeds scraped out, pod saved for another use)

2

tablespoons

finely chopped fresh rosemary

1

teaspoon

vanilla extract

2

large eggs, at room temperature

3/4

cup

sweet white rice flour

(4 ounces)

1/4

cup

millet flour

(1 1/4 ounces)

1/4

cup

oat flour

(1 ounce)

1/4

cup

stone-ground yellow cornmeal

(1 1/4 ounces)

2

tablespoons

tapioca starch

(1/4 ounce)

1/2

teaspoon

xanthan gum

2

teaspoons

baking powder

1/4

teaspoon

salt

1/3

cup

crème fraîche (or sour cream), plus extra for serving

(2 1/2 ounces)

1

cup

chopped nectarines, from above
Instructions
Make the topping:
Position a rack in the center of the oven and preheat to 350ºF.

Place the butter in a 10" oven-proof skillet with 2" high sides, and put it in the oven to melt the butter. Brush some of the butter up the sides of the pan. Sprinkle the brown sugar over the butter, and place in the oven until the brown sugar is moistened and bubbling, 5 minutes.

Halve and pit the nectarines, and slice them fairly thin, about 1/8" thick. Set aside the end pieces. Beginning with the largest pieces, place the nectarine slices over the brown sugar with the curved edge facing out, overlapping the fruit as you go. Continue to make circles with the nectarine slices until you've covered the pan. Chop the remaining slices and end pieces; you should have 1 cup. Set these aside to add to the batter.
Make the cake batter:
In the bowl of a stand mixer fitted with the paddle attachment, beat together the butter, sugar, vanilla seeds, and rosemary on medium speed until light and fluffy, 3 minutes, scraping down the sides of the bowl occasionally. Beat in the vanilla extract, then the eggs one at a time. (The mixture may look curdled; this is O.K.)

Meanwhile, sift together the flours, tapioca starch, xanthan gum, baking powder, and salt into a medium bowl.

With the mixer on low speed, stir in half of the flour mixture, beating until just combined. Beat in the crème fraîche until combined, then the remaining flour mixture. Scrape down the sides of the bowl, and give the batter a stir to make sure it is mixed thoroughly. Fold in the chopped nectarines by hand until just combined.

Dollop the batter over the nectarines in the pan, and spread it gently and evenly.

Bake the cake until a tester inserted in the center of the cake comes out completely clean, about 45 minutes. Let the cake cool for 5-10 minutes (but no more, or the caramel may harden, causing the fruit to stick to the pan. If this happens, put the cake back in the oven for 5 minutes to re-melt the caramel).

Invert a large plate or platter over the pan, grasp it tightly with two oven-mitted hands, and bravely flip the whole thing over. The cake should release easily from the pan.

Let the cake cool to warm, 20 minutes, then serve warm or at room temperature, dolloped with crème fraîche. The cake is at its most gooey and pie-like on the first day, but leftovers will keep at room temperature for an additional day, or in the fridge for a few. Re-warm before serving for best results.
Notes
I think this cake would be awesome made with ripe pears in place of nectarines; apricots, plums, or, of course peaches could all stand in for the nectarines, too.
If gluten isn't an issue, use 1 1/4 cups all-purpose flour in place of the rice, oat and millet flours and omit the tapioca starch and xanthan gum. If you or your guests are highly sensitive to gluten, be sure to seek out flours and other ingredients that are certified gluten-free. Also, be sure to use sweet rice flour here (such as Mochiko brand); this is made from sticky rice, and has a finer, stickier texture than regular white or brown rice flours.
You can make your own crème fraîche by stirring 1 tablespoon buttermilk into 1 cup heavy cream and letting it sit, covered, at room temperature for 24 hours. Stir it a few times as it sits, then cover and refrigerate. It should keep for at least 1 week.
All ounce measurements here are by weight.
Nutritional values are based on one of ten servings.
Nutrition
Calories:
347
kcal
Carbohydrates:
49
g
Protein:
4
g
Fat:
16
g
Saturated Fat:
9
g
Cholesterol:
70
mg
Sodium:
88
mg
Potassium:
327
mg
Fiber:
3
g
Sugar:
28
g
Vitamin A:
765
IU
Vitamin C:
4.7
mg
Calcium:
73
mg
Iron:
1.1
mg
More Gluten-Free Cake Recipes: