A few key ingredients and techniques make for a gloriously flaky gluten-free pie crust recipe full of whole grain flours and free of gums. This dough works equally well in sweet and savory pies, tarts, galettes, quiches and turnovers. Adapted from my book Alternative Baker: Reinventing Dessert with Gluten-Free Grains and Flours.
Looking for paleo pie crust? Find the recipe here! Updated Dec. 12, 2020.
My Best Gluten-Free Pie Crust + Pie Dough
Looking for a flaky gluten-free pie crust that tastes like it was made with whole grain wheat flour? I've spent years developing a recipe that tastes and feels like my best whole wheat pie crust – light, crisp, buttery and flaky.
This recipe starts with whole grain flours – oat and millet – blended with sweet rice flour, tapioca flour, and cornstarch for a flaky, shatteringly crisp texture.
I nix the xanthan gum usually found in gluten-free pie dough recipes in favor of ground chia seed.
A couple of classic pastry techniques help bring the dough together and create layers upon layers of flaky goodness.
This pie crust can easily be made dairy-free and vegan by using plant butter (my favorite brand is Miyoko's).
Use this gluten-free pie crust to make pies, tarts, quiches, galettes, pot pie, hand pies, tarte tatin, and anywhere else you desire gluten-free pastry. (Prefer tarts to pies? Try my foolproof gluten-free tart crust recipe!)
Sweet rice, millet, and oat flours with corn starch, tapioca starch, chia seed, sugar, and salt
I adapted this recipe from an original foray into gluten-free pie making courtesy of this gluten-free apricot galette. I made a few changes along the way, detailed below, and eventually hit on a pie crust that I sometimes forget is gluten-free.
Always start with cold, but not frozen, butter
Gluten Free Pie Crust without Xanthan Gum
According to About.com, xanthan gum is a polysaccharide (science speak for a carbohydrate made up of various types of bonded-together sugar molecules) that forms during a fermentation process involving the bacteria Xanthomonas Campestris and carbohydrates from corn, wheat, dairy, or soy. Xanthan gum has strong binding powers and helps to make gluten-free doughs extensible, or stretchy, mimicking sticky, gummy gluten.
European-Style butter, such as Strauss, has a higher fat content that gives it a golden hue and makes the tastiest pastries
When you tell someone there's xanthan gum in the charmingly homemade baked good you've just given them, an odd look usually crosses their face. The baked good in question suddenly seems a lot less charming and homey. The name and process by which xanthan gum is made both sound kinda creepy. It can be hard to find, most folks don't have it lying around the house, and some can't tolerate eating it.
For all these reasons, I like to do without it when I can, using naturally sticky ingredients in its place. Inspired by many of the gluten-free recipes in Aran Goyoaga's Small Plates and Sweet Treats, I decided to try replacing the xanthan gum with ground chia seed, which, like xanthan gum, is full of polysaccharides. The seeds provide a more natural way to help gluten-free baked goods hold together, plus they're full of healthy fiber and omega 3s, and they add a pleasant nutty flavor to baked goods. (If you're chia curious, this article is a wealth of knowledge.)
A sturdy pastry blender makes this dough easy as pie
As for making the galette dough into a pie crust, I tried this several times, with some successes and some fails. The dough was fairly brittle – easy to form into a laid-back galette, but a bit tricky to wrestle into a pie pan, tending to crack apart on its journey from the counter into the pan. Once pressed into place, it sometimes baked up perfectly crisp and flaky; other times, for no apparent reason, it shrank and toughened in the oven. That would just not do.
Big butter chunks make for a flaky, tender dough
I wanted a bit more dough in order to make a thicker crust, so I increased the flours, butter, and ice water. I tried varying amounts of ground chia seed until I hit on the right amount to help it hold together, but not too much to overpower things. To solve the toughness problem, I added a teaspoon of cider vinegar (and more recently buttermilk). And I increased the sugar a bit to cancel out the edge of bitterness that the millet flour adds.
Add the ice water/vinegar mixture tablespoon by tablespoon directly to the dry bits until the dough will just hold together when you squeeze it
I had tried making the galette dough with tapioca flour in place of cornstarch, but didn't like the results. I found here, though, that a little tapioca flour in addition to the cornstarch helped to make a smoother dough that held together better. (I also tried potato starch in place of the cornstarch, but since potato starch is hygroscopic [science speak for grabbing water molecules out of the air], this dough became soggy quickly. The dough made with cornstarch browned more readily, and it stays crisp for days.)
Using the fraisage method to create flaky layers and bring the dough together
To bring the dough together, I usually like using the fraisage method, an old-school French technique wherein portions of the dough get smeared quickly across the counter. This has the effect of flattening the butter chunks into thin sheets, in a puff pastry-like manner. When these many layers of butter hit the heat of the oven, they release steam, raising the layer of dough above it, making for flaky pastry. I wondered if this step could be skipped, so I tried simply kneading the dough 10 to 20 times in the bowl. This produced a crust that was not quite as flaky as the one using the fraisage method, but still pretty great, especially for a gluten-free dough.
For extra flake, I like to take a cue from laminated doughs (such as puff pastry) and roll the dough out once, fold it up in thirds like folding a letter, roll that into a loose spiral, and then chill it again before rolling it into a round to stick in the pie pan. Called "a turn" when making croissant dough or puff pastry, this helps smooth out the dough, making it easier to work with, and it also creates more flake and layers. I liked the dough that got fraisaged, chilled and folded the best, but you can simply knead the dough in the bowl to bring it together if you prefer.
Folding the dough in thirds, then in thirds again, not only creates extra flaky layers, it also makes for a smoother dough that's easier to work with
This gluten-free pie crust recipe is a pleasure to work with – smooth and fairly sturdy. It bakes up crisp, with a texture akin to a whole wheat pie dough – a bit denser than a white flour pie dough, and with a nutty, whole-grain flavor. The texture is crisp and buttery, and it stays that way even after a few days of being filled and baked, a feat for any pie dough.
Please leave a note if you give this gluten-free pie crust recipe a go, and feel free to ask any questions that may arise – I love answering them. Happy baking.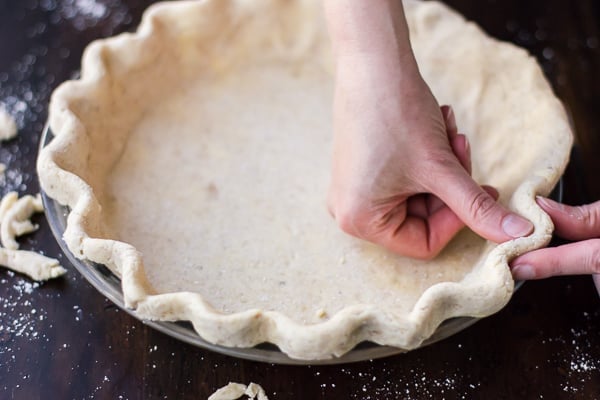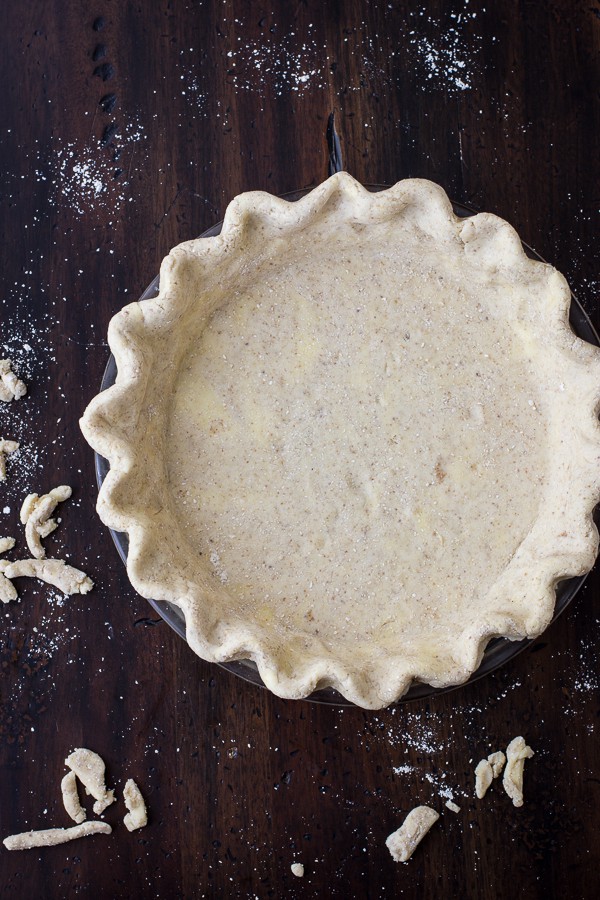 How to use your perfect gluten-free pie crust:
Sweet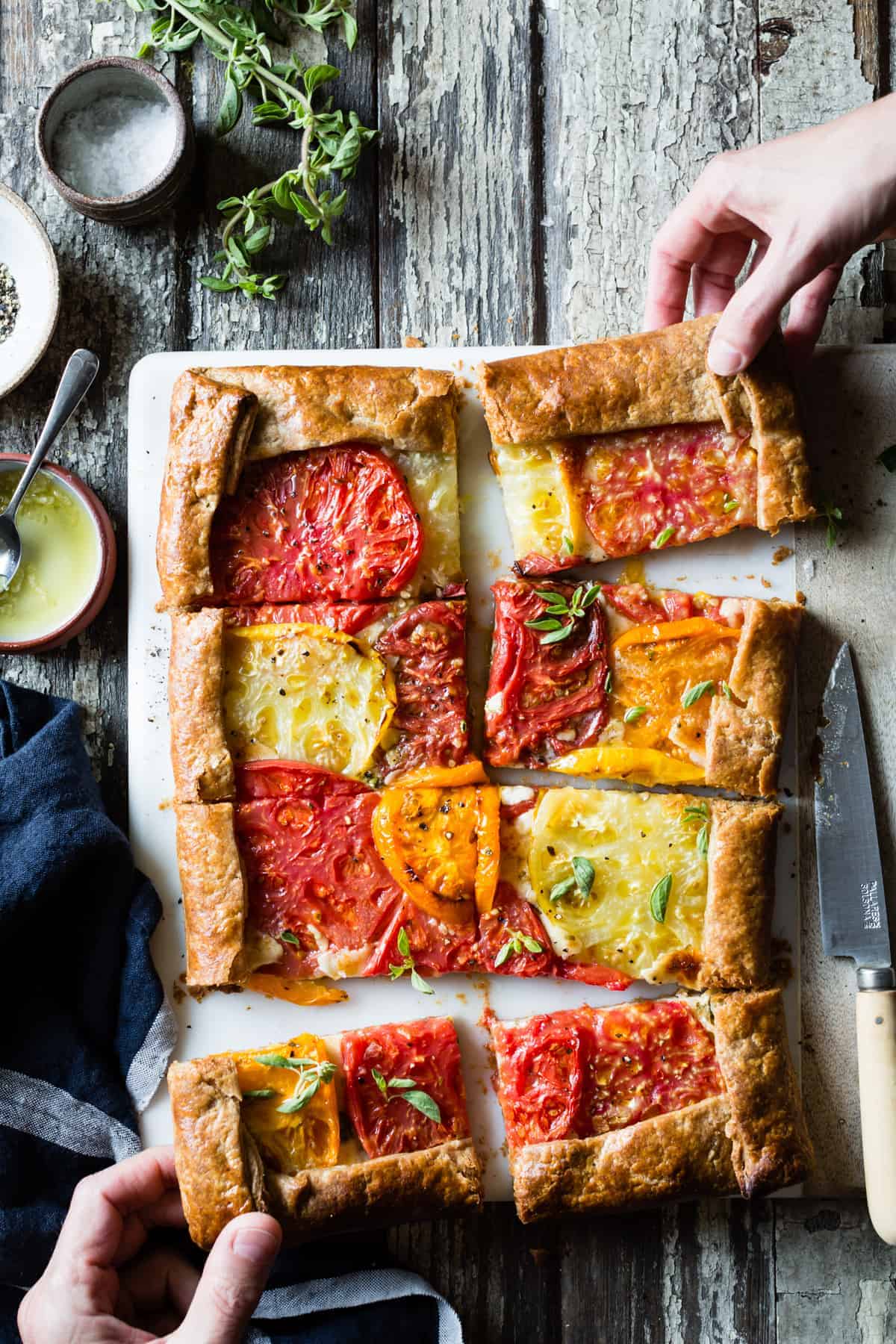 Savory:
More Gluten-Free Basics:
More Pastry Recipes:
*Bojon appétit! For more Bojon Gourmet in your life, follow along on Instagram, Facebook, or Pinterest, purchase my gluten-free cookbook Alternative Baker, or subscribe to receive new posts via email. And if you make this gluten-free pie crust recipe, I'd love to know. Leave a comment and rating below, and tag your Instagram snaps @The_Bojon_Gourmet and #bojongourmet.*
Flaky Gluten-Free Pie Crust
Print Recipe
Pin Recipe
This dough is adapted from my book
Alternative Baker: Reinventing Dessert with Gluten-Free Grains and Flours
which is full of luscious pie recipes using this dough and its variations, including a vegan version. It's your ticket to crisp, tender, flaky pie dough loaded with whole grain oat and millet flours and free of gums. See variations below for doughs made with sorghum and buckwheat flours. The buttermilk variation makes for an extra flaky, rich dough that is easier to work with – highly recommended!
Servings:
9
servings (one 9-inch pie crust).
Ingredients
6-8

tablespoons

ice water

(from 1 cup ice cubes filled with cool water)

1/2

cup

sweet white rice flour (mochiko)

(2.75 ounces / 80 grams)

1/4

cup

plus 2 tablespoons GF oat flour

(1.25 ounces / 35 grams)

1/4

cup

millet flour

(1.25 ounces / 35 grams)

1/4

cup

cornstarch

(1 ounce / 30 grams)

2

tablespoons

tapioca starch/flour (same thing)

(.5 ounce / 15 grams)

2 1/2

tablespoons

finely ground chia seed (I grind mine in a coffee grinder)

(.5 ounces / 15 grams)

1

tablespoon

sugar

(.5 ounces / 15 grams)

1/2

teaspoon

fine sea salt

8

tablespoons

cold, unsalted butter (preferably European-style such as Straus), sliced 1/4" thick

(4 ounces / 115 grams)

1

teaspoon

apple cider vinegar
Instructions
Make the dough:
In a large bowl, combine the rice, oat, and millet flours with the cornstarch, tapioca flour, ground chia seed, sugar, and salt. Scatter the butter pieces of the top, and work in with a pastry blender or your fingers until the mixture resembles gravel, with lots of butter chunks the size of large peas.

Stir together 6 tablespoons of the ice water with the apple cider vinegar, and drizzle the mixture into the flour mixture 1 tablespoon at a time, tossing the dough with a rubber spatula to moisten evenly. Add just enough water for the dough to hold together when you give it a squeeze, and add it directly to the dry floury bits that like to hang out on the bottom of the bowl; you may need up to 8 tablespoons of water, total.
At this point you can do one of two things:
Knead the dough in the bowl 10-20 times to bring it together.

Dump the dough out onto the counter and fraisage by dragging portions of the dough across the counter with the heel of your hand (this makes for a flakier dough). Either way, gather the dough up into a ball (a metal bench scraper helps if using the fraisage method) wrap it loosely in plastic wrap, and flatten it into a disk. Chill the dough 30 minutes.
Optionally, for extra flake, roll, fold, roll, or "turn" the dough:
On a lightly floured surface, roll the chilled dough out into a rough square that is about 1/4" thick. Fold it in thirds like you're folding a letter, then roll up from a skinny end into a loose spiral. Gently press to flatten it slightly, and chill for 30 minutes. Optionally, repeat this step once more.
Shape the crust:
Remove the dough from the fridge, unwrap, and place on a lightly floured surface. Roll out the dough into a 12" circle, dusting the dough lightly with oat flour flour as needed, rotating and flipping it to prevent it from sticking. Ease the dough into a 9" glass pie plate, fit it into the corners, and trim it to a 1" overhang. (Save the scraps to patch any tears in the dough post-parbaking.) Fold the overhang of the crust under, and flute the crust by pressing it between the thumb of one hand and the index finger and thumb of the other hand. Prick the bottom of the crust all over with the tines of a fork. Chill the crust for 20 minutes, then freeze it for at least 20 minutes, until solid.

Position a rack in the lower third of the oven and preheat to 400º. If you have a baking stone, put it on the rack. Place the frozen crust on a rimmed baking sheet. Line it with a piece of parchment paper, and fill to the top with pie weights, dry beans, or clean pennies, pressing the weights into the sides and corners of the crust. Bake the crust for 15-30 minutes (shorter for a metal pan, longer for a glass pan), until the dough will hold its shape when you lift off the parchment. Carefully remove the weights and parchment and bake until the bottom is dry and lightly golden, about 8-12 minutes longer (for a parbaked crust) or until deeply golden, 15-20 minutes (for a fully baked crust). Use the saved scraps of dough to patch any holes, cracks, or tears in the dough, baking for a few more minutes post-patching.
Notes
Variation with buttermilk (my favorite!):
Omit the vinegar. For the liquid in the recipe, stir together 4 tablespoons cold buttermilk with 4 tablespoons of ice water. Proceed with the recipe, adding more ice water if needed to moisten the dough after all the buttermilk mixture has been added.
Variation with sorghum flour:
Omit the millet flour, using 1/4 cup (30 g) sorghum flour in its place.
Variation with buckwheat flour:
Omit the millet flour, using 1/4 cup + 2 tablespoons (45 g) buckwheat flour and decreasing the oat flour to 1/4 cup (25 g).
Vegan pie crust variation:
Use vegan butter in place of the butter, and decrease the salt if the butter is salty. I like Miyoko's cultured vegan butter the best.
Paleo pie crust variation:
Instead of the flours, use 1/2 cup blanched almond flour, 1/2 cup cassava flour, and 1/4 cup tapioca flour. Omit the sugar or use maple sugar. Use 2 teaspoons lemon juice in place of the vinegar if you like, and decrease the ice water to 5-6 tablespoons, or until the dough holds together. If you're dairy-free, use vegan butter in place of the butter, and decrease the salt if the butter is salty.
Variation in a food processor:
Once you've made this dough a few times by hand and have a feel for how it comes together, you can throw caution to the wind and make it in a food processor. Add all the dry ingredients to the bowl of the processor and scatter the butter slices over the top, but don't pulse them in yet. Place the bowl on the food processor, put the lid on, and open up the pouring spout. While pouring in the ice water mixture, pulse the processor in short bursts. By the time the liquid is added, the butter should be broken down into the size of peas. Give the dough a squeeze to make sure it's properly hydrated, pulsing in more ice water if needed. Wrap and chill the dough, making the turns if you like for extra flake.
A few notes on ingredients:
This is the flour blend that works for me, but do feel free to experiment as you see fit. If you can't find sweet rice flour, which is widely available in Asian markets, try a GF all-purpose blend in its place, such as Bob's Red Mill 1 to 1 baking mix, which is made largely of sweet rice flour. (I would hesitate to substitute regular rice flour, which is less sticky and will make for a brittle dough). Chia seed can be found at any health food store or upscale market; I use the lighter colored seeds, grind a bunch ahead of time, and keep them in a jar to use as needed. If you can't find chia seeds, try using an equal amount of ground flax seed (these have a slightly stronger flavor), or 1/2 teaspoon xanthan or guar gum in their place. European-style butters have more fat and less water, and will make for the most rich and tender crust; Strauss and Plugra are two widely available brands.
A few notes on timing:
If your dough has chilled for a while and cracks when you go to roll it, let it warm up a bit; this will make it easier to work with. Give yourself three hours to complete a parbaked crust if you plan to give your dough a puff pastry-esque turn (which I call roll, fold, roll), or two hours if you're skipping this step. Most of this time is inactive. The ideal timeframe for making this crust is as follows:
10 minutes to mix and fraisage the dough
30 minutes to chill 10 minutes to roll out and fold 30 minutes to chill
10 minutes to roll out the dough, get it in the pan, shape it, and dock it
20 minutes to chill
20 minutes to freeze
30-40 minutes to par-bake the crust
Do ahead: You can make the dough up to two days ahead; let it soften up a bit before rolling it out. You can also wrap a frozen shell, baked or unbaked, for up to several months.
Nutritional values are based on one of nine servings.
Nutrition
Calories:
189
kcal
Carbohydrates:
19
g
Protein:
2
g
Fat:
12
g
Saturated Fat:
7
g
Cholesterol:
27
mg
Sodium:
133
mg
Potassium:
40
mg
Fiber:
2
g
Sugar:
1
g
Vitamin A:
310
IU
Calcium:
26
mg
Iron:
0.6
mg