Soft and chewy and bursting with spice, these gluten-free molasses cookies boast a pillowy, tender texture and sparkly, crinkled tops. Many readers have had success making these community-favorite cookies egg-free, dairy-free, and paleo. See the comments section for more!
I've also shared a double chocolate version of this cookie. Find more gluten-free cookie recipes for every craving!
Let's just get one thing straight: these are not gingersnaps. Not that there's anything wrong with gingersnaps. They're light, crispy, crunchy; just the thing for dunking in a mug of tea, or grinding with butter to make into a crust for pumpkin cheesecake squares, say. In fact, I have a recipe for GF gingersnaps in my book Alternative Baker that are perfectly dreamy.
These soft gluten-free molasses cookies just aren't them.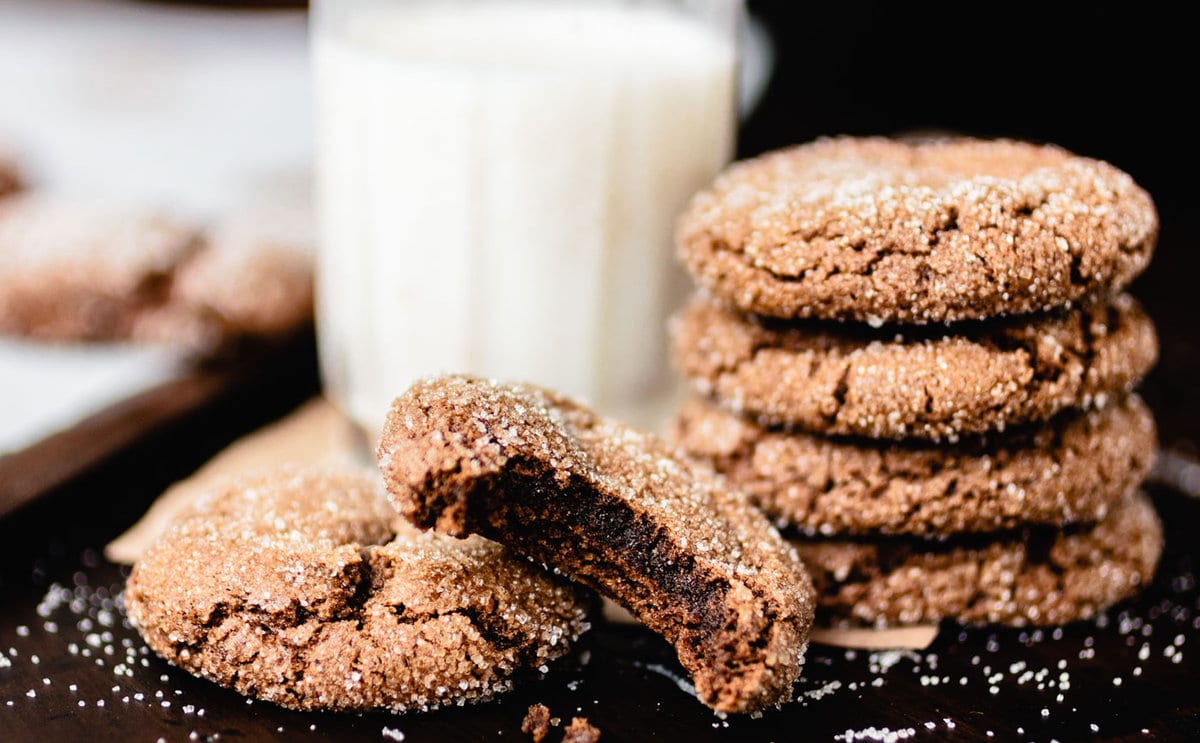 Soft & Chewy Gluten-Free Molasses Cookies
I first shared this recipe back in 2012 and they've been a reader favorite as well as a personal favorite ever since. I make these every fall when the air turns cool and I crave warm, spicy comfort in the form of pillowy ginger cookies.
I adapted this recipe from three different sources: Alice Medrich's wheat-free Ginger Cookies from Chewy Gooey Crispy Crunchy Melt-in-Your-Mouth Cookies, my own tests with gluten-free chocolate chip cookies, and my favorite glutenous version from Cook's Illustrated.
These gluten-free ginger molasses cookies are incredibly moist, chewy, and tender in a way that glutenous cookies can only wish for. A generous pour of dark molasses keeps them soft for days, while adding deep, rich coffee notes that play off cinnamon, ginger and black pepper. They are little pillows of spicy love.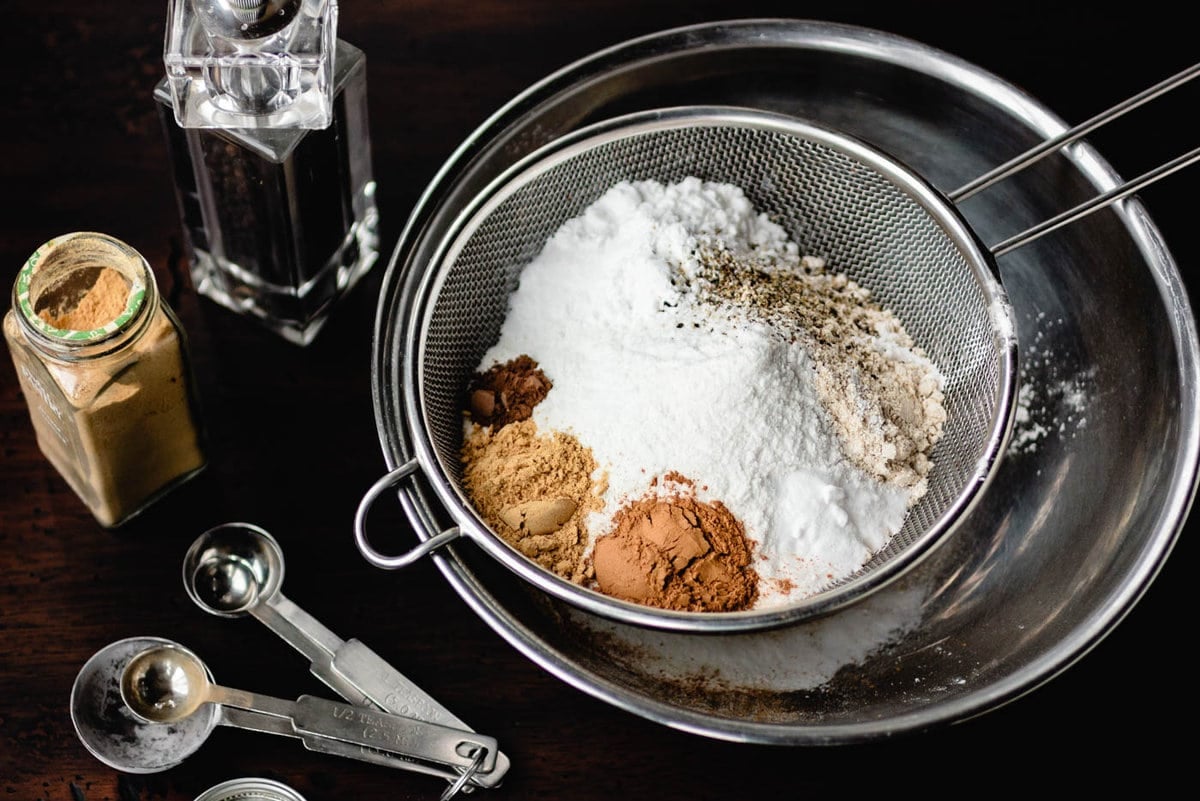 Ingredients & Substitution Suggestions
These cookies are easy to make with a handful of pantry-friendly ingredients and gluten-free flours.
Butter makes these cookies moist and soft. I make these with melted (rather than softened) butter, meaning you just whisk everything together. For a dairy-free variation, use a plant-based butter instead. Miyoko's vegan butter is my favorite!
An egg adds moisture and structure. You can try using a flax egg or a commercial egg substitute. A reader made these using 1/4 cup Just Egg and they worked well!
Granulated and brown sugars (light or dark) make these cookies just sweet enough. I prefer organic sugar which has larger crystals and extra molasses flavor. You can use coconut sugar in place of both sugars by weight, but the cookies won't crinkle on top.
Molasses gives these cookies their signature rich taste and chewy texture. I've used both unsulphured and blackstrap molasses and both work great. Lighter molasses will make the cookies sweeter and lighter in color but will likely work too.
Vanilla adds flavor along with the classic spices: ginger, cinnamon, allspice, and a little black pepper. A hit of salt sharpens the flavors.
A trio of gluten-free flours stands in for all-purpose. Sweet rice flour helps the dough hold together, oat flour adds whole-grain goodness and a fluffy crumb, and tapioca flour makes them extra chewy. You can use a GF AP blend in place of any or all of the flours by weight. Oat flour can be swapped for buckwheat flour or teff flour for a richer flavor. Tapioca flour can be swapped for arrowroot flour.
Baking soda helps the cookies lift and spread, forming pretty cracks on top.
How to make Soft & Chewy GF Molasses Cookies
The dough for these gluten-free ginger cookies comes together with just 10 minutes of active time. The dough needs to chill for at least 1-2 hours, until firm enough to roll into balls, but the cookies are best when the dough is allowed to chill for 1-2 days. The recipe makes about 2 dozen cookies. Double the recipe if you need moar cookies. See below for more cookie baking tips!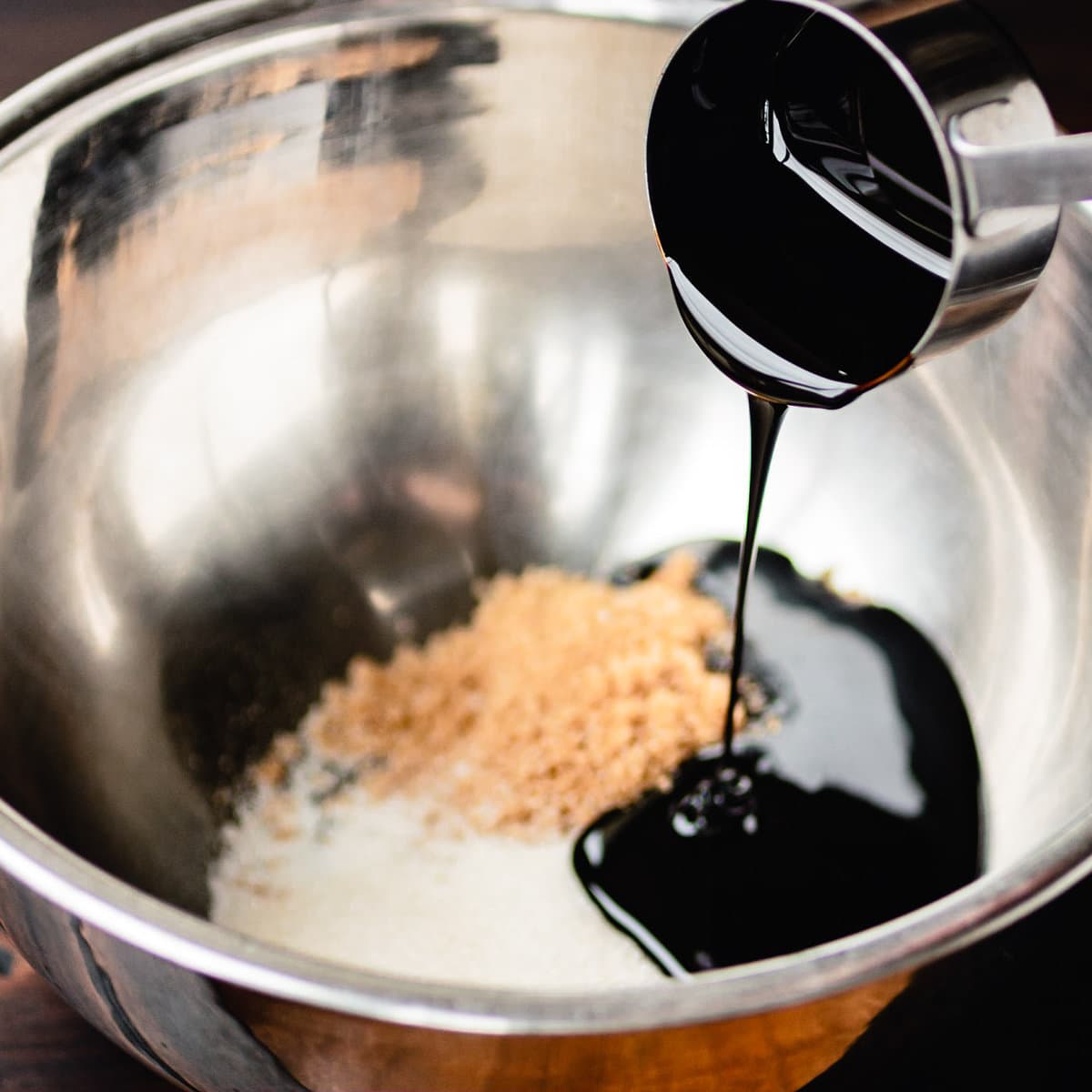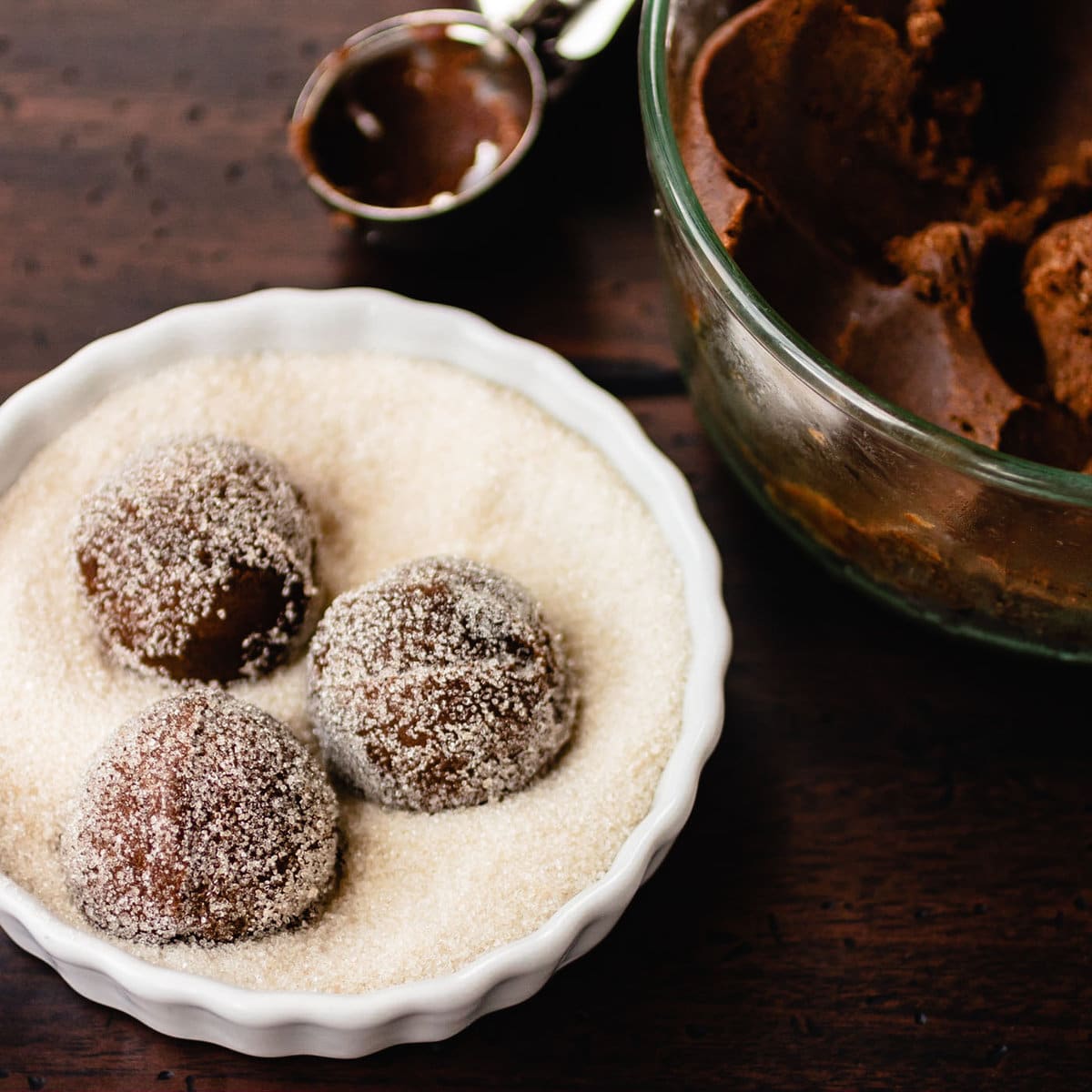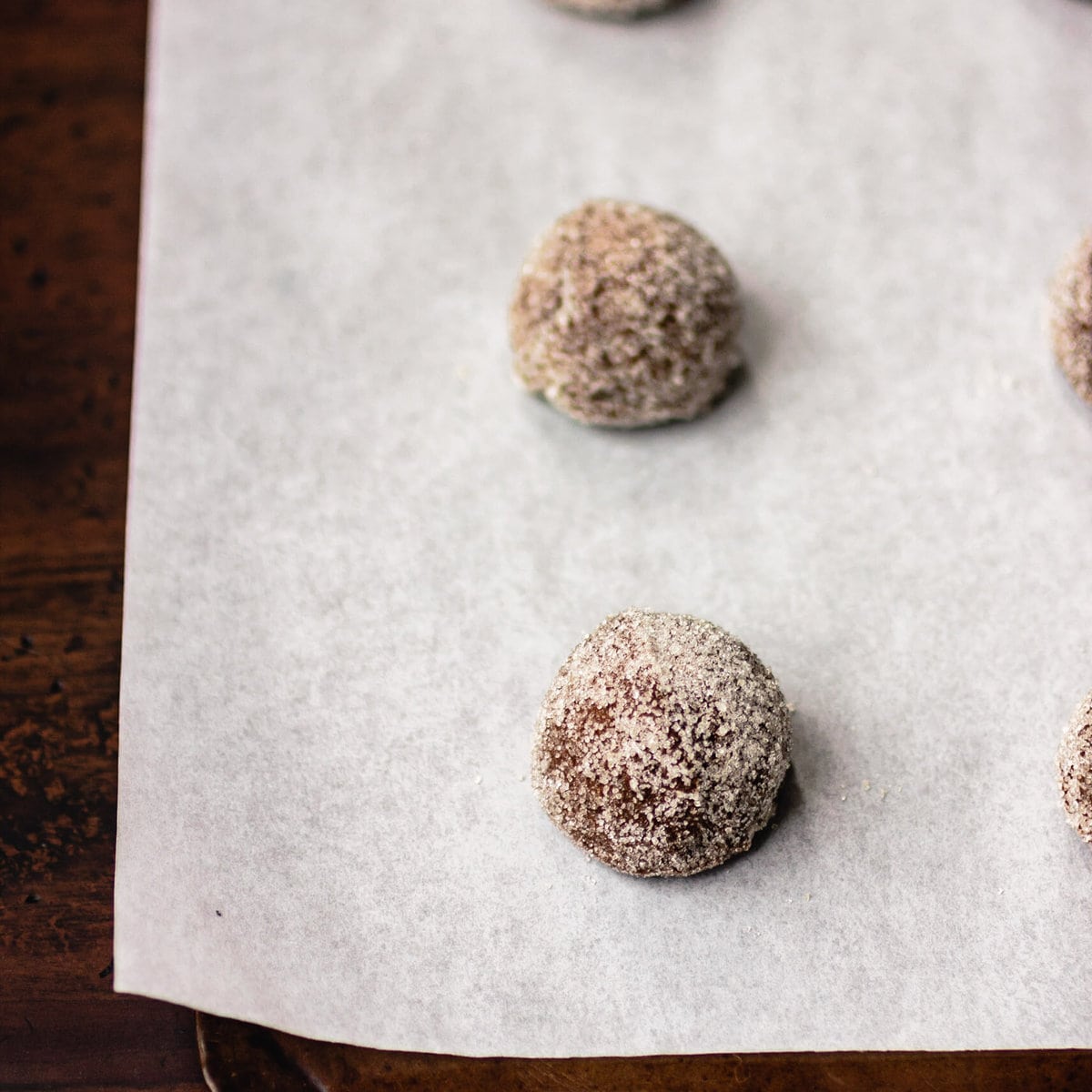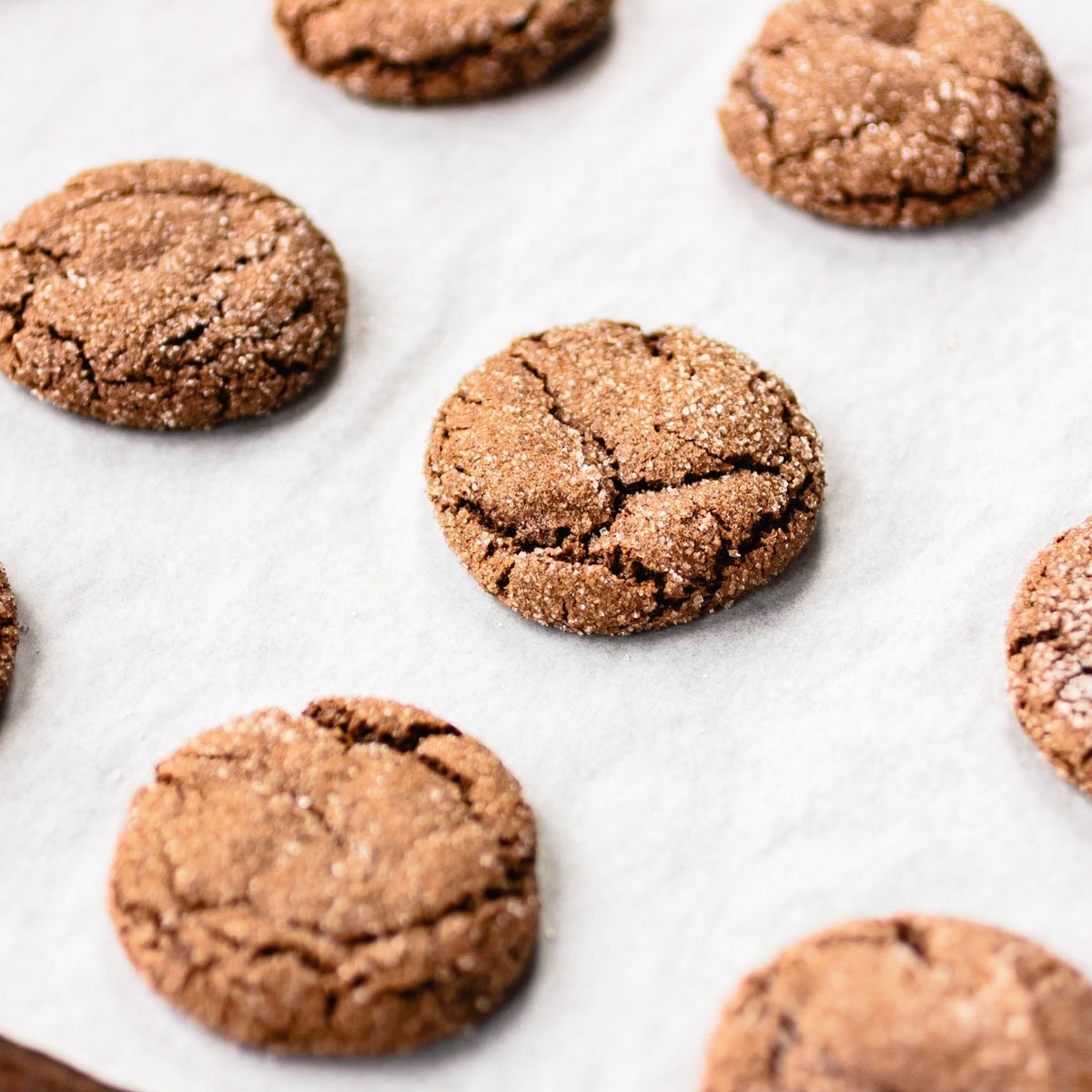 Tips for baking the best gluten-free ginger molasses cookies
Cookies are particularly sensitive to small variations in ingredient amounts, as well as dough and oven temperature. When this dough is first mixed, it is gooey and soft, more like a quick bread batter. If you can wrestle it into a ball, roll it in sugar, and get it onto a baking sheet, it will spread generously in the heat of the oven; not quite flat as a pancake, but close. The texture will also have a vaguely gluten-free quality.
If you can bear it, cover the dough and chill it for at least an hour or two, or, even better, for one to two days. The starches in the flours will absorb moisture from the dough and swell, making for a smoother, sturdier dough. Now when you form the firm dough into balls, they will spread and puff into thick and chewy, crinkled pillows. Their mouthfeel will be smooth, almost creamy on the inside.
I love that this recipe uses melted butter that gets simply stirred together with the other ingredients rather than creamed in a stand mixer. It takes about 5 minutes to mix up. You can weigh your ingredients right into one bowl and have minimal washing up to do afterwards.
The key to the pretty cracked tops is to bake the cookies one sheet at a time on the top rack. Bake them until the edges start to set but the centers are soft, puffed, and cracked.
These gluten-free ginger molasses cookies keep beautifully when properly under-baked; I like them even better on days 2 and 3 when the flavors have melded even more.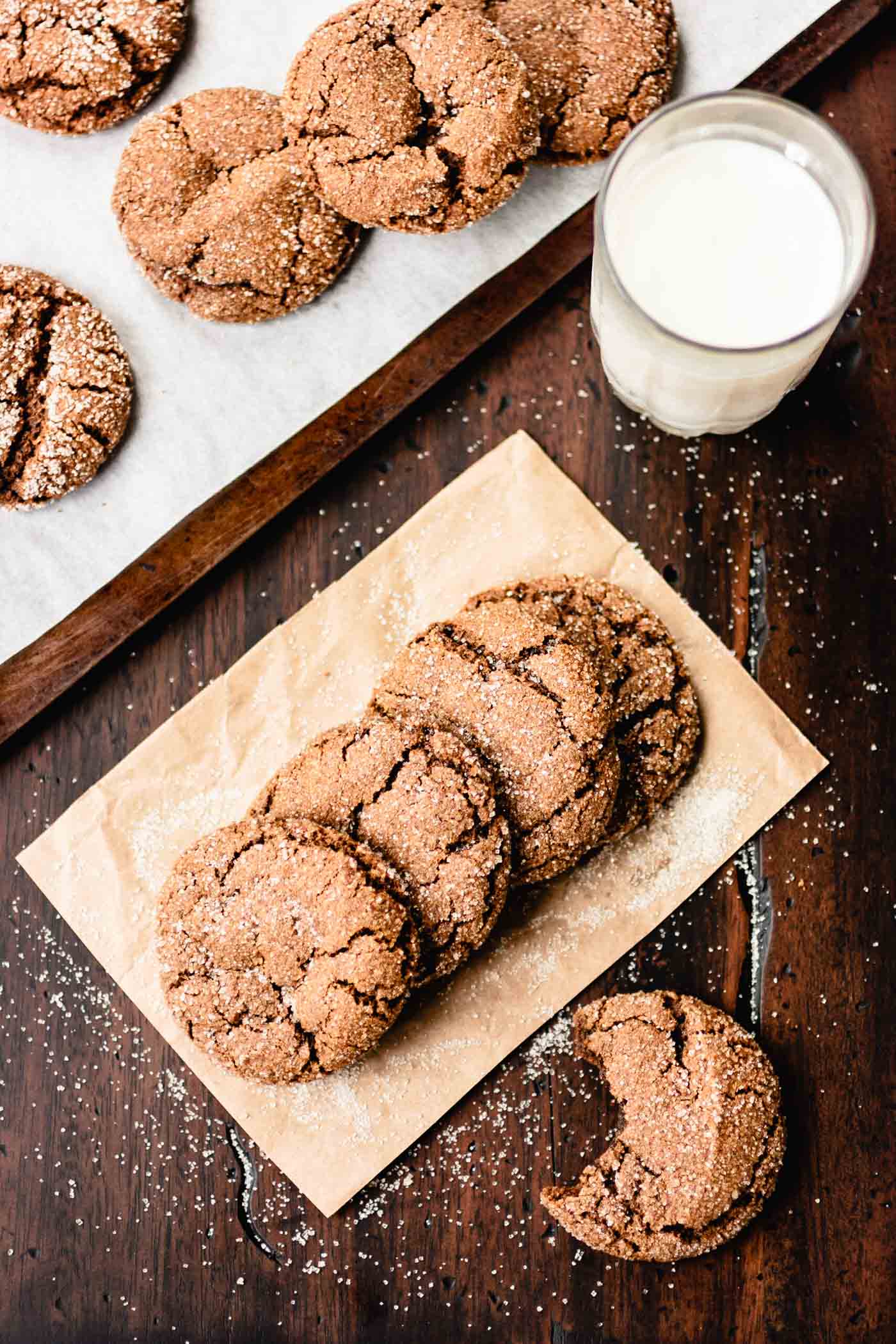 Gluten-Free Cookie Boxes for the Holidays
These moist and flavorful cookies are perfect for gifting. Make a few different types of cookies to mix and match into boxes and all your gluten-intolerant friends will thank you! Here are some favorite gluten-free holiday cookies to pair with them: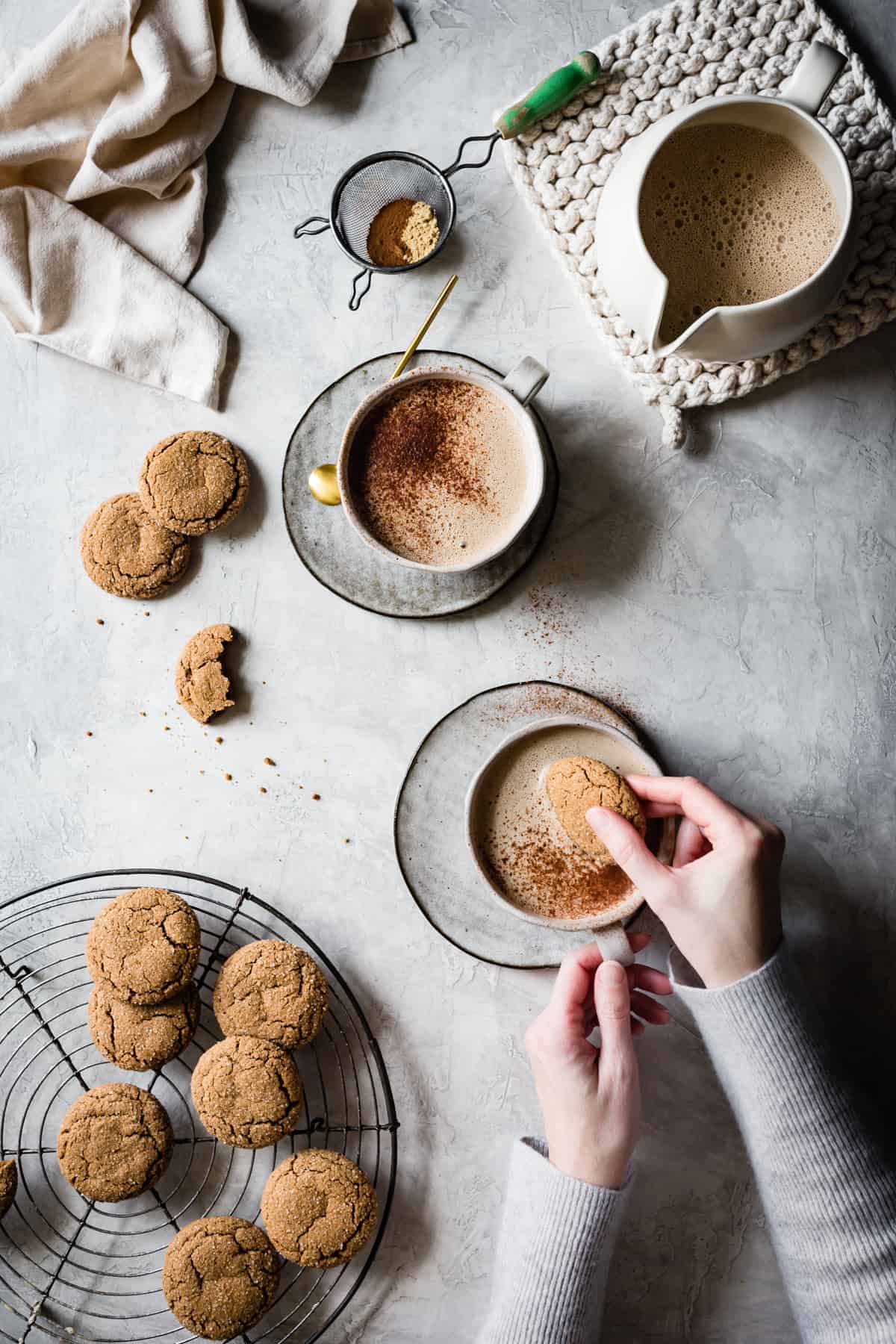 *Bojon appétit! For more Bojon Gourmet in your life, follow along on Instagram, Facebook, or Pinterest, purchase my gluten-free cookbook Alternative Baker, or subscribe to receive new posts via email. And if you make this gluten-free ginger molasses cookie recipe, I'd love to see. Tag your Instagram snaps @The_Bojon_Gourmet and #bojongourmet.*
Crinkle-Top Gluten-Free Ginger Molasses Cookies
Print Recipe
Pin Recipe
Soft & moist gluten-free ginger molasses cookies with chewy middles and perfectly crinkled tops. Made with 20 minutes of active time! For best results, allow the cookie dough to chill at least 1-2 hours and preferably 1-2 days before baking.
Servings:
24
thick and chewy 2-inch cookies
Ingredients
Dry Ingredients
1¼

cups

gluten-free oat flour (such as Bob's Red Mill)

(4 ½ ounces / 125 g)

¾

cup

sweet rice flour (such as Koda Farms Mochiko)

(4 ounces / 115 g)

¼

cup

tapioca flour (such as Bob's Red Mill)

(1 ounce / 28 g)

1

teaspoon

baking soda

2

teaspoons

ground ginger

1 ½

teaspoons

ground cinnamon

½

teaspoon

ground allspice

¼

teaspoon

freshly ground black pepper

¼

teaspoon

fine sea salt
Wet Ingredients
8

tablespoons

unsalted butter, melted and kept warm

(4 ounces / 113 g)

⅓

cup

molasses (I use dark unsulphured)

(3 ½ ounces / 100 g)

⅓

cup

light or dark brown sugar

(2 ¼ ounces / 67 g)

⅓

cup

organic granulated sugar

(2 ¼ ounces / 67 g)

1

large egg

(2 ounces out of shell)

1

teaspoon

vanilla extract
To finish
⅓

cup

granulated sugar

(2 ¼ ounces / 67 g)
Instructions
Make the cookie dough
In a medium bowl, sift together the oat, sweet rice, and tapioca flours with the baking soda, ginger, cinnamon, allspice, pepper, and salt.

In a large bowl, stir together the butter, molasses, brown sugar, and 1/3 cup of the granulated sugar. Whisk in the egg and vanilla extract. Stir in the flour mixture with a sturdy wooden spoon. Once the flour is incorporated, stir vigorously for 40 strokes - this activates the stickiness of the flours and makes for chewy cookies.

Cover the dough and chill until firm, 1-2 hours or preferably 1-2 days.
Bake the cookies
When you're ready to bake, position a rack in the upper third of the oven and preheat to 350ºF. Line 2 rimless cookie sheets with parchment paper. Place the remaining 1/3 cup of granulated sugar in a shallow bowl.

Scoop the cookies into 1" balls (a spring-loaded #40 ice cream scoop works wonders) and roll each ball in the sugar. Place the balls at least 2" apart on the cookie sheet.

Bake the cookies, one sheet at a time, until they are puffed and cracked, and the dough between the cracks looks underbaked, 7-10 minutes, rotating the pan after 5 minutes to ensure even baking. Repeat with the second sheet.

Let the cookies cool slightly on the sheet (or if they've been overcooked, whisk the parchment and cookies straight off the sheet and onto a cooling rack), then use a thin, metal spatula to remove the cookies to a cooling rack. Cool completely (the cookies will still be baking from residual heat), then store at room temperature in an airtight container for up to 3 days.
Notes
My original recipe called for 1/4 teaspoon xanthan gum, but I've tested them without and didn't detect a difference, so I've removed it from the ingredients.
If you can, start these cookies a day (or even two) ahead; the dough benefits from a day of chilling, resulting in thicker, chewier, smoother cookies. If you must have cookies straight away, go ahead and bake some off; they will spread more, and will have a thinner and more brittle texture, but they will still be good.
Err on the side of underbaking, removing the cookies when they are puffed and cracked, with the dough between the cracks looks underbaked. For the craggiest cookies, bake the trays one at a time in the upper third of the oven.
I recommend weighing the ingredients for these (and all) cookies as slight variations in amounts can cause the cookies to spread too much or not enough. (Besides, measuring molasses into a cup and then trying to get it back out again is no fun).
I use a dark, unsulphured molasses here, but I'm guessing that blackstrap or light molasses will work, too, though blackstrap will have a more assertive molasses flavor, whereas the light stuff will yield a more mild, kid-friendly cookie.
Sweet rice flour is stickier than regular white rice flour and can be found with other gluten-free flours at health food stores, or at Asian grocers.
Nutritional values are based on one of twenty four cookies.
Nutrition
Calories:
116
kcal
Carbohydrates:
18
g
Protein:
1
g
Fat:
5
g
Saturated Fat:
3
g
Cholesterol:
17
mg
Sodium:
77
mg
Potassium:
100
mg
Fiber:
1
g
Sugar:
9
g
Vitamin A:
130
IU
Calcium:
19
mg
Iron:
0.6
mg