Buttery, crumbly, and slightly sweet, this gluten free cornbread recipe comes together quickly with 1 bowl and 10 ingredients.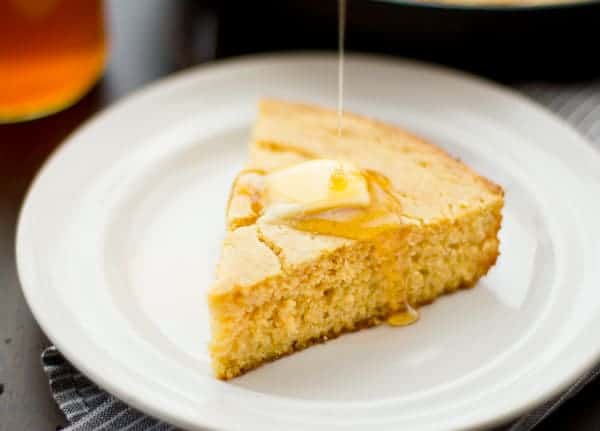 One day last spring, I found myself with some milk that had turned slightly sour. Thanks to Jay's mom, I knew that not all was lost; I could bake with it. So I opened up my brand new (signed!) copy of Deborah Madison's Vegetable Literacy and flipped to a recipe for Buttermilk Skillet Cornbread. I tweaked things around to make gluten free cornbread, and what I pulled from the oven was hands-down the best cornbread I'd ever tasted – super moist, slightly chewy, and flecked with nubs of stone ground cornmeal.
I've been playing around with this cornbread recently, turning it into a stuffing packed with wild mushrooms, chestnuts, leeks, and fennel. I've simplified the recipe to be mixed all in one bowl, which means that you can have cornbread baked, slightly cooled, and into your mouth within an hour. Despite being gluten-free, the ingredient list is short and sweet. And buttermilk works beautifully in place of soured milk, of course.
Like most good things in life, this one starts with lots of butter, in this case melted in the oven-proof skillet in which you will bake the cornbread.
A combination of cornmeal, oat flour, and sweet rice flour give this gluten free cornbread a flawless texture without the use of any gums or starches. A bit of salt adds flavor, a touch of sugar balances the slight bitter notes of the cornmeal, and baking soda and powder work together to leaven the bread.
Eggs and buttermilk go right into the bowl
and get whisked until smooth.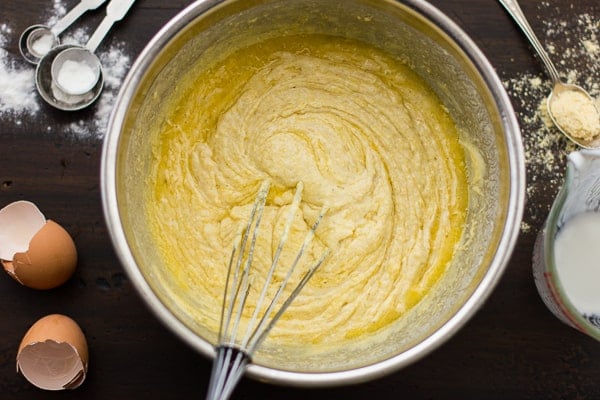 In goes the melted butter,
And into the pan it goes. A brief bake, and there you have it: great gluten free cornbread.
They don't call it quick bread for nothing.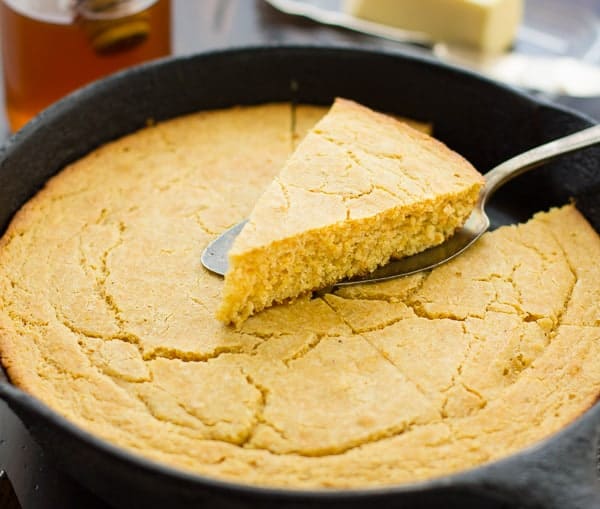 Serve wedges alongside soup or salad. Or top it with butter, honey, and a flutter of sea salt and call it breakfast.
And stay tuned for Cornbread Stuffing with Chestnuts, Leeks, and Chanterelles.
Corny:
Skillet Custard Cornbread with Berries and Honey
Sweet Corn Cheddar Spoonbread
Asparagus and Shiitake Mushroom Tart with Gluten-Free Polenta Crust
One year ago:
Two years ago:
Three years ago:
Four years ago:
Rum and Sweet Potato Cinnamon Buns
Gluten-Free Buttermilk Skillet Cornbread
Adapted generously from Deborah Madison's Vegetable Literary
This yields a moist, springy bread flecked with nubby bits of stone-ground cornmeal that holds together beautifully without the use of gums or starches. I credit the copious amounts of butter and buttermilk for its lovely texture. It is just the thing to serve (warm and slathered with butter and a flutter of sea salt) with a bowl of soup or chilli, or to turn into Gluten-Free Cornbread Stuffing with Chestnuts, Leeks, and Chanterelles. If you don't have sweet white rice flour (mochiko), you may need to add 1/4-1/2 teaspoon xanthan gum to help the bread hold together. I like to bake this in my 10-inch round cast iron skillet, but it should also work in a 9-inch round pan or skillet, or an 8- or 9-inch square pan.
All ounce measurements are by weight.
Makes one 9-10″ round cornbread; 8-10 servings
6 tablespoons (3 ounces/85 grams) unsalted butter
1/2 cup (2.25 ounces/60 grams) gluten-free oat flour
1/2 cup (3 ounces/85 grams) sweet white rice flour (mochiko)
1 cup (5 ounces/140 grams) yellow stone-ground cornmeal
1 teaspoon baking powder
1 teaspoon baking soda
1 teaspoon sugar (increase to 1 tablespoon if you like a sweeter cornbread)
1/2 teaspoon salt
2 large eggs
1 1/2 cups (355 ml) well-shaken buttermilk
Position a rack in the center of the oven and preheat to 375ºF (190ºC).
Place the butter in a 10″ oven-proof skillet and set the skillet in the oven to melt the butter, about 5 minutes.
In a large bowl, whisk together the oat flour, rice flour, cornmeal, baking powder, baking soda, sugar, and salt. Whisk well to eradicate lumps. Add the eggs and buttermilk, and whisk until just combined.
Remove the pan from the oven, swirl to coat the sides with butter, then pour the melted butter into the batter, whisking quickly to combine.
Scrape the batter into the buttery, hot pan, and spread evenly. Bake the cornbread until golden on top, and a toothpick inserted into the center comes out clean, 30-35 minutes.
Let the cornbread cool for at least 20 minutes; the bread is still cooking from residual heat. Cut into wedges and serve warm. Extras can be kept airtight at room temperature for up to a few days. Toast in a toaster oven before enjoying.