Stuffing was something to which I never gave much thought. I don't even recall its presence during childhood Thanksgiving meals (though to be fair, the meal was always just a blind rush for pumpkin pie and cinnamon ice cream).
Today, my family's Thanksgiving gatherings are not unlike a Woody Allen film. In attendance are often my mom, my dad, my dad's wife, my half sister and brother, their mom, her wife, my cousin and her family, and a smattering of nieces and nephews. Did I mention that most of the adults are therapists? Things can get a bit neurotic at times, but the fantastic vittles (and copious amounts of wine) help.
My brother makes the best turkey on the planet. My mom brings spiced cranberry sauce and rum-soused sweet potatoes. My sister's in charge of mashers, which are always perfectly rich and fluffy. And my sister-in-law always whips up a big vat of veggies and a huge green salad.
But it's my half-sister's mom, Pnina, who brings the stuffing every year, and I hold her entirely responsible for our current stuffing fixation. Of all the post T-day leftovers, Pnina's stuffing is the most coveted, becoming more delicious by the day as it soaks in gravy and melds with mashed potatoes.
This year, not wanting to wait until Thanksgiving to enjoy stuffing, I concocted my own recipe made with a base of my gluten-free buttermilk skillet cornbread and roasted chestnuts all seasoned with sauteed leeks and chanterelles.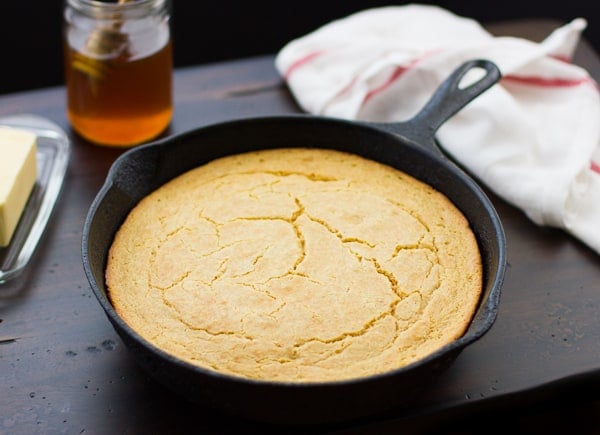 As I researched recipes for guidance on quantities, I realized that stuffing is essentially a savory bread pudding without the dairy, relying instead on stock to moisten the mixture. Where had I heard that before? Oh yes, Judy Rodgers' musings on French panade in The Zuni Cafe Cookbook. In other words, stuffing is basically French – no wonder it's so good.
(I also learned that the terms "stuffing" and "dressing" can be used interchangeably. Thanks, Chow.)
For this version, a simple "stock" made by soaking dried porcini mushrooms in boiling water moistens the mixture of bread and vegetables. Celery and fennel add a bit of crunch. Parsley's clean flavor cuts through the rich, mushroomy umami (mushrumami? [wait, is that redundant?]) flavors going on, and chestnuts add their soft sweetness to the mix. A drizzle of olive oil over the top helps the upper layer of cornbread crisp up in the oven, which contrasts nicely with the stock-soaked bits below.
Chanterelles are usually a huge luxury with a matching price tag, but lately they've been as affordable as shiitakes at our co-op. Apparently, it's been a very chanterelly fall in California. They add a touch of glamor to this dish, though any mushroom would be welcome – crimini, shiitake, button, or another wild mushroom of your liking.
Though I can imagine this stuffing rubbing elbows with turkey, mashers, and gravy, we've been enjoying it on its own as a main dish topped with a crumble of fresh goat cheese and served to the side of steamed broccoli and glasses of white wine. Either way, it's bound to make a vegetarian feel extra special.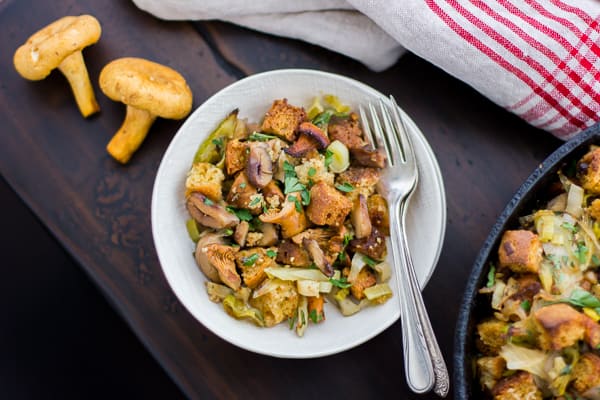 Wishing everyone a happy and minimally neurotic Thanksgiving!
Thanks for reading! For more Bojon Gourmet in your life, follow along on Facebook, Instagram, Pinterest, Bloglovin', or Twitter, subscribe to receive new posts via email, or become a sponsor.
Fall-ing for Vegetables:
Cheesy Millet-Stuffed Butternuts with Shiitakes and Kale Pesto
Pasta Alla Carbonara with Kale, Brussels Sprouts, and Bacon
Leek and Gruyère Bread Pudding Baked in a Pumpkin
One year ago:
Gluten-Free Pumpkin Cream Tart
Two years ago:
Three years ago:
Smoky Tomato Butterbean Soup, and Cheddar Biscuits
Baked Pancake with Pear and Cardamom
Pecan-Topped Sweet Potato Pie
Four years ago:
Sourdough Apple Oat Pancakes
Curried Sweet Potato Pound Cake
Mac and Cheese with Bacon, Squash and Collards

Gluten-Free Cornbread Stuffing with Chestnuts, Leeks, and Chantarelles
This stuffing is just the thing to serve alongside meat (such as turkey on thanksgiving, natch) or as a vegetarian main dish topped with a crumble of fresh goat cheese, with some green vegetables on the side and a glass of crisp white wine to wash it all down.
A few notes:
The cornbread recipe makes a little more than you'll need for the recipe. This is a good thing because, it you're like us, you'll be hard pressed to resist the lovely aroma emanating from the oven, and can unabashedly slice off the edges to eat warm, topped with butter.
If you can't find chanterelles, don't fret – crimini, shiitake, button, or wild mushrooms of your choice will work, too (or a combination).
I like making the whole thing – cornbread, cooked veg, and stuffing – in my 10″ cast-iron skillet with 2″ high sides, but it could just as easily go in a 9×13″ rectangular pan, or the equivalent. If you go with cast-iron, don't store the stuffing for more than a day in the pan or the acids in the stuffing will leach iron from the pan, giving the corners of the stuffing a slightly metallic flavor.
Serves 6 as a main dish, 10 as a side
1/2 ounce (15 grams) dried porcini mushrooms
2 cups (475 ml) boiling water
6 cups (1 pound/450 grams) Gluten-Free Buttermilk Skillet Cornbread in 1/2-inch (1 cm) cubes
6 tablespoons (90 ml) olive oil, divided use
3-4 cups (1 pound/450 grams) sliced chanterelles (or other mushrooms – see headnote)
2 medium leeks, sliced
1 large shallot, peeled and diced
1 small fennel bulb, trimmed, halved lengthwise, and sliced thinly crosswise
2 celery ribs, trimmed and sliced on the diagonal
1 teaspoon fresh thyme leaves
1/2 teaspoon truffle salt or sea salt
1/2 cup (120 ml) dry white wine
1/4 cup parsley, washed and chopped, plus extra for garnish
1 1/2 cups (7 ounces/200 grams) whole, cooked, peeled chestnuts, sliced
Make the porcini "stock":
Place the dried porcini in a heat-proof bowl or measuring cup, and add 2 cups of boiling water. Let stand while you get on with the recipe, 20 minutes or longer.
Toast the cornbread:
Position a rack in the center of the oven and preheat to 300ºF (150ºC). Spread the cubed cornbread on a rimmed baking sheet lined with parchment paper for easy clean-up. Bake until dried out and lightly toasted, 20-30 minutes. Remove and let cool, then place in a very large bowl and set aside. Increase the oven temperature to 375ºF (190ºC).
Cook the mushrooms:
Rinse the chanterelles briefly under running water, drain well, and use a paper towel or two to wipe off any clinging dirt. Slice the stems fairly thinly, and cut the crowns into 1-inch (2.5 cm) pieces.
Coat a 10-inch (25 cm) oven-proof (such as cast-iron) skillet with 1 tablespoon olive oil and heat over a high flame until the oil shimmers. Add half the mushrooms in a single layer, and saute on high, shuffling the pan frequently, until the pan is dry and the mushrooms are glazed and tender, 5-10 minutes. Tip the mushrooms into the bowl on top of the cornbread. Repeat with the remaining mushrooms.
Cook the veg:
Meanwhile, soak the sliced leeks in a bowl of cool water, separating the rings and letting any sandy dirt to sink to the bottom of the bowl.
To the now-empty skillet, add 2 tablespoons olive oil and warm over a medium flame until it shimmers. Lift the leeks out of their bowl, shake off any excess water, and add them to the hot pan along with the shallot, fennel, celery, thyme, and salt.
Cook, stirring frequently, until the vegetables are wilted and crisp-tender, about 10 minutes. Add the wine, and continue cooking until the pan is dry. Add the leek mixture to the bowl with the cornbread and mushrooms. Reserve the skillet – no need to wash.
Assemble the stuffing:
Scoop the soaked porcini out of their soaking liquid, reserving the liquid and squeezing the porcini dry. Chop the porcini finely and add to the stuffing mixture. Add the parsley and sliced chestnuts, and stir the stuffing gently to combine. Gently strain the porcini "stock" through a fine-mesh sieve, leaving behind any sandy dirt that may be hanging out at the bottom. (You can strain the liquid through a coffee filter to be extra safe, if you like.) Pour the porcini "stock" over the stuffing, and toss gently to moisten evenly. Scoop the stuffing back into the skillet (or into a greased 9×13″ baking pan). Drizzle with the remaining 2 tablespoons olive oil.
Bake the stuffing at 375ºF (190ºC) until heated through and golden and crisp on the top, 20-30 minutes. Serve the stuffing warm. Extras keep well, refrigerated, for up to several days and reheat beautifully (just don't store them in your cast-iron skillet).