Soft and chewy gluten-free chocolate chip cookies can easily be yours with just a single alternative flour of your choosing (oat, teff, buckwheat, or mesquite) bound with a bit of tapioca starch – no gums needed.
Alternative Baker has been out in the world for two weeks, and I love seeing what everyone's made! The cookie recipes in the book were some of my favorites, and they've proven well-loved by my fellow foodies as well. Alana, Yossy, Sarah, and Kate made Buckwheat Double Chocolate Cookies. Lily made Tart Cherry, Chocolate, and Hempseed No-Bake Oat Bars. Emma and Asha made Pistachio Lime + Matcha Snowballs. And Sasha made the Cherry Chestnut Chocolate Chip Cookies on which these four gluten-free cookies are based.
(And if you want to nerd out on alternative flours with me, come to Litquake's Eat, Drink, and Be Literary in San Francisco on Sunday October 9th, 2016. I'll be signing books, too! Details and tickets here.)
Now let's get our cookie on.
I thought it would be fun to take the chestnut chocolate chip cookie recipe from the book and try it with some different flavorful gluten-free flours to see what would happen. (I mean, I knew I would eat too many cookies, but I wanted to see what else would happen.)
In Alternative Baker, I talk about flours in terms of their flavor commonalities: neutral, earthy, and grassy. For this experiment, I decided to stick with the earthy tasting flours, which I knew would complement the other flavors in the cookies well:
Oat flour, ground from oat berries, is probably the best known flour, with a soft, starchy consistency and mild, lactic flavor. (I list oat flour as neutral in the book since it has a milder taste than the others, but it has earthy notes, too.)
Buckwheat flour isn't a true grain but the seed of an herb plant related to rhubarb, and is made from toasted, ground buckwheat seeds which give the flour a roasty flavor.
Teff flour comes from a tiny grain native to Ethiopia best know for Injera (fermented Ethiopian flatbread), but the flour smells like malted chocolate milk and tastes delicious in baked goods.
Mesquite flour is ground from the legume-like seed pods of the mesquite tree native to the Southwestern US. The rust-colored flour is sweet, with a wild, earthy fragrance that reminds me of graham crackers or warm gingerbread.
The cookie recipe begins with melted butter, simmered until golden with vanilla bean. The hot butter hits organic white and brown sugars, causing them to melt slightly and encouraging crackly tops on the finished cookies. Into that goes an egg and some tapioca flour to bind the cookies together, a little baking soda for lift, a good dose of salt to counter the sweetness, an alternative flour of choice, and loads of toasted nuts and chopped chocolate. Give it a good stir, then let the dough sit for 20 minutes or so to firm up (or longer if you can stand to wait). The cookies bake up with crispy edges and soft middles, with a chocolate-to-cookie ratio that's just to my taste (i.e.: heavy on the chocolate).
Into four different batches went oat, teff, buckwheat, and mesquite flours, respectively. The cookies baked up into a rainbow of color – from charcoal-hued buckwheat to rust-colored mesquite – and the flavors were just as vibrant.
Oat flour cookies had a mild, nutty quality that smacked of classic oatmeal. Malty teff lent intense butterscotch notes. Mesquite made for ultra-chewy cookies that taste like warm graham crackers. And buckwheat carried smoky notes of black coffee and spice.
To my surprise, I couldn't pick a favorite; I appreciated every one for their unique characteristics, and found my hand reaching for a different cookie every time it wandered into the cookie box. My testers all had their individual preferences, but no cookie was unanimously loved or loathed above the rest.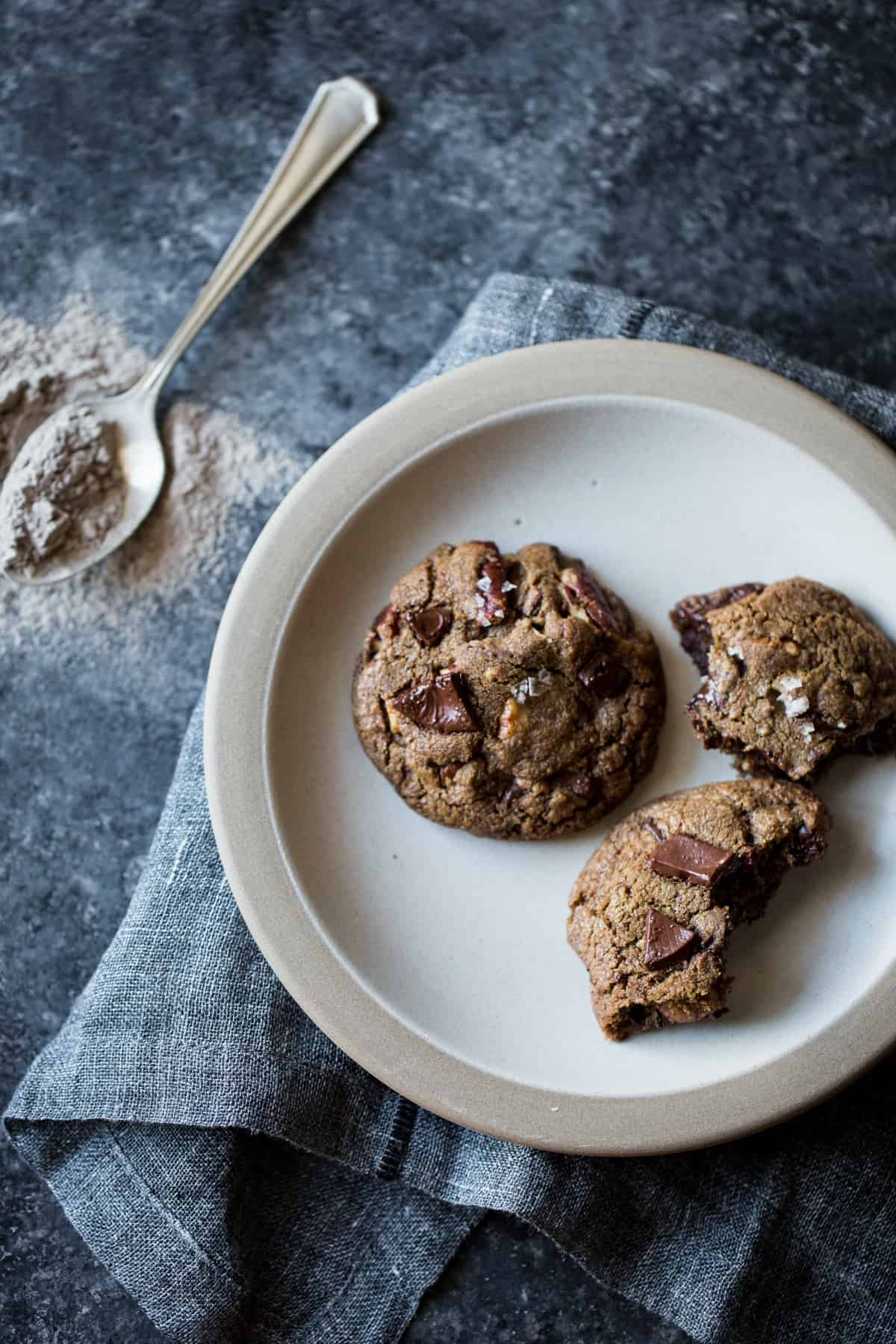 So head over to Food52 get the recipes and discover which alternative cookie is right for you.
And don't forget the milk.
More Cookie Recipes:
*Bojon appétit! For more Bojon Gourmet in your life, follow along on Instagram, Facebook, or Pinterest, purchase my gluten-free cookbook Alternative Baker, or subscribe to receive new posts via email. And if you make this gluten-free cookie recipe, I'd love to know. Leave a comment and rating below, and tag your Instagram snaps @The_Bojon_Gourmet and #bojongourmet.*