Crispy, crunchy ginger granola that tastes like gingersnaps! Pair bowls with gingerbread lattes and you'll be in ginger breakfast heaven.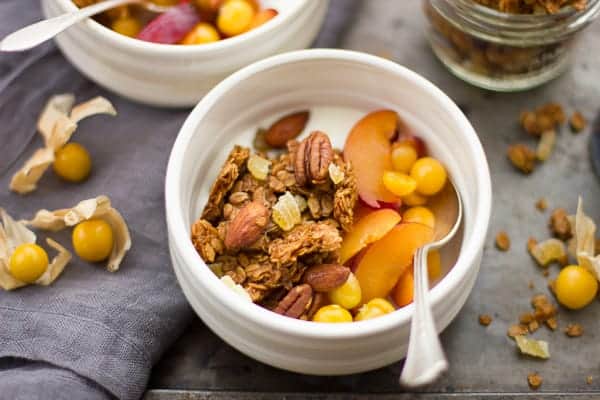 Soft, chewy cookies are usually a good thing in my book. Chocolate chip, oatmeal raisin, ginger molasses – I like them tender and toothsome.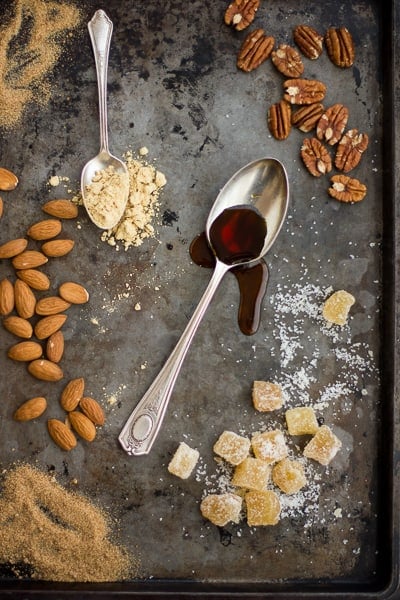 But granola is a different matter. It should be a crisp and crunchy foil for soft fruit and creamy yogurt. Chewy granola generally means that something has gone terribly wrong.
I learned this a few weeks ago, when I tried to add molasses and candied ginger to a batch of this ginger granola in order to mimic the flavor of my favorite spice cookie.
At first, I thought I had just under-baked it. Granola is still soft when warm, so I usually judge its crispness by its golden hue. But the oats turned so dark from the molasses that it was impossible to tell whether it was fully baked or not; it looked burnt long before it was finished.
I left it in the oven on various heat settings and for varying lengths of time in increasingly desperate attempts to dry it out, but after each stint and a thorough bout of cooling, it remained resolutely damp and chewy.
I realized that the moisture must be due to the molasses, which is hygroscopic, meaning that it grabs moisture molecules from the air. I learned this term from a Cook's Illustrated article on how to make your cookies chewy, which called for adding lots of brown sugar – good for cookies; for granola, not so much.
At the time, we were also having freakish, East Coast-esque summer humidity, hence there was much atmospheric moisture to be grabbed.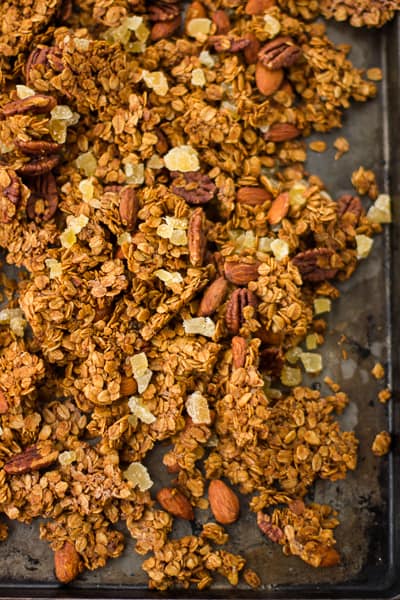 I banished the moist granola to a jar, which remained untouched for weeks, and I felt a twinge of failure every time I passed by it. I finally put it out of its misery and into the compost before our departure for a week-long road trip to Portland (where we are now).
For my second try, I left out the molasses in favor of maple syrup, which, despite its high water content, seems to produce the crispest granola. (Honey is hygroscopic, too.) I also use Alter Eco's muscobado sugar. Though it retainins its natural molasses, as well as trace minerals and tons of flavor, it doesn't seem to affect the texture of the finished granola negatively. (The original recipe called for brown sugar, which also doesn't have enough molasses to cause problems.)
As an added precaution, I left out the crystallized ginger from the start, drying it out in a low oven and stirring it into the finished granola instead. This granola stays bone-dry and crisp, even after several weeks in a jar.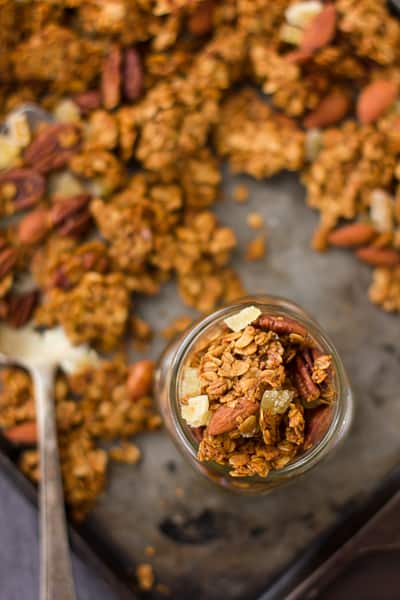 For batch #3, I upped all the spices and the vanilla until it tasted like gingersnap cookies kissed with ginger and judicious amounts of cinnamon, allspice and cloves. The crystallized ginger adds some extra zip and zing, and whole almonds and pecans add crunch to the already crispy clusters of oats. This ginger granola reminds me of gingersnaps crossed with crispy oatmeal cookies. (Note to self: make those.)
I use my preferred granola baking method wherein the granola is sandwiched between two rimmed baking sheets lined with parchment paper. The usual stirring while baking isn't necessary, and you are left with a big sheet of crispy granola that can be broken up into the clumps and clusters of your choosing.
We've been sprinkling this gingersnap granola over fresh plums and ground cherries, the latter which I scored from my dear friend Amelia. Also called cape gooseberries, though unrelated to real gooseberries, ground cherries are a late-summer fruit in the tomato family (think papery-husked tomatillos). They taste sweet, mildly acidic, and vaguely tropical. My first bite of one brought me back to the starfruit we used to buy occasionally as a treat when I was younger. Ripe pears would be lovely here, too, as would dried cranberries.
So for now, I'm content with this spicy-crisp granola. But at least if I want to make chewy granola bars in the future, I'll know what to do.
More Granola Recipes
More Ginger Recipes
MORE GLUTEN-FREE BREAKFAST RECIPES
*Bojon appétit! For more Bojon Gourmet in your life, follow along on Instagram, Facebook, or Pinterest, purchase my gluten-free cookbook Alternative Baker, or subscribe to receive new posts via email. And if you make this ginger granola recipe, I'd love to know. Leave a comment and rating below, and tag your Instagram snaps @The_Bojon_Gourmet and #bojongourmet.*
Gingersnap Granola
Print Recipe
Pin Recipe
A ginger twist on a favorite breakfast!
Servings:
12
servings (makes 6 cups).
Ingredients
2 1/2

cups

old-fashioned rolled oats

(8 ounces)

1/2

cup

raw pecan halves

(2 ounces)

1/2

cup

whole, raw almonds

(2 ounces)

1/4

cup

plus 3 tablespoons unrefined sugar (such as Alter Eco's muscobado) or light brown sugar

(2 ounces)

2

teaspoons

ground ginger

1

teaspoon

cinnamon

1/4

teaspoon

allspice

1/8

teaspoon

cloves

6

tablespoons

unsalted butter

(3 ounces)

1/4

cup

maple syrup (I use grade B)

(2 ounces)

3/4

teaspoon

fine sea salt

1

tablespoon

vanilla extract

1/2

cup

crystallized ginger, in 1/4" dice

(2 ounces)
Instructions
Position a rack in the center of the oven and preheat to 300º. Line a rimmed baking sheet with parchment paper, and have a second rimmed baking sheet and piece of parchment paper at the ready.

In a large bowl, stir together the oats, pecans, almonds, unrefined sugar, and spices.

In a small saucepan, combine the butter, maple syrup and salt. Melt over medium heat until the oil is liquified; simmer for 1 minute, stirring occasionally. Remove from the heat, and stir in the vanilla. Pour this mixture over the oat mixture, making sure to scrape out the salt that likes to stick to the bottom of the pot. Stir the granola well to coat it with the oil and to distribute the salt evenly.

Scrape the granola onto the lined baking sheet and spread it into a very even layer with the edges a touch thicker than the center; this will ensure even baking. Top the granola with the other sheet of parchment paper, then the other rimmed baking sheet, right-side-up, making a granola sandwich.

Bake the granola until it is deeply golden all over, 35-45 minutes, rotating the pan halfway through. (You'll need to peek under the parchment to check on it.) It will still be soft, but should crisp up as it cools.

To ensure extra crispness, remove the top baking sheet. Scatter the diced candied ginger over the top piece of parchment paper, and return the granola to the warm, turned-off oven. Let sit for a few hours, or up to overnight, to dry out the ginger a bit. (If the granola isn't shatteringly crisp when cool, break it up and return it to a low (200ºF) oven for 10-20 minutes, then cool again and check for crispness.)

Store the granola in an airtight container at room temperature. It will keep well for at least a month.
Notes
Adapted from my favorite granola recipe (by Casey Hayden via Claire Legas).
Plenty of ground and candied ginger give this granola the zip and zing of crisp ginger cookies.
I like Alter Eco's unrefined muscobado sugar here for its light molasses and toffee notes; alternatively, use another unrefined sugar such as maple or coconut sugar, or 1/3 cup brown sugar.
If gluten is an issue, be sure to use oats that are certified
gluten-free.
To make this vegan, try substituting 1/4 cup (2 ounces) unrefined coconut oil.
I use a unique baking technique here of sandwiching the oat mixture between two rimmed baking sheets lined with parchment paper, which makes the usual stirring-while-baking unnecessary. Leaving it alone means you end up with big shards that can be crumbled into chunks and clumps. As an extra precaution against moisture, I dry out my candied ginger and the granola overnight in a gas oven with the pilot light on.
I like this granola sprinkled over a bowl of plain yogurt and fresh fruit – especially plums, peaches, and/or ground cherries, though ripe pears make an excellent match with ginger, too.
This recipe is extra-easy if you weigh the ingredients into a bowl and pan - no sticky measuring cups. All ounce measurements here are by weight.
Nutritional values are based on one of twelve servings.
Nutrition
Calories:
236
kcal
Carbohydrates:
27
g
Protein:
4
g
Fat:
13
g
Saturated Fat:
4
g
Cholesterol:
15
mg
Sodium:
150
mg
Potassium:
146
mg
Fiber:
3
g
Sugar:
14
g
Vitamin A:
175
IU
Calcium:
42
mg
Iron:
1.1
mg