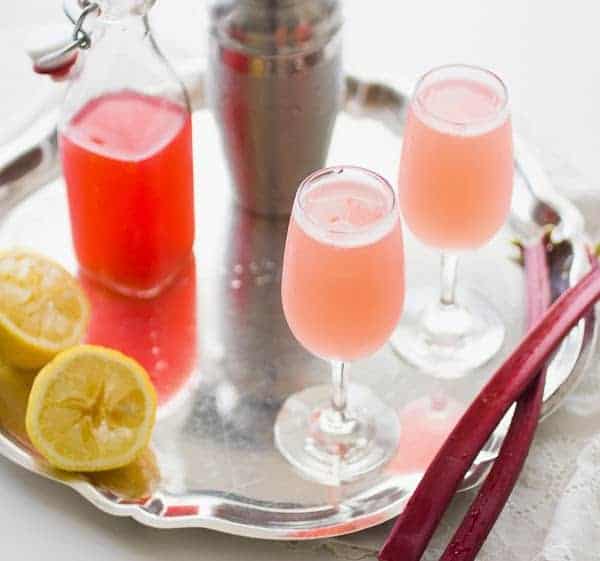 I think The Bee's Knees has got to be the cutest cocktail name, ever. When I hear it, I see a pretty bee dolled up in a fringed dress, feathered headpiece, high heels and a string of pearls, ready for a night on the town.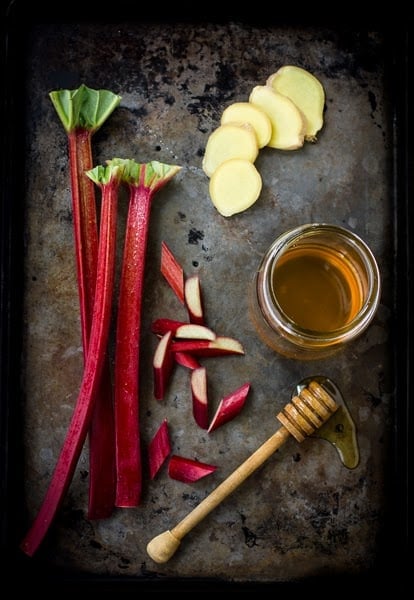 Comprised of honey syrup, gin and lemon juice, it's super tasty, to boot – a little tart, just sweet enough, and laced with the flavor of flowers and gin aromatics. Once you've made the honey syrup, it's a snap to shake up, too.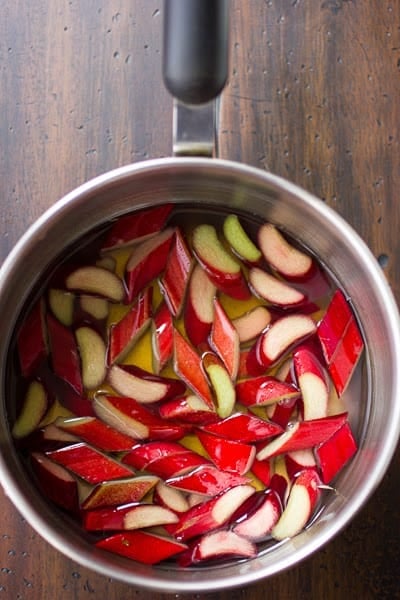 Inspired by Carey's exquisite Thyme and Pear Bee's Knees, I've been making a honey syrup infused with slices of rhubarb. The crimson syrup gives the drink a pretty blush, and the floral-tart notes of rhubarb play up the aromatic gin. For a bit of spicy kick, I muddle in some coins of fresh ginger. (I tried steeping the ginger in the syrup, but found I preferred the zing of the freshly muddled root.)
As a bonus, after straining the syrup, you're left with tender slices of honey-poached rhubarb, which make a lovely spring breakfast when topped with yogurt and Rum-Kissed Coconut Granola (though Cardamom Honey Granola would be fantastic, too; the rhubarb could also top a panna cotta or cream tart.)
I used No. 209 gin here, which is made in San Francisco and may be my new favorite. Since the flavors in this drink are light and bright, I would recommend sticking with a milder gin, like this one, or Hendrick's.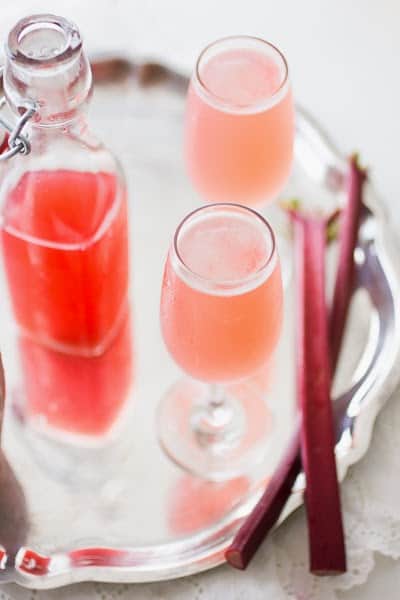 I also add a few drops of thesebergamot bittersthat I made this winter, which add more floral, musky undertones. Lacking those, I would go with blood orange bitters, though the drink is perfectly delicious without them, too.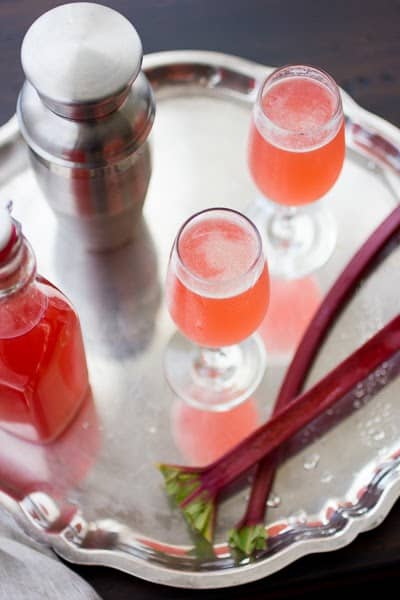 And if you add a squeeze of lime juice, a few drops of angostura bitters, and serve the drink on the rocks with fizzy water, well, it tastes like a very lovely gin and tonic.
I'll leave you with a song I wrote and performed with my band, The HoneyBelles, which I think perfectly sums up the flirty, jazz-age vibe of this drink, complete with a tap dancing solo by my beautiful niece!
This song may make you wonder, is the honey worth the sting? In the case of this cocktail, the answer is "yes."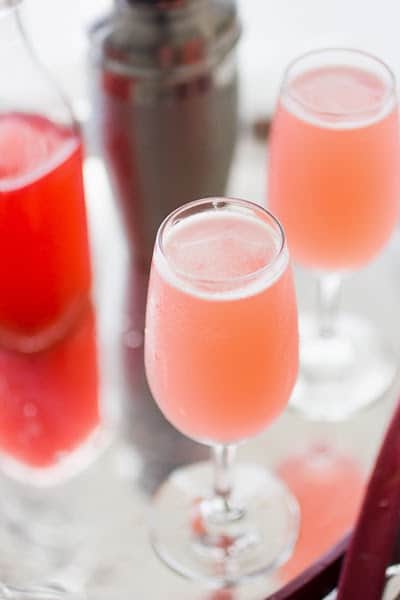 Good libations:
Strawberry Blood Orange Rum Punch
Mint Celery Soda
Pink Grapefruit Vieux Mot
Rhu-Mania:
Strawberry Rhubarb Bourbon Cobbler with Ginger Oat Scones
Strawberry Rhubarb Crème Fraîche Crumble Pie
Gluten-Free Strawberry Rhubarb Crumble
Ginger Rhubarb Bee's Knees Cocktail
Inspired by Carey's Thyme and Pear Bee's Knees
Save the rhubarb from the syrup for eating with yogurt and granola, or for topping a panna cotta or tart.
Honey Rhubarb Syrup
Makes about 1 1/2 cups syrup; enough for 8 drinks
1 cup water
1/2 cup (6 ounces by weight) mild-flavored honey
2 cups (8 ounces by weight) rhubarb, sliced 1/2″ thick (on the diagonal, if you like)
For each cocktail:
2 (1/4″ thick) slices of fresh ginger root
3 tablespoons honey rhubarb syrup (from above)
3 tablespoons gin (such as No. 209 or Hendrick's)
1 tablespoon strained fresh lemon juice
4 drops bergamot or blood orange bitters (optional)
ice
Make the syrup:
In a medium saucepan, combine the water, honey and sliced rhubarb. Bring to a simmer over medium heat, tilting the pan gently once in a while to dissolve the honey. When the mixture reaches a simmer, immediately turn off the heat, cover, and let steep for 30 minutes.
Gently strain the mixture into a heatproof bowl. Reserve the rhubarb for another use. Let cool to room temperature, then chill the syrup until cold. (If you're in a hurry, place the bowl in an ice bath and stir until cold.) The syrup will keep, refrigerated, for at least a week.
Make the cocktail:
In a glass or measuring cup, mash the ginger with a muddling stick to break it up and extract the juice (a wooden spoon will work in place of a muddler). Add the syrup, gin, and lemon juice, stir well, then strain the mixture through a fine-mesh strainer into a cocktail shaker filled partway with ice, pressing on the ginger to extract all the good stuff. (A pint-sized mason jar with a lid works well in place of a cocktail shaker.) Add the bitters, if using. Shake the drink vigorously for 30 seconds, then strain into a smallish glass and enjoy.
Variation: Honey, Rhubarb, and Ginger Gin Tonic
Strain the ginger/lemon/syrup/gin mixture into a glass over ice. Add a squeeze of lime juice, and throw the lime wedge into the glass, too. Top with sparkling water and 4 drops of Angostura bitters in place of the bergamot/blood orange bitters. Stir and enjoy.