This savory-sweet fig pizza is loaded with flavor from goat cheese, parmesan, arugula, and balsamic. Make it GF by using my favorite gluten-free pizza crust!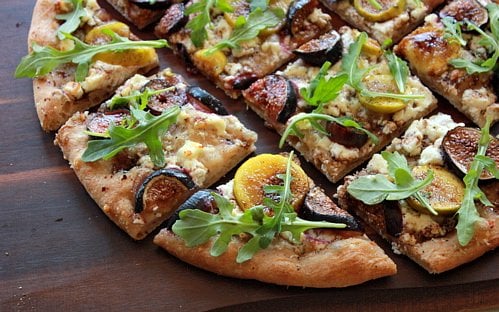 In Venice, Italy many years ago, my best friend and I dined at a tourist trap of a pizzeria that boasted over a hundred flavors. We ordered one with brie and pear, and were both taken by thecombination ofsavory/sweet/funky flavors and gooey-crispness.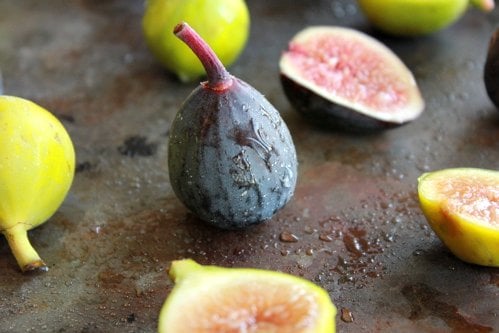 When I later mentioned this to an Italian, he just scoffed and made gagging noises.
Now that I'm safely back in a land where a-traditional food combinations are encouraged rather than reviled, I'm happy to share thissavory-sweet flatbread that blurs the lines between hors d'oeuvre, salad and cheese plate.
I've been wanting to do something with the incredible figs in season aside from grabbing one, breaking it in half, and putting it in my mouth each time I walk though the kitchen. Lillie of Butter Me Up, Brooklyn provided excellent inspiration with aflatbread of mascarpone, peaches, and a balsamic-honey reduction. I got to work.
I mixed up a whole wheat pizza dough, stretched it into a thin round, then topped it with fresh figs, parmesan and crumbles of soft goat cheese. Into the oven it went, emerging 10 minutes later with a bubbly crust, gooey, roasted figs and bronzed cheeses. A drizzle of fruity olive oil, plenty of black pepper, flaky salt, and spicy arugula go on top. But the coup de grace is the reduction of balsamic vinegar and honey that, when drizzled over the figs, accentuates their sweet-tartness, and adds some extra goo to the flatbread.
Take a bite, and the crispy bottom gives way to creamy goat cheese, salty parmesan and meltingly tender figs. Warm goat cheese is one of life's unparalleled pleasures, and it pairs well with figs so ripe they ooze with honey-like goo. Peppery arugula and olive oil add bite and freshness to all the sweet richness going on. The bread itself is crisp tender, nutty and complex from the bran and germ.
Figs don't continue to ripen once picked (though they do soften). Look for figs that are soft and feel heavy for their size, and store them at room temperature for a day or two, max. Beads of nectar emanating from their bottoms are a good sign of ripeness.
Unlike pizza, this tastebud-titillating flatbread prefers to be cut into small squares and eaten out of hand while sipping a cocktail (stay tuned for a rendition of my current favorite!) or glass of prosecco. And here's a great tip I learned for re-heating pizza/flatbread: put it in a cast-iron skillet and place it over a medium-low flame. Let it heat for about 5 minutes, whereupon the bottom will be nicely crisp, the topping heated through but not dry. I'm eating reheated flatbread as I write this, and it is tastes nearly as good as it did fresh from the oven.
More Pizza Recipes:
More Fig Recipes:
*Bojon appétit! For more Bojon Gourmet in your life, follow along on Instagram, Facebook, or Pinterest, purchase my gluten-free cookbook Alternative Baker, or subscribe to receive new posts via email. And if you make this fig flatbread recipe, I'd love to know. Leave a comment and rating below, and tag your Instagram snaps @The_Bojon_Gourmet and #bojongourmet.*
Whole Wheat Flatbread with Fresh Figs, Chèvre and Arugula
Print Recipe
Pin Recipe
Servings:
4
appetizer servings.
Ingredients
The flatbread dough: Makes enough dough for three 10-12" flatbreads
1

package (about 2 1/4 teaspoons)active dry yeast

1 1/2

cups

warm water

2

tablespoons

extra-virgin olive oil

1 1/2

teaspoons

sea salt

1

cup

whole wheat bread flour

2 to 2 1/2

cups

"type 00" pizzeria flour (or white bread flour)
The balsamic reduction: Makes enough for three flatbreads
1/3

cup

balsamic vinegar

2

tablespoons

honey
The toppings: Enough for one flatbread
super-good extra-virgin olive oil for brushing and drizzling

10

figs, any color

4

ounces

soft, fresh goat cheese

1/2

ounce

parmesan, finely grated (on a microplane)

a large handful of small arugula leaves

flaky salt and fresh black pepper
Instructions
Make the dough:
Place the water in the bowl of a stand mixer, and sprinkle the yeast over the top. Let sit 5-10 minutes to dissolve, then add the oil, salt, whole wheat flour, and 1 cup of the 00 flour. Fit the mixer with the paddle attachment, and mix on low speed for 5 minutes to make a wet dough, scraping down the sides of the bowl as necessary. Add 1/2 cup more of 00 flour. Switch to the dough hook, increase the mixer speed to medium, and knead for 7 minutes, adding more flour by the tablespoon until dough comes away from the sides of the bowl. After 7 minutes, the dough should feel smooth and soft, and slightly sticky, but not too wet.

Place the dough in a large, lightly oiled bowl or container, and cover tightly with plastic wrap or a lid. Let the dough rise in a warm place until doubled or tripled in bulk, 1 to 1 1/2 hours. (Alternately, let it rise in the fridge overnight.)
Prepare the toppings:
In a small saucepan, stir together the balsamic and honey. Bring to a simmer over medium heat and continue to simmer, swirling occasionally, until thick, syrupy and reduced by about half, about 5 minutes. Pour into a small, heat-proof bowl, let cool, then chill in the fridge to thicken. (The reduction will keep in the fridge for probably a long time.)

Slice the tops and bottoms off the figs and cut them into 1/4" slices. Rinse the arugula and spin it dry. Have the other ingredients at the ready.
Assemble and bake the flatbreads:
Position a rack in the bottom of the oven, and remove any other racks from the oven. If you have a baking stone, place it on the rack. (Lacking a stone, place an inverted, heavy baking sheet in the oven, or just form the pizza directly onto a baking sheet in the following steps.) Preheat the oven to 500º for at least 30 minutes.

Scrape the risen dough out onto a lightly-floured surface. Divide the dough into three balls, and keep the other two covered while you work with the first. On a lightly floured surface, tuck the edges of the dough under itself to make a loose ball, then flatten the dough into a disc. Gently press, pull and stretch the dough into a 10-12" round; if it is very springy, let it rest for a few minutes to relax the glutens.

Place the dough on a piece of parchment paper set on a pizza peel (or large cutting board). Trim the edges of the parchment so they stick out 1" on all sides. Brush the dough all over with olive oil. Crumble the goat cheese evenly over the dough, going right to edges, then top with an even layer of the grated parmesan. Place the fig slices evenly over the cheese and press them down gently.

Slip the pizza on its parchment onto the hot baking stone in the oven. Bake the pizza until the bottom of the crust is golden, the figs are roasted and the cheese is beginning to color, about 8-12 minutes.

Use a pair of tongs to pull the flatbread from the oven and onto a large cutting board. Drizzle the figs with a teaspoon or two of olive oil and 1/3 of the balsamic reduction. Grind some pepper over the top, and sprinkle with a couple pinches of flaky salt, then cover with the arugula. Cut into 12-16 squares and serve immediately.

Repeat with the remaining flatbreads.
Notes
The flatbread dough is adapted from The Cheese Board Collective Works.
The dough and balsamic reduction recipes below make enough for three flatbreads; extra dough can be stored in an oiled, airtight container (that is a few times the size of the dough to allow for expansion) in the fridge for up to 5 days, or in the freezer for up to 1 month. Bring the dough to room temperature before proceeding with the recipe.
Since this dough is fairly wet, necessary for easy stretching and a light, crisp crust, it is best kneaded in a stand mixer. If you must knead it by hand, add as little flour as possible to keep the dough from sticking to your hands and the kneading surface. If you don't have "00" pizzeria flour, use bread flour in its place; you may need to add more flour to the dough.
Each flatbread serves 4 as an appetizer.
Nutritional values are based on one of four servings, of one flatbread.
Nutrition
Calories:
489
kcal
Carbohydrates:
208
g
Protein:
30
g
Fat:
18
g
Saturated Fat:
6
g
Cholesterol:
15
mg
Sodium:
1051
mg
Potassium:
1143
mg
Fiber:
18
g
Sugar:
74
g
Vitamin A:
855
IU
Vitamin C:
7.5
mg
Calcium:
253
mg
Iron:
4.4
mg