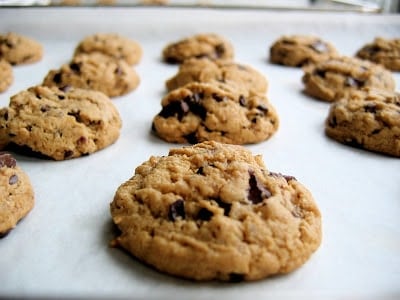 Many years ago, in order to demonstrate how statistics worked, my 6th grade teacher gave us an unusual homework assignment. We were toask people we knew to taste test a few different brands of a food product, rate each on a scale of 1-10, and tally up the average score for each. I chose peanut butter, and my mom obligingly purchased a jar each of Skippy, Jif and, her favorite, all-natural Laura Scudders. Being either shy, creative or just a lazy cheater (you decide), rather than actually asking people to taste the nut butters, I made the answers up myself. Naturally, I preferred the fluffy sweetness of Jif and Skippy, and so all three 'testers' gave low marks to Laura Scudders' gritty, oily texture and not-so-sweet flavor.

Perhaps if Marantha peanut butter had been around back then, the statistics of my peanut butter trial would have turned out differently (although, on second thought, I'm sure I still would have gone for the sweet crap). Made from only organic, roasted peanuts and, optionally, a hint of sea salt, Marantha's has the super-creamy texture of the artificial brands, with a natural sweetness from fresh nuts and none of the nasty ingredients you might try to prevent yourself and your kiddos from eating. This nut butter is equally good dipped with crisp apple slices, spread on multi-grain toast, or whisked into a gingery peanut sauce to toss with soba noodles. And if you thought it couldn't get any better, it can also be combined with brown sugar, egg, salt, chopped bittersweet chocolate and cacao nibs and baked into these insanely addictive cookies byMichael Recchiuti.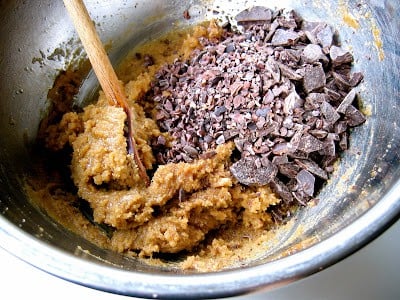 Most peanut butter cookie recipes containing flour specify 'conventional' peanut butter, the kind I loved so much as a kid. Trans fats and corn syrup bind the nut butter into a stable paste, resulting in chewy, moist cookies, whereas the natural stuff, containing free-floating oils and no sugar, can lend a sandy, dry texture to the finished product. Undeterred, Mr. R left out the flour, and created these gluten-, dairy- and grain-free drops of peanut butter lovin'. Being arguably the Bay Area's (and maybe.. the world's!) finest chocolatier, and a man after my own heart, he adds a generous helping of chopped dark chocolate to the mix, and a flurry of flaky salt to the top.

I tweaked the recipe just slightly, subbing in some brown sugar for the white, and omitting the peanuts (I like peanut butter, but not peanuts; yes, I do realize that peanut butter comes from peanuts, thank you very much) and adding cacao nibs for a bit of crunch (which Idoubt Michael would mind).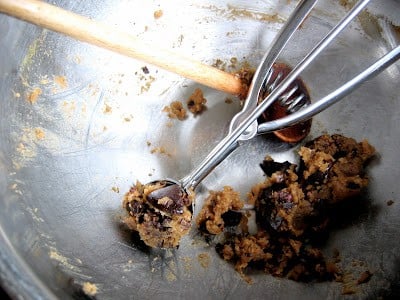 These cookies take about 5 minutes to mix together, 12 minutes to bake, and they keep well for days. The dough will feel a bit stiff and crumbly compared to 'normal' cookie dough, but the cookies magically bake up so much like regular peanut butter cookies, one wonders why anyone ever bothered using flour, butter or shortening in the first place.
Warm from the oven, sandy-crisp edges give way to a gooey center oozing with warm chocolate. Cooled, they firm up, tasting like a chewy-crumbly Reese's peanut butter cup; one that is dotted with crunchy nibs and flaky salt, andfreshly made with natural (and optionally organic) ingredients.

I promise that these cookies will stand up to any taste test, real or imaginary.
For more mouth-watering recipes and photos, check out Michael's beautiful book, Chocolate Obsession.
For more Cookie recipes:
*Bojon appétit! For more Bojon Gourmet in your life, follow along on Instagram, Facebook, or Pinterest, purchase my gluten-free cookbook Alternative Baker, or subscribe to receive new posts via email. And if you make this cookie recipe, I'd love to know. Leave a comment and rating below, and tag your Instagram snaps @The_Bojon_Gourmet and #bojongourmet.*
Flourless Peanut Butter Chocolate Chunk Cookies
Adapted from Michael Recchiuti
Makes about 3 dozen small but rich cookies (about 1 1/2" in diameter)
1 cup natural, creamy peanut butter (such as Marantha), salted or unsalted
1/2 cup light brown sugar
1/4 cup granulated sugar
1 large egg
1/2 teaspoon baking soda
1/4 teaspoon sea or kosher salt
1 cup (4 ounces) roughly chopped bittersweet chocolate
2 tablespoons cacao nibs
flaky salt for finishing, such as Maldon or Fleur de Sel
Position a rack in the upper-middle of the oven and preheat to 350º. Line two cookie sheets with parchment paper.
In a large bowl with a wooden spoon, stir together the peanut butter, sugars, egg, baking soda and sea salt until combined. Stir in the chocolate and cacao nibs until evenly distributed. Scoop the dough into balls about two teaspoons in size (a scant inch in diameter) and space them 2" apart on the baking sheets (this is easily accomplished with a small ice cream scoop).
Bake one tray of cookies at a time for 12-14 minutes, rotating halfway through, until puffy and soft, and just golden around the edges. Like all drop cookies, they will seem underdone, but will continue baking from residual heat, and firm up when cooled. Remove the sheet pan to a cooling rack, immediately crumble a few flecks of flaky salt atop each cookie, and let cool. Repeat with the second set of cookies.
The cookies are best the day they are baked, but will keep in an airtight container at room temperature for up to several days.