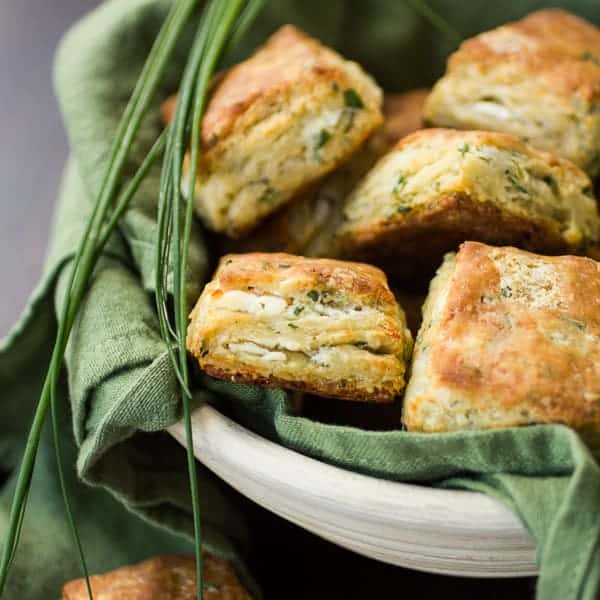 Farley's Coffee is not renowned for its customer service, which is perhaps why I so enjoyed working there as a barista when I first moved to San Francisco. My favorite part of my job (other than exchanging dirty jokes with my then co-worker and now close friend Vanessa) was informing customers who requested non-fat drinks, "We only have whole, extra-rich milk." It gave me a sort of glee.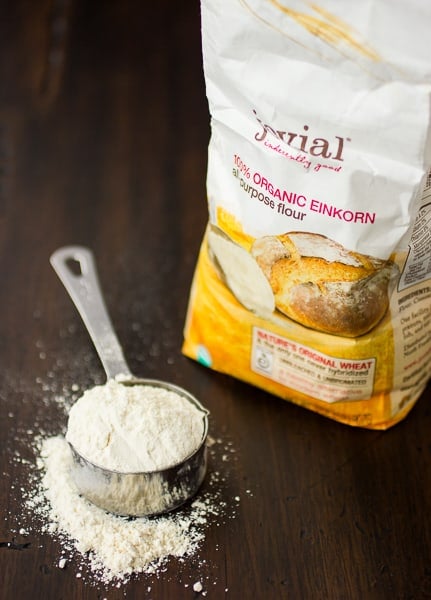 We had a code for difficult customers, coined by my co-worker Jamila who took less guff than anyone else, and that was PITA, which stood for Pain In The Ass. "Hey, did you hear there's a sale on pita bread?" I'd ask Jamila when a pesky customer made me wash his to-go cup which stank of rancid milk. "I'm really hungry; I think I'll go get some pita bread for lunch," she'd tell me with a roll of the eyes while pouring a low-foam, half-caf, not-too-hot cappuccino for an impatient customer.
My other favorite part of working at Farley's was that the owner would let me sell my homemade scones and cookies. I'd get up at an ungodly hour to bake them off, then spend too much time making artistic signs for their display instead of doing real work. One day I decided to try some flaky chive biscuits from Martha Stewart's Baking Handbook. The recipe involved rolling the dough out and folding it back up, a process similar to making puff pastry called "laminating." But after all that work, my layers weren't very layery, and I preferred the flavor of some simpler parmesan biscuits from Pastries from the La Brea Bakery.
I dubbed the flaky biscuits a real PITA.
But recently, the flaky yogurt biscuits in Heidi Swanson's Super Natural Everyday caught my eye. I realized that since I now laminate my pie doughs regularly, I might find the process of laminating biscuits less annoying than I did 7 years ago.
I did. (Though I would probably still find customers as annoying.)
I recently received a lovely gift from the folks at Jovial – a box brimming with Einkorn berries, flour and pastas. Einkorn is an ancient form of wheat that hasn't been hybridized, and is sometimes better tolerated by folks who can't eat modern wheat or gluten.
I tried the flour out in these biscuits, and was extremely impressed. It has a creamy golden hue, like kamut flour, and the consistency is powder-fine, not unlike "00" pizzeria flour. It's 80% whole grain, with some of the outer bits of bran and germ polished off to prevent rancidity. It has all the benefits of white whole wheat flour, but with a sweeter, more mild flavor. It's lovely to work with, and I want to use it in everything. (The pasta was superb, too. We cooked it up into a bacony carbonara with lemon and brussels sprouts.)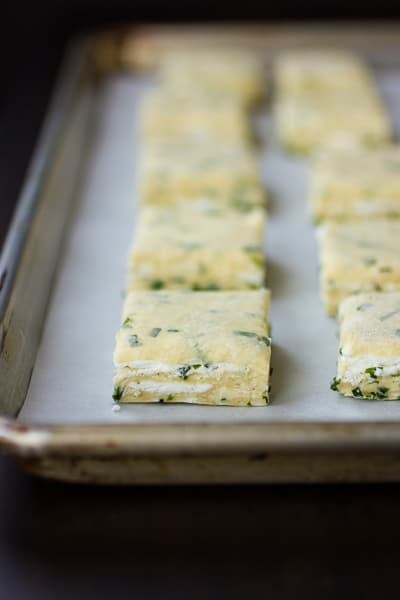 Rather than being an unnecessary PITA, the layering process enabled me to cram more goat cheese into the biscuits, which I do in two steps: by crumbling it into the dough along with the buttermilk, and by crumbling more over the rolled-out dough. The extra layers, which you can peel apart like a croissant, are very much worth the bit of extra "work." (Note: the process of making delicious, cheesy biscuits should not be compared to slinging espresso drinks for high-maintenance customers.) Indeed, these are hands down my favorite savory biscuits ever.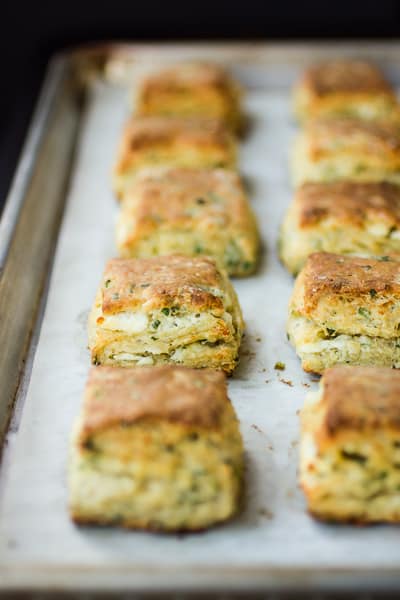 When warm from the oven, they are crisp on the top and bottom, with pillowy centers dotted with pockets of tangy, warm goat cheese. Chives, parmesan, black pepper and buttermilk pack them full of savory flavor, and they make any meal – eggs, soup, or salad – feel a bit special.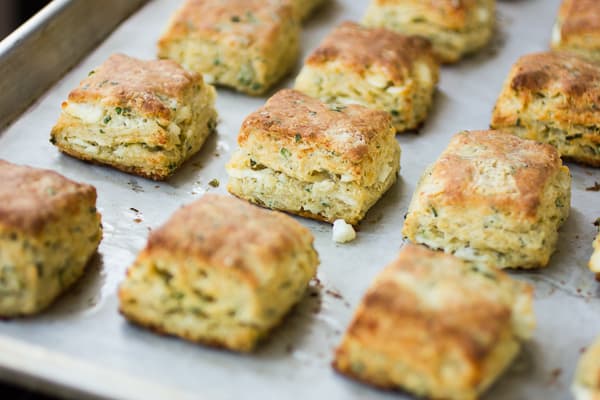 So I don't mind high-maintenance biscuits anymore.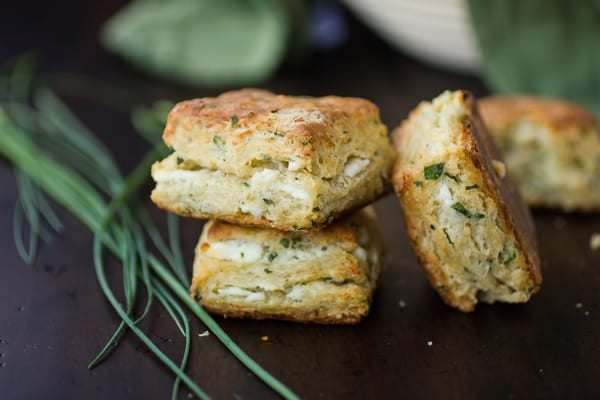 But I still plan to stay away from customer service jobs.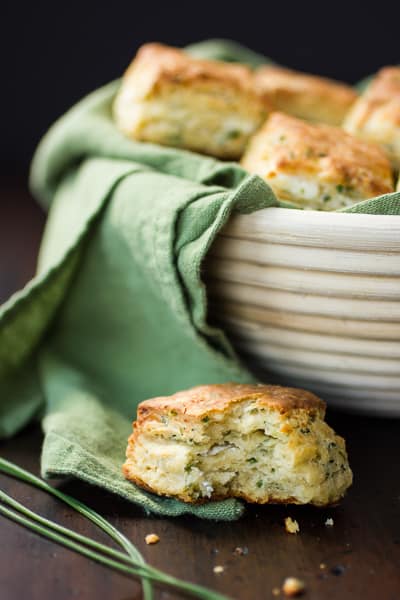 Biscuit Blitz:
Cheddar Beer Chive Gougères
Bacon, Beer and Cheddar Scones
Maple-Glazed Bacon Apple Scones
One year ago:
Two years ago:
Buckwheat Chocolate Chip Cookies,
Caramelized Apple Bread Pudding,
Beer Rye Sourdough,
Three years ago:
Tangerine Poppyseed Brunch Cake,
Nibby Matcha Wafers
Flaky Goat Cheese and Chive Biscuits
With inspiration from Baking Illustrated, Super Natural Everyday, Pastries from the La Brea Bakery, and Martha Stewart's Baking Handbook
These are superb when made with einkorn flour, which is available in some healthy foodie stores and can be ordered here. Alternately, use regular all-purpose flour, perhaps using half a cup of whole wheat or kamut flour. Einkorn flour tends to be clumpy, so you can skip the sifting step if you're using a different flour. You can probably use plain yogurt of any fat content in place of the buttermilk, though the amount needed to bring the dough together may be different.
Makes sixteen 2″ square biscuits
2 cups (10 ounces) einkorn (or all-purpose) flour (see headnote)
2 teaspoons baking powder
1/2 teaspoon baking soda
3/4 teaspoon fine sea salt
1/2 teaspoon freshly ground pepper
1 3/4 ounces grated parmesan (3/4 cup)
6 tablespoons cold, unsalted butter, in 1/2″ chunks
1 bunch chives, finely sliced
3 ounces fresh goat cheese, plus 3 more ounces for sprinkling (about 1 cup total)
3/4 cup buttermilk
In a large bowl, sift together the flour, baking powder, baking soda, salt, and pepper. Add the parmesan and butter, and work with your fingertips or a pastry blender until the butter is semi-incorporated with lots of almond-sized butter chunks remaining. Stir in the chives and crumble in 3 ounces of the goat cheese. Add the buttermilk little by little, stirring until the dough just begins to clump together and no dry, floury bits remain. Gently knead the dough in the bowl a few times to bring the dough together into a ball.
If the dough is sticky, or if it becomes soft or sticky at any time, chill it in the fridge for 15-30 minutes.
Roll the dough out on a lightly floured surface into a rectangle that is a scant 1/2″ thick and roughly twice as wide as it is tall. Crumble 2/3 of the remaining goat cheese over the center square of the dough. Fold the outer short edges in to meet at the center. Sprinkle the remaining goat cheese over one long side of dough, then fold the dough in half, like closing a book. You should have a long rectangle of dough layered with cheese. Press down gently to flatten, then roll the rectangle into a loose spiral, starting with a skinny end.
Roll the layered dough into a 7×7″ square that is 3/4″ thick. Trim the edges away (you can bake them alongside the biscuits), then cut the dough into 16 squares. Place the biscuits on a small baking sheet in a single layer and place the pan in the freezer while you…
Position a rack in the upper third of the oven and pre-heat to 450º.
When the biscuits are fairly firm (they don't have to be frozen solid), Place them 2″ apart on a rimmed baking sheet lined with parchment paper. (Alternately, store the frozen biscuits in double zip-lock bags to bake off when you like.)
Bake the biscuits until they're golden on top, 15-18 minutes. Remove from the oven and let cool 5-10 minutes before devouring.
The biscuits are best the day they've been baked, but extras will keep at room temperature for a few days. Be sure to re-heat them in an oven or toaster oven until crispy.