If you think the food world is free from the chains of fashion, you probably live under a rock. Take chocolate. Having been the only thing available in this country for so many years, overly sweetened milk chocolate fell out of fashion when folks realized the wonders of bittersweet. Ever darker chocolates began appearing, and anyone who was anyone spoke authoritatively on the matter of darker equalling better. But milk chocolate (and even white chocolate) has been making a steady comeback with chocolatiers such as Charles, Valrhona, Recchiuti and Scharffenberger marketing dark, fruity bars with over 40% cocoa solids. Now when someone tells me disdainfully, 'I don't like milk chocolate; too sweet,' I just shake my head mournfully at their naivete.
The same goes for pizza. Since cheap, American chains have marketed bready pies for so many years, the conoscenti began spurning them for Italian-style, wafer-thin crusts. Chic restaurants flaunting ever thinner dough have popped up everywhere, from Flour + Water in the city to Pizzaiolo in the East Bay. On my walk home from work down Valencia Street, I am fortunate (or unfortunate, depending) to pass by two stellar pizzerias that taunt me daily with wafts of wood fired bread and tomato sauce drifting into my tired and hungry nostrils. The first, Pauline's, makes the skinny kind (bonus points for using local, seasonal ingredients!) The second, Little Star, which from the outside looks like a dingy dive bar, makes the deep dish variety.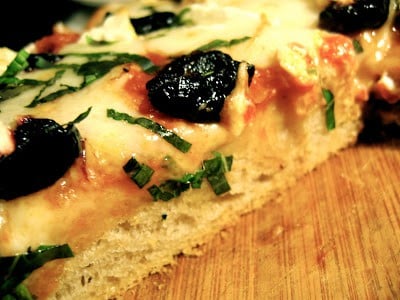 Eating Little Star pizza was a revelation, much like my first nibble of Scharffenberger's milk chocolate several years ago, in which I realized that thick crusts can be not only good, but ecstatic.
If you have yet to experience the virtues of deep dish pizza and are skeptical, consider these startling facts. Deep dish pizza is:
-tender
-soft
-crispy on the outside
-chewy on the inside
-moist with sauce and melty cheese
-rich and flavorful with olive oil
-really friggin' good
Inspired by Little Star's wheaty masterpieces (and a jar of tomato sauce left over from last week's eggplant parmesean), I tried my hand at sourdough deep dish pizza. I used Cook's recipe as a starting point, tweaking the ingredients as necessary. The resulting pizza surpassed my expectations with its flavorful, springy dough crisped in a generous amount of olive oil, accented by gooey, saucy cheese and bites of bitter olives, tangy chevre and fresh basil.
Once you taste it, you will no longer associate this caliber deep dish pizza with the cheap stuff you begged your parents to buy you (with pineapple and olives on top – yes, I was a weird one) when you were a kid. Promise. If you still turn your nose up at thick crust pizzas, you have my deepest sympathy.
Sourdough Deep Dish Pizza
Makes two 10″ pies; about 6 servings
Since this dough contains yeast, your starter doesn't need to be perfectly lively. You can use starter that hasn't been fed in a while, or starter that you're just beginning to build up. Just make sure it smells and tastes pleasant.
You can bake two 10″ pies, or one 14 incher if you have a 14″ pan (who has that?) I used a 10″ ceramic tart pan, but a pie or cake pan would work, too. The dough keeps well in the fridge for up to a week, or in the freezer for a month or two, if you want to make your pizzas in increments.
Total cooking time: 2 1/2 hours
Timeline:
cook the tater and make the dough: 30 minutes
first rise: 1 hour
second rise: 30 minutes
baking: 30 minutes
The dough:
1 medium russet potato (about 9 oz.)
8 oz. (about 1 cup) liquid sourdough starter
2 3/4 cups all purpose flour, plus more as needed (some or all of this can be whole wheat)
2/3 cup lukewarm water
1 1/2 teaspoons instant yeast (or 2 teaspoons active dry, or 1 tablespoon fresh)
1 3/4 teaspoon salt
2 tablespoons olive oil
Peel and quarter the taters, put in a pot and cover with water. Boil until tender but not falling apart, 10 minutes or so. Drain and let cool until they are handleable, then put through a ricer if you are cool enough to have one (I'm not) or grate on the large holes of a box grater.
Combine all the ingredients together in the bowl of a stand mixer fitted with the dough hook (or in a big bowl with a wooden spoon, you stud!) Mix on low until combined, then increase the speed to medium-low and knead for 5 minutes or so until smooth and elastic, adding more flour as necessary until the dough pulls away from the sides of the bowl, and scraping down the sides of the bowl as needed.
Turn out onto a lightly floured surface and knead by hand for a minute or two to adjust the consistency. The dough should be soft and moist, but not overly sticky. Place in a lightly oiled bowl and cover tightly with plastic wrap (or slide into a clean trash bag.) Let rise until doubled in bulk, about 1 hour.
The pizzas:
4 tablespoons olive oil
1 1/2 cups or so tomato sauce (bought, or homemade)
8 – 12 oz. mozzarella, sliced
2 – 4 oz. goat cheese
1/3 cup oil cured olives, pitted and halved
a few basil leaves, sliced
Position an oven rack in the lowest and highest positions. Place a baking stone or (heavy baking sheet) on the bottom rack. Preheat the oven to 500º.
Coat the bottoms of two 10″ cake or pie pans with 2 tablespoons olive oil each. Turn the dough out onto a lightly floured surface and divide in half. Pat each into 9″ rounds. Cover with plastic and let rest 10 minutes, then place in the pans and press them up the sides to make a 1″ lip. (Mine wouldn't stay up the sides, but still turned out fine.) Cover with plastic and let rise until doubled, about 1/2 hour.
Remove the plastic and prick the crusts all over with a fork. Place in the oven on the stone and reduce the oven temperature to 425º. Bake 5 – 10 minutes, until lightly golden. Remove the pans and divide the toppings between the pies: sauce, mozzarella, then olives and goat cheese. Return to the stone and bake for 10 minutes more to melt the cheese. Put the pans on the upper rack and bake about 5 more minutes, til the cheese is brown and bubbly. Remove the pans, sprinkle with the basil, and let cool a few minutes, then use a wide metal spatula to slip them onto a board. Cut into slices.