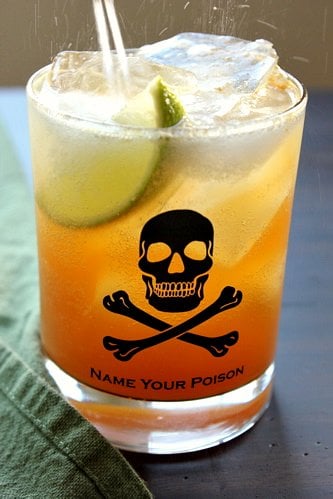 In a sea of beverages awash with garish, sugary cocktails like Chi-Chi's, Buttery Nipples, and Blow Jobs, this refreshing libation can be a port in a storm.
Traditionally a mixture of dark rum, ginger beer, and an optional squeeze of lime, the Dark and Stormy gets its name from its dusky appearance (when compared to most tropical drinks). Its popularity has sailed far from its homeland, Bermuda, to Australia and the States. And for good reason: it manages to quench one's thirst with ice and lime while invigorating with floral rum and spicy ginger.
Upon tasting my first Dark and Stormy in Nantucket last month, I fell head over heels (and not merely because I drank too many).While cocktails stereotypically tend to divide between the sexes (stiff classics for the gents; sugared, fruit-flavored concoctions for the ladies), the universally-appealing Dark and Stormy swings both ways. Dark rum, distilled from sugar cane, lends sweet, caramel notes, but good ginger beer and a squeeze of lime balance with spice and tang.
Several methods can produce an excellent dark and stormy, the quickest being to use store-bought ginger beer (I tried may different types, including the traditional Barritt's, and found Ginger People's to have the most bite). Or you can be super bad-ass and brew your own ginger beer, which takes a couple days and requires a bit of planning. (Tony Cecchini outlines a stripped-down technique in this fantastic article.)
I like to split the difference, making a quick ginger soda from freshly-grated ginger root, agave and sparkling water (which I have in ample supply now that I've acquired my beloved soda siphon).
Gosling's Black Seal rum is the traditional one to use, and I vastly prefer it to the others I've tried (Meyer's and The Kraken). Its deep copper color carries the light yet complex flavors of maple, caramel and spice. It blends beautifully with the ginger, taking on an almost floral quality, whereas other dark rums have stronger molasses notes that overpower the more delicate nuances.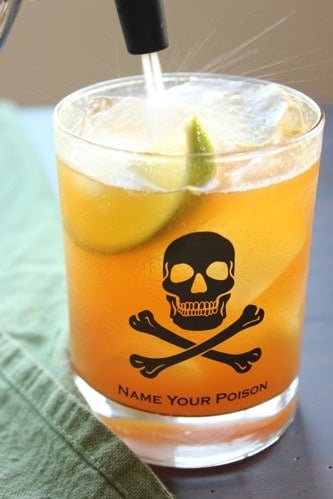 I hope you fall for the Dark and Stormy as Jay and I have. Like any sailor, it's got girls (and boys) in every port.
Spicy libations:
Sparkling Whiskey Gingerade
Indian Summer Blues, with Cardamom, Rose and Gin
Bojon Masala Chai+ a shot of whiskey = : )
Fresh Ginger Dark and Stormy
Unless it is excessively dirty, there is no need to peel the ginger prior to grating it. When I make these for a crowd, I grate the ginger on a box grater rather than a microplane to make it go faster; alternately, you can put the ginger through a juicer.Gosling's Black Seal rumis the one to use if you can get it (BevMo is a good bet); its flavor is unparalleled. But it will still be tasty with The Kraken or Meyers.
I've been told that a shot is anywhere from 1 1/2 – 3 ounces by volume. Being a lightweight, I keep these on the demure side so that I won't drink myself under the table (or end up dancing on top of it). But feel free to make 'em stronger if you like! More rum may necessitate more agave.
Makes 2 drinks
2 packed teaspoonsfinely gratedfresh gingerroot
3 ounces by volume (1/4 cup plus 2 tablespoons) Gosling's Black Seal dark rum
2 tablespoons light agave nectar
2 lime wedges
ice
1 – 1 1/2 cups sparkling water
In a small pitcher or measuring cup, combine the ginger, rum and agave, stirring well to combine. Fill two tumblers with ice cubes. Squeeze a lime wedge into each cup and throw the spent wedges into the glasses as well.
Strain the rum mixture through a fine mesh sieve, dividing it equally between the glasses, pressing on the ginger with the back of a spoon to extract all the liquid. Top off with ample sparkling water (1/2 to 3/4 cup each).Stir to combine, and enjoy!