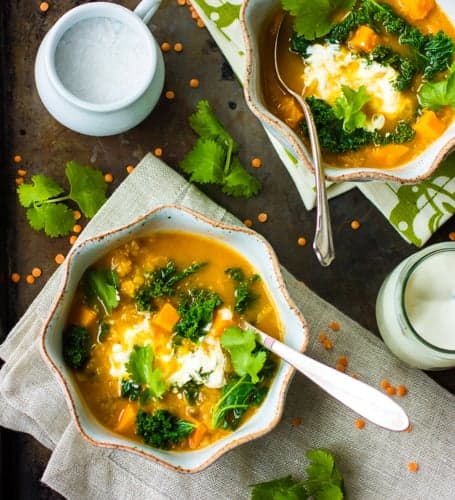 Prior to making this soup, I didn't think much of "lite" coconut milk. Our server at Pizzetta 211 said it best (though I have no idea how we got on the topic, as nothing in our meal was vaguely coconutty). "Lite coconut milk is a scam," she declared, when you can simply buy full-fat coconut milk, dilute it with an equal amount of water, and voilà: two cans of "lite" coconut milk for the price of one. I couldn't have agreed more. (And I feel the same way about "lite" beer: that it is rather like making love in a canoe.)
But I've made this soup with both light and full-fat coconut milks, and though this is potentially the first time I've ever said this in my life, I prefer the lighter version, which makes a brothier soup that lets the spices come through. (Light coconut milk actually contains one quarter of the fat of the regular stuff, so if that is all you have, you could try adding a quarter of the can and making up the rest with more water.)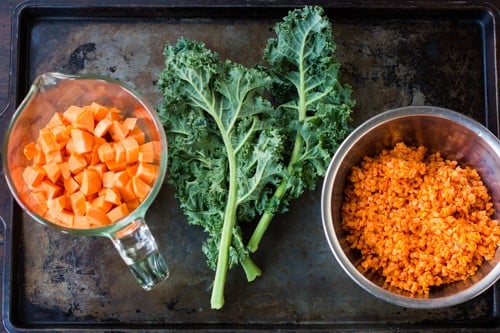 This recipe was inspired by a couple of beautiful posts from around the web: a red lentil and garbanzo bean soup from Scaling Back (recipe adapted from an Ayurvedic dal recipe in The Esalen Cookbook by Heidi Swanson of 101 Cookbooks), and a curried sweet potato soup from Love and Lemons. I put the two together, added some kale, and swirled in some plain yogurt.
Then I made it five more times. We can't seem to get enough.
The soup creates its own fragrant broth with the help of spices, tomato paste, and the aforementioned coconut milk. The red lentils, which cook more quickly than other varieties, break down into a creamy puree after a brief simmer. Cubes of sweet potato hold their shape, and kale adds some welcome form and texture.
As for the flavors, curry powder, ginger, garlic and chile give it a warmth reminiscent of kitcheree, the spiced Indian rice and mung bean stew. The flavors are complex, but in a friendly, straightforward way that makes me unafraid to serve it to anyone and everyone. The lentils, sweet potatoes, kale, coconut milk and warm spices all lend a delicate sweetness that contrasts beautifully with tangy yogurt and perky cilantro. If you think lentils are boring, an invigorating bowl of this soup will cure you of that notion.
This soup is stupid healthy, inexpensive, quick to prepare and to cook, and it keeps brilliantly. It makes a nourishing one-bowl-meal for lunch or dinner. Feel free to use any variety of kale or other greens. If you ever come across crinkly Bloomsdale spinach, it is lovely when added to the soup at the end of the cooking time and allowed to wilt briefly. I think it would be nice with with a scoop of cooked millet, rice or quinoa, too.
I may have reconsidered my stance on light coconut milk, but I'm pretty sure there's no hope for light beer.
Mental for lentils:
French Lentil and Spinach Soup
Lentil Walnut Pâté
Lentil Soup with Chestnuts and Fennel
One year ago:
Two years ago:
Chocolate Bouchon Cakes with Black Pepper Ice Cream
Three years ago:
Cardamom Plum Jam Crumble Squares
Curried Red Lentil, Kale and Sweet Potato Soup
This soup keeps very well in the refrigerator for up to a week, though the kale and cilantro will lose their verdant color. If you like, blanch the kale separately in a pot of lightly salted boiling water until bright green and crisp-tender, drain it, and run it under cool water to stop the cooking. Drain and store it separately in the fridge, and add it, with the cilantro, as you heat batches of soup (pictured here). This will keep it green and retain its texture. If you're sensitive to heat, you can leave the jalapeño out altogether. For a vegan option, omit the yogurt and finish the soup with a squeeze of lemon. As I mention above, you can probably substitute half a cup of regular coconut milk plus 1 1/2 cups of water for the light coconut milk if that's what you've got.
6 moderate main course-sized servings
1 tablespoon coconut oil
1 medium yellow onion, finely diced
1/2 a jalapeño, seeds and ribs removed, minced
2 teaspoons peeled and minced fresh ginger
1 large clove garlic, peeled and minced
2 teaspoons curry powder
1 teaspoon salt (more as needed)
3 tablespoons tomato paste
5 cups water
1 (13.5 ounce) can light coconut milk
1 cup split red lentils
1 medium sweet potato (8-10 ounces), peeled, diced 1/4-1/2″
1 bunch kale
3-4 tablespoons chopped cilantro
whole milk yogurt, for serving
Melt the oil in a large soup pot. When it shimmers, add the onion. Cook over medium heat until tender, about 10 minutes, adding the jalapeño, ginger, garlic, curry powder and salt as you prepare them, and stirring occasionally. Add the tomato paste, and cook for a few minutes, stirring, until a film forms on the bottom of the pan. Add the water, coconut milk, lentils, and sweet potato, and bring to a simmer. Reduce the heat to low to maintain a gentle simmer and cook, partially covered and stirring occasionally, until the sweet potato is tender and the lentils are soft and partially broken down, about half an hour.
Meanwhile, slice the kale off the stems. Discard the stems and tear the leaves into 1-2″ pieces. Wash well, drain, and add to the pot when the soup is done. Simmer until the kale is wilted, tender and bright green, another 5 minutes or so. Remove from the heat and stir in the cilantro.
Ladle the soup into bowls, and top with a dollop of yogurt.
The soup keeps very well in the fridge for up to 5 days. It will continue to thicken, so thin it with water, coconut milk, or vegetable stock if needed.