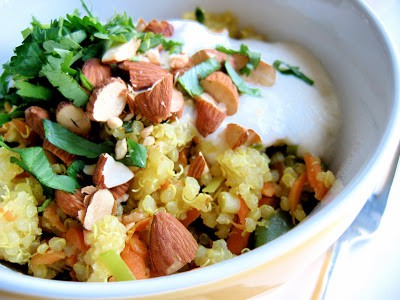 I distinctly remember my first attempt at cooking quinoa. It occured around the same time as my first attempts at cooking rice, which, though failed in texture (can anyone say 'pudding?'), at least tasted halfway decent.
I was living in Bologna and, while walking to my boyfriend's apartment on the outskirts of town, happened upon a little shop selling exotic foodstuffs from faraway lands. I purchased a package of the tiny grain and cooked it up in the apartment of said boyfriend, along with some chicken simmered in coconut milk and curry powder. I remembered watching the little halos on the individual grains unfurl magically (probably because I hadn't known to cover my pot so that it could steam properly). We devoured the chicken; I mean, coconut milk, curry powder and caramelized onions? Yum! But the quinoa remained on our plates in sad, sallow heaps.
There was no denying the facts: Quinoa tasted weird.
But quinoa is so healthy, so packed with protein, so gluten-free, so full of vitamins and minerals, a 'superfood,' they say, which is why I continued attempting to cook it when I returned to the land in which people regularly use such terms as 'superfood;' i.e. California. And it hasn't been until recently that I've come not only to tolerate the healthy little buggers, but to actually enjoy them.

The secret? A simple five-minute soak in cool water, and a thorough rinse removes the bitterness that dwells on the outside of the grain, allowing a nutty sweetness to emerge. The starches wash away letting the grains remain distinct, with a delicate, feather-light texture.
This dish works warm, at room-temperature, or cold. It's a nice thing to have in the fridge during the erratic days of spring, which can swelter by day or chill by night. It makes excellent picnic fare, or can provide you with a nourishing meal during a lunch break/blogging session.
It tastes even better a day or two later, when the flavors have melded. If I planned to eat this cold, I would stir the yogurt and cilantro right in, and add the almonds just before serving. Feel free to add any other vegetables you like, or some cubed tofu or roasted chicken to make it more substantial.
But please take the time to soak your quinoa. Your tastebuds will thank you.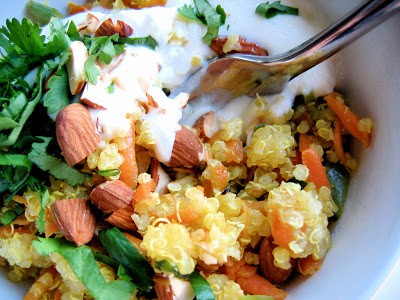 Curried Quinoa with Spring Veggies and Yogurt
Makes 6 servings
If your scallions seem at all sandy, clean them like so: rinse the scallions and cut off the roots. Slice the white and green parts thinly, and put in a medium bowl filled with cold water. Leave for a few minutes, swishing them around a bit, letting any sand fall to the bottom. Scoop out the scallions with your fingers, leaving the dirty bits behind.
Curried quinoa:
1 1/2 cups quinoa
1 tablespoon olive oil
2 3/4 cups water
1 1/2 teaspoons curry powder
1 teaspoon salt
Veggies:
1 tablespoon olive oil
4 large carrots
1/2 teaspoon curry powder
1/4 teaspoon salt
1 bunch scallions, washed and sliced (white and green parts)
1 – 2 cups snap peas, slivered (or shelled english peas)
juice of 1 lemon
a few handfuls of cilantro leaves, chopped
1/2 cup toasted almonds, chopped
1 cup plain, whole-milk yogurt
Cook the quinoa:
Soak the quinoa in cool water for 5 minutes or so. Strain in fine mesh sieve, give it another rinse, and drain well.
In a medium saucepan, warm the olive oil over medium heat. Add the quinoa, and cook, stirring, for about 5 minutes to toast slightly. Add the water, curry powder and salt, stirring once to combine. Bring to a boil, then cover and reduce the heat to low. Steam the quinoa for 15-20 minutes until it is tender and all the water is absorbed. Let stand off the heat 5-10 minutes, then uncover and fluff with a fork.
Prepare the veggies:
Meanwhile, grate the carrots on the large holes of a box grater. Warm the olive oil in a large skillet over medium heat. Add the carrots, curry powder and salt and cook, stirring occasionally, for 5-10 minutes, until crisp-tender. Add the scallion, and cook for a few minutes minutes until tender. (If using fresh shelled peas, add now and cook for a minute or two until tender. If using snap peas, add in the next step.)
Dump the quinoa into a large bowl and add the carrot-scallion mixture, snap peas and lemon juice, tossing gently to combine.
Serve warm or at room temperature with a generous scoop of yogurt, a sprinkling of almonds and a flurry of cilantro.