I went out to an impromptu dinner the other night with my dear friend Amelia at what might just be my current favorite restaurant. Piccino is in the Dogpatch, the next door neighborhood to Potrero Hill. A moderate walk from our home, it has superb food and a relaxed, neighborhoody vibe that is thankfully devoid of Mission hipsters. Their menu changes frequently to reflect peak-of-season produce, and yet they refrain from taking every given opportunity to tell you so. Though the restaurant has seemed filled to capacity every time I've wandered inside, we've always been able to find a seat at the bar or tucked into a corner. The atmosphere is busy yet welcoming, the decor sparse but warm. It is just perfect.
During my handful of visits to Piccino, I've had many dishes that stay on my mind for days afterward. There were fried wedges of polenta topped with oozing burrata and greens; an eggplant pizza bianca topped with roasted sweet peppers perched atop a crisp, tender crust; a thyme-scented madeleine served with strawberries and rhubarb. Their wine list is organized by flavor profile, a help to someone like me who knows what I want though not how to order it. I'm always impressed by the unique tableware, making it clear that all the little details are being attended to.
On this particular night, Amelia and I bellied up to the bar that surrounds their open kitchen stocked with freakishly attractive staff, and ordered some bubbly.
Or at least, we tried. "Just so you know," the server informed us, "that sparkling wine isn't very bubbly. It's only slightly frizzante."
This description struck us as comical. "I think I'll tell the guy I'm dating that I'm only slightly frizzante about him," Amelia mused as we sipped from our glasses.
We didn't mind the gentle fizz of the wine, in fact it went perfectly with the food: a cucumber melon caprese salad, seasoned with peppery olive oil and arranged in a dainty stack; thin-crust pizza topped with prosciutto and peaches; and the biggest surprise of all, rye gnocchi served in whey and flanked by morsels of smoked potatoes which was one of the most interesting and delicious things I've ever tasted in my life.
I'm usually only slightly frizzante when it comes to melons, as evidenced by the fact that there is only a sole other melon recipe on this site and it is also a salad spiked with cheese and herbs, but in the case of this salad, I was entirely effervescent. The play of textures – soft, crispy, gooey – and flavors – sweet, tart, clean, peppery – kept me dreaming of this salad long after it had been washed down by pizza, pasta, wine, two desserts, and more wine.
I had to have more, but since I can't afford to drop fifteen dollars on a salad every night, I would have to make it myself.
Luckily, a salad is far easier to reverse engineer than, say, rye gnocchi with whey and smoked potatoes (though if they don't put that back on their menu, I may have no choice). I bought a couple of melons at the co-op, a galia and a charentais, some lemon and Persian cucumbers, and a ball of mozzarella. Liking a bit of green in my salads, I grabbed a bunch of purslane and wild arugula as well. I had just tried purslane for the first time in a watermelon, feta, and heirloom tomato salad at Marinita's in San Anselmo and liked its crunchy texture and mild, slightly citric flavor reminiscent of sour grass. Plus it just looks cool.
I sliced everything up and tossed it with plenty of good olive oil, white wine vinegar, flaky salt and cracked black pepper, then made it into dainty stacks alla Piccino. It's my current favorite salad, the one I crave all day, every day, but especially during warm summer days. Even Jay, who considers salads a sacred place for vegetables and normally views fruit as an unwelcome intruder digs it. This is fortunate, since two small melons have already provided four rounds of the stuff.
This salad makes the most of melon's quiet flavor and soft texture which complement tangy vinegar, crunchy cucumber, spicy greens, and mild, salty cheese.
It has also changed my mind about melon. The other day I found myself ordering a melon mimosa when lunching at Local Mission Eatery with my friends Princess Tofu and Pete Lee. I was surprised to discover my excitement not only for the sparkling wine, but also for the melon, which tasted delicate and floral...
...and quite frizzante.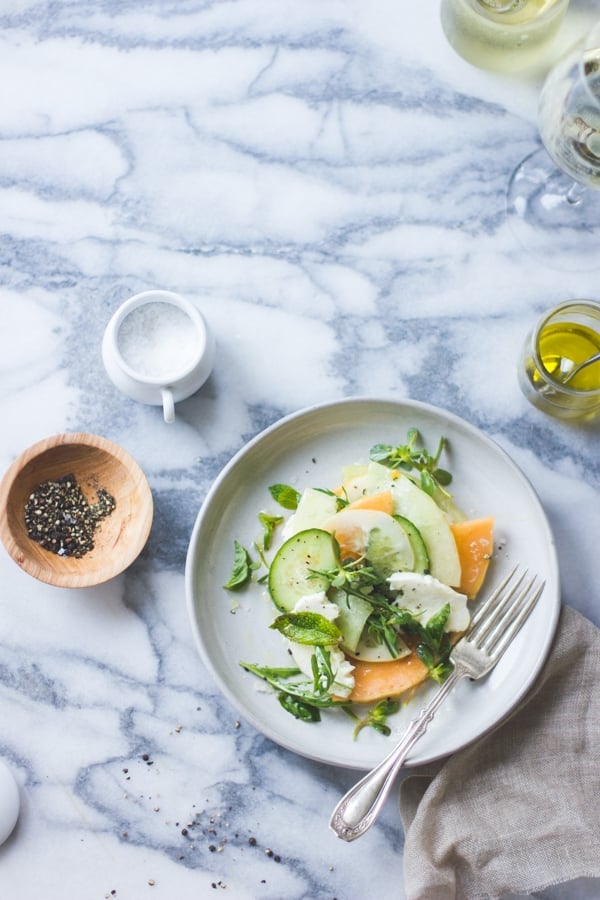 More Salad Recipes
*Bojon appétit! For more Bojon Gourmet in your life, follow along on Instagram, Facebook, or Pinterest, purchase my gluten-free cookbook Alternative Baker, or subscribe to receive new posts via email. And if you make this cucumber and melon salad recipe, I'd love to know. Leave a comment and rating below, and tag your Instagram snaps @The_Bojon_Gourmet and #bojongourmet.*
Cucumber Melon Caprese Salad with Mint and Purslane
Print Recipe
Pin Recipe
A refreshing and delicate salad.
Servings:
2
appetizer-sized salads, or 1 light-meal-sized salad
Ingredients
8-10

(1/4" thick) slices from 1/4 of a small Charentais melon (or cantaloupe)

8-10

(1/4" thick) slices from 1/4 of a small Galia melon (or cantaloupe)

~3/4 cup thinly sliced cucumber (I used some lemon cucumber and Persain cucumber)

a large handful arugula greens, tough stems removed, washed and dried

a large handful purslane greens, tough stems removed, washed and dried

a small handful basil leaves, torn into large pieces

a small handful mint leaves, torn into large pieces

1

tablespoon

good olive oil, plus extra for drizzling

2-3

teaspoons

white wine vinegar

1/8 - 1/4

teaspoon

flaky salt

1/8

teaspoon

cracked black pepper

4-6

ounces

fresh mozzarella, drained on paper towels, halved, and sliced 1/4" thick
Instructions
In a large bowl, combine the melon and cucumber slices with the arugula, purslane, basil, and mint. Drizzle the olive oil and 2 teaspoons vinegar over the top, and sprinkle over the 1/8 teaspoon flaky salt and the cracked pepper. Use your hands to gently toss the components together. Taste, adding more vinegar, salt, or anything else you like until the flavors pop.

For stacked salads, make a ring with 2 each of the melon slices. Top with cucumber slices, a quarter of the mozzarella, and a mound of greens. Repeat to make two layers of each ingredient. Repeat with salad number Drizzle a little more olive oil, flaky salt, and cracked black pepper over the top. Serve right away, preferably with a glass of crisp white wine.
Notes
Inspired by a salad of the same name from Piccino.
This is the sort of recipe that is suited to eyeballing and seasoning to taste, but here are the quantities that I used for guidance.
You can either stack your salads as instructed, or simply strew everything onto a plate and have at it.
Using two melons and two cucumbers of different varieties lends a fun contrast of flavors and textures, but use whatever you've got.
I found purslane and wild arugula at our co-op, but another peppery green would work just as well, such as watercress or peppercress, or a chicory such as frisee or radicchio.
Nutritional values are based on one of two servings.
Nutrition
Calories:
329
kcal
Carbohydrates:
22
g
Protein:
16
g
Fat:
21
g
Saturated Fat:
9
g
Cholesterol:
45
mg
Sodium:
849
mg
Potassium:
822
mg
Fiber:
4
g
Sugar:
18
g
Vitamin A:
10230
IU
Vitamin C:
77
mg
Calcium:
387
mg
Iron:
1.9
mg