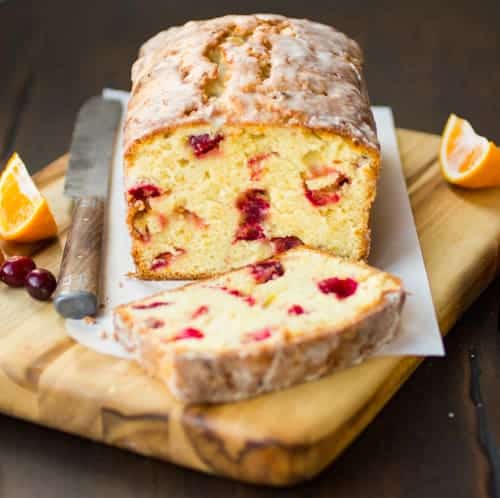 I've wanted to make a gussied-up version of this coffee shop staple ever since I learned that it was a coffee shop staple, which happened, several years ago, while I was working in a coffee shop. Slicing up loaf after loaf of this fragrant cake every morning at 5am never failed to cheer me.
Ok, it always failed to cheer me.
But sometimes my attention to inconsequential details can have deleterious effects, as was almost the case for this cake when my love of alliteration nearly prevented me from making it.
Ever since cranberries came clamoring into season, I've been waiting (not so) patiently for clementines to make their appearance so that I might marry them into holy, buttery-loaved bliss. Week after week, with "clems" scrawled hopefully on the shopping list, I passed over several types of mandarins and every variety of orange. Satsuma Triple Sec Sour Berry Sweet Bread just wouldn't have had the same ring. Cara caras could have worked, but would have been a bit of a mouthful. And I wasn't about to lie and use a clementine imposter. I wouldn't do that to you.
Meanwhile, the fresh cranberries were dwindling, and with them, my determination. Fairchilds did look an awful lot like clementines, surely no one would be able to tell the difference from a photograph…
But suddenly there they were one day, in all their tangeriney glory – darling clementines with a fragrance like sun-drenched flowers and segments as sweet as candy.
The real impetus for making this cake happened when I found the world's most perfect pound cake recipe several years ago in an old issue of Fine Cooking. After several sad pound cakes whose thin batters let berries slip through to congregate on the bottom of the pan, I was euphoric when I cut into this cake to find the berries dotted evenly throughout the batter.
The secret ingredient is cream cheese, which gets whipped into the butter and sugar base, and keeps the batter sturdy enough to hold the berries aloft while simultaneously adding moisture and tangy richness. Had I more room up top, you can bet I'd have titled this recipe Cranberry Clementine Cointreau Cream Cheese Tea Cake.
A simple glaze made from powdered sugar whisked with Cointreau orange liqueur is brushed on the still-warm cake, crackling as it cools and locking in moisture. It doesn't taste obviously boozy, but it adds a little je ne sais quoi. (Now Cointreau really would cheer me up at 5am.)
Cranberry-orange (or "cran-o" as we hollered it throughout the morning rush at Farley's) is a classic combination for good reason, and the brighter, flowery flavor of clementine zest only improves things. The sweetness in the cake and glaze counterbalances the tart cranberries, and keeps the cake moist, but not so sweet to put you off reaching for another slice, say, with your morning tea or coffee. The cake slices cleanly, with a beautiful crumb that will remind you of a creamsicle in its creamy-vanilla-citrusiness, punctuated by pockets of jammy fruit. (Speaking of which: creamsicle martinis. Yes.)
This recipe is forgiving and easy to whip up. It can be eaten warm from the oven, or cooled and kept for up to 5 days at room temperature. Make it with fresh cranberries as clementines are beginning their season, or use frozen berries later on.
But if you choose to make this with tangelos, pixies or murcotts, it can be our little secret.
Tangerine tangents:
Tangerine Olive Oil Pound Cake
Tangerine Blood Orange Upside-Down Cake
Tangerine Poppy Seed Brunch Cake
Satsuma, Ginger and Oat Scones
Cointreau-Glazed Cranberry Clementine Tea Cake
Adapted this Lemon Huckleberry Tea Cake, which I originally adapted from a pound cake recipe in Fine Cooking
Clementines come into season as cranberries are on their way out. You could certainly substitute other citrus zest for the clementines, or use frozen cranberries (probably no need to thaw first). And I'm eager to try this with rhubarb in place of cranberries in the spring. An 8×4″ pan will yield a tall loaf, like the one pictured here, but if a 9×5 incher is what you've got, that will work just fine. Enjoy this cake with breakfast, brunch, or, as the name implies, afternoon tea.
Makes one 8×4 or 9×5″ loaf, 8-10 servings
Cake:
4 ounces (1 stick, 1/2 cup) unsalted butter, at room temperature
3 ounces (1/4 cup plus 2 tablespoons) cream cheese, at room temperature
1 1/4 cups sugar (preferably organic cane sugar)
zest of 3 clementines (or other medium tangerines)
3 eggs, at room temperature
1 teaspoon vanilla extract
1 1/2 cups all-purpose flour
1/2 teaspoon baking powder
1/2 teaspoon salt
2 cups fresh cranberries, halved (if frozen, probably no need to defrost first)
Glaze:
1/2 cup powdered sugar (sifted if clumpy)
4 tablespoons Cointreau (or other orange liqueur), or enough to make a thin glaze
Make the cake:
Position a rack in the center of the oven and preheat to 325º. Line an 8×4 or 9×5″ loaf pan with a sling of parchment paper (or just shove a piece of paper in there, creasing the folds flat). (Lacking parchment, you can generously grease the pan and dust it with flour.)
Combine the butter, cream cheese, sugar and zest in the bowl of a stand mixer fitted with the paddle attachment. Beat on medium until light and fluffy, 3 – 4 minutes. Add the eggs one at a time, beating until combined after each addition, and scraping down the sides of the bowl and the paddle as needed. (The mixture may break, and that's ok.) Stir in the vanilla. Sift together the flour, baking powder and salt, then add it to the batter, stirring on low speed until just combined. Fold the batter a few times with a rubber spatula, scraping the paddle and bottom of the bowl, to make sure the batter is thoroughly combined, and that any zest clumps are distributed throughout the batter. Gently fold in the cranberries. Scrape the batter into the prepared pan and smooth the top.
Bake the cake until a tester inserted into the center comes out clean, or with a few moist crumbs attached, 1 1/4 – 1 1/2 hours. Let the cake cool for 10 or 15 minutes, then remove it from the pan, and peel away the parchment. Poke it all over the top and sides with a toothpick or skewer.
Make the glaze:
While the cake is cooling, whisk together the powdered sugar and cointreau until you have a glaze that's about as thin as half and half. Brush the glaze all over the top and sides of the warm cake. Let the cake cool completely, at least one hour.
The cake keeps well, wrapped, at room temperature or in the fridge, for up to a week.