Tomatoes and bell peppers stewed with fragrant curry spices and finished with creamy coconut milk make this coconut curry shakshuka stand apart from the crowd. Adapted from Vegetarian Heartland by Shelly Westerhausen.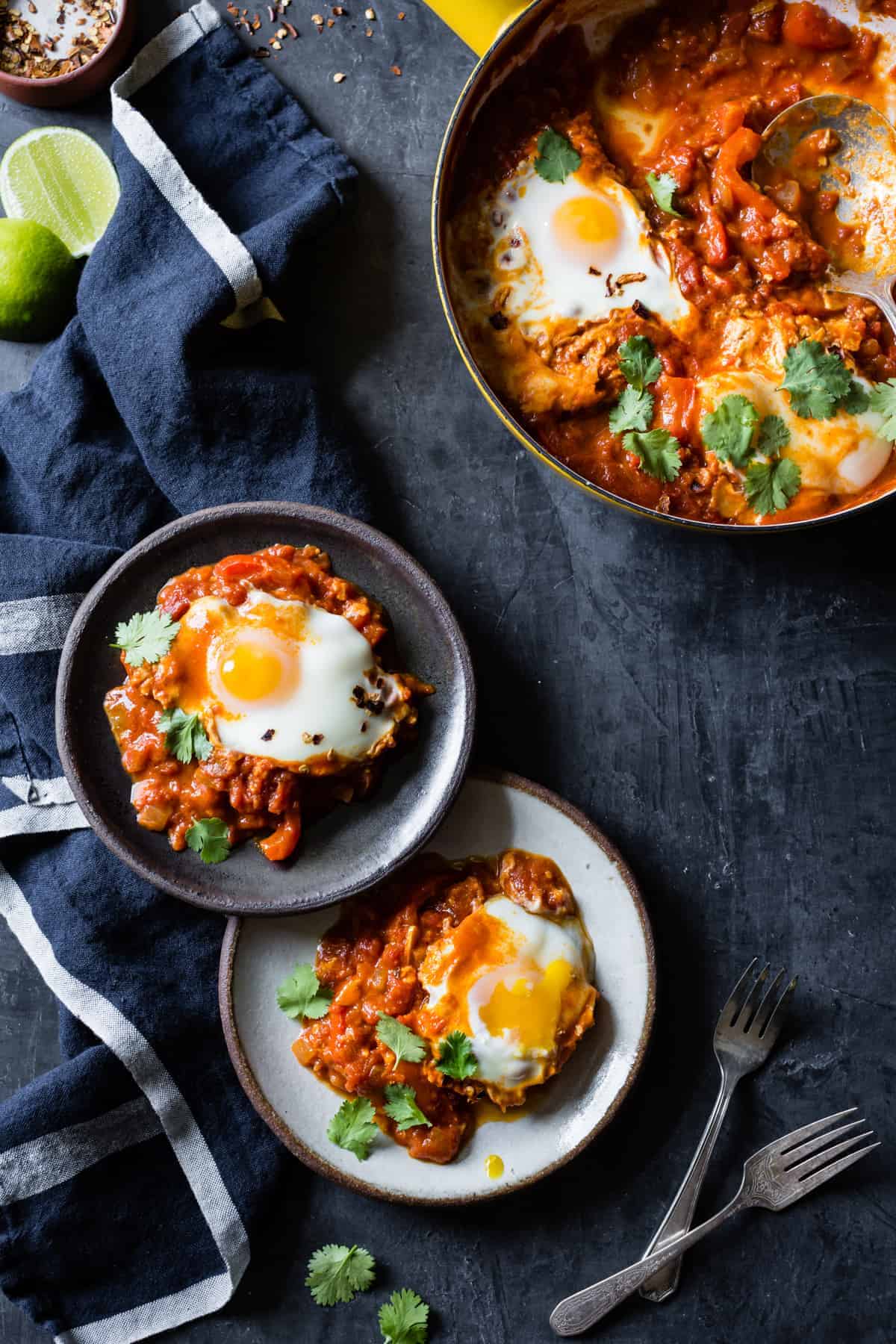 I spent last weekend on Fox Island, Washington holed up in a cozy cabin with a handful of blogger friends (more on this soon!) Among them was Shelly from Vegetarian 'Ventures, whose beautiful cookbook Vegetarian Heartland: Recipes for Life's Adventures published this year. I've been eager to share this coconut curry shakshuka recipe since I got a copy in my hot little hands. It was the first recipe to catch my eye because of my love for both shakshuka and all things curry, and now I'm predictably hooked.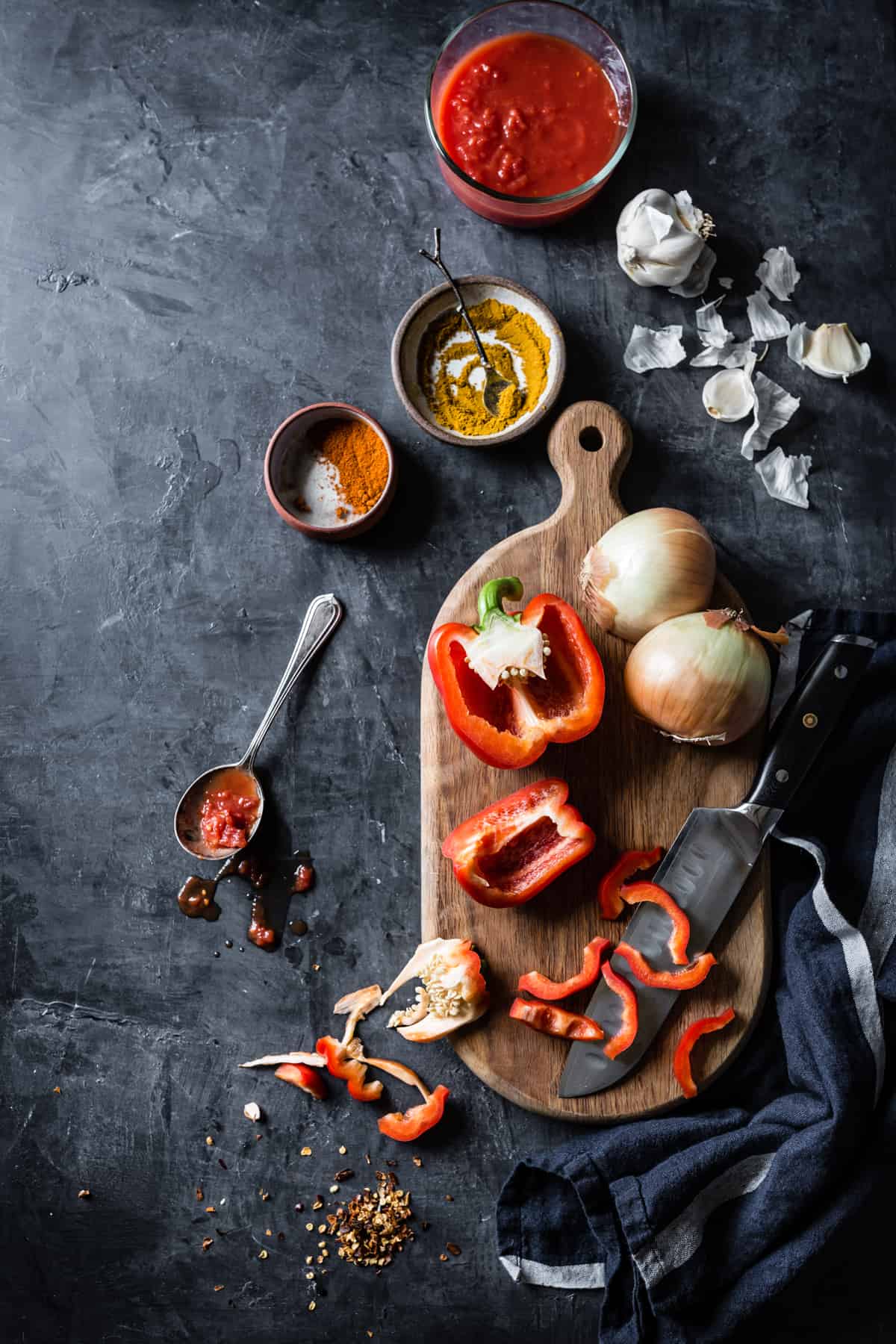 Vegetarian Heartland travels the seasons though chapters broken into outdoor excursions – think Farmer's Market Day, Cookout, Playing in the Snow, Holiday Hosting, Fruit Picking, and more. When you're vegetarian or have another specific diet, it's especially helpful to have some potluck-appropriate recipes at your fingertips. Barbecues, road trips, brunches, and group camping excursions can leave people like us hangry when meaty options abound, but Vegetarian Heartland overflows with recipes to pack and share that will please even the staunchest carnivores. There are Wild Rice Veggie Sliders with Herbed Ricotta for cook-outs, Roasted Carrot and White Bean Dip for picnics, and Mediterranean Hoagie Sandwiches for camping trips. In the Brunch Potluck chapter, this herb-topped pan of eggy deliciousness jumped off the page.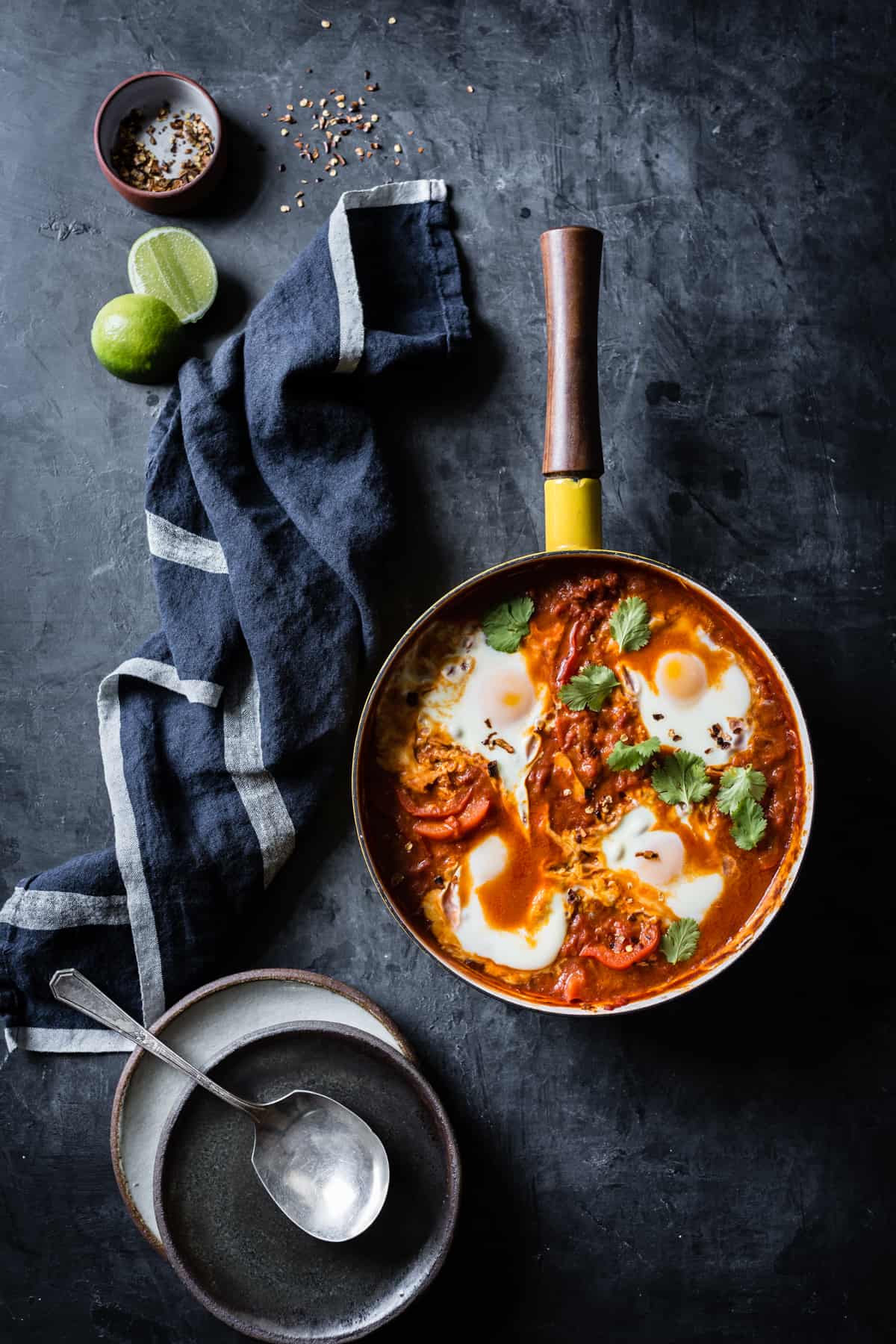 Brunch can be a particularly unfriendly meal to vegetarians, but shakshuka (aka shakshouka), a dish of stewed tomatoes and eggs that hails from Tunisia, is full of umami and protein. In this version, curry spices change up the flavor profile and coconut milk adds creamy richness. Shelly thought up this genius variation one day when she found herself with some extra flatbread wanting an accompaniment. Unable to decide between shakshuka or curry, she combined the two and this dish was born. We've been making it on repeat.
Shakshuka sounds fancy due to its poetic, onomatopoeic name, but it's really just a thick tomato sauce seasoned with sweet peppers and spices, and several eggs simmered in it until just set. It's the sort of one-pot meal that can be whipped up in less than an hour on a Sunday morning for brunch or a weekday evening for dinner. The stew can also be made in advance if you like; when ready to serve, just heat in a skillet and add the eggs. The flavors just get better as it sits.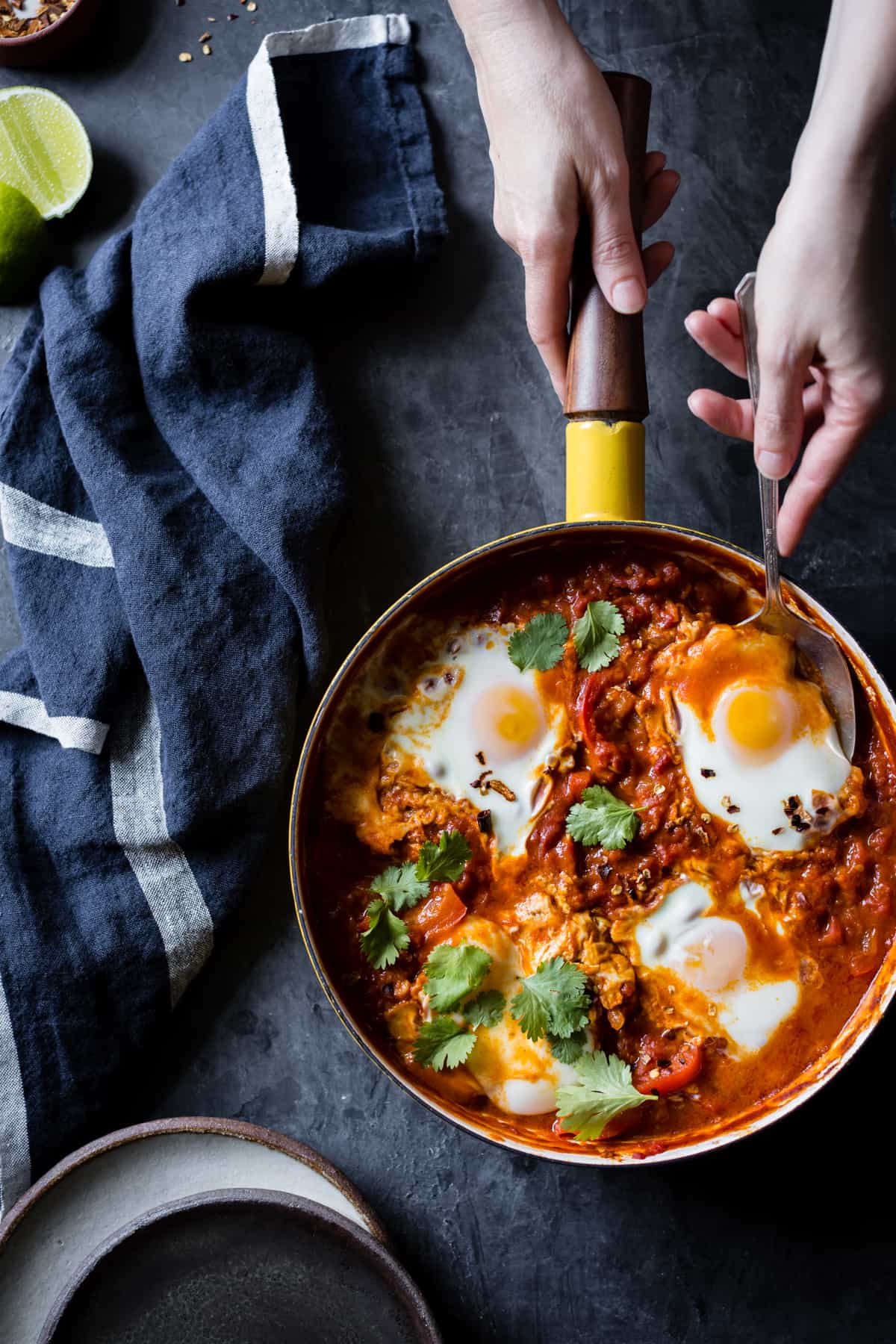 One time when I made this, I had some pretty radish greens that I didn't want to go to waste. I sautéed some onion and garlic, and added the greens and a splash of water and lemon to help them wilt. They paired beautifully with the shakshuka along with a few slices of toasted baguette (I love Arise Bakery's whole grain-flecked gluten-free baguettes, which can be ordered through their site).
Give Shelly's coconut curry shakshuka a go and you'll likely find yourself as hooked as we are. While you're at it, page through her book and ogle her stunning photographs, all created by her talented self. Her book has a magazine-like sensibility full of rich photographs shot on location all over the Midwest where she lives. It's a book that's at home on a coffee table for leisurely reading as well as lying open in the kitchen waiting to get spluttering tomato sauce all over its pages.
Other recipes I've tried are the Brown Sugar & Rosemary Popcorn (divine) and Roasted Vegetables with Creamy Romesco, which Sarah shared here and which we served at our food photography workshop. Other dishes I've got my eye on are:
Ginger Whiskey Cider
Peanut Butter Trail Mix Cookies (naturally gluten-free)
Caramelized Onion & Fennel Tart with Rosemary Crust
Iced Rhubarb Hibiscus Tea
Minted Baba Ganoush (which Amanda shared a beautiful version of)
Raspberry Hazelnut Pancakes (yesssss)
Smoky Maple Baked Beans
Coffee Crunch Chocolate Ice Cream with Bourbon Fudge Ripple
Spelt Crepes Stuffed with Spiced Pumpkin, Apple, and Onion
Vegetarian Heartland isn't gluten-free, but it has many naturally GF dishes, and many are dairy-free and/or vegan to boot. Whether you're an adventurer outdoors or just within your own kitchen, Vegetarian Heartland is a must-have.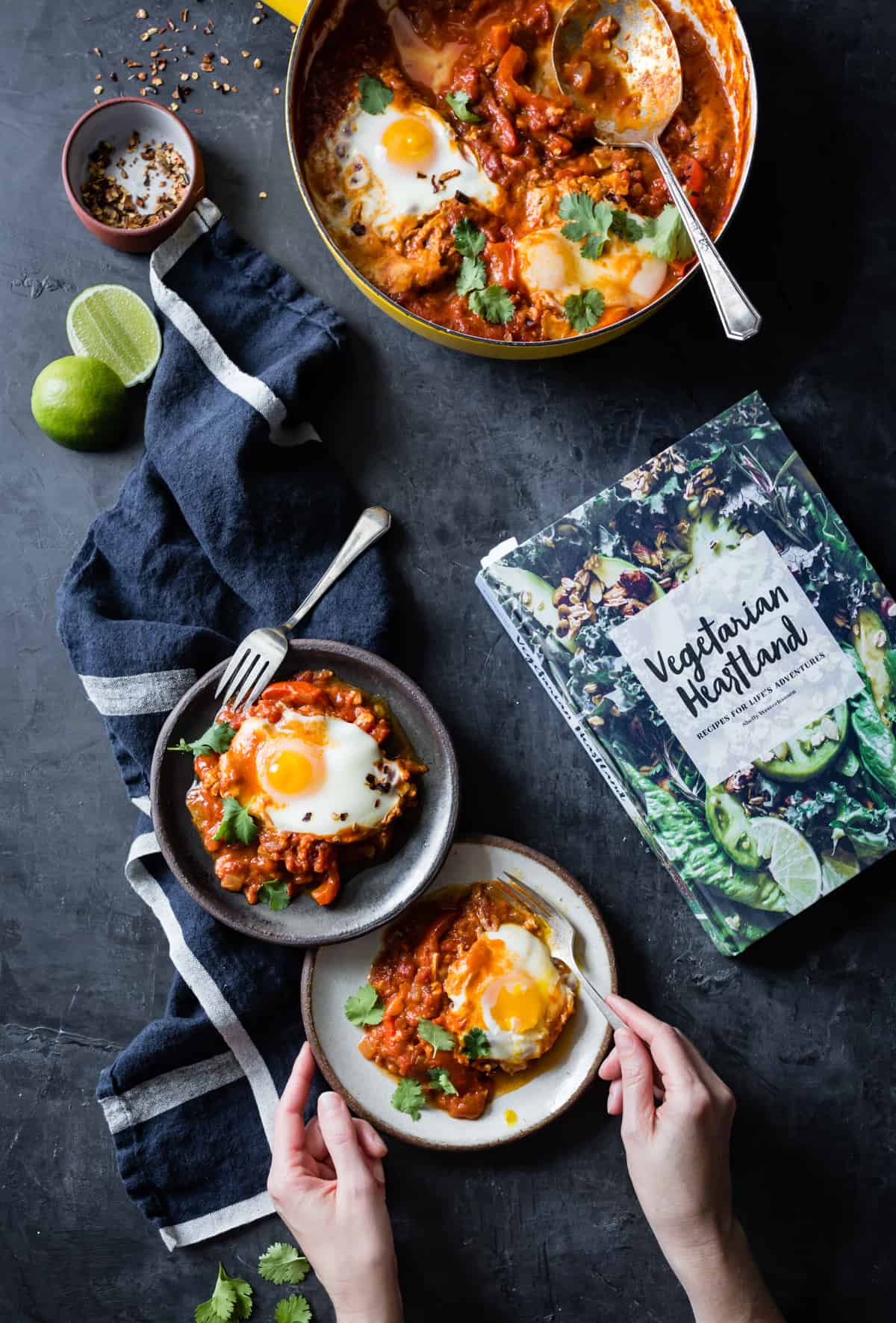 More Brunch Recipes:
*Thanks for reading! For more Bojon Gourmet in your life, follow along on Instagram, Facebook, or Pinterest, purchase my gluten-free cookbook Alternative Baker, or subscribe to receive new posts via email. And if you make this coconut curry shakshuka, I'd love to see! Tag your Instagram snaps @The_Bojon_Gourmet and #bojongourmet.*
Coconut Curry Shakshuka
Print Recipe
Pin Recipe
Traditional shakshuka gets an upgrade with curry spices and creamy coconut milk.
Ingredients
1

tablespoon

olive oil

½

a large onion, diced

1

large red bell pepper, quartered and sliced crosswise into ¼-inch thick strips

1

large garlic clove, peeled and thinly sliced

1 ½

teaspoons

curry powder

¾

teaspoon

sweet paprika

¼

teaspoon

ground ginger

¼

teaspoon

red pepper flakes

¼

teaspoon

fine sea salt

1

(18-ounce) jar diced tomatoes (I like Jovial brand)

the thick cream from 1 (13-ounce) can full-fat coconut milk

4 - 6

fresh farm eggs

cilantro or basil leaves, for garnish

lime wedges, for serving

crusty bread, flatbread, or steamed rice, for serving (I like slices of GF baguette brushed with olive oil and toasted on a griddle)
Instructions
In a 10-inch non-reactive skillet with a lid (enamel or stainless steel), heat the olive oil over medium heat. Add the onion, bell pepper, and garlic and cook, stirring occasionally, until the vegetables are softened and beginning to caramelize, 8-10 minutes. Stir in the curry powder, paprika, ginger, and red pepper flakes and cook for 30 seconds. Add the salt, tomatoes, and coconut cream. Bring to a low simmer and cook, stirring occasionally, until thickened to a stew-like consistency, 10-20 minutes. Taste, adding more salt if you feel the dish needs it.

Remove the stew from the heat. Make 4 - 6 divots in the stew and crack an egg into each one. Cover the pan and return to a bare simmer. Cook until the eggs are gently set, 5-10 minutes. Serve the shakshuka topped with cilantro, a squeeze of lime juice, and plenty of bread on the side.
Notes
Lightly adapted from Vegetarian Heartland by Shelly Westerhausen.
If you don't plan to serve this all at once, you can skip cooking the eggs in the stew and instead fry a sunnyside up or over easy egg or two to order.
Nutritional values are based on one of three servings.
Nutrition
Calories:
461
kcal
Carbohydrates:
17
g
Protein:
22
g
Fat:
35
g
Saturated Fat:
20
g
Cholesterol:
546
mg
Sodium:
436
mg
Potassium:
833
mg
Fiber:
4
g
Sugar:
7
g
Vitamin A:
2640
IU
Vitamin C:
74.6
mg
Calcium:
163
mg
Iron:
7.4
mg