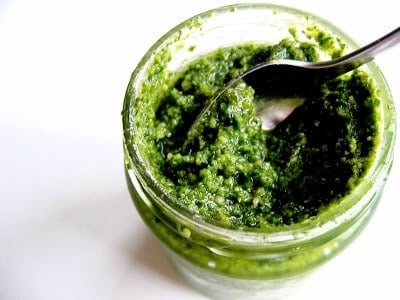 Aside from a certain shredded wheat neurosis (in which said block of cereal had to be thoroughly decimated and submerged in milk before I would touch it) I was never a particularly picky eater. At age 7, I became obsessed with sushi and declared it my favorite food. I ate fairly heartily, usually finishing the comestibles on my plate without a fuss. I didn't love vegetables, but I would eat them as necessary. (Oh, except when I didn't feel like it. Then I would ask to be excused outside, where I would toss my greens off of the deck and into the bushes below.)
One day, a pickier eater than I stayed for dinner. My dad had lovingly made fresh basil pesto to serve over salmon, and I was all set to dig in when this friend began caterwauling. Apparently pesto was disgusting, I'd just never realized it before. My dad, a bit bewildered, resignedly got up to make something more kid friendly for the two of us that night.

I got over my pesto-phobia pretty quickly; like, right after my friend went home. And it's a good thing, since Jay makes the best pesto ever. We have jars of it rotating through the fridge all summer long to smear on sandwiches, eggs, and pasta. In the winter we sometimes use other herbs, such as marjoram, parsley, arugula or cilantro. Pesto is a handy way to use up a bunch of herbs which you may have purchased, say, to garnish a pumpkin and black bean soup that you meant to blog about, but never got around to snapping a photo of before it disappeared. And now you're stuck with a huge bunch of the stuff which your thrifty boyfriend keeps heckling you about. Don't fret, just puree it with some garlic, olive oil, parmesan and pumpkin seeds, and voila! A vivid green condiment to brighten up your winter meals.
Cilantro pesto adds a bright note to any dish, and goes especially well with mexican-type foods such as migas, or swirled into a bowl of soup. I wouldn't waste it on any picky eaters, though.
Cilantro and Pepita Pesto
Makes about 1 cup
1 large bunch cilantro, rinsed thoroughly, dried and roughly chopped
1/2 cup raw pepitas (green pumpkin seeds)
1 medium clove garlic
1/4 cup grated parmesan
1/4 teaspoon salt
about 1/2 cup olive oil or vegetable oil (such as sunflower)
Place the pepitas and garlic in the bowl of a food processor and pulse until finely chopped. Add the cilantro, parmesan and salt and process until fairly smooth. With the food processor running, gradually pour in enough oil to make a thickly spreadable paste.
Store in an airtight jar in the fridge for up to a couple of weeks.