This silky, creamy, dark chocolate pudding gets its luscious flavor and texture from an unlikely ingredient: sweetened condensed coconut milk. Optionally vegan and dairy-free. From Extra Helping by Janet Elsbach.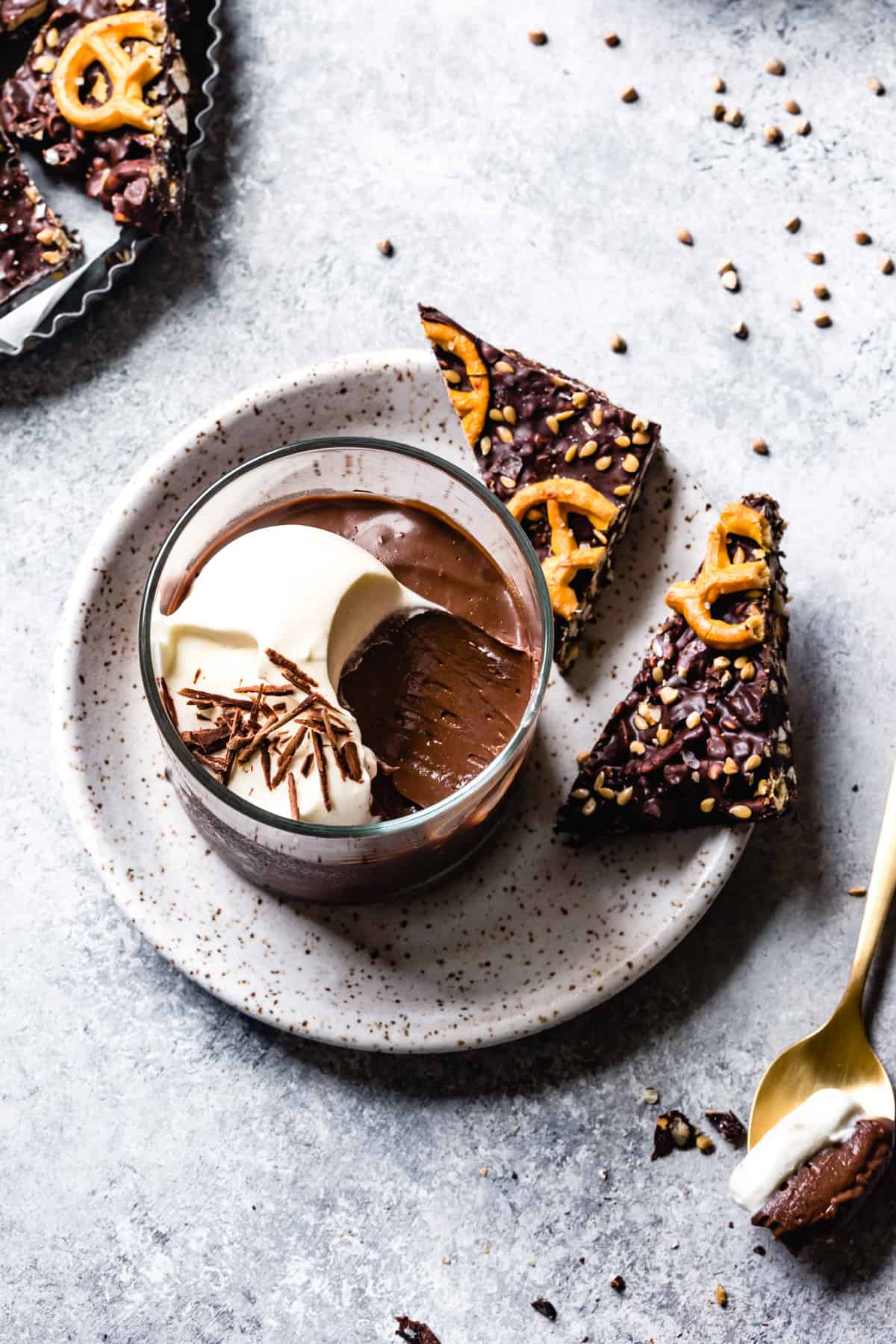 According to the dictionary, the definition of the Yiddish word "mensch" is "a person of integrity and honor." That uptight definition doesn't even begin to do justice to my friend Janet, author of the blog A Raisin and a Porpoise, the book Extra Helping, and this glorious chocolate pudding recipe.
Closer is this definition from ThoughtCo:
A mensch is someone who is responsible, has a sense of right and wrong, and is the sort of person other people admire. A mensch shows up for her friends. In English, the word has come to mean "a good-hearted, dependable, solid person." Menschlichkeit is a related Yiddish word used to describe the collective qualities that make someone a mensch.
But my definition of "mensch" is simply: Janet.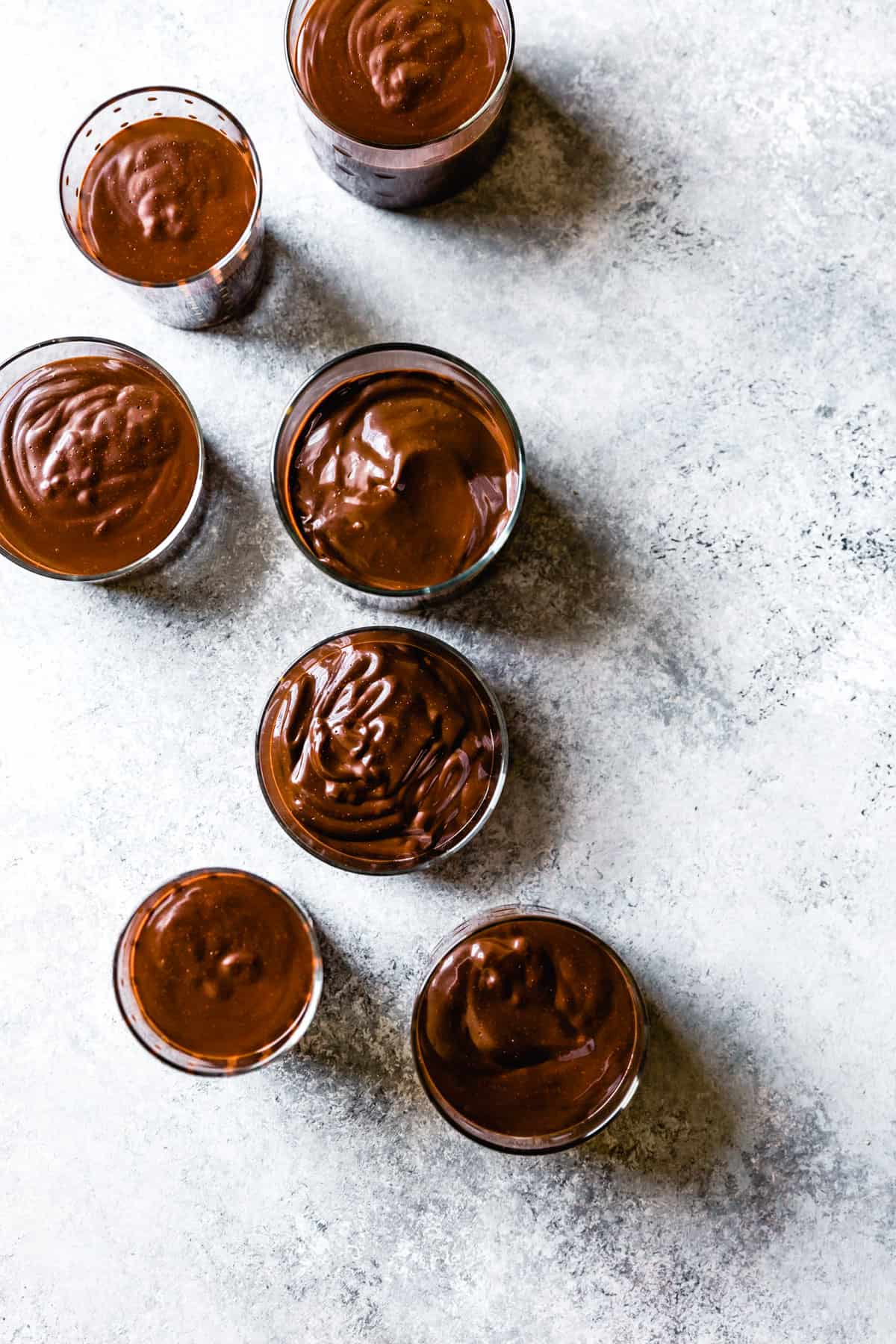 Among the menschlichkeit things Janet does, she's a caretaker for friends, family, and a series of foster dogs that prance through her home. She'll host a charity event (a pop-up shop of local makers) to fund another charity event (community dinners that she cooks for a couple hundred people in need). By day she teaches writing to adults with disabilities. Even her dog Sylvester is 4 pounds of therapy who sits with kids at the library once a week.
Janet is someone who will spend her own time and dollars testing a dozen (admittedly somewhat fussy) recipes for your cookbook. Then she'll throw a party for said cookbook with 30 of her dearest friends despite the fact that she hates parties. She'll welcome you into her home with a fridge stocked full of local delicacies she knows you'll love. She'll pack a lunch for your train ride, complete with little jars of homemade silky dark chocolate pudding dolloped with unsweetened whipped cream to satiate you on your journey. She'll write an entire cookbook all about giving food to loved ones in need.
In the short time that I've known Janet, she's sent me care packages of:
homemade preserves
a crate of heirloom apples and quince from her family's orchard
flavored sugars
fermented garlic
and the most insanely delicious cocoa buckwheat cookies (the recipe can be found here and should be made IMMEDIATELY)
Janet shows up for her friends and family, and she usually shows up with pudding. And not just any pudding...
The Best Chocolate Pudding
I'm usually one to shy from superlatives but Janet's chocolate pudding is simply THE BEST chocolate pudding imaginable. It's silky smooth, dense and fluffy at the same time, not overly sweet, and extra dark from both chocolate and cocoa powder. A hit of vanilla and salt give it deep flavor, and the clever step of beating the pudding in a stand mixer as it cools ensures a delicate, luscious set.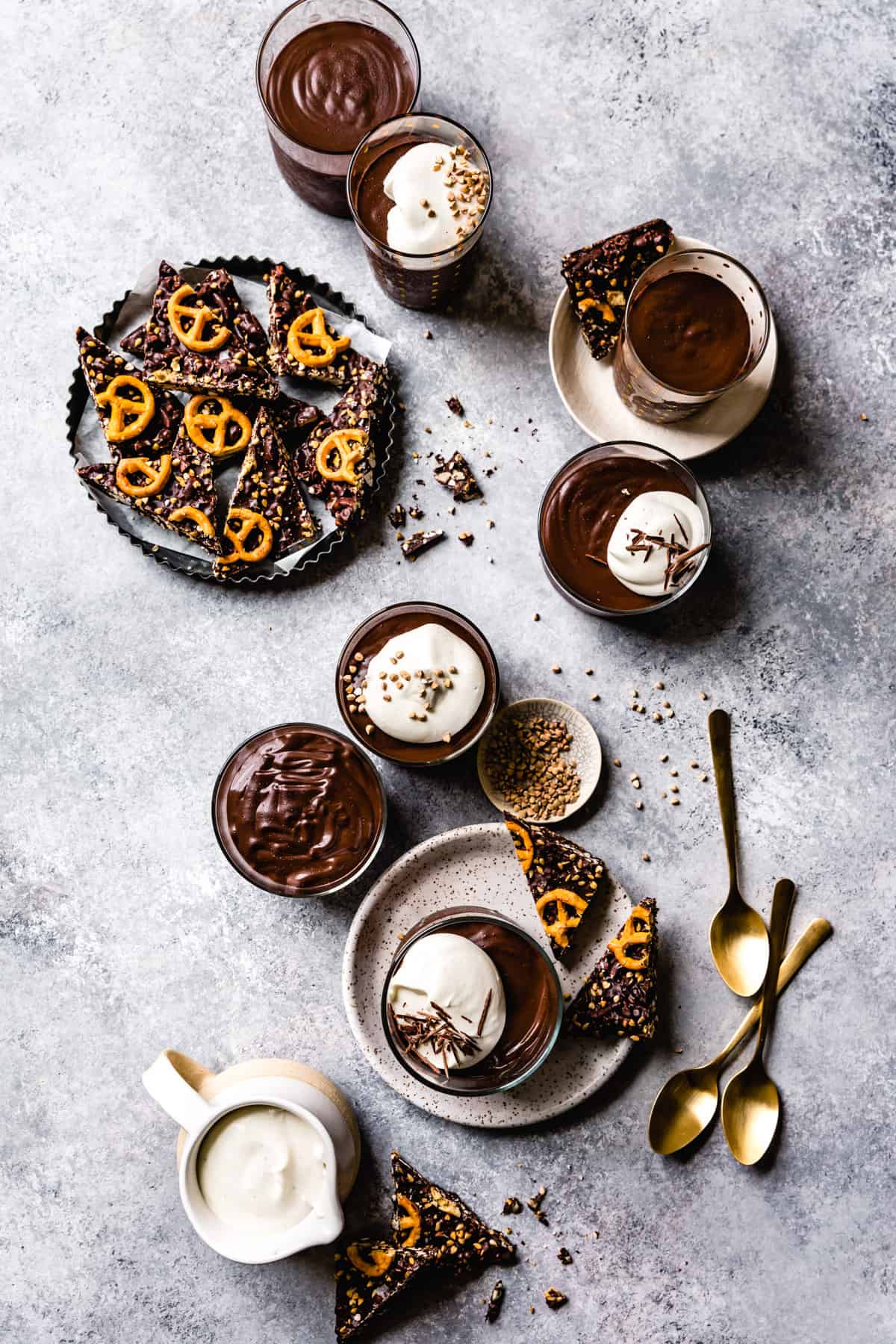 The Secret Ingredient
Aside from the usual suspects – milk, chocolate, cocoa, cornstarch, and flavorings – an unusual ingredient sets this pudding apart from the rest: sweetened condensed coconut milk, which is worth seeking out if you've never tried it. Where regular sweetened condensed milk has an unpleasant musty flavor and saccharine sweetness, sweetened condensed coconut milk boasts a sweet, slightly nutty, clean flavor. It doesn't, in fact, taste at all like coconut. In the pudding, it adds sweetness and caramel notes without dampening the other flavors, and it adds body and holds the pudding in emulsion. Trust me when I say you'll never look back after trying this recipe.
Extra Helping: Recipes for Caring, Connecting, & Building Community One Dish at a Time
This chocolate pudding recipe comes from Janet's beautiful debut cookbook Extra Helping. If you've ever wondered how you could aid a friend who was grieving, ill, just had a baby, moved, or was otherwise going through a tough time, this is the book you need. It's the book our world needs. During life's transitions, cooking for oneself can turn from a joy to impossible, and food is a relatively simple way to show up for loved ones. Everyone needs to eat, and a homemade pot of soup or batch of cookies can make one feel cared for and connected in a profoundly healing way.
Chapters are divided by life events: Food for Expanding Families, for the Rearranged and Relocated, for Illness and Recovery, for Solace, for Cheer, and for Feeding a Crowd. Each chapter contains relevant recipes – soups and broths for illness, thrifty large-batch recipes for crowds, recipes that don't require utensils to eat for those who have just moved and have yet to unpack their kitchens. Janet also includes tips on the best methods for packing and transporting said dishes.
Janet made sure that all diets were included when she crafted her recipes. There are meaty dishes with vegetarian options, and every baked recipe has glutenous and gluten-free variations, all tested thoroughly. I've bookmarked just about every recipe in the book, and the ones I've made so far are:
Tofu Chorizo – crumbled tofu fried until crisp with chorizo-ish spices, perfect for veggie tacos and burrito bowls
Life is Upside Down Cake – made with any fruit and topped with a ginger miren caramel, with pureed chestnuts in the batter
Shapeshifter Baked Pancake – "it's dessert and it's breakfast and it's I want something yummy right now"
Great Big Enchilada-ish Bake – a massive pan of layered tortillas, beans, veggies, cheese, enchilada sauce, and buttermilk custard that makes the tortillas taste like tangy cornbread
This Chocolate Pudding on repeat
Bark with Bite (shown here) – nourishing chocolate confection stuffed with toasted buckwheat, chopped pretzels, candied ginger, dried cherries, and flax seeds
On my list to try next are:
Buckwheat Slab Crackers
Roasted Carrot Romesco
Now and Later Buckwheat Cheese Puffs
Red Rice with Squash and Smokey Cheese
Pumpkin Muffins stuffed with sweet goat cheese filling
Aguadito, Congee, and Chawanmushi for the next time I or someone I know needs soupy comfort
Unmeatballs – vegetarian bites made of greens, squash, and feta bound together with breadcrumbs and egg
Equally delicious is Janet's evocative writing, which you'll want to devour from cover to cover. The book is seasoned with personal tales of joy and loss, vivid recipe descriptions, and punny recipe titles that will make you chuckle such as Life is Upside-Down Cake in the moving chapter, A Herd of Mousse (coffee, lemon, and chocolate rose), How Cordial, and Ice Cream Shell Game, among others.
This holiday season, give the gift that keeps on giving: a copy of Extra Helping. While you're at it, whip up a batch of these creamy chocolate puddings – there's more than enough to share.
Pudding Vs. Custard
Wonder what's the difference between pudding and custard? It's the eggs, or lack thereof. Pudding is egg-free and thickened by starch, whereas custard contains eggs by themselves or in addition to starch to help it set. While I love a nice custardy crème brûlée or pot de crème, puddings can have a cleaner, more straightforward taste without the egg dampening the flavors. This recipe is egg-free and therefore pudding!
Is Chocolate Pudding Gluten-Free?
This one is! And it can also be made dairy-free and vegan by swapping carton-style coconut milk in for the dairy milk. Just be sure to source cornstarch and other ingredients that are certified gluten-free.
More Custards & Puddings
Looking for more easy peasy sweet and creamy desserts like this one? Try these: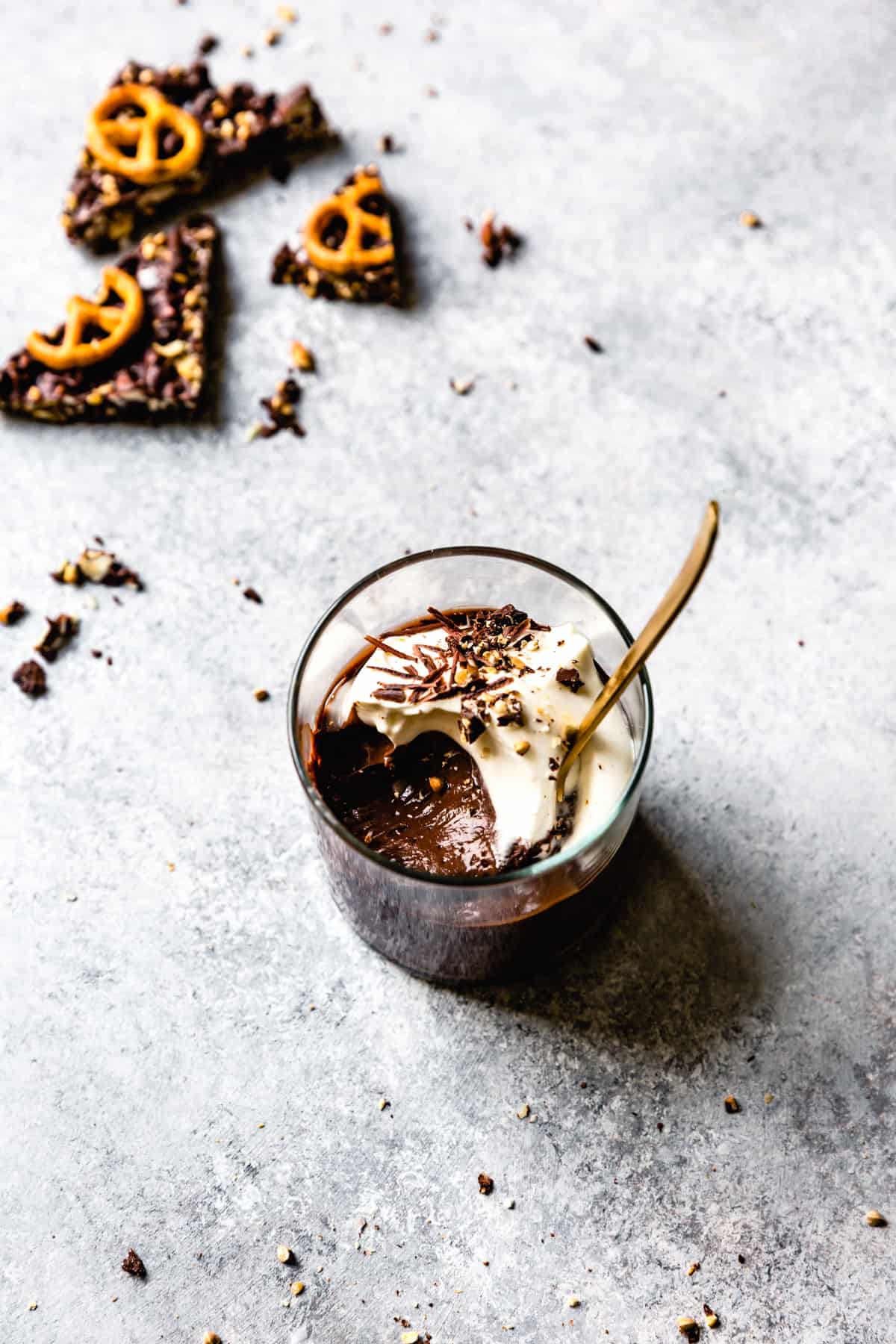 *Bojon appétit! For more Bojon Gourmet in your life, follow along on Instagram, Facebook, or Pinterest, purchase my gluten-free cookbook Alternative Baker, orsubscribe to receive new posts via email. And if you make this chocolate pudding, I'd love to see. Tag your Instagram snaps @The_Bojon_Gourmet and #bojongourmet.*
Chocolate Pudding
Print Recipe
Pin Recipe
The most creamy, silky, dark chocolatey pudding you've ever had. To make it vegan, use coconut milk and top the pudding with whipped coconut cream.
Ingredients
1/2

cup

(45 g) cocoa powder (I use dutch-process but natural works well too)

1/3

cup

(40 g) cornstarch

1/2

teaspoon

fine sea salt

4

cups

(950 ml) whole milk (or carton-style coconut milk)

15

ounce

(445 ml) can sweetened condensed coconut milk

6

ounces

(170 g) chopped bittersweet chocolate

1

teaspoon

vanilla extract or paste

unsweetened or lightly sweetened whipped cream or coconut cream, for serving
Instructions
Have 8-10 small cups, jars, or ramekins ready.

In a medium, heavy saucepan, combine the cocoa, cornstarch, and salt. Whisk in the milk, then the sweetened condensed coconut milk.

Place the pot over medium heat and, stirring constantly with a wooden spoon, bring to a low boil. Be sure to scrape the corners of the pan with the spoon so that no pudding is left behind. You'll know it's boiling by the large bubbles popping lazily when you stop stirring for several seconds. Continue to cook the pudding for 7 minutes or until quite thick and beginning to hold a shape.

Remove the pan from the heat and stir in the chocolate and vanilla to combine. Transfer the pudding to the bowl of a stand mixer fitted with the paddle attachment and beat on low until cooled to room temperature; this will give the pudding a silky texture and soft set. Alternatively, stir the pudding by hand until cool. Or just pour the hot pudding into cups, let cool to room temperature, then cover and chill; it will be firmer and less silky this way but still delicious.

Cover the puddings and chill until firm, at least 2 hours and up to 1 week. Serve with whipped cream and chocolate shavings if you like.
Notes
This recipe comes from Extra Helping by Janet Elsbach, reprinted with permission. Find the recipe for the chocolate bark shown here in the book!
Nutritional values are based on one of eight servings.
Nutrition
Calories:
336
kcal
Carbohydrates:
27
g
Protein:
7
g
Fat:
24
g
Saturated Fat:
17
g
Cholesterol:
13
mg
Sodium:
208
mg
Potassium:
480
mg
Fiber:
4
g
Sugar:
14
g
Vitamin A:
210
IU
Vitamin C:
0.5
mg
Calcium:
167
mg
Iron:
3.9
mg