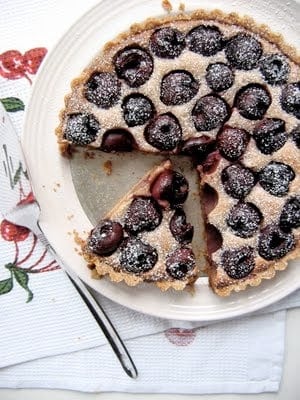 At Tante Marie's Cooking School we didn't have a textbook. Instead, our teacher, Claire, brought daily handouts, and we were required to purchase a thick cookbook by a well-known baker, who, for the purpose of this post, we'll call Steve.
As with most cookbooks, I pored over Steve's tome, admiring the photos, bookmarking recipes, and enjoying Steve's writing. In the back of the book was a photograph of Steve. He gazed at the camera, laughing, handsome and affable-looking, like a jolly uncle who would shower you with gifts and culinary knowledge. I imagined him having a rich, deep voice and hearty laugh. He seemed like the sort of chef who would take you by the hand and, with the utmost patience, show you how to become a great baker.
When Claire informed us that Steve would be coming to give a day-long baking demonstration, I could barely contain my excitement. The savory class would be in attendance, as would the formidable owner of the school, Tante Marie herself.
I had Wolfgang Puck-esque fantasies about Steve: that we would get on like old chums, that he would hire me to test recipes for his latest book, and take me traveling to foreign countries in search of the perfect croissant or truffle.
The day of the demonstration, I walked into Tante Marie's full of hope and anticipation. I looked around, but where was Steve? Instead of the kindly man smiling comfortably in the photograph, there stood a different man entirely.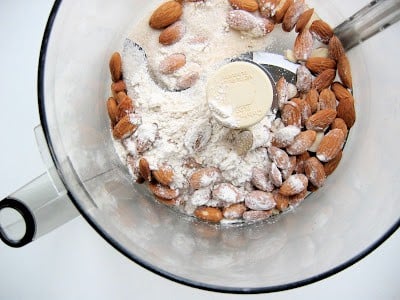 I saw him from the side. His back was hunched under his chef's coat as he nasally berated his assistant, a fellow student from the savory class. As he turned his sour expression toward me, I saw a fleeting semblance to the man in the book. My heart fell with disappointment.
We settled into our seats, and Steve began his demonstration. As he put together some calzone, he informed us testily that there wouldn't be enough to go around, as his assistant (and here he scowled at her again) hadn't purchased enough spinach. "You just can't get good help these days," he whined, rolling his eyes at us as though for sympathy.
The demonstration continued, his assistant looking more and more downtrodden, and those of us watching growing quieter with discomfort. He made a quick focaccia (which he boasted would brown nicely on the bottom when baked on the lowest rack, and when it didn't, blamed the oven) before moving on to a sweet tart.
As he rolled out the dough, he asked the class if we knew why one didn't need to be as gentle when rolling out pate sucrée as pie dough.
There was a collective fidgeting as the class remained silent. Claire shot us an insistent look; we had just covered this topic in class, and our apparent bewilderment made her look like she hadn't done her job.
While the rest of us intently studied our own hands, one classmate stoutly raised hers and declared confidently, 'The sugar.'
Steve mocked nastily, "The sugar! That's like saying, 'the butler did it.'"
The class again fell silent. Claire glanced around menacingly.
I cleared my throat and posited, "Because sugar is acidic?"
Steve sneered, "If sugar were acidic, then everyone would make sugar meringue pie."
Claire put her head in her hands.
Finally some brave soul got it right. "The acids in the sugar tenderize the glutens in the flour."
Steve paused, trying to think of a witty retort, but couldn't, so he went back to making his tart.
Steve's pate sucrée left a bad taste in my mouth, and I have yet to find a recipe that I can really get behind, though I've made many sweet tart doughs, both at home and professionally. Most invoke the creaming method, in which butter and sugar get creamed together, while a few utilize the biscuit method, in which cold butter is rubbed into the dry ingredients. Some use powdered sugar, while others use granulated. Some call for whole eggs, some for egg yolks, some for milk, cream or water, and some for blanched, ground almonds.
In my pate sucrée meanderings, my favorite thus far has been a press-in crust, adapted from Williams-Sonoma's Essentials of Baking, which, much to Steve's dismay I'm sure, doesn't require rolling out. For my first attempt at this cherry frangipane tart, however, I decided to try a most unconventional recipe from Alice Medrich's Pure Desserts.
The butter here is melted (!), and simply stirred into the flour, sugar and salt, then the lump of buttery dough pressed into the pan. The instructions call for neither chilling the dough, nor lining it with pie weights to blind bake it.
The dough felt wet and greasy, and even before baking, wanted to slip down the sides of the pan. I decided to chill the crust while the oven preheated, but, giving Ms. Medrich, who tests her recipes rigorously, the benefit of the doubt, baked the shell sans weights.
As I'd feared, the sides of the shell slumped down as the crust baked. Lacking the time to bake a second shell (as I wanted to get this tart made, and posted, before I waltzed away to music camp and cherry season ended entirely, which, um, didn't exactly happen), I managed to push the still-warm sides back up the pan.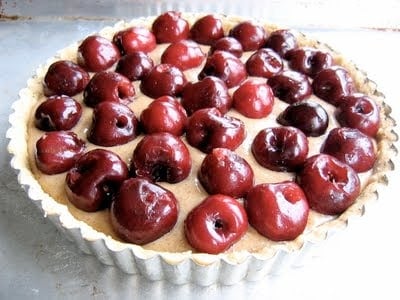 I soldiered ahead, spreading the crust with brandied frangipane and the giant-est organic cherries I've ever seen, and baking the tart until the top browned and the cherries oozed and burbled.
Unfortunately, the edges of the crust where I'd pressed them up came out a shade short of burnt. Fortunately, the crust tasted delicious: tender, just sweet enough, and the essence of simplicity. All that butter kept the tart crust crisp well into music camp, and we devoured slices under the redwoods as the ravens cackled and squawked to the distant doumbeks, bagpipes and marimbas.
I was fairly certain that freezing the crust and securing it with pie weights to blind bake it would do the trick, so I purchased more cherries for a second trial. But when I tried to lift the parchment out of the pan, half of the partially-baked shell came out with it. Alice, I don't know how you got the tart shells in your book to look so picture perfect, but I would appreciate if you would come over sometime and show me. (Hopefully, you're a nicer baker than certain people I know.)
In the end, I went back to the press-in crust from this blood orange tart, which requires a quick freeze and no weights, and stays resolutely in place. I found this crust to be more tender, and a bit more austere, a welcome contrast to the rich, sweet filling here.
Unlike some bossy bakers, I don't like to tell people what to do. But I would highly recommend giving this tart a whirl, should you find yourself with some late-season cherries, a handful of almonds and a stick of butter. If you've missed cherry season, try this with sliced plums, peaches or apricots, or poached pears in the fall.
Whichever variation you choose, rest assured that the crust will turn out delicate and tender…
…regardless of the reason.
Life is just a bowl of:
Cherry Marzipan Scones
Sweet Cherry Manhattans
Apricot Cherry Fold-Over Pie
Apricot Cherry Clafoutis
One year ago:
Cherry Frangipane Tart
Filling adapted from Deborah Madison's Seasonal Fruit Desserts, crust adapted from Williams-Sonoma Essentials of Baking
Makes one 8 or 9″ tart, 8 – 10 servings
Press-in crust:
3/4 cup (4 ounces) all-purpose flour
1/4 cup (1 ounce) powdered sugar
1/8 teaspoon salt
6 tablespoons cold, unsalted butter, in 1/2″ dice
Filling:
1 pound sweet cherries, pitted (1 1/4 pounds if using a 9″ pan)
1 tablespoon brandy
3/4 cup whole, raw almonds
1/3 cup plus 1 teaspoon sugar
1 tablespoon all-purpose flour
1/4 teaspoon salt
3 1/2 tablespoons unsalted butter
1 egg
1/2 teaspoon almond extract
1/2 teaspoon vanilla extract
Make the crust:
Sift the flour, sugar and salt into a large bowl (or the bowl of a food processor). Add the cold butter cubes and rub with your fingertips (or process) until no large butter chunks remain and the mixture begins to clump together (no need to wash the food processor – you'll use it to make the filling). Dump the dough crumbles into an 8 or 9″ tart pan with a removable bottom and press as evenly as possible up the sides and into the bottom of the pan; there will just be enough for a thin layer of crust. Prick the crust all over with the tines of a fork. Freeze the crust until firm while you preheat the oven, at least 15 minutes.
Position a rack in the lower third of the oven and preheat to 350º. Bake the frozen crust until it is just beginning to turn golden around the edges, about 20 minutes.
While the tart shell bakes, make the filling:
Toss the pitted cherries with the brandy in a non-reactive bowl and let sit, tossing several times, while you make the frangipane.
Meanwhile, place the almonds, 1/3 cup of sugar, flour and salt in the bowl of a food processor and grind very fine. Add the butter, egg and extracts and process until smooth.
Drain the cherry juices through a sieve and into the frangipane, and process to combine. Scrape the frangipane into the par-baked tart shell and spread into a smooth layer. Place the cherries atop the frangipane in concentric circles, beginning with the outer edge, leaving about 1/8″ between each cherry. Sprinkle the top of the tart with the remaining teaspoon of sugar.
Bake the tart until the frangipane is puffed, golden, and firm to the touch about 45 minutes, rotating the tart halfway through the baking time.
Let the tart cool for at least 20 minutes. To easily remove the ring, place the tart on a large can and let the ring slip down. Sprinkle with powdered sugar if desired, cut into wedges, and serve warm or at room temperature with a bit of unsweetened whipped cream or crème fraîche. A tipple of good brandy makes a fine accompaniment, as well.