This glorious sweet potato galette with kale and gruyere cheese makes an epic vegetarian main dish, appetizer, or side dish for holiday feasts! Flaky gluten-free pie crust wraps around sautéed kale, sliced roasted sweet potatoes, and oodles of cheese.
Many thanks to Roth Cheese for sponsoring this post!
I get excited for the holidays mainly for the food – pie, mashed potatoes, sweet potatoes, sweet potato pie… and right now, I want all the comfort foods.
When the kind folks at Roth Cheese contacted me about creating a cheesy recipe for the holidays, it was a no-brainer. My favorite is their Alpine-Style Grand Cru Reserve, which tastes like a cross between nutty gruyere and melty Ementhaler.
One evening, I found myself with a near empty fridge save for some scraps of gluten-free pie dough, a few leaves of kale, half an onion, a lonely sweet potato, and approximately 10 pounds of cheese. I cobbled together a galette laced with Grand Cru, and a much smaller, uglier version of this creation was born. We devoured it with a green salad for dinner.
Inspired by this beautiful dish from The New York Times, I made a bigger, prettier version that would be at home on any holiday table. Buttery crust flakes around gooey cheese, kale kissed with caramelized onions, and slabs of creamy sweet potato, all bound together with a bit of egg and cream.
The kale provides a nice counterpoint to the richness of the dish and turns it into something I'm not afraid to make my main course, though it works equally well as an appetizer or side dish. The cheese creates a melty layer on the bottom of the galette, adding its addictive flavor as well as creating a barrier to help keep the bottom crust crisp.
If you're a fan of sweet potatoes and greens, you're going to love this sweet potato galette. (And you might like this mashed sweet potato breakfast bowl, too!)
Ingredients
This recipe uses a handful of ingredients.
First, start with enough pie crust dough to make at 9-inch single-crust pie, such as my gluten-free pie crust dough, or paleo almond flour pie crust.
Next, you'll need some veggies: onion, garlic, and kale (or you could use leeks or chard) plus sweet potatoes for the topping.
Egg and heavy cream will bind the filling together along with some cheese. Any nutty melting cheese will do, such as gruyere or ementhaler, or even jack or cheddar. For dairy-free, use vegan creamer or coconut cream and a good DF cheese that you like the taste of.
Salt, pepper, olive oil, and thyme season the sweet potatoes and galette.
How to Make Sweet Potato Kale Galette
This recipe takes a few steps, but all are easy to do and can be prepared ahead of time.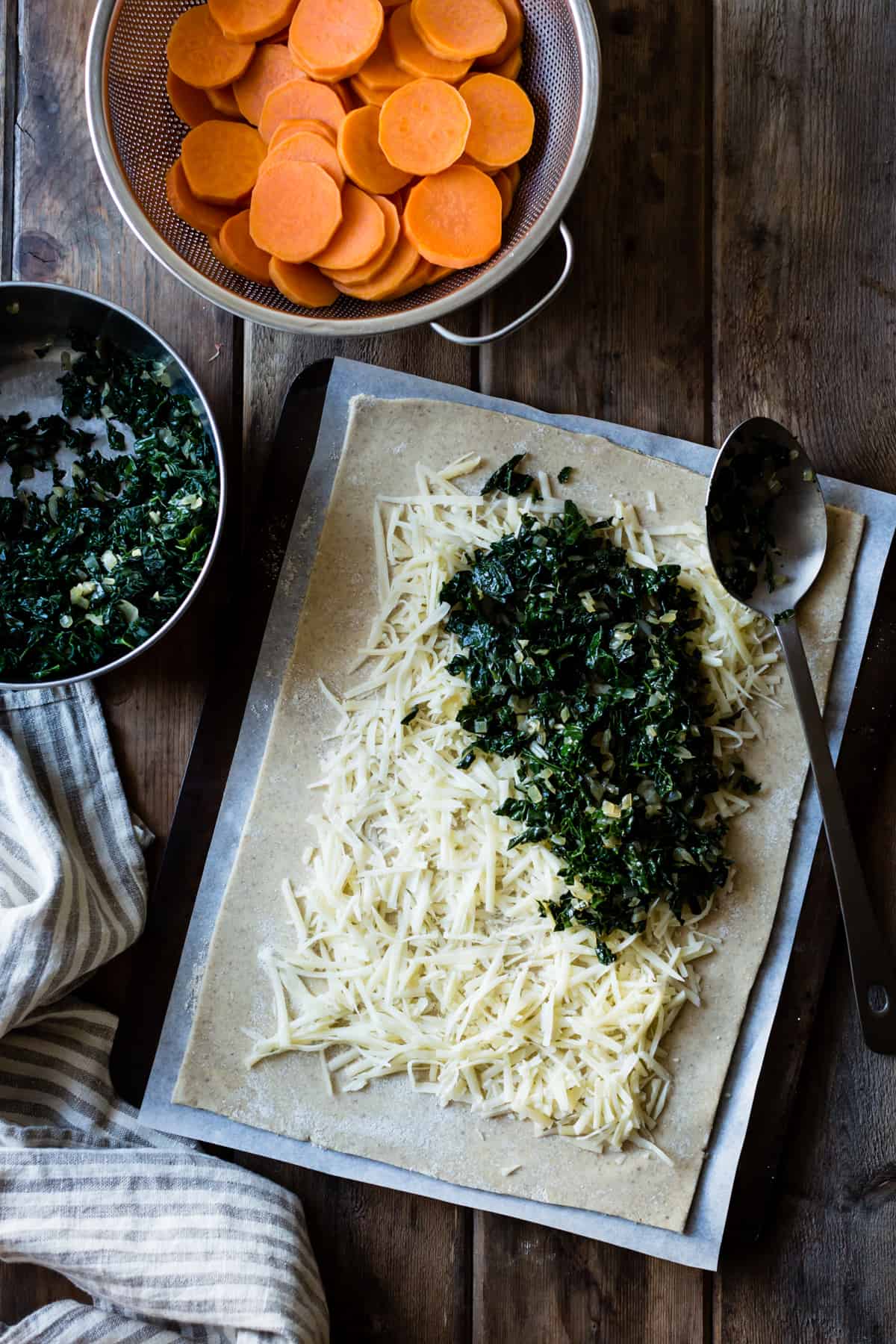 *Thanks for reading! For more Bojon Gourmet in your life, follow along on Instagram, Facebook, or Pinterest, or subscribe to receive new posts via email. And if you make this gluten-free sweet potato galette, I'd love to see! Tag your Instagram snaps @The_Bojon_Gourmet and #bojongourmet.*
Cheesy Sweet Potato Kale Galette (Gluten-Free)
Print Recipe
Pin Recipe
This glorious sweet potato galette with kale, cheese, & flaky gluten-free crust makes an epic vegetarian main / side dish for holiday feasts!
Servings:
12
small servings, 1 large galette
Ingredients
1

recipe Gluten-Free All-Butter Pie Dough, fraisaged, roll-fold-rolled twice, and chilled

oat flour for rolling the dough

3-4

medium sweet potatoes (about 2 pounds / 900 g)

fine sea salt and freshly ground black pepper, as needed

1

tablespoon

(15 ml) olive oil, plus more for finishing

1

large bunch kale (I use lacinato)

½

large yellow onion, diced

2

large cloves garlic, chopped

¼

teaspoon

fine sea salt

¼

teaspoon

freshly ground black pepper

7

ounces

(200 g) grated Roth Grand Cru Reserve cheese (2 cups packed; or a mix of Ementhaler and Gruyere)

1

large egg

½

cup

(120 ml) heavy cream

a few sprigs of thyme
Instructions
Prepare Things
Have the dough prepared and chilled. Position a rack in the lower third of the oven (this will help crisp up the bottom crust) and preheat to 400ºF.
Sweet Potatoes
Bring a large saucepan of salted water to a boil. Peel the sweet potatoes, trim away the narrow ends, and slice them ¼" thick. Carefully place in the boiling water and simmer gently until they're just fork tender but not falling apart, 3-5 minutes; take care not to overcook. Drain and rinse with cool water to stop the cooking. Set aside.
Kale
Strip the kale leaves from the ribs, discard the ribs, and chop the greens fairly finely into roughly 1-inch squares. Heat the oil in a wide skillet over medium heat and when it shimmers, add the onion and garlic. Cook, stirring frequently, until the onion is tender and golden, 5-10 minutes. Add the kale, a splash of water, ¼ teaspoon salt, and a few turns of pepper. Cook, stirring frequently, until the kale is wilted and bright green, 5-10 minutes. Remove from the heat and let cool.
Savory Custard
In a measuring pitcher, whisk together the cream, egg, ¼ teaspoon salt, and a few turns of pepper until well-combined. Chill until needed.
Crust
Meanwhile, shape the dough. If the dough is cold, let it stand at room temperature until slightly softened, 5 minutes in a warm kitchen or 15 minutes in a cool kitchen. Sandwich the dough between two pieces of parchment paper dusted lightly with oat flour, and gently begin pressing it flat, then rolling it into a 10×15-inch rectangle. As you work, periodically peel back the top piece of parchment, dust the dough lightly with flour, replace the parchment, grasp the dough sandwich with both hands, and flip the whole thing over. Peel off the new top piece of parchment, dust with flour, and continue to roll. If the dough cracks or tears, just squish it back together. Use a pastry brush to sweep away excess flour from the dough. If the dough is uneven, cut off the long bits and press them onto the short bits, rolling to adhere. When your rectangle is 10×15 inches, trim the sides so that they're even and straight. (If your dough becomes soft or sticky at any point, slip it onto a baking sheet, parchment and all, and chill it for 10-20 minutes to firm the butter.)
Shape
Slide the dough onto a (preferably rimless) sheet pan, still on the parchment. Sprinkle the grated cheese evenly over the dough, leaving a 1″ border all the way around. Top with the cooked kale. Lay the parboiled sweet potato slices over the kale, overlapping in rows, until you've covered the whole thing; you may not need all the sweet potato slices. Gently fold over the edges to make a crust, pressing the corners to adhere. Brush the sweet potatoes generously with olive oil, and sprinkle liberally with salt. Brush the edges of the crust with a little of the custard mixture, then slowly pour the remaining custard over and around the sweet potatoes; it will sink through to the bottom. Top with a few turns of pepper and put it in the oven right away.
Bake
Bake the tart at 400ºF until the edges are deeply bronzed, 40-50 minutes. Don't underbake or the bottom crust will be soggy. Remove from the oven, carefully slide onto a large serving board, cut into wedges, and serve.

Leftover tart keeps well, refrigerated airtight, for up to three days. I like to reheat slices in a cast iron skillet over very low heat; by the time the top is heated through, the bottom crust is extra crisp.
Notes
For the prettiest galette, look for medium-sized sweet potatoes that are fairly even and similar in width.
Here we want dough that is pliable and that doesn't crack. I use my gluten-free all-butter pie dough with the buttermilk variation made in the food processor and with 2 of the "roll-fold-roll" steps completed. The bit of extra time put into making the dough will pay you back when it comes time to shape it; dough made without these extra steps is more cracky and crumbly. Doing the folds works like magic to create a smooth, cohesive dough that will hold in all the good stuff in the galette. If you wish to skip the folding steps or if you're new to gluten-free pie dough, I recommend omitting the custard as well; it will leak through a dough that has cracks in it.
The dough can be made up to 2 days ahead and chilled, or up to 1 month ahead and frozen.
If gluten isn't an issue, make this galette with a wheat-based pie dough or try it with store-bought puff pastry.
The galette can be made ahead and reheated in a 400ºF oven until hot, 10-15 minutes.
Roth's Grand Cru Reserve can be found at Whole Foods and other stores nationwide; otherwise, you can use a mix of Ementhaler and gruyere.
Nutritional values are based on one of twelve servings.
Nutrition
Calories:
252
kcal
Carbohydrates:
18
g
Protein:
7
g
Fat:
17
g
Saturated Fat:
8
g
Cholesterol:
45
mg
Sodium:
288
mg
Potassium:
224
mg
Fiber:
1
g
Sugar:
3
g
Vitamin A:
6620
IU
Vitamin C:
21.9
mg
Calcium:
214
mg
Iron:
0.6
mg