I really can't get behind this whole year-beginning-in-January-thing. Who's brilliant idea was it to start the year in the middle of the darkest, chilliest, most depressing season of all? Who decided to wipe the slate clean in the dead of winter when everyone is either sick or wanting to hibernate under the duvet with a tin of cookies in one hand, a bottle of bourbon in the other, and a pile of Marx brothers DVDs?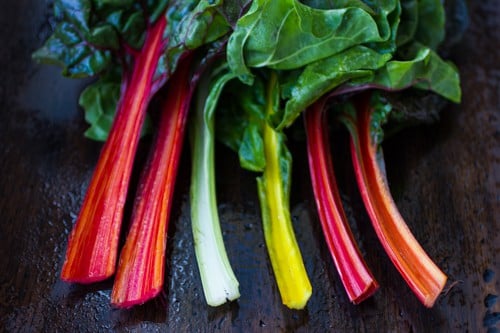 The booze- and sugar-engorged alcoholidays are behind us, and all we have to look forward to is a crappy hallmark occasion mid-February (a.k.a. Singles Awareness Day). We're supposed to give up all the cozy things like hot buttered rum and chocolate and butterfat at the time when we need them the most, and, in the words of Helen Fielding via Bridget Jones, "snap into self-discipline like lean teenage greyhounds." (Not that I 'm bitter.)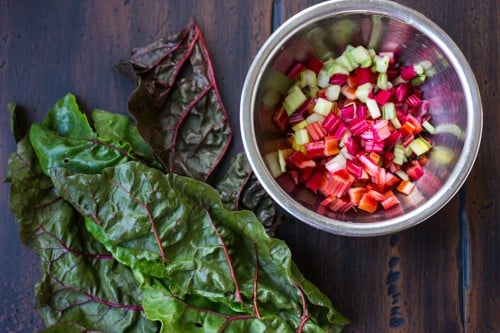 If it were up to me, the year would start on May first, when things are feeling more optimistic, what with the long days, birds singing, flowers blooming. When it's warm enough that one doesn't mind subsisting on salads and smoothies. When you can go for a walk or jog in the early evening and not freeze your buns off. That seems like a much more appropriate time for new beginnings, resolutions and such.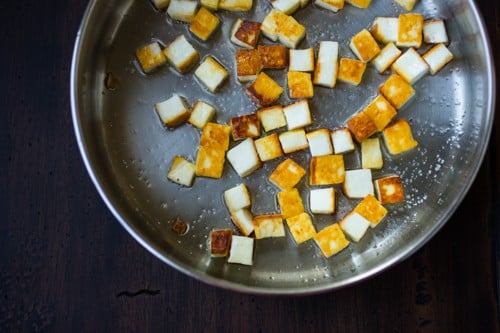 But since no one asked me, I'm offering up a compromise. This dish is primarily composed of greens – not just any greens, but the aptly named Bright Lights chard – but it's coated in Greek whole milk yogurt and crowned with fried cheese. Fried cheese!
Saag paneer has long been my favorite Indian dish, the one I order every time I have the opportunity. It is essentially creamed spinach seasoned with warming spices and studded with chunks of firm, mild cheese. Since "saag" refers to any green, I took the liberty of making this with chard leaves, which have a mild flavor and tender texture. I make use of their pretty stems, too, in a dish inspired by a few different sources: Heidi Swanson of 101 Cookbooks, Reza Mahammad's Rice, Spice and All Things Nice, and Smita Chandra's From Bengal to Punjab: The Cuisines of India.
The stems get cooked with onions and warm spices until tender while the leaves are wilted, wrung of excess liquid, and stirred into the onions along with yogurt and crispy cheese cubes, then finished with lemon juice and cilantro. The whole mess gets served over aromatic rice steamed with ginger, cardamom and cinnamon. Its bright flavors and colors help perk up one's spirit during this dark time of year.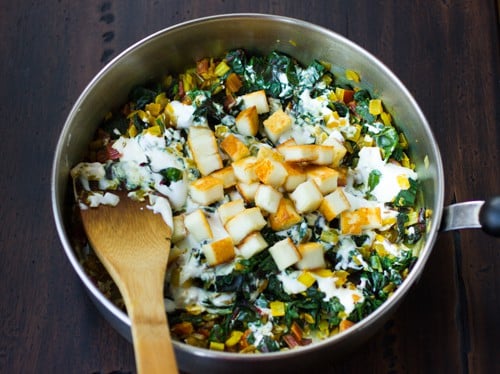 Finish the meal with a mug of spicy chai (seasoned with a shot of bourbon, if that's what floats your boat – it does ours). And stay tuned for the perfect dessert… January or no.
Keen on greens:
Sweet Potato, Chard and Black Bean Enchiladas
French Lentil and Spinach Soup
Quinoa, Kale and Sweet Potato Salad
One year ago:
Two years ago:
Three years ago:
Chard Saag Paneer
With inspiration from Heidi Swanson's 101 Cookbooks, Reza Mahammad's Rice, Spice and All Things Nice, and Smita Chandra's From Bengal to Punjab: The Cuisines of India
The extra step of wilting the chard separately helps to keep the color of the greens bright; but you can add the chopped leaves directly to the stems if you prefer. The paneer I get comes in 14 ounce blocks, so I use 7 ounces per batch of saag paneer, which is on the high side of the cheese to greens ratio. Feel free to dial down the cheese factor, if you like, or make your own paneer. Halloumi makes a decent substitute; it is more flavorful, but melts more as it fries. Serve this with spiced rice (recipe below); put the rice on first, as it benefits from standing for 10-20 minutes after it cooks to absorb steam.
Update 12/17/13: I just made a version of this using roasted potatoes and cauliflower in place of the cheese – deliciousness!
Makes 4 entree-sized servings
7 ounces paneer, in half-inch cubes
2 tablespoons coconut oil (or ghee, or vegetable oil)
salt
1 large bunch chard
1 medium yellow onion
1 1/2 teaspoons minced fresh ginger
1 teaspoon whole cumin seed
1 large clove garlic, peeled and minced
1/4 teaspoon turmeric
1/4 teaspoon chile flakes
3/4 cup greek yogurt (I used full fat, but I think any percentage would work)
1/4 cup (whole) milk
juice of half a lemon
For serving:
spiced (or other) rice (recipe below)
a handful cilantro leaves
lemon wedges
Melt the oil in a wide skillet over a medium flame until it shimmers. Add the cheese cubes in a single layer, turn the heat down to medium-low, and let the cheese brown on the first side, 3-5 minutes. It will spit and hiss, so be careful. Loosen the cheese with a thin, metal spatula, and flip each cube onto a second side. Let brown on the second side, 3-5 more minutes, then sprinkle with a bit of salt and remove the cheese to drain on a double layer of paper towels.
If the oil in the pan burned or smoked, pour it out, wipe out the pan, and add another tablespoon of oil; otherwise, you can leave the oil in the pan for the next step.
Use a sharp paring knife to slice the chard leaves off of the stems. Trim away the tips of the stems and rinse them well, rubbing off any sand. Slice each stem in half, then chop into 1/4″ lengths. Set the stems aside. Give the chard leaves a rough chop, then soak them in a large bowl of cool water, swishing occasionally to loosen any dirt or sand clinging to them.
Heat the oil over a medium flame until it shimmers, then add the chard stems, onion, ginger, cumin, garlic, chile flakes and turmeric. Saute, stirring occasionally, 5 minutes, then add 1/4 cup water and sprinkle with 1/4 teaspoon salt. Cover the pan and let the mixture sweat until the chard stems are tender, about 10 minutes, stirring occasionally.
Meanwhile, lift the chard leaves out of their soaking water and place them in a large saucepan or soup pot with water still clinging to them. Cover the pot and place it over a medium flame. Steam the chard until the leaves are just wilted and bright green; this will only take a few minutes. Scoop the leaves into a strainer, rinse with cool water, and squeeze out most of their liquid. (Alternately, chop the raw leaves and add them directly to the stems, cover with a lid, and cook, stirring occasionally, until the leaves are tender, 10-15 minutes.)
Chop the leaves fairly finely, then stir them into the onion mixture. Stir in the yogurt, milk, and cheese cubes, gently heat through over a low flame, then remove from the heat and add the lemon juice. Taste, adding more salt or lemon juice if needed to bring up the flavors.
Serve the saag paneer over rice, garnished with cilantro and lemon wedges to squeeze over the top.
Aromatic spiced rice
1 1/4 cups long-grain white rice (preferably basmati)
1 tablespoon coconut oil (or ghee, butter, or vegetable oil)
1 cinnamon stick
5 black peppercorns
2 green cardamom pods, lightly crushed
5 coins of fresh ginger, 1/4″ thick
2 1/2 cups water
1/2 teaspoon salt
Place the rice in a fine mesh strainer and rinse under running water for 30 seconds, shaking the strainer to wash the starches off of the grains. Drain well.
Heat the oil in a medium saucepan set over a medium flame until it shimmers. Add the cinnamon, peppercorns and cardamom, then the rice, and cook for 1 minute, stirring to coat the rice and toast it evenly. Add the ginger coins, water and salt, give it a stir, then bring to a boil. Immediately reduce the heat to very low, cover the pot, and let the rice steam, without stirring, until tender and all the water has been absorbed, about 20 minutes. Remove from the heat and let stand, covered, 10-20 minutes, then gently fluff with a fork and serve. You can remove the whole spices if you like, but I like the occasional surprise of biting into a whole peppercorn. It keeps life exciting.