Chamomile blossoms, honey, and lemon flavor this tart, floral vodka gimlet made with Hangar 1 Honeycomb Vodka. Thanks to Hangar 1 Vodka for sponsoring this post!
Jay and I love seeing where our food and drinks come from and, luckily for us, there are loads of local makers in the bay area, from chocolatiers to vineyards, breweries, and distilleries. So when Hangar 1 invited us to tour their new space in Alameda, we jumped at the chance. The visit inspired this delicious vodka gimlet recipe.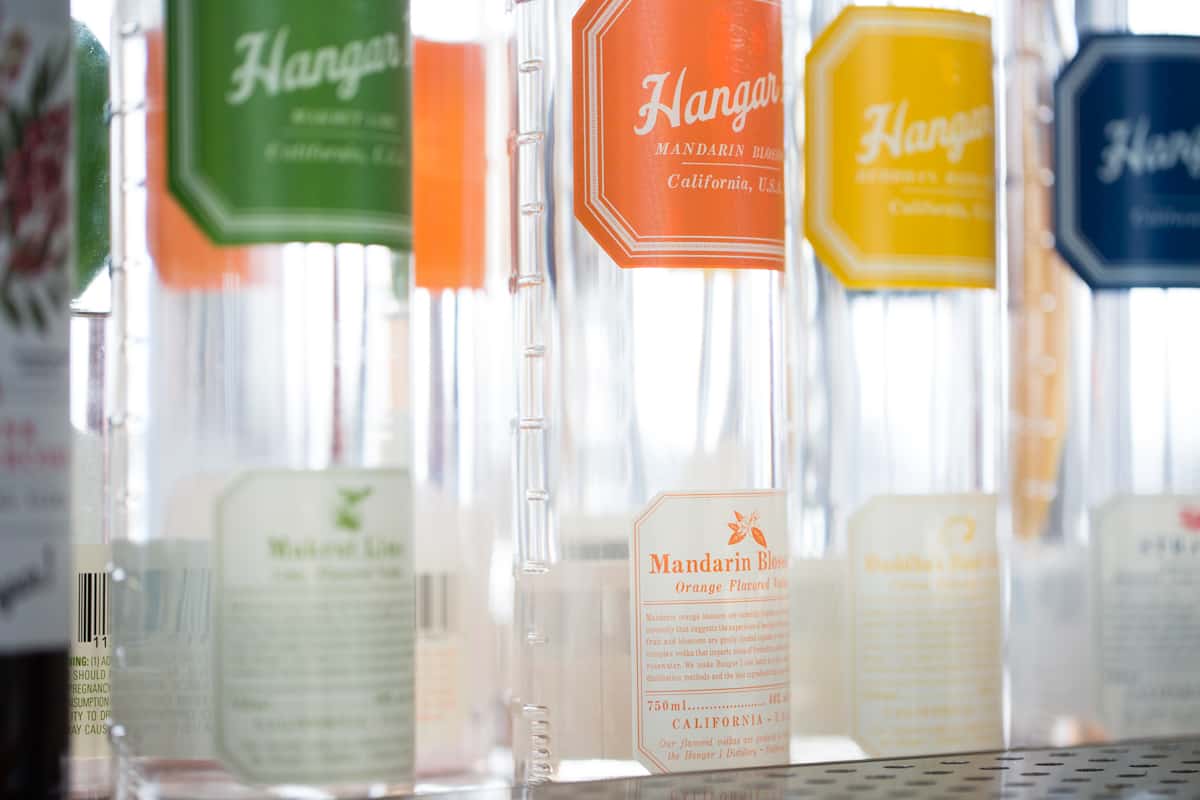 A Visit to the Hangar 1 Vodka Distillery
The rain poured down as we crossed the bridge and headed to the former naval airbase on Alameda island that houses Hangar 1 and a handful of other distilleries, wine makers, and breweries. As the clouds cleared we were greeted with sweeping views of the bay. We made our way through Hangar 1's back patio, past garden beds full of flowers, herbs, and vegetables, and into the bar.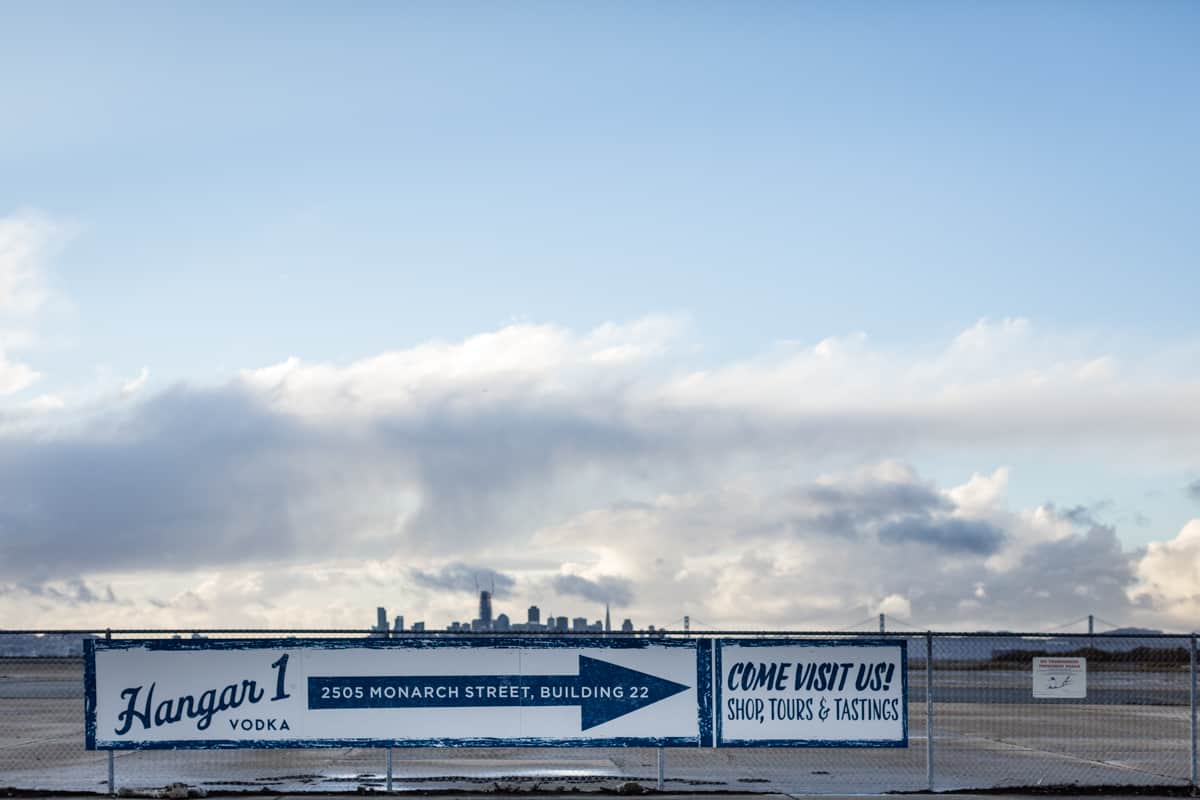 A large, 4-sided steel bar dominates the tasting room (as well it should), stocked with Hangar 1's current offerings – Mandarin Blossom, Buddha's Hand Citron, Makrut Lime, and their Straight Vodka – as well as a few specialty flavors – Honeycomb, Pink Peppercorn, and Fog Point. The space is visually stunning, lovingly decorated with reclaimed wood, metal shelves, and a collection of antique curios and leather-bound books. I wouldn't mind curling up on their comfy leather sofa and diving into a book all afternoon. But we had vodka to taste.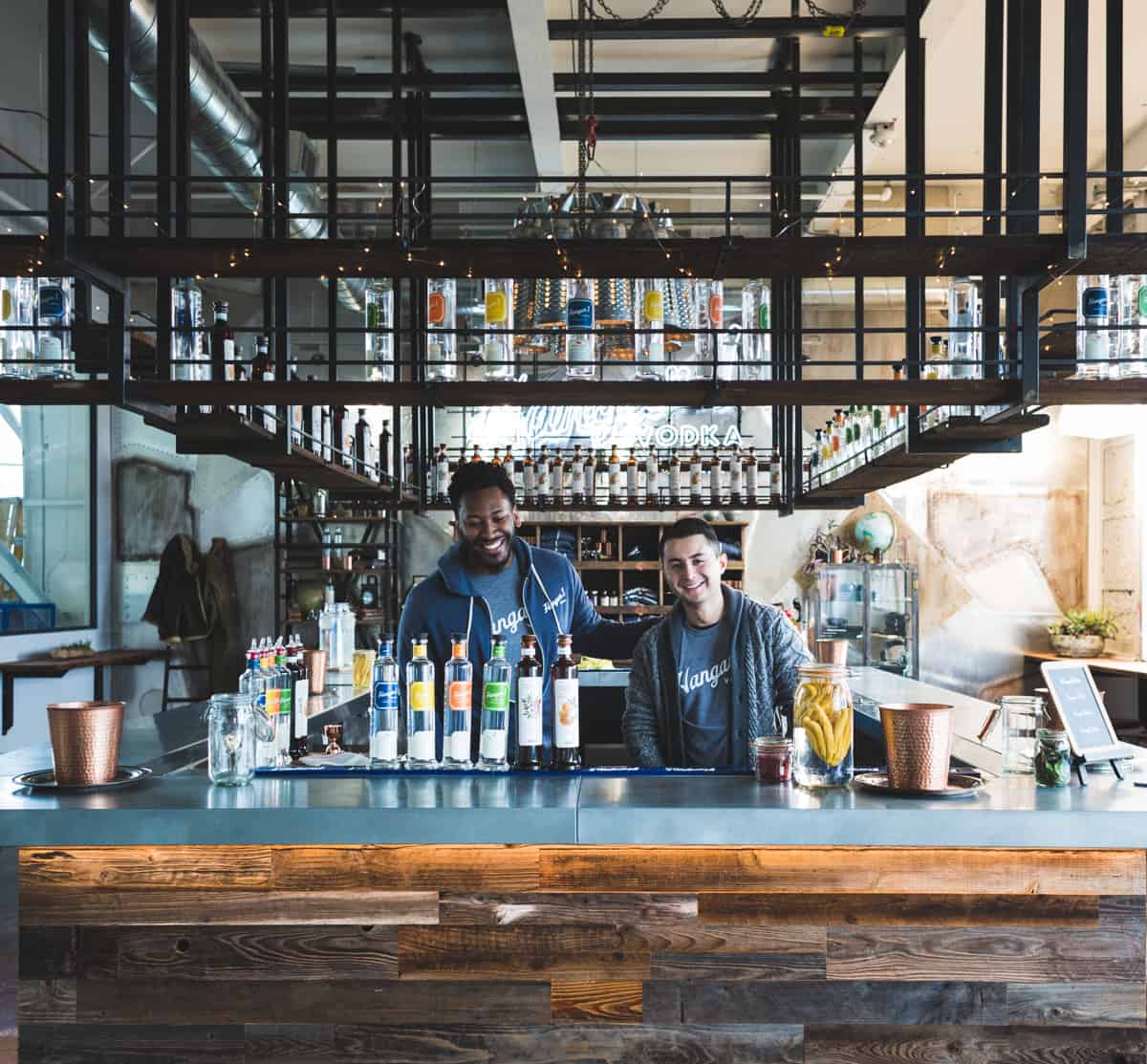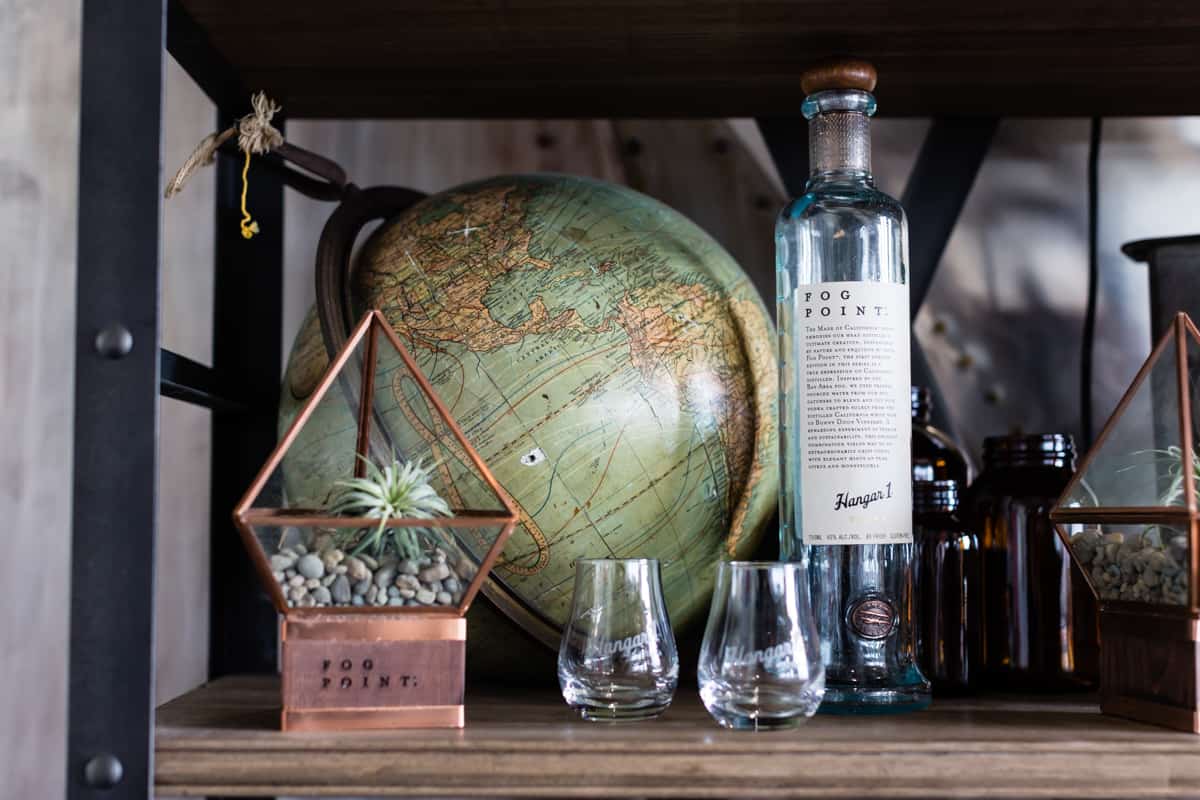 Yes, but how is vodka made?
In the distillery, a huge copper still straight out of a steampunk's dream greeted us. Caley, the Head Distiller, led us on a tour of the Hangar 1 distillery and explained the process. Distillation takes place in the large pot still, boiling upwards through the large columns, called "reflux columns," the hot alcohol turning to steam and rising through a pipe at the top of the pot. As the steam rises further from the heat source, it begins to cool down, condensing back to a liquid state and falling to the bottom of the column. Once there, the condensed liquid is brought again to a boil, leaving behind more water as it travels in the form of steam to the next chamber in the column. This process repeats 18 times – once in each chamber, each time leaving behind more water and more impurities, and the result is nearly pure alcohol in the form of 190 proof vodka.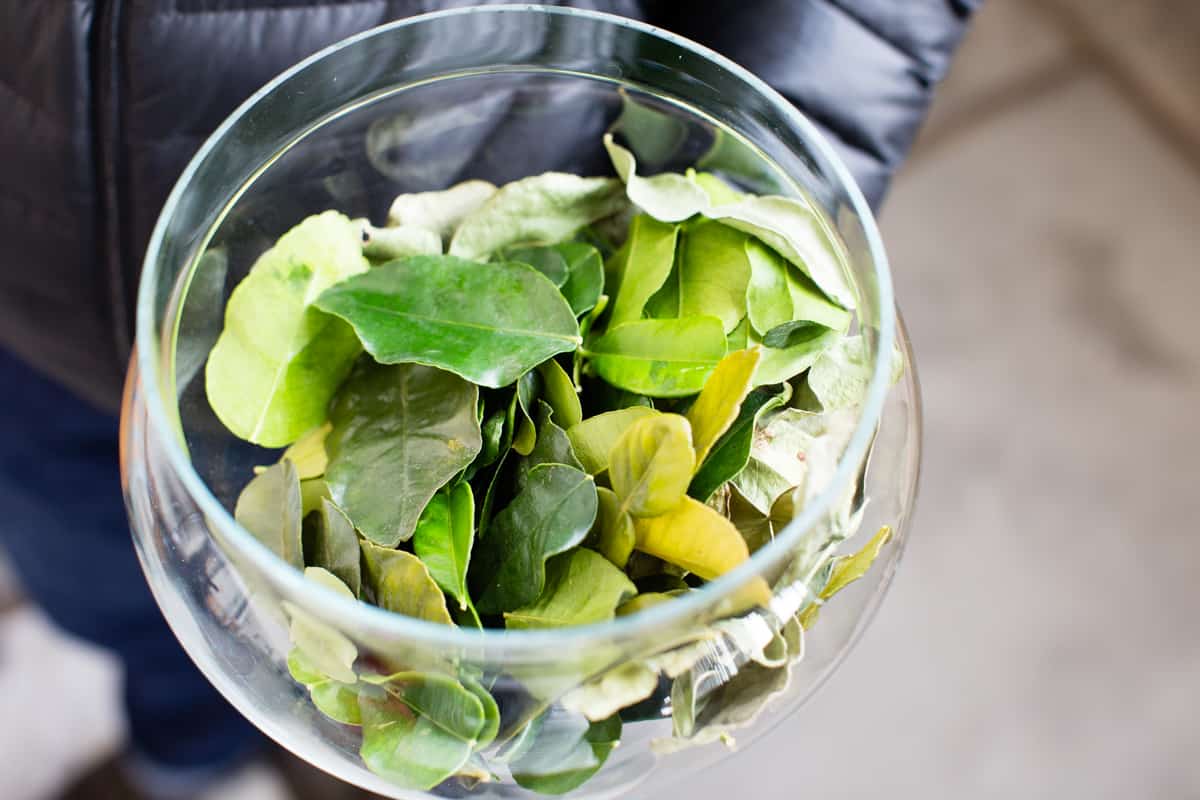 To clear our heads from all this science, we sniffed lime leaves, handled Buddha's hands, tasted pink peppercorns, and pestered Caley with a million questions about the distillation process. Then came the best part – the tasting.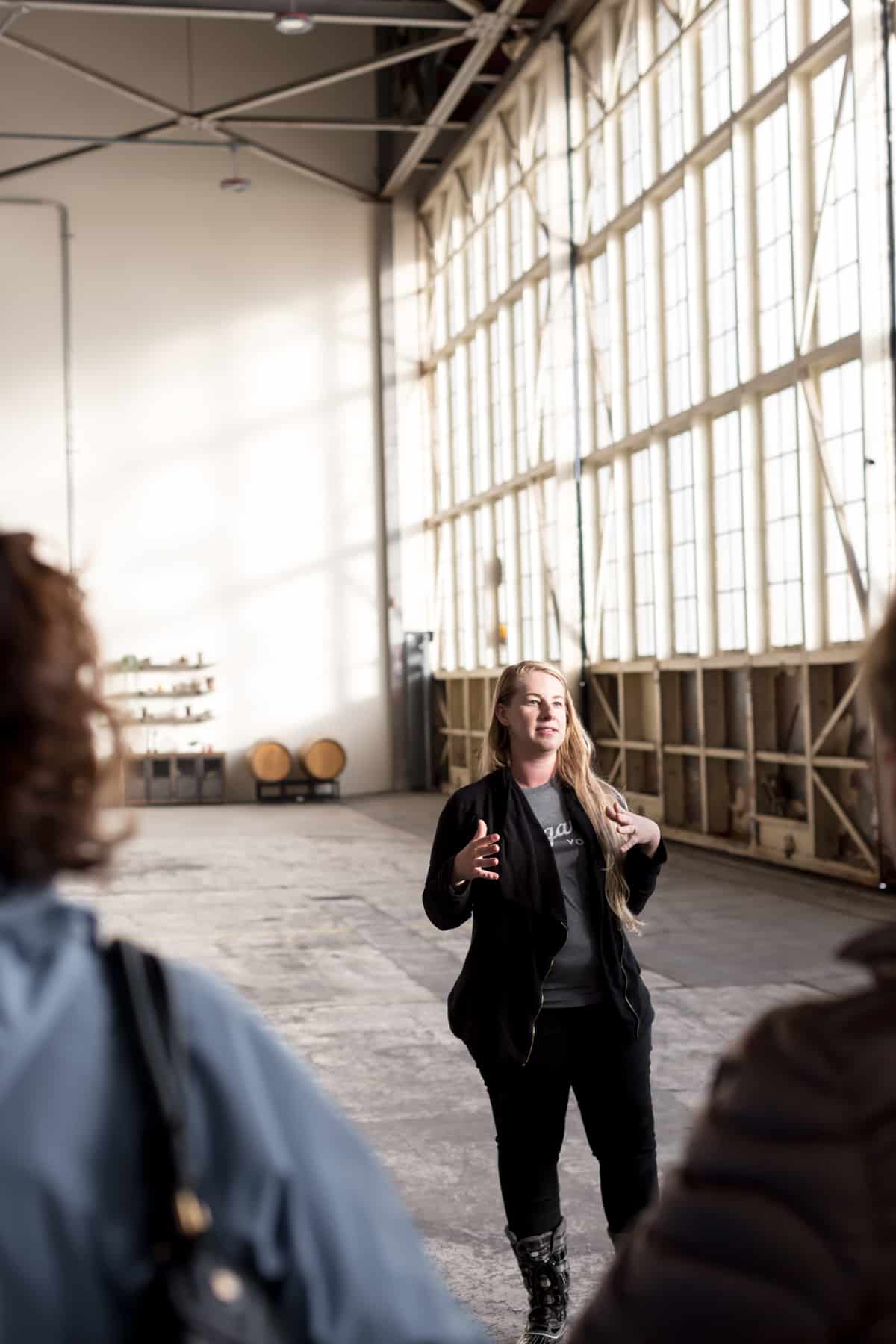 Tasting Hangar 1 Vodka
Contrary to what I had thought, most vodka isn't made from potatoes. Hangar 1 distills their vodka from a combination of grain and fresh wine grapes, which gives their straight vodka a full, fruity flavor with notes of honeysuckle and pear. Unlike most vodkas, it adds flavor as well as booziness to drinks, and it's tasty enough to sip on its own. We sampled our way through vodka infused with Buddha's Hand citrus that tastes like the most divine lemon drop. Next came the Mandarin Blossom, with whispers of flowers and sunshine, and Makrut Lime, with a complex citrus zing.
Hangar 1 Honeycomb Vodka
But I was especially smitten with the Honeycomb Vodka, which is made by first infusing distilled vodka with hand harvested honeycomb, and then distilling the liquid back out of the honeycomb and blending that with the infused vodka. The flavor is beguiling – barely sweet and highly floral. Currently Hangar 1 only offers this vodka at their distillery. If you have an afternoon to spend in Alameda, it's definitely worth the trip.
A Vodka Gimlet Recipe with Lemon, Honey & Chamomile
Since I love honey in my tea, I decided to create a vodka gimlet cocktail based on the Honeycomb Vodka and flavored with chamomile blossoms. A quick infusion of chamomile sweetened with sugar and honey makes an easy simple syrup to shake up with lemon juice, Honeycomb Vodka, and plenty of ice. Strained into small glasses, it makes a crisp drink loaded with earthy floral notes and a zip of citrus.
How to Garnish Vodka Gimlets
I top these floral vodka gimlets with chunks of precious honeycomb given to me by my friend Terry of Urban Bee. Terry is an activist in the beekeeper community, advocating for organic farming practices that let bees thrive, and harvesting only as much honey as her bees can do without; commercial beekeepers take all the bees' honey and feed them sugar. We got to visit her bees atop the Heath building, complete with Heath tiled roofs on the hives.
Standing in the sun and listening to the gentle hum of bees cruising in and out of their hives on their quest for pollen from neighboring plants was as soothing as a warm cup of chamomile. And biting into honeycomb is a spiritual experience. Your teeth crunch through the brittle wax structure, and honey oozes out and into your mouth, bursting with the flavors of the flowers growing in the region. Terry's bee's honey smacks of fennel blossoms, citrus, and eucalyptus.
To score some honeycomb, make friends with a beekeeper or hunt it down at a specialty shop (they carry it at Rainbow Grocery in SF). And if you're looking for Honeycomb Vodka, head over to the Hangar 1 distillery for a tour and pick up a bottle or two.
More vodka cocktails:
*Thanks for reading! For more Bojon Gourmet in your life, follow along on Instagram, Facebook, or Pinterest, purchase my gluten-free cookbook Alternative Baker, or subscribe to receive new posts via email. And if you make these Honeycomb Gimlets, I'd love to see! Tag your Instagram snaps @The_Bojon_Gourmet and #bojongourmet.*
Chamomile Honeycomb Gimlets + A Visit to the Hangar 1 Distillery
Print Recipe
Pin Recipe
Chamomile blossoms, honey, and lemon flavor this tart, floral gimlet made with Hangar 1 Honeycomb Vodka.
Ingredients
Honey Chamomile Syrup (makes ¾ cup):
½

cup

boiling water

2

tablespoons

loose chamomile flowers

3

tablespoons

organic granulated cane sugar

2

tablespoons

mild honey
For each drink:
¼

cup

Hangar 1 Honeycomb Vodka

2

tablespoons

Honey Chamomile Syrup

1 ½

tablespoons

fresh strained lemon juice

a small chunk of honeycomb, for garnish
Instructions
To make the syrup, steep the chamomile flowers in the boiling water until the liquid is bright yellow, 5-10 minutes. Strain through a fine mesh sieve. Stir in the sugar and honey until dissolved. Chill until needed.

To make the drinks, combine the vodka, syrup, and lemon juice in a cocktail shaker filled partway with ice. Shake vigorously for 15-30 seconds, then strain into a coup. Garnish with the honeycomb and serve. The beeswax from the honeycomb can be eaten or not, according to personal preference.
Notes
Hangar 1 Honeycomb Vodka can be purchased at their distillery in Alameda; otherwise, try these gimlets with their Straight or Mandarin Blossom Vodkas instead, which are available anywhere high-quality spirits are sold. Hangar 1 Vodka is distilled from gluten-containing grains and, though the distillation process likely removes all traces of gluten, their vodka isn't certified gluten-free.
Nutritional values are based on one drink.
Nutrition
Calories:
251
kcal
Carbohydrates:
31
g
Protein:
1
g
Fat:
1
g
Saturated Fat:
1
g
Sodium:
24
mg
Sugar:
30
g
Vitamin C:
8.7
mg
Iron:
1.4
mg
*Bojon appétit! For more Bojon Gourmet in your life, follow along on Instagram, Facebook, or Pinterest, purchase my gluten-free cookbook Alternative Baker, or subscribe to receive new posts via email. And if you make this vodka gimlet recipe, I'd love to see. Tag your Instagram snaps @The_Bojon_Gourmet and #bojongourmet.*