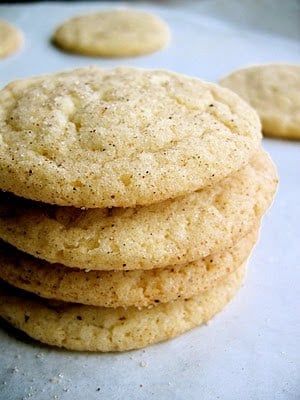 Though it may sound like a new breed of poodle-hybrid, a snickerdoodle is actually a vanilla-flavored drop cookie that gets rolled in cinnamon sugar before baking. Unlike many lucky American children, I did not grow up baking snickerdoodles. I'm sure I'd eaten one or two in my life, but the first time I recall baking them myself was in pastry school.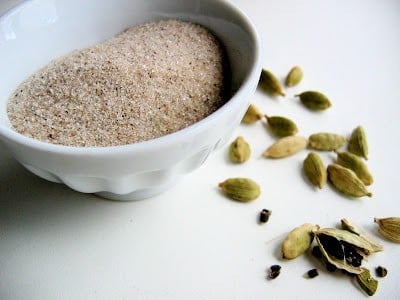 Now I know you're thinking, 'Snickerdoodles? In pastry school? Shouldn't you have been learning to make REAL pastries? Huh, that explains a lot…' but the snickerdoodles were merely a first-day-of-school ice-breaking exercise, a chance to meet and greet and learn the ins and outs of the school kitchen. We were to buddy up with a partner and bake a batch of cookies.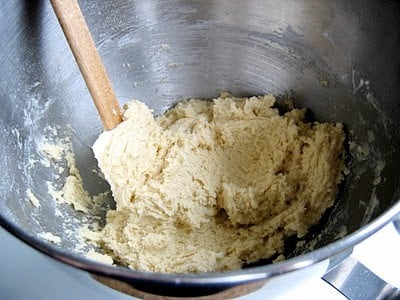 Up until that moment, I had never realized what a solitary activity baking is for me. Not counting Jay standing at the sink, furiously trying to keep up with the barrage of dishes, I've never really baked with anyone else before. Afraid of seeming bossy, my baking buddy and I lapsed into formal over-politeness:
'Would you care to crack the eggs into the bowl?'
'Please, be my guest.'
'No, no, you. I insist.'
'I couldn't.'
'It would mean the world to me. Please, good sir, I prithee.'
'I wouldn't dream of denying you the pleasure of the egg cracking, milady.'
'I will heretofor do so, but only if you would do me the honor of sifting the flour.'
As there were a finite number of stand mixers, I volunteered to mix our batch of cookies by hand. Sadly, though the butter had been sitting out for half an hour or so, the kitchen was freezing on that San Francisco October night, and the butter remained rock hard. I did my best, breaking a sweat as my baking buddy looked on with polite disinterest. We eventually popped the cookies in the oven, which ran cold, though we had no thermometers at the time to confirm this and make adjustments. (We did get thermometers later on and I was mollified).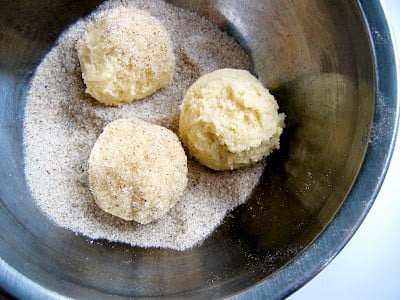 At the end of class, we all displayed our cookies on the large center island and gathered around so that our teacher, Claire, could belittle our pathetic attempts at baking, as she would do every night for the next 6 months. Though I grew to love her no-nonsense frankness, that night, when she blamed our flat cookies on my lack of creaming vigor, I wanted to punch her. (I'm far too polite to have actually done so, however.)

Perhaps the trauma of that experience put me off snickerdoodles, or maybe I was just waiting for an exciting enough recipe to come along. Because when I saw the cardamom-cinnamon snickerdoodles in Mani Niall's Sweet!, I wished to make them immediately. The cardamom lends a grown-up twist to this typically kid-friendly cookie, but there is still enough sugary-vanilla-ness to make these palatable to young'uns. Mani says, 'The best snickerdoodles are crisp around the edges with a chewy center,' and these cookies flawlessly hit the mark.

At the last minute, I decided to use only cardamom in the spiced sugar, as I wanted to experience its flavor unadulterated. We in the U.S. are most familiar with cardamom as the dominant flavor in masala chai, where it is mixed with other spices such as cinnamon and ginger. I like to use it as a flavoring in its own right when possible. If you prefer, use cinnamon in place of half of the cardamom, or use all cinnamon for a traditional snickerdoodle.

Due to their whimsical name, ease of making, and the fun of rolling the unbaked dough balls in spiced sugar, these cookies make a fun project for baking with kids. And with kids, you don't have to worry about being overly polite, either.
Cardamom crush:
Cardamom Ice Cream, with Almond-Plum Tart
Plum Cardamom Crumble Squares
Cardamom Coconut Milk Rice Pudding
One year ago:
Cardamom Snickerdoodles
Adapted from Sweet! by Mani Niall
Makes a scant 2 dozen 3″ cookies
As the flavor of cardamom dissipates quickly, grind your own from whole, black seeds (found within the green pods) for the best flavor. Crush open the pods, remove the seeds, and grind them in a spice or coffee grinder. The amount I used here gave the cookies a mild spice; for more spice, use 2 teaspoons of seeds, which when ground will make 1 tablespoon cardamom powder.
The cookies:
1 stick (4 ounces, 8 tablespoons) unsalted butter, softened but cool
3/4 cup sugar
1 egg, at room temperature
1 teaspoon vanilla extract
1 1/3 cups all-purpose flour
1 teaspoon cream of tartar
1/2 teaspoon baking soda
1/4 teaspoon salt
The spiced sugar:
1/4 cup sugar
1 1/2 teaspoons black cardamom seeds (from about 15 green pods), ground finely in a coffee or spice grinder to make a generous 2 teaspoons ground cardamom
Position racks in the upper and lower thirds of the oven and preheat to 375º. Line two baking sheets with parchment paper.
In the bowl of a stand mixer fitted with the paddle, or in a bowl with a wooden spoon, cream the butter and sugar until lightened and fluffy, 3 minutes. Beat in the egg, then the vanilla, scraping down the bowl and paddle as necessary.
In a separate bowl, sift or whisk together the flour, cream of tartar, baking soda and salt. Add the dries to the butter mixture with the mixer on low, mixing until just combined. Give the batter a final turn by hand to make sure it is homogeneous.
Combine the sugar and the ground cardamom in a smallish bowl. Drop 1″ balls of dough (I like to use the #40 purple-handled spring-loaded ice cream scoop) into the sugar three or four at a time and roll to coat. Place the balls on the parchment-lined baking sheets, spacing them 2 – 3″ apart (they will spread a lot). Sprinkle about 1/8 teaspoon of spiced sugar on top of the balls.
Bake the cookies for about 10 minutes, rotating front to back and top to bottom halfway through, until the edges are just turning golden, but the centers are still soft. Cool the cookies for a few minutes on the baking sheets, then remove them to a cooling rack.
The cookies are at their peak a few hours after baking, when the cardamom flavor comes out, and the cookies are still soft. They will keep for a day or two in an airtight container at room temperature.