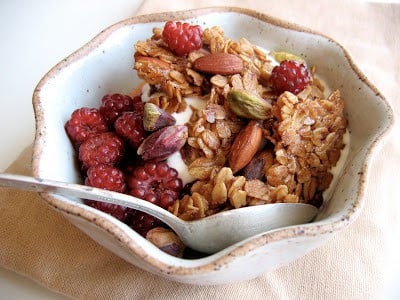 The first time I tasted cardamom by itself was in a coffeecake from the Moosewood Cookbook, which, like many banana slugs before me, I became obsessed with during my time at UC Santa Cruz. I dog-eared just about every other page, and baked my way through orange muffins, sunflower-millet loaves, carob brownies and strawberry rhubarb crisps. But the coffeecake remained my favorite.
Up until then, I had only ever had cardamom in chai, and I remember wondering if it was kosher to use it as a flavoring on its own. It felt wrong not to add cinnamon.
But in the end, I obeyed Mollie Katzen and baked the coffeecake as written. Well, not really. Also like many slugs before me, I was going through an anti-wheat-and-white-sugar phase at the time, and used whole spelt and brown rice flours, and Sucanat, in place of the usual suspects. I also tucked some ripe slices of pear into the cake.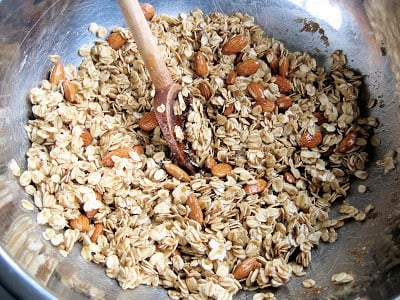 I left the house while the cake cooled, with a note encouraging my housemate to dive in when she got home. A large slice of cake had disappeared when I returned. Concerned about both the cardamom and the substitutions, I asked worriedly, 'Is it weird?' My housemate shook her head adamantly. 'Not at all.'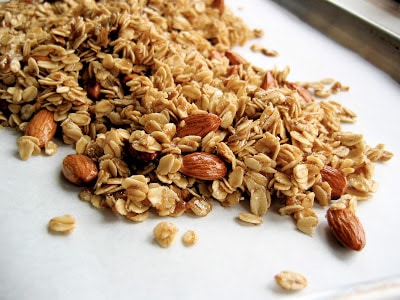 Indeed, unlike Santa Cruz, it was not weird in the slightest, but rich and buttery, with the warm bite of copious cardamom to widen your eyes and gooey pears to make you close them again with a sigh. The crisp shower of toasted pecans and brown sugar on top sealed the deal.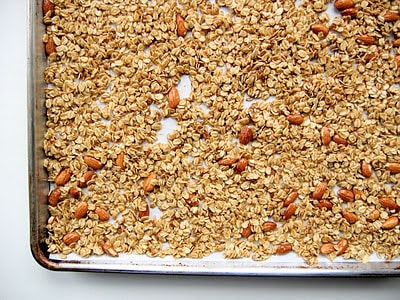 Now that you're probably craving buttery, spiced coffeecake (at least, I am), I will proceed to disappoint you with a mere granola recipe. But do bear in mind that this granola is not like normal granola, but rather like a crispy oatmeal cookie, laced with butter and spice.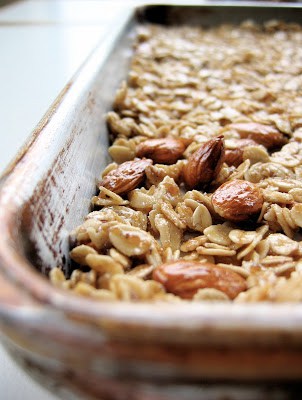 A reader asked if she could substitute honey for the maple syrup in the original granola recipethat I posted in June of 2010, and I hesitated since honey can behave differently in baked goods, keeping things soft when, like this granola, you might want them crisp, and being sweeter than other sugars. But when I saw a bin full of 'Cardamom Crunch Granola' at Rainbow, inspiration struck. I mixed up this version, reducing the honey to 3 tablespoons, and leaving the baked granola in a low oven to further crisp it up. I also learned the hard way that pistachios can't be baked in with the granola no matter how badly I want them coated in buttery sweetness and clumped up with the rest of the oats and nuts because they will BURN. So for the next batch, I toasted the pistachios separately and added them in at the end. While I never thought I could top the original recipe, I might actually prefer this one. But only on account of being a die-hard cardamom junkie.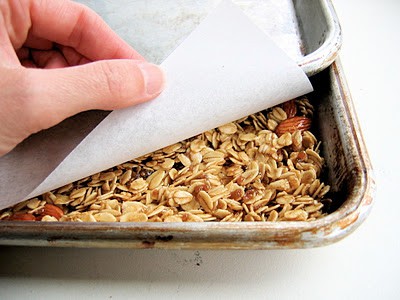 This granola pairs wonderfully with the last of the summer fruits, should you be fortunate enough to still have berries, plums and figs growing in your neck of the woods. Or, on a chilly morning, try this with steamed milk. I enjoyed it with the most precious of raspberries, hand-picked and gifted to me by my dear friend, Amelia, and a scoop of plain, whole milk yogurt.
Or you could just have coffeecake for breakfast.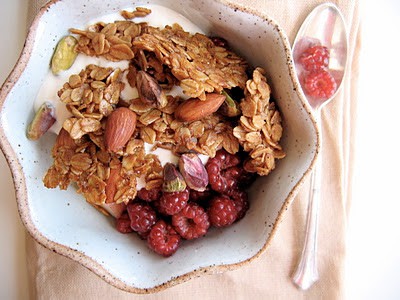 Beware, though: this granola might make a cardamom junkie out of you, too. And it's a tough habit to kick.
Crazy for cardamom:
Bojon Masala Chai
Cardamom Pear Oven Pancake
Cardamom Snickerdoodles
Groovy granola:
Crispy, Clumpy Granola
Chocolate Granola
One year ago:
Huckleberry Chèvre Cheesecake Squares
Two years ago:
Mugolio (Pine Cone Bud Extract) Ice Cream
Cardamom Honey Granola
Adapted from Casey Hayden of Moose's via Claire Legas
Makes 3 – 4 cups
Just a heads up – the pistachios must be added at the end to the baked granola; if baked into the granola, these delicate nuts will burn before the rest of the granola has finished baking. Pistachios' mysterious flavor pairs nicely with the honey and cardamom, but you could substitute cashews (and add them with the almonds). If only whole, green cardamom pods are available, crack them open and pull out the black seeds to make a teaspoon. The amount of cardamom here is subtle but still noticeable.
2 1/2 cups (1/2 pound) whole oats
1/2 cup (2 ounces) whole, raw almonds
1/3 cup (2 ounces) light brown (or unrefined) sugar
1 teaspoon black cardamom seeds, pulverized in a coffee grinder
3 ounces (6 tablespoons / 3/4 stick) unsalted butter
3 tablespoons (2 ounces) mild-flavored honey
1 teaspoon sea salt (yes, 1 teaspoon)
1/2 cup (2 ounces) unsalted pistachios, lightly toasted
Position a rack in the center of the oven and preheat to 325º. Line a rimmed baking sheet with parchment paper. Have a second rimmed baking sheet and piece of parchment ready.
Combine the oats, almonds, sugar, and ground cardamom together in a large bowl. In a small saucepan, melt together the butter, honey and salt, stirring to dissolve the salt. Pour over the oat mixture, tossing to combine thoroughly.
Dump the mixture onto the lined baking sheet, and spread it into a thin sheet no thicker than an almond. Ideally, the edges will be slightly thicker than the center as they will bake faster. Lay the second piece of parchment over the granola, and place the second sheet pan on top, right-side up, making a little granola sandwich.
Slide the whole thing into the oven and bake for 20 minutes. Rotate and continue baking another 10 – 20 minutes, peeking under the parchment to make sure the edges aren't burning, until the granola is a rich golden brown. It will still be soft, but should crisp up as it cools. (If the granola is still soft after cooling, return it, uncovered, to a low oven (around 150º) and let it dry out for 20 minutes or so.)
Let the granola cool completely in the sheet pan sandwich, then break up into large sheets or clumps, add in the pistachios, and store in an airtight container for up to a month (or possibly more.)
Enjoy over fruit and yogurt for breakfast, alone for a crunchy snack, or over ice cream (saffron?) for a decadent dessert.