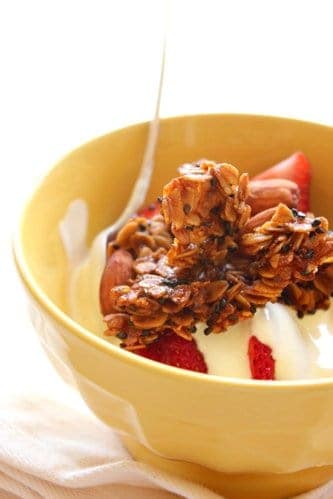 Along with having longer days (and therefore, more time to take pictures of food!), a favorite part of spring is when the eternal question of "what to eat for breakfast?" ceases. Strawberries have become reliably sweet and red; apricots, peaches and nectarines ripen and smell like summer; blue, black and raspberries lower their exorbitant prices. I bake a batch of granola to keep on the counter. The morning ritual becomes quick, simple, reliable; cool and light, yet nourishing, for warm mornings.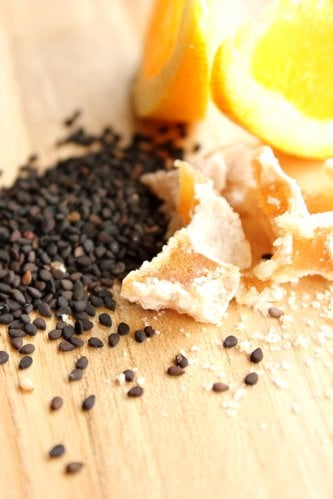 I never tire of nuts and oats caramelized in butter and honey (or maple syrup) sprinkled over tangy, whole-milk yogurt and summer fruit. I do like to mix things up, so I concocted this variation, based on my favorite granola formula which I pilfered from my pastry teacher, Clair Legas, several years ago (she had stolen it from Casey Hayden of Moose's). I've made honey-cardamom and chocolate-coated versions of it in years past. This time I paired the oats and almonds with ginger, orange zest, coconut sugar, and my latest culinary fixation: black sesame seeds.
Last month, my chef described a black sesame brittle he had enjoyed at a restaurant in Peru that had garnished a certain dessert. I had been wanting to experiment with black sesame, so I mixed up a lace tuile batter, laced, as it were, with lime zest and dark brown sugar. It took a few tries to get it right, but I now spread the batter into the shape of a long, skinny triangle, which, when baked, garnishes a coconut flan served with fresh strawberries and slivers of mint. It all looks rather dramatic, and the tuile lends an intriguing crunch to the familiar flavors of the dessert.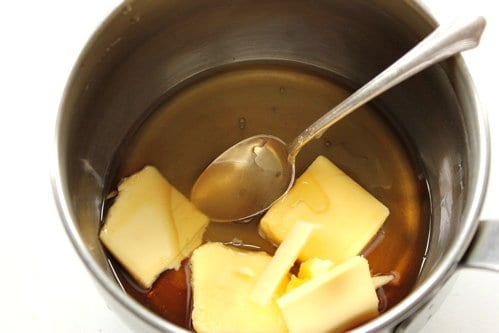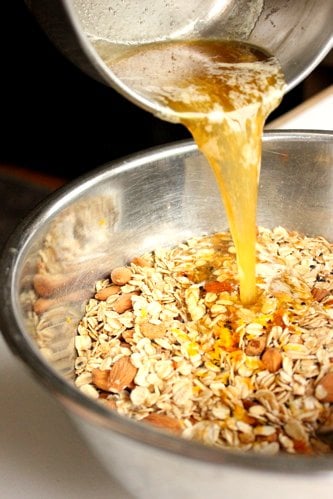 While flipping through David Lebovitz' latest food pornographic book, Ready for Dessert, I came across a black sesame almond tuile recipe. I must have had that image in my mind when I came up with my tuile recipe, but I was intrigued by David's use of toasted sesame oil in his cookies.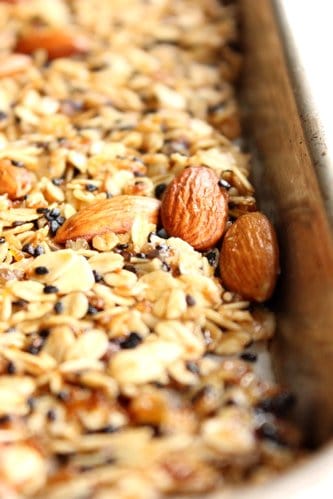 While I can't often justify making tiny, labor-intensive cookies at home, I can always rationalize baking up a batch of granola, so I decided to turn his cookies into just that. I mixed rolled oats with orange zest, black sesame seeds, toasted sesame oil, honey, butter, coconut sugar, and minced, candied ginger.Ibaked it in a parchment and sheet pan sandwich, which cuts out the need to stir the granola as it bakes, then I broke it up into large chunks and crumbles, and let it dry out further in a low oven until it had a candy-like crispness.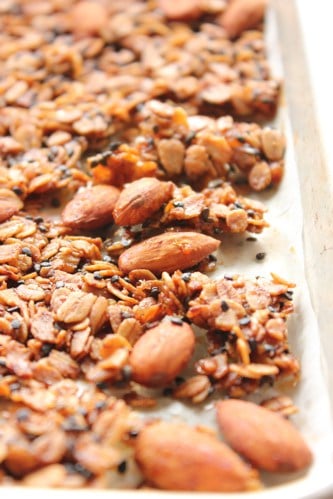 I love that this granola bakes into a big, granola-bar-like sheet that you can break into whatever size clusters you like.It is addictively crunchy, spicy and nutty, with a hint of chewiness from the honey and ginger. The toasted sesame oil adds a savory note that will transport you to a Chinese restaurant at first bite; then the sweetness takes over and you're in a sun-drenched kitchen, eating an intriguingly flavored breakfast again.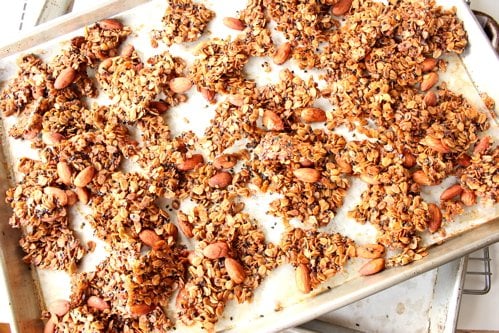 This granola is heaven for breakfast, sprinkled over plain yogurt and ripe fruit. Or make it dessert by pairing it with Fresh Ginger or Honey Yogurt Ice Cream.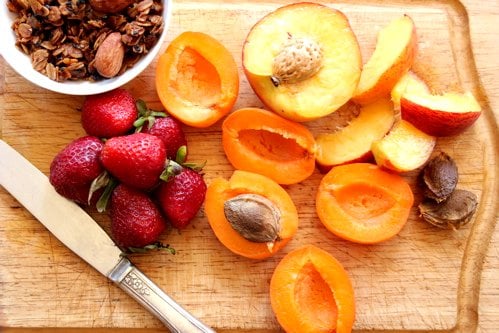 And don't be surprised of you find yourself dipping into the jar for occasional noshes at all hours of the day.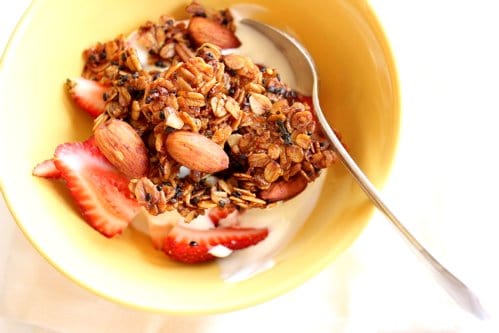 Bad-ass breakfasts:
Gluten-Free Buckwheat Pancakes (with bananas, or try berries instead)
Berry-Peach Oven Pancake
Buckwheat Crepes with Figs and Honey
One year ago:
Plow's Ricotta Pancakes, with Berries
Two years ago:
Saffron Risotto with Spring Vegetable Ragout
Black Sesame Almond Granola
Adapted from Casey Hayden of Moose's via Claire Legas
This granola takes a bit longer to dry out and crisp up than others, due to the honey and candied ginger, but it is well worth the wait. (For a crispier version, you can substitute 3/4-1 teaspoon powdered ginger for the candied ginger and 2 ounces of agave for the honey; though I prefer the flavor of the version posted below.)
To make this vegan, substitute coconut oil for the butter and agave for the honey. If you're allergic to gluten, make sure your oats are certified gluten-free.All ounce measurements are by weight.
Makes about 5 cups
2 1/2 cups (1/2 pound) whole oats
1 cup (4 ounces) whole, raw almonds
1/4 cup plus 3 tablespoons (2 ounces) coconut sugar (or light brown or unrefined cane sugar)
zest of 1 large naval orange
1/4 cup minced, candied ginger
3 tablespoons black sesame seeds
4 tablespoons (2 ounces/ 1/2 stick) unsalted butter
2 tablespoons toasted sesame oil
3 tablespoons (2 ounces) mild-flavored honey
1 teaspoon sea salt (yes, 1 teaspoon)
Position a rack in the center of the oven and preheat to 300º. Line a rimmed baking sheet with parchment paper. Have a second rimmed baking sheet and piece of parchment ready.
In a large bowl, combine the oats, almonds, sugar, orange zest, ginger and black sesame seeds. In a small saucepan set over a low flame, melt together the butter, sesame oil, honey and salt, stirring to dissolve the salt. Pour over the oat mixture, tossing to combine thoroughly.
Dump the mixture onto the lined baking sheet, and spread it into a thin sheet no thicker than an almond. Ideally, the edges will be slightly thicker than the center as they will bake faster. Lay the second piece of parchment over the granola, and place the second sheet pan on top, right-side up, making a little granola sandwich.
Slide the whole thing into the oven and bake for 20 minutes. Rotate and continue baking another 20 – 30 minutes, peeking under the parchment to make sure the edges aren't burning, until the granola is a rich golden brown. It will still be soft, but should crisp up as it cools. (If the granola is still soft after cooling, break it up into large clumps and return it, uncovered, to a low oven [around 150º] and let it dry out for 30 minutes or so. If it still isn't crisp, leave it, uncovered, in a turned-off gas oven with a pilot light, overnight.)
Let the granola cool completely, then break up into large sheets or clumps,and store in an airtight container for up to a month.
Enjoy over fruit and yogurt for breakfast, alone for a crunchy snack, or over ice cream for a decadent dessert.