A perky little salad full of bitter, sweet, salty, and tangy flavors to refresh your palate during the depths of winter.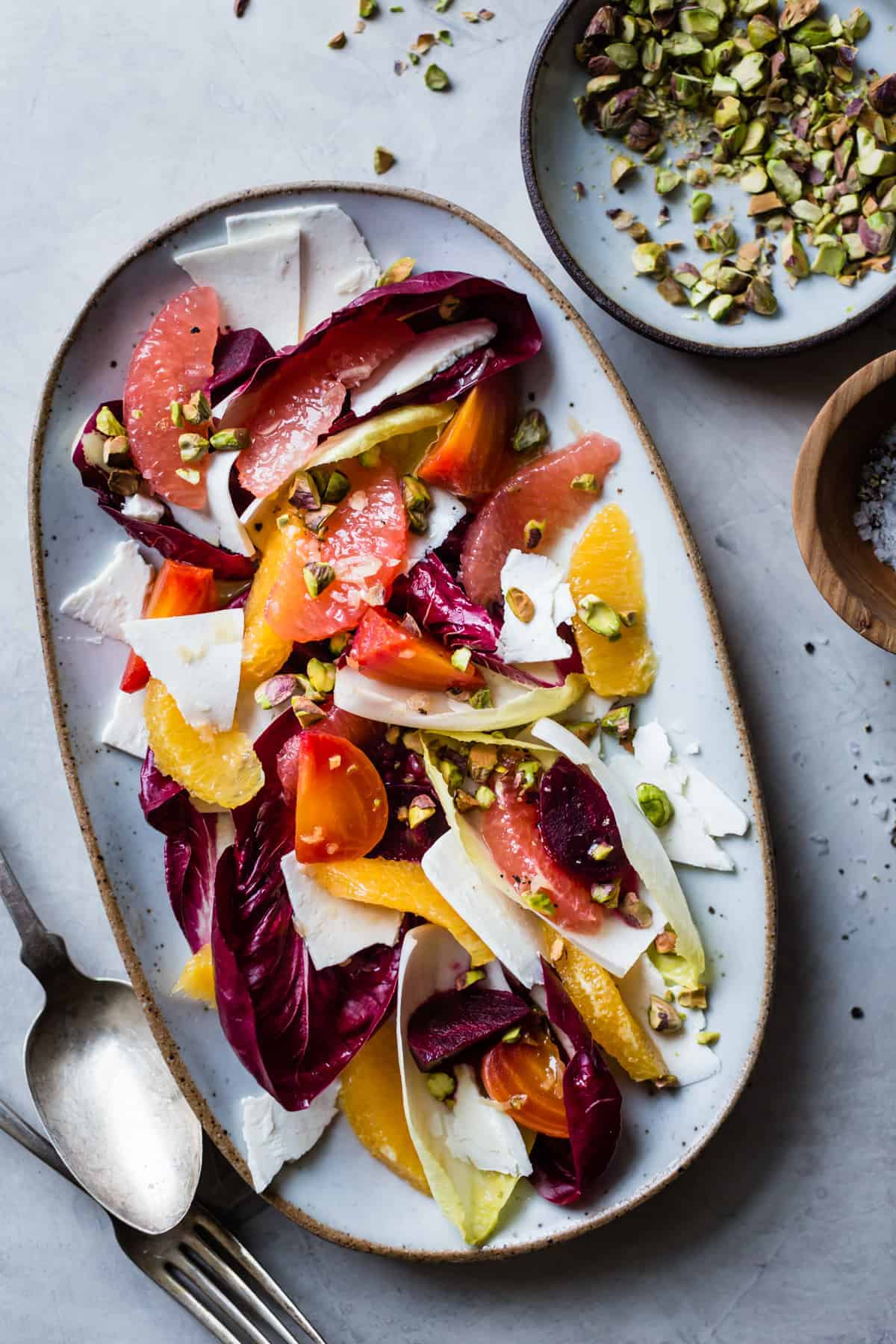 Hello and belated happy new year! It's been quiet around the blog for the past few weeks, but it's been anything but in the Bojon kitchen. I've been working on a few new projects, one that I can't talk about yet (spoiler: it's not a baby or a second book), and a few that I can.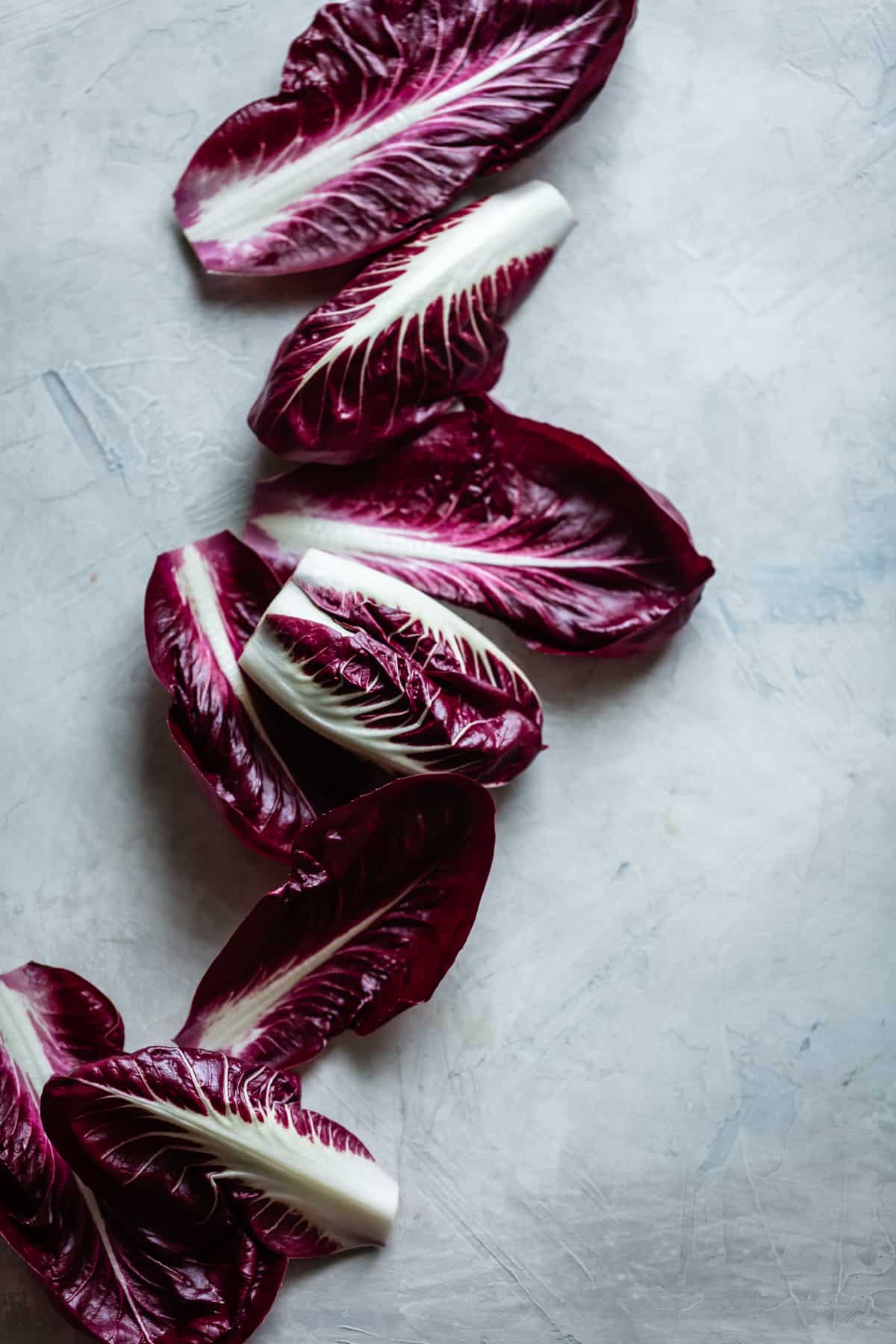 In the last few weeks, I toured the Hangar 1 Distillery in Alameda and made cocktails with one of their signature vodkas. I met a beekeeper at a political rally in Sacramento and communed with her San Francisco hives (more on both later this week). Sarah and I have been styling away for the NYT with photographer Craig "Lightmaster" Lee. I had the pleasure of giving back to one of my amazing recipe testers by endorsing her proposed cookbook, which is on a topic which will prove valuable to so many people. I created my next article for my new Alternative Baking column in GFF Magazine. The winter issue is hot off the press, and it features a spread on buckwheat flour with 2 brand new recipes and 1 favorite adapted from the blog. I can't wait to share the next issue with you in April.
Additionally, there were latkes with family on Chrismukkuh and Jew Year's Eve, a trip to visit Jay's folks in Santa Cruz, and family time with my mom from LA, my niece from New York, and my cousin's family from Fortuna as we all converged on my brother's home in Berkeley.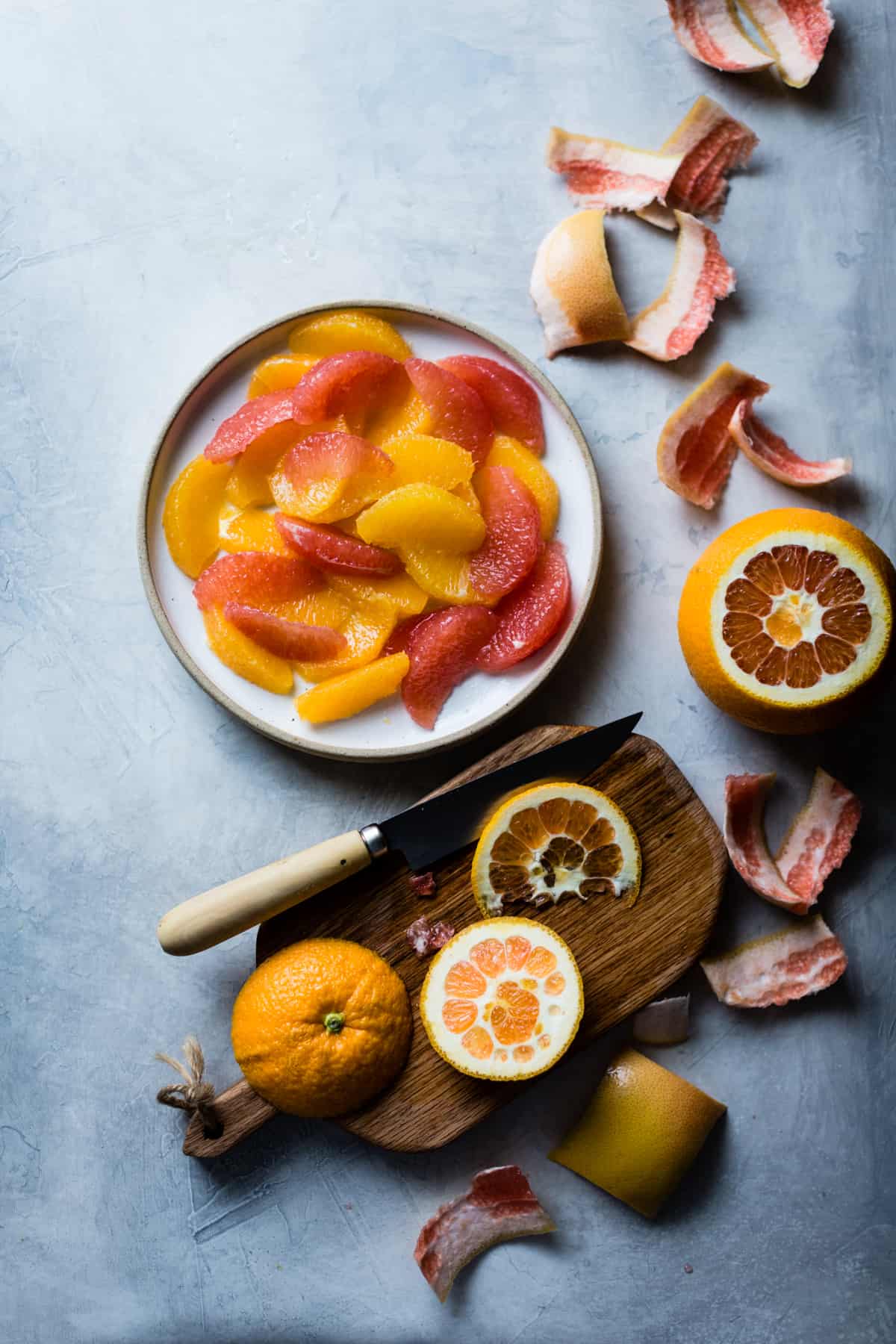 On New Years Day, Jay and I headed for a hike in Marin with a batch of Lentil Walnut Pate in tow for a party afterwards. This party was pretty much the best thing that ever happened to me. A friend of my sister started reading and cooking from my blog a year or two ago and turned into a superfan who decided cook and bake a dozen or so different recipes from my book and blog to lavish upon a hundred of her friends at her annual New Years Day party, and invited me to attend as the guest of honor. There was Curried Carrot Soup with Ginger and Coconut Milk, GF Meyer Lemon Almond Cake, GF Teff Brownies with Salted Tahini Frosting, No-Bake Hazelnut Ganache Brownies, these GF vegan chocolate chip cookies, Harissa Sweet Potato Latkes with Spiced Yogurt, Orange Olive Oil Cake, Bourbon Cacao Nib Caramel Corn, and many more. The party was like a trip down memory lane for me and Jay, tasting food we've enjoyed throughout the last 7 years.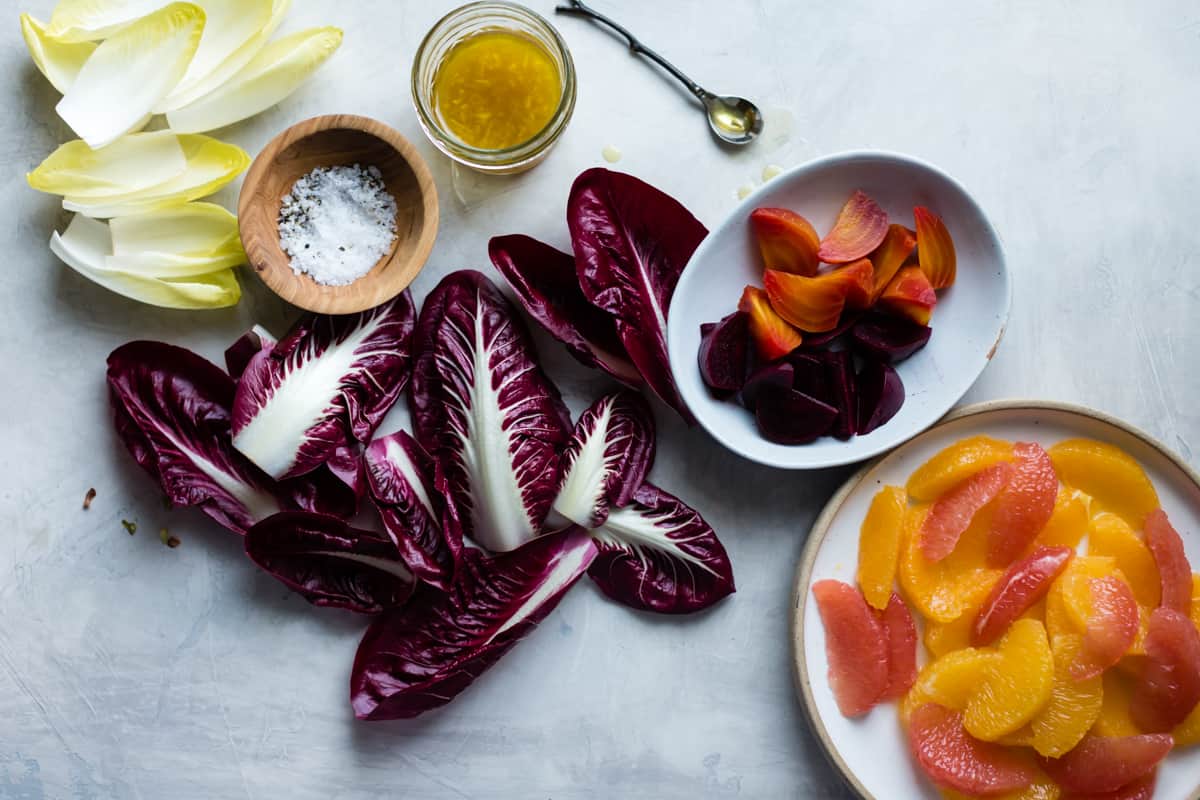 But I'm whooped. As I said to Jay, "I'm going to need a vacation after this holiday." Instead, I hit the 2017 ground running, with the next few months full of work that I love to do: recipe videos, food photography and styling, book events, and THE SECRET PROJECT. Whew! I need a soak at Kabuki. And I also need a salad.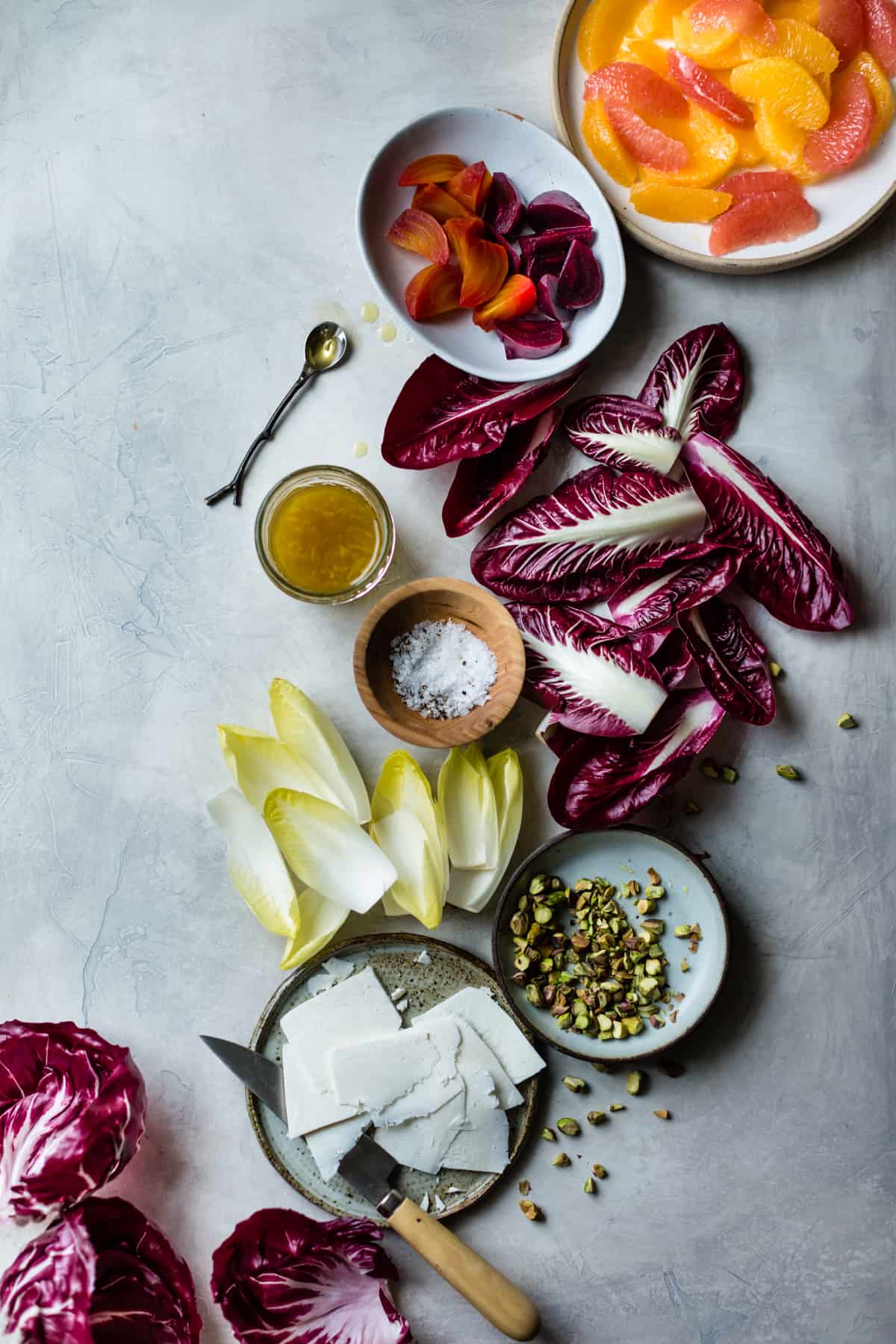 Chicories were never something I got excited about. Radicchio and frisee were leaves to eat around in salads. Escarole was a scary, head-sized green that would occasionally arrive in our CSA box seemingly to annoy us. Endives were oval chartreuse things to be passed over in favor of little gems and butter lettuce.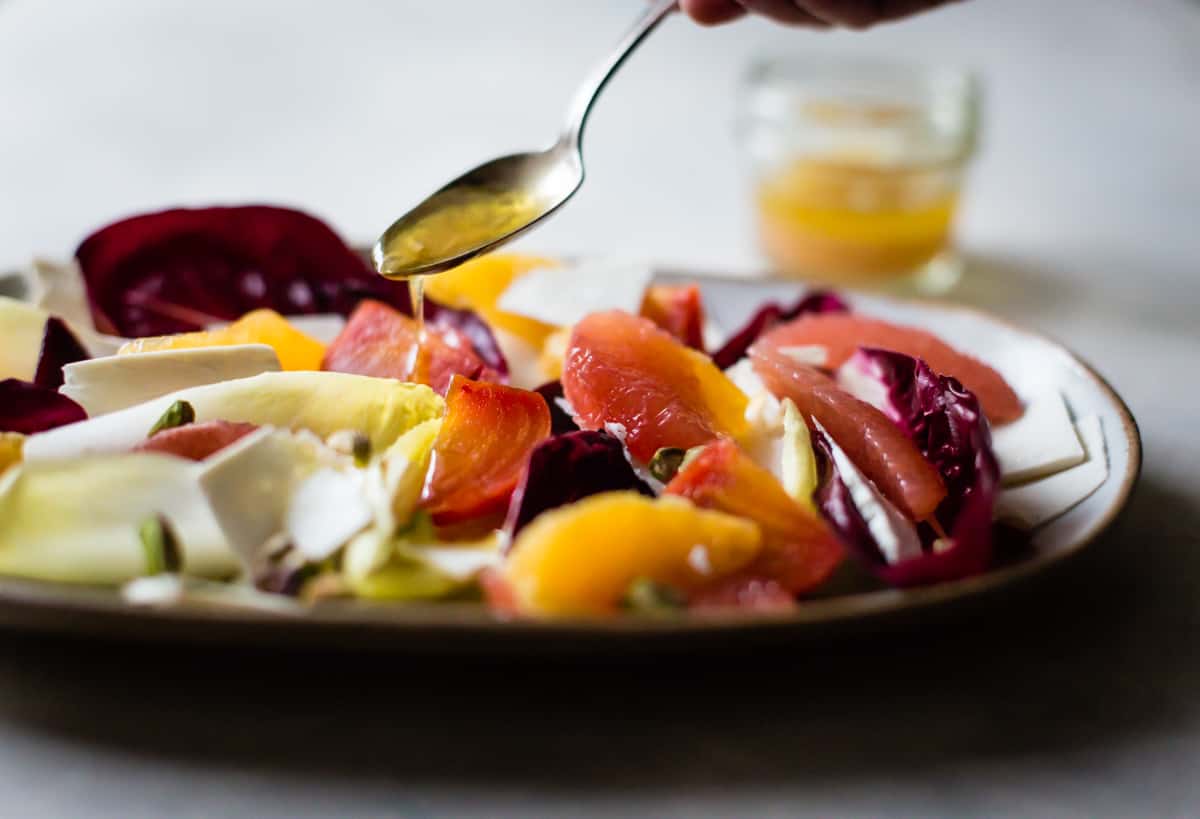 But my friend Amelia gave me a new appreciation for the bitter vegetables when she told me she was packing a suitcase full of the little buggers to bring her sweetie, Brandon, in Minnesota where, she claimed, the bitter veggies were nowhere to be found. Brandon knows a thing or two about Italian cooking, having worked as the executive chef of Pizzeria Delfina in the Bay Area. Unlike Americans, Italians value bitter tastes, drinking strong espresso for breakfast, tossing chicories into simple salads and contorni, sipping amari made from artichokes, green walnuts, and other astringent ingredients, and throwing candied citrus peel into sweets. I changed my mind about chicories when I had them prepared Italian-style: tossed in a simple, Caesar-like dressing and smothered in shaved parmesan. I've enjoyed this salad at Delfina, Locanda, and most recently at a party for GFF contributors. One bite of the White Caesar in the current issue, and I couldn't stop dreaming of chicories.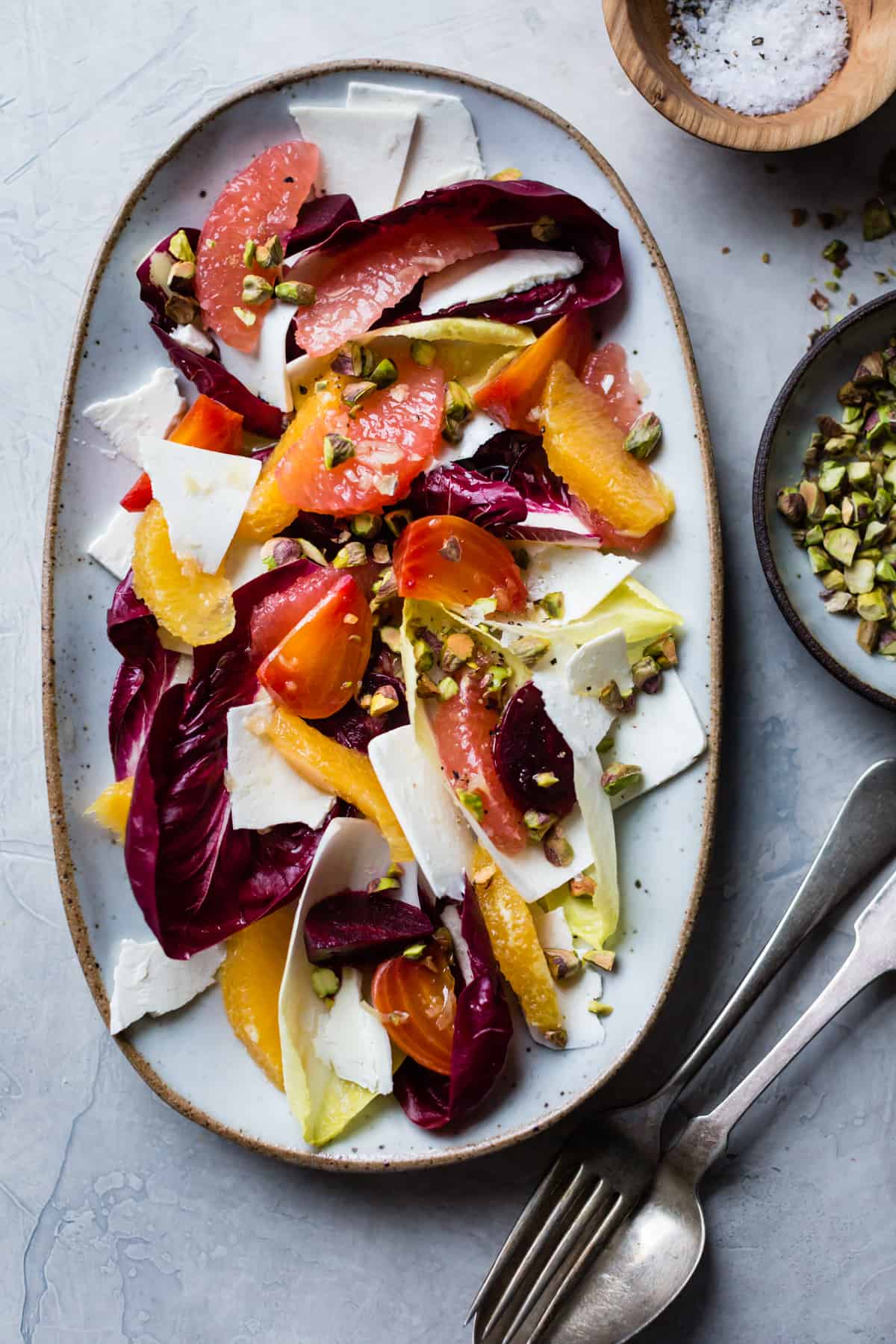 Bitter taste is said to aid digestion. It also has the ability to balance and cut through the cloying, the rich, and the heavy, acting as a bracing palate cleanser. This is the time of year when I start to crave just that. So I tossed a bunch of bitter things together into this simple salad.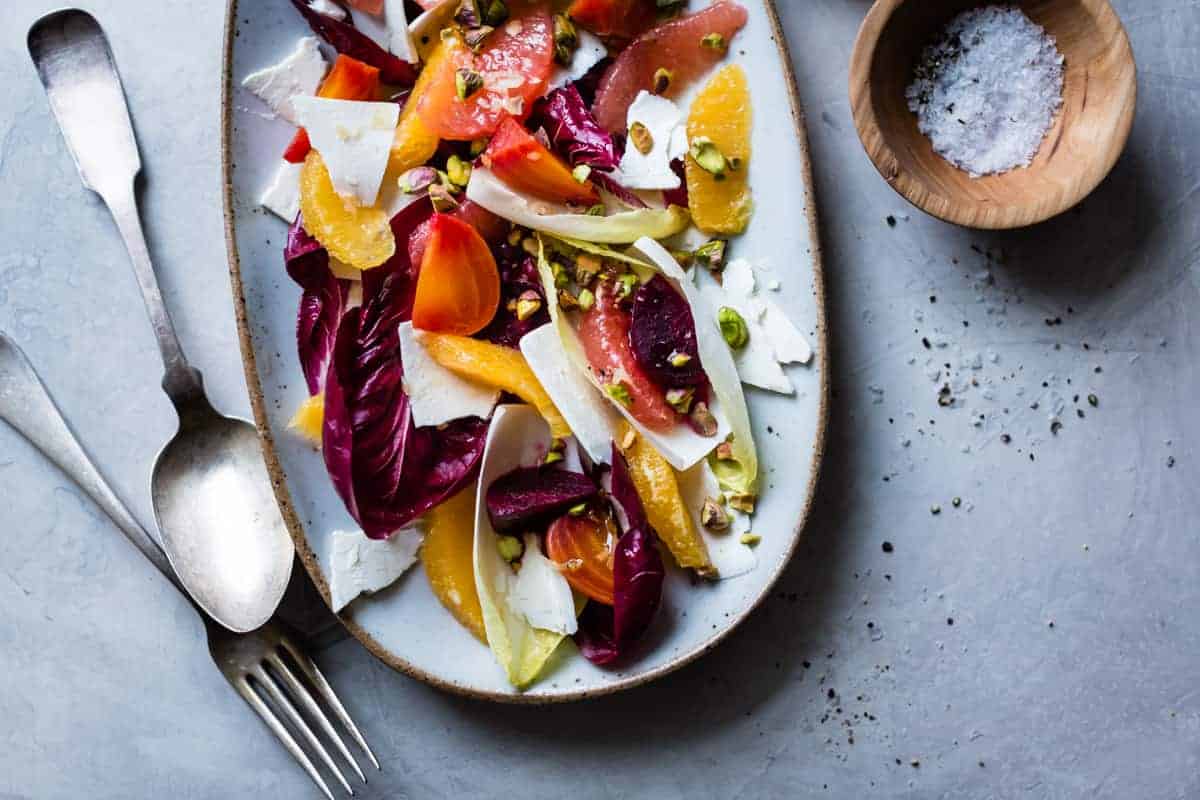 There's endive, radicchio, and treviso. There are beets, which are earthy and sweet with a hint of vegetal bitterness. There are segments of citrus. There's grassy olive oil. And to provide relief, there's plenty of milky ricotta salata and nutty toasted pistachios. It's all tossed together in a nap of vinaigrette laced with shallot and apple cider vinegar. Full of the bright flavors and jewel tones of winter, it's sure to revive dreary spirits on a grey day. At least, it did for me.
More Salad Recipes:
*Thanks for reading! For more Bojon Gourmet in your life, follow along on Instagram, Facebook, or Pinterest, purchase my gluten-free cookbook Alternative Baker, or subscribe to receive new posts via email. And if you make this beet, citrus and chicory salad, I'd love to see! Tag your Instagram snaps @The_Bojon_Gourmet and #bojongourmet.*
Beet, Citrus, & Chicory Salad with Ricotta Salata and Pistachios
Print Recipe
Pin Recipe
A perky little salad full of bitter, sweet, salty, and tangy flavors to refresh your palate during the depths of winter.
Ingredients
Vinaigrette (makes enough for 2 salads):
1

tablespoon

minced shallot

1

teaspoon

fine sea salt

¼

cup

(60 ml) apple cider vinegar

¼

cup

(60 ml) extra-virgin olive oil
Salad (makes 4 servings):
3

medium beets of any color

3-4

large oranges, grapefruits, or other citrus fruits

4

cups

leaves from chicories (endive, escarole, frisee, Treviso, radicchio, or a mix)

1/3

cup

toasted pistachios, roughly chopped

2-4

ounces

ricotta salata, thinly sliced

flaky salt and freshly ground pepper
Instructions
In a small jar, combine the shallot, fine salt, vinegar, and olive oil, shaking well to combine and dissolve the salt. Store at room temperature until needed, up to several days.

Trim the tops and tails from the beets but leave the peels on. Rinse of any sandy or mud, and place the beets in a small saucepan. Cover with 2 inches of water, bring to a boil, and simmer until the beets can be pierced easily with a fork, anywhere from 30-60 minutes, adding more water to the pot as needed. Remove the beets and let cool. They can be prepared ahead and refrigerated for up to several days.

To make the salad, slice the beets in half lengthwise and cut each half into thin wedges. Cut the top and bottom off of the citrus fruits and use a paring knife to peel away the skin and pith from the outside of the fruit, following the curve of the fruit. Cut out the segments from the membranes, holding the fruit over a bowl to catch the juice (and drink it!).

Toss the chicory leaves with 2 or 3 tablespoons of vinaigrette to coat them lightly. Spread on a platter or divide among 4 shallow bowls. Scatter with the beets, citrus, pistachios, and cheese. Drizzle with a little more dressing, and sprinkle with a bit of flaky salt and black pepper. Serve right away.
Notes
Feel free to use any variety of chicory, citrus, or beets you like here. Endive tends to be the most mild of the chicories, followed by frisee and radicchio, with escarole and treviso tending toward more bitterness.
Sweet citrus, such as in-season navel oranges, help to balance the bitter endives, but use any that you like; I used 2 very sweet oranges and 1 grapefruit.
I've had the best luck with red and yellow beets, but striped chioggas are beautiful, too. If you dislike beets, try this with thinly sliced fennel instead.
Nutritional values are based on one of four servings.
Nutrition
Calories:
288
kcal
Carbohydrates:
23
g
Protein:
6
g
Fat:
20
g
Saturated Fat:
4
g
Cholesterol:
7
mg
Sodium:
654
mg
Potassium:
666
mg
Fiber:
7
g
Sugar:
15
g
Vitamin A:
1430
IU
Vitamin C:
59.1
mg
Calcium:
115
mg
Iron:
1.5
mg