This transition from summer into fall is possibly my favorite time of year. Never mind the early nights; I'll save my complaining for December. For now, the markets are still brimming with zucchini, peppers, stone fruit, and tomatoes in every size and color imaginable. But the air has changed. There's a crispness to the breeze that whistles through one's hair. The shadows are longer.The light looks different.There's a feeling of anticipatory excitement, of electricity.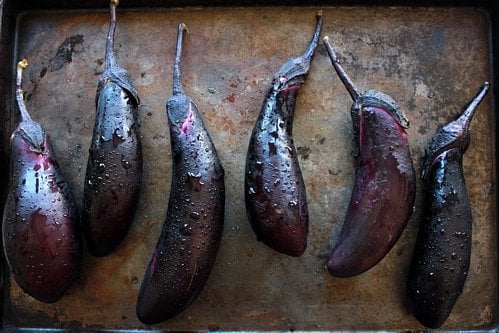 And best of all, turning on the oven is a treat rather than a necessary evil.
This zippy yet comforting dish makes the most of the late-summer harvest: cured onions, rich dry-farmed tomatoes, and slender Japanese eggplant, all flavored with oregano, basil, parsley, chile flakes and a splash of red wine. Baking the pasta not only coats it in an ooze of three different types of cheese; it further roasts and condenses all those rich, deep flavors.
Fontina makes a perfect pairing with eggplant, as both have a slightly grown-up, funky flavor. Fontina melts into gooey puddles that would make mozzarella jealous. And when cooked thoroughly, eggplant takes on a meltingly soft, sensual texture as well. I suspect that most eggplant haters out there were traumatized at an early age by under-cooked eggplant, which has a cottony texture and untamed bitterness. When roasted in olive oil, then baked amid ample tomato sauce and cheese, eggplant's texture becomes nothing short of sexy, with a sweet flavor and a bit of sophisticated bite.
To this dynamic duo, add a gently-spiced sauce made from dry-farmed tomatoes (which are grown to be low in water and packed with vibrant tomato flavor), a handful of briny olives, chunks of piquant provolone that melt and intertwine with the fontina, and a grating of aged parmesan. I toss it all with penne (I like Tinkayada's brown rice penne, which is so pleasantly chewy that no one ever suspects its gluten-free-ness) and bake it in the oven for 30 minutes until the cheese bubbles and runs.
This dish is best fresh from the oven, as the pasta continues to absorb sauce as it sits. But all the components can be made ahead, then assembled and baked when you're ready. I baked this in two batches, and we had easy pasta meals for days. Should you bake it all at once, however, leftovers are still welcome, if a little less saucy than the original.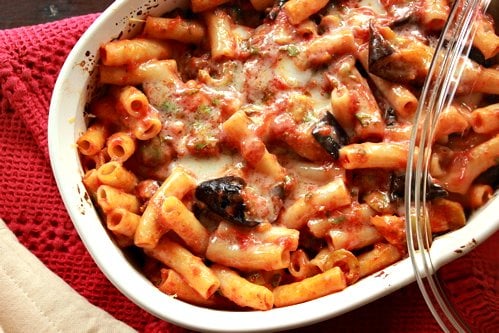 Baked pasta can sometimes seem heavy, but the bright flavors, light sauce and judicious amount of cheese here give the dish some lift. Serve it with a green salad (this is our favorite dressing ever) and a medium-bodied red wine such as Zinfandel or Pinot Noir.
Eggheads:
Roasted Eggplant Pizza with Ricotta Salata and Olives
Roasted Eggplant Parmesan
Smoky Baba Ganouj
Pazza for Pasta:
Zucchini Pesto Lasagna
Pasta alla Carbonara
Mac and Cheese with Winter Squash, Bacon and Collards
Baked Penne with Eggplant and Fontina
This dish is best eaten immediately out of the oven, as the pasta continues to absorb the sauce once baked. Leftovers are still good, just a bit less saucy. All the components can be prepared ahead of time, including the pasta, stored in the fridge, and assembled and baked just before serving. Feel free to halve the recipe, or bake the penne in two separate batches, as I did above.
I find it easiest to leave the skins on the tomatoes, then run the cooked sauce through a food mill to remove the skins and puree the sauce smooth. If you lack a food mill, you can skin the tomatoes with the following method: Bring a small saucepan of water to a boil. Cut a shallow X in the bottom of each tomato. One by one, dunk each tomato in the water for about 10 seconds using a slotted spoon. Let cool, then slip off the skins, and proceed with the recipe, pulsing the cooked, cooled sauce in a food processor.
I've become a convert to Tinkayada's rice penne, which has a nice firm and chewy texture, but feel free to use any smallish pasta you like.
Makes 10-12 servings
Spicy tomato sauce:
1 medium yellow onion, diced
1 tablespoon olive oil
2 large cloves garlic, minced
1/2 teaspoon dried oregano
3/4 teaspoon red pepper flakes
1/4 teaspoon salt
2 1/2 to 3 pounds tomatoes (preferably dry-farmed, romas or san marzanos)
splash red wine or water
The eggplant:
1 1/2 to 2 pounds japanese or small globe eggplant, sliced into 3/4″ rounds
2 tablespoons olive oil
1/2 teaspoon salt
The rest:
12 ounces dry penne pasta
3 tablespoons chopped basil, plus some pretty leaves for garnish
3 tablespoons chopped parsley
3/4 cup pitted green olives, coarsely chopped
2/3 cup cubed fontina
2/3 cup cubed aged provolone
about 2 ounces grana padana or parmesan, for grating
Make the sauce:
Halve each tomato crosswise, then squeeze or scoop out the seeds into a strainer set over a bowl to catch the juices. Dice the tomatoes. Set aside.
Heat the oil in a large soup pot or dutch oven over a medium flame. When it shimmers, add the onion and saute, stirring occasionally, until soft and translucent, 10-15 minutes. Add the garlic, oregano, chile flakes, and salt, and cook, stirring, until fragrant, 2 more minutes. Add the diced tomatoes and cook, stirring occasionally, until broken down and reduced to a thick sauce, about 30 minutes. You may need to reduce the flame to prevent splatters. Add splashes of wine or water if the pan looks dry before the tomatoes have broken down.
When the sauce is done, let it cool slightly, then pass it through a food mill to puree it smooth and remove the skins.
Meanwhile, roast the eggplant:
While the sauce is cooking, position a rack in the center of the oven and preheat to 400ºF. Toss together the eggplant, olive oil and salt, and place on an oiled baking sheet in a single layer. Bake until the eggplant is very soft and golden, 20-25 minutes, flipping the slices over when the bottoms begin to brown. Remove from the oven and reduce the temperature to 375ºF. When the eggplant is cool, cut each round into bite-sized pieces.
Prepare the rest:
Cook the penne according to the package instructions in well-salted water until al dente. Drain well. (If you're not baking the pasta right away, rinse it in cool water, drain well, and toss with a bit of olive oil to prevent sticking.)
In a large bowl, toss together the penne, sauce, eggplant, basil, parsley, olives, fontina and provolone. Taste for seasoning, adding salt or pepper if you like, then spread the pasta in an oiled 2 1/2-3 quart baking dish (such as a 9×13″ lasagna pan). Cover with a good layer of freshly-grated parmesan.
Cover the dish with a lid or foil, and bake until the pasta is hot and the cheese is melty and gooey, about 30 minutes. Serve immediately, topped with more parmesan and small basil leaves.
Leftovers will keep for several days, tightly covered, in the fridge. Reheat before eating.