Baked tortilla chips slathered in enchilada sauce, black beans, and sauteed kale and topped with eggs, avocado, salsa, and cheese makes a satisfying twist on traditional chilaquiles.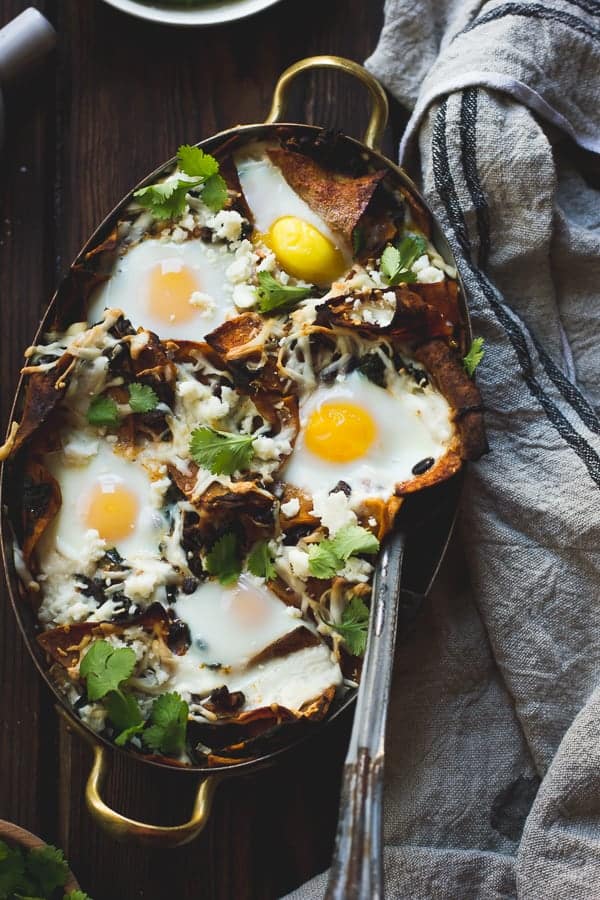 I was first introduced to chilaquiles, tortilla chips sauteed in red chile sauce, as a hangover cure when I worked as a server at a Santa Cruz restaurant during college. Though I never tested this theory (I rarely want to eat anything at all when I'm hungover, least of all spicy, greasy chips) I did develop a fondness for the chilaquiles served at the Ferry Building Farmer's Market in San Francisco. Market-goers line up around the block for an order of Primavera's thick, handmade tortillas fried into chips and slathered with red sauce and fried eggs.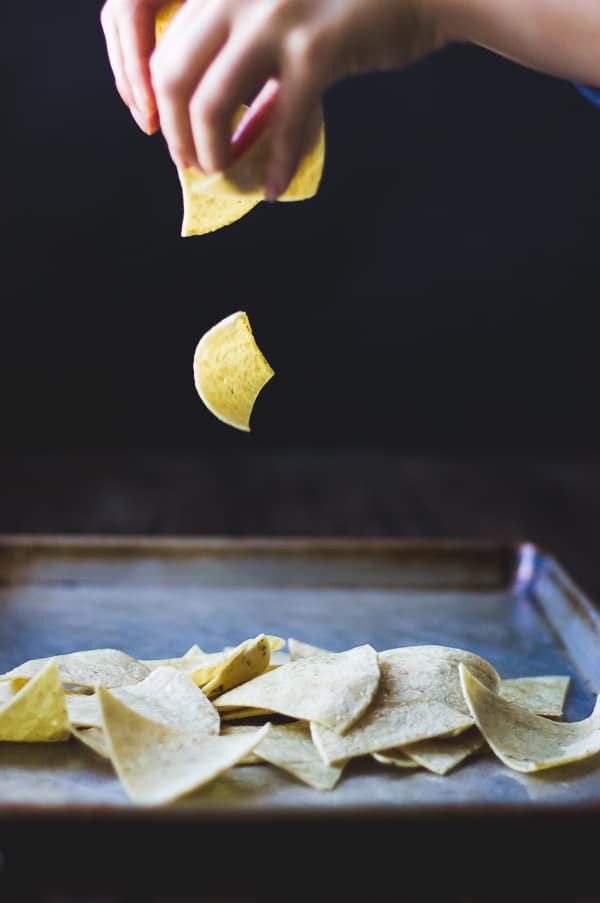 Chilaquiles popped into my head when my friend Amelia dropped by for brunch the other day. I had a jar of enchilada sauce in the cupboard, a new bag of Rancho Gordo tortillas, a bunch of kale, and a can of black beans.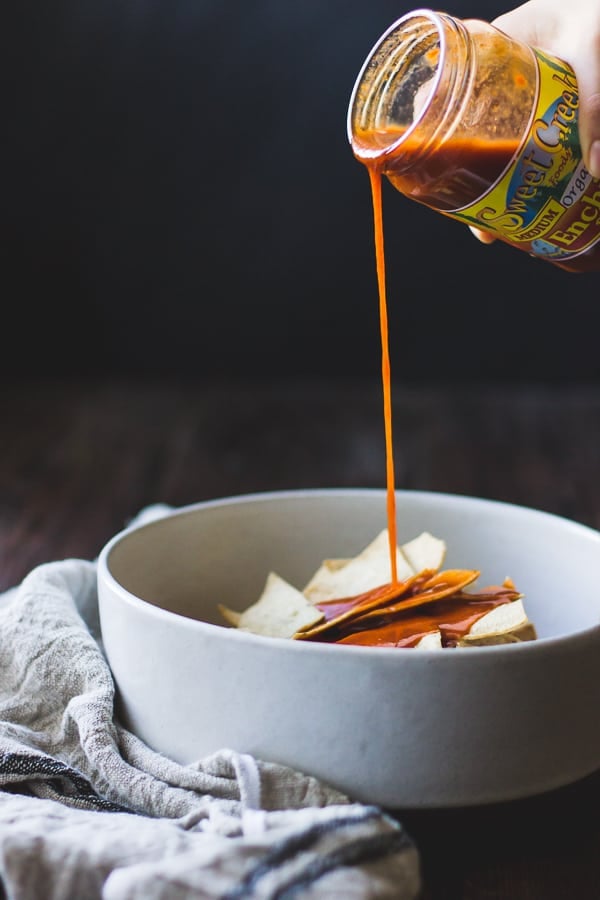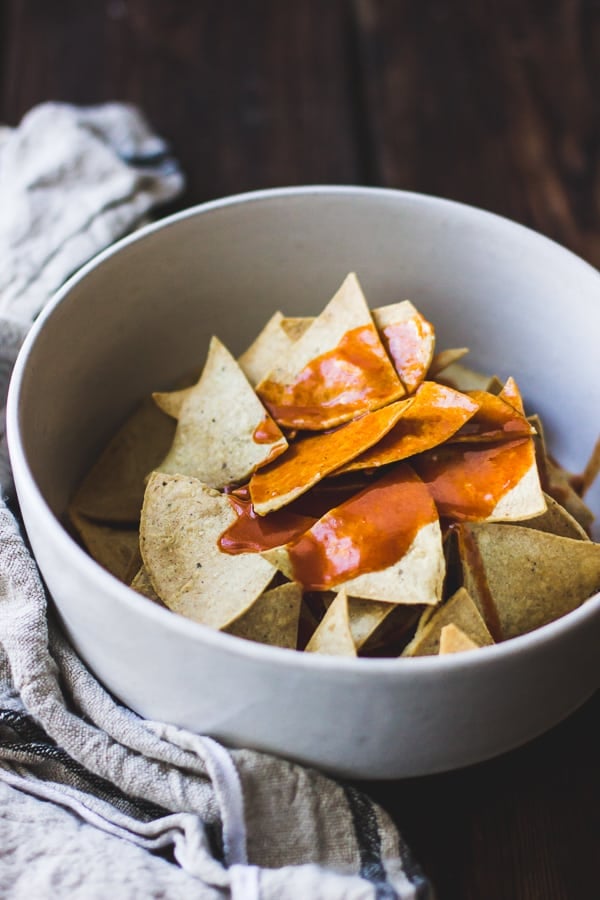 The most tedious aspect of making chilaquiles is standing over the stove, frying tortillas in batches. They always seem to soak up too much oil, which splatters all over the place, and they never get quite crisp enough. So I threw them in the oven instead, and since it was already hot, I baked everything in there as well, even the eggs. Chilaquiles success!
Erika a.k.a. The Pancake Princess came over the other day and we styled and shot this recipe together. A native Californian, Erika has lives in Houston, Texas where she's pursuing an MBA. Since chilaquiles are a Tex Mex dish, and we're both good kale-loving Californians, we felt that this dish was a perfect combination of our places of residence.
Erika makes amazing things like this, and this, and these. I'm absolutely in love with her recipes and photos, and she's one of the kindest people on the planet to boot.She's an incredibly talented food photographer and stylist.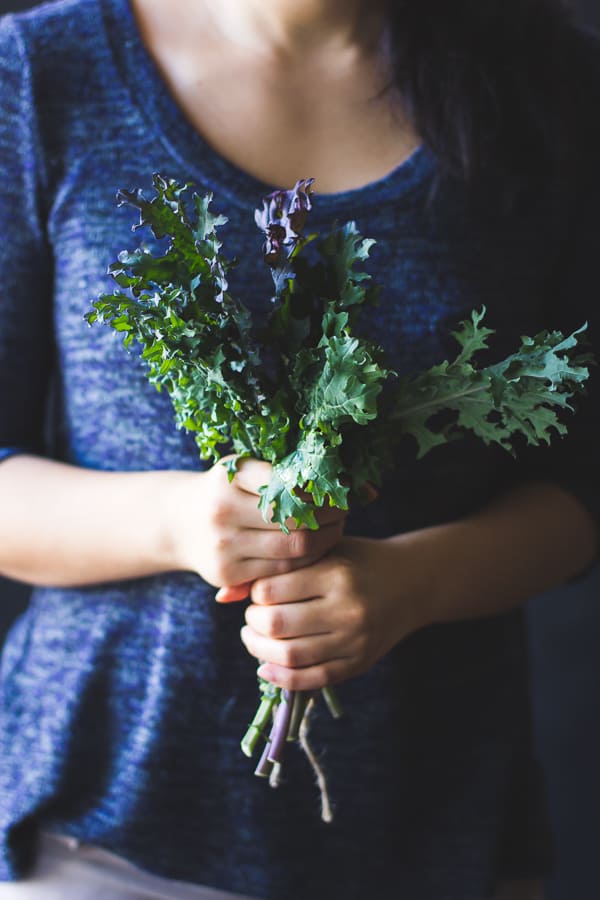 Also, kale model.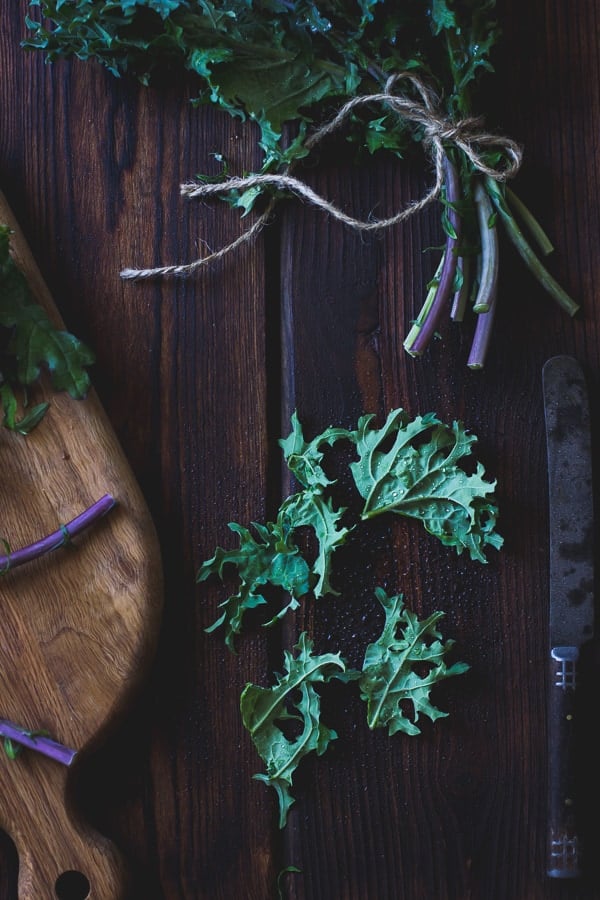 We had so much fun! Check out her beautiful behind-the-scenes photos from our afternoon togetherhere.
This dish reminds me of a cross between nachos and enchiladas, but
brunchier. Our eggs seemed to cook at different rates, which worked out
well for us. Jay likes his firm, Erika likes hers runny, and I like mine right in the middle.
I could hardly wait for the shoot to be over so I could devour this plate of chilaquiles. They make a pretty simple brunch dish that can please a crowd (if you double it and bake it in a lasagna pan). One day I'll go all out and make my own enchilada sauce, but Sweet Creek's is a huge time-saver, and it comes in mild, medium and spicy (we used medium). Black beans and kale appeal to my Californian sensibility, but I'm not afraid to get a little Texas by piling on the cheese.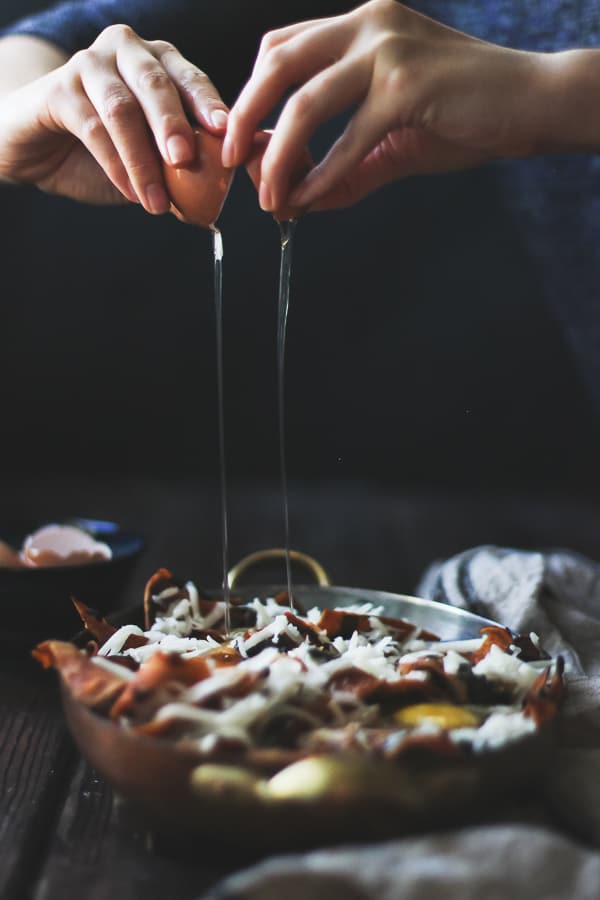 Sadly I'm down with a cold and won't be drinking enough champers tomorrow night to test out the hangover theory...
but that doesn't mean you can't.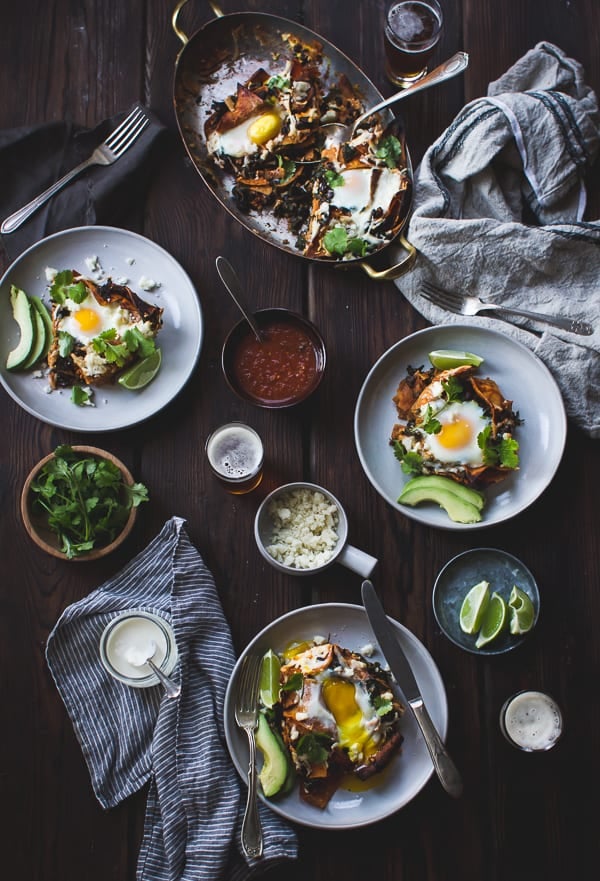 Wishing everyone a happy and delicious new year!
More Brunch Recipes:
*Bojon appétit! For more Bojon Gourmet in your life, follow along on Instagram, Facebook, or Pinterest, purchase my gluten-free cookbook Alternative Baker, or subscribe to receive new posts via email. And if you make this baked chilaquiles recipe, I'd love to know. Leave a comment and rating below, and tag your Instagram snaps @The_Bojon_Gourmet and #bojongourmet.*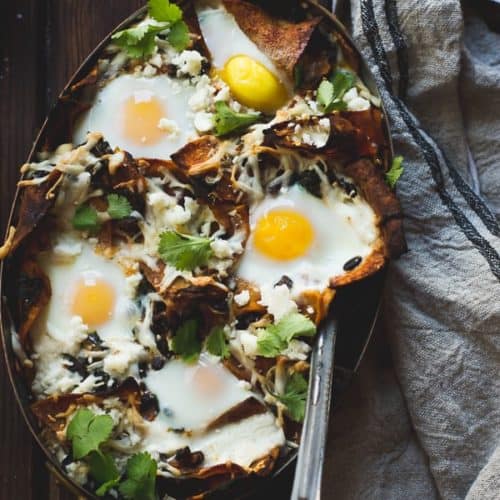 Baked Chilaquiles with Black Beans and Kale
Print Recipe
Pin Recipe
Feel free to double this recipe and bake it in a lasagna pan to serve a crowd.
Servings:
4
to 6 servings
Ingredients
For the chilaquiles:
10

(6") corn tortillas, cut into sixths

a few tablespoons light cooking oil (such as sunflower)

sea or kosher salt, as needed

1

(16-ounce) jar red enchilada sauce (I use Sweet Creek's medium sauce)

1/2

a small yellow onion, peeled and thinly sliced

1

bunch of kale, stems removed and torn into large pieces

1

(14-ounce) can black beans, drained, rinsed, and drained again

4-6

large eggs

1/2

cup

packed, grated mild melting cheese such as jack or goat gouda
For serving:
chevre, feta, or cotija cheese, crumbled

cilantro leaves

lime wedges

salsa

1

or 2 ripe avocados, sliced

sour cream or thick, whole milk yogurt
Instructions
Make the chips:
Position racks in the upper and lower thirds of the oven and preheat to 400ºF.

Cut the tortillas into sixths and place on a baking sheet. Toss with enough oil to coat lightly and a few pinches of salt, and spread on two baking sheets. Bake until golden and crisp, 10-15 minutes.
Make the chilaquiles:
Meanwhile, heat a tablespoon of oil in a wide skillet set over a medium flame. Add the onion and cook, stirring until tender, 5 minutes. Add the kale, a splash of water, and a big pinch of salt, and cook until wilted, 5 more minutes, stirring occasionally.

Place the tortilla chips in a large bowl, pour in the enchilada sauce, and toss with your hands to coat. Fold in the cooked kale and the black beans. Oil a large baking dish (I use an 8x12-inch oval one) and spread in the tortilla mixture and any sauce hanging out on the bottom of the bowl. Bake until the chips are hot and starting to crisp a bit around the edges, 10 minutes. Remove from the oven and sprinkle on the cheese.

Use the back of a soup spoon to make 4-6 divots in the chips (depending on how many eggs you want). Carefully crack the eggs into the divots and sprinkle with a few pinches of salt. Return to the oven and bake until the eggs are set to your liking, 10-15 minutes.

Remove from the oven, scatter the cotija and cilantro over the top, and serve immediately with the salsa, avocado, sour cream, and lime wedges for drizzling over the tops.
Notes
Nutritional values are based on one of four servings.
Nutrition
Calories:
651
kcal
Carbohydrates:
74
g
Protein:
29
g
Fat:
29
g
Saturated Fat:
9
g
Cholesterol:
186
mg
Sodium:
1321
mg
Potassium:
1067
mg
Fiber:
19
g
Sugar:
10
g
Vitamin A:
5325
IU
Vitamin C:
58.2
mg
Calcium:
300
mg
Iron:
5.6
mg