Like most things in life, I had romantic notions when I decided to sign up for a CSA box several years ago. I imagined perfect produce every week, fancier than what one could ever find in the markets: ripe blenheim apricots, loads of plump cherries, flawless heirloom tomatoes, pristine heads of baby lettuces, maybe something exotic like ground cherries, mulberries, or fraises des bois.

Of course, romantic notions rarely pan out the way we hope, and while we do get our share of exciting fruits and vegetables (and eggs!), some boxes take a bit of creativity in the kitchen.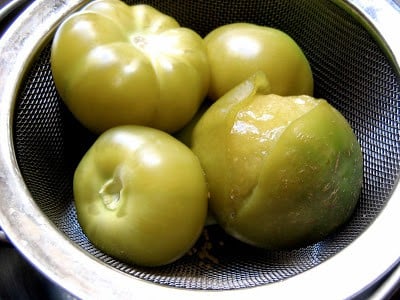 When unfamiliar produce shows up, like a fat bok choy for the third week in a row, or a giant cabbage, or a head of bitter escarole, I almost always open Deborah Madison's Vegetarian Cooking for Everyone to the index and set to work. When tomatillos arrived for the first time, I learned to how to make a simple salsa, adding in some roasted poblanos, which have also been abundant (and uber-spicy!) this summer. It must have been an excellent year for the little papery-husked green guys, too, because I have now made this so many times, I have committed it to memory!

But variety is the spice (or in this case, spiciness) of life, so the other night, while perusing Heidi Swanson's Super Natural Cooking, I read up on her crema de guacamole, a chilled tomatillo soup thickened with creamy avocados. It was too hot to contemplate turning the stove on for more than the 10 minutes it takes to cook the tomatillos, however, so I just made the old standby, but pureed in some ripe avocados, and tweaked the seasoning a bit.

What emerged from the food processor was my idea of salsa perfection – creamy, tart, thick enough for dipping chips or quesadilla wedges, but loose enough to drizzle over fish tacos, tamales or migas. Cilantro, lime, and roasted poblanos lend heat and complexity.The avocado tempers the tang of the tomatillos, thickening what can be a watery sauce, and the tomatillos cut the richness of the standard guacamole, lending another dimension of flavor. The acidity of the tomatillos serves another purpose as well: it prevents the avocado from oxidizing, meaning a batch of this salsa keeps in the fridge for up to a week, unlike guac, which only really lasts a few hours.

This silky salsa makes an excellent snack on a warm day. It's a nice companion to take on a camping trip, a hike, or to a barbeque or pool party. Wash it down with a frosty lager or jamaica-tequila spritzers.

Now I actually go out of my way to buy tomatillos at the market when they're in season, from mid-summer to early fall, and I greet the ones in the box with excitement rather than dread.

Maybe someday I'll find a way to make escarole taste good, too.
One year ago:
Dips and Spreads:
Avocado-Tomatillo Salsa
Poblano chilies vary widely in spiciness. You may need just a bit of one for heat, or they may be so mild that you will want to add an even spicier chili, like a jalapeno or serrano, or a pinch or two of cayenne. It is a bit of a crap shoot, so be sure to taste your peppers before adding them into your salsa. Extra roasted chili can be stored in the freezer and used as needed.
Makes 3 – 4 cups
2 poblano chiles
1 pound (about 10 medium) tomatillos, husks removed
1/4 large yellow or white onion, chopped
1 bunch cilantro, washed, stems removed and discarded, a few leaves reserved for garnish
juice of 1 – 2 limes
3/4 teaspoon salt
2 avocados, peeled and pitted, flesh scooped out
Roast the poblanos either over an open flame or under the broiler, turning occasionally until the skins are blackened and blistered all over, 5-10 minutes. Let sit until cool enough to handle, then, wearing gloves if your skin is sensitive to capsicum, peel off the skins. Slice the peppers in half and remove the veins and seeds. (If the peppers are very spicy, you can rinse them to remove more of the capsicum, which concentrates in the seeds and veins.) Chop the flesh coarsely.
Meanwhile, place the tomatillos in a saucepan and cover with water. Bring to a boil, then simmer for 5 – 10 minutes, until the tomatillos turn a drab green. Drain and let cool slightly.
Combine the tomatillos in a food processor or blender with the poblanos (if the peppers are very spicy, you may not want to add all of them), and onion. Blend until smooth, and to release some heat. Let cool for at least 10 minutes, then add the cilantro leaves, the juice of 1 lime, salt and avocado. Puree until smooth. Taste for seasoning, adding more salt, lime juice, or chile to taste. The salsa is prettiest within the first couple days when it is bright green, but will keep in the refrigerator for up to one week.