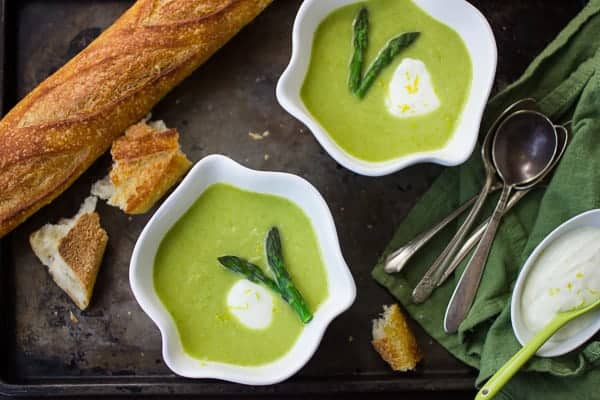 I got my earliest lesson in seasonality 11 years ago in Bologna, Italy. At the time, I was trying to study art history while getting over a break-up. I was also trying to do the Atkins diet in the midst of a brutal May heatwave.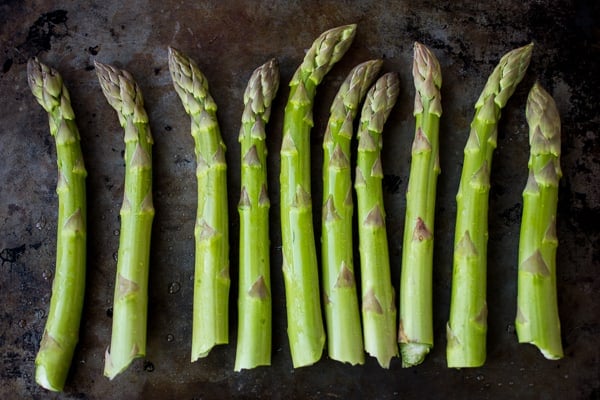 Like dating an Italian, that turned out to be a bad idea.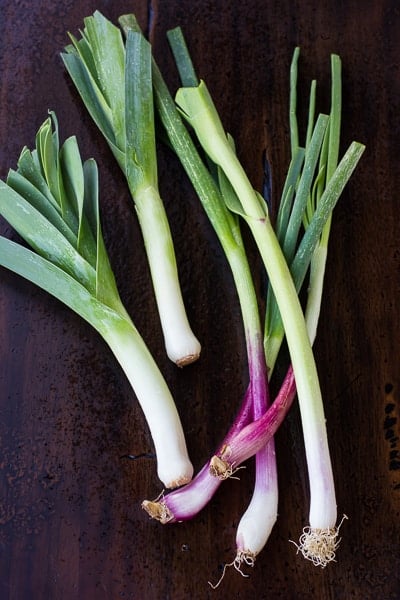 I found a diet-appropriate asparagus soup recipe on-line that said, "Sometimes, the simplest recipes are the best, as is the case here." The soup contained merely leeks, asparagus, butter, and chicken stock. Despite wanting to subsist solely on gelato and fresh fruit, I trudged through the oppressive heat to the large, open market, questioning why I had left my apartment in which I had 1) an electric fan, and 2) the ability to wear nothing but underwear. I searched in vain for leeks, and finally asked a vendor, who said in patronizing tones, "Non sono di stagione."
I felt like punching him and thought indignantly, "Leeks don't have a season. Leeks are always in season!" (It turns out dieting and heatwaves make me really cranky.)
When I got back to California, where leeks (and air-conditioning) are always in season, this soup became a favorite. Even though I'm (thankfully) beyond the days of post-break-up diets, I still look forward to my first pot of asparagus leek soup each spring. This is my current favorite version.
It is true that the simplest recipes are sometimes the best, and this one lets the grass-green flavor of asparagus take center stage. Masses of leeks and green garlic sauteed in butter keep the soup sweet and flavorful, even when made with water instead of stock. A bit of potato gives it a voluptuous texture without the need to add cream. I like this soup topped with a bit of lemon zest-kissed yogurt. It takes well to add-ins, too: spinach, fresh peas or pea shoots, or herbs such as cilantro, chives, chervil or tarragon are all welcome additions. One of my favorite asparagus soups came from Range, and it was topped with a softly poached egg and crispy bread crumbs. Keep it simple, or go to town.
But do make it in early to mid spring when green garlic is in season.
Gussied-up asparagus:
Asparagus Pesto Pizza
Spring Vegetable Fried Rice
Crustless Asparagus Skillet Quiche
Spring soups:
Celeriac Soup with Truffle Oil
Potato, Spring Onion and Turnip Potage
Curried Carrot Soup with Ginger and Coconut Milk
Asparagus, Leek and Green Garlic Soup
The cooking method described below preserves the green hue of the soup; if you prefer, you can skip the blanching and cooling steps and simply add the asparagus with the water and potato. I think fat asparagus stalks tend to be more meaty and creamy, and make the best soup, but any tasty, in-season asparagus will do. Feel free to garnish the soup with chives, chervil, tarragon or cilantro; see the post above for more ideas.
Makes 6 servings
2 pounds (about 2 bunches) asparagus
3 large stalks (4 ounces) green garlic
3 medium leeks (12 ounces)
2 tablespoons butter
1 tablespoon olive oil
1 teaspoon salt
1 large yellow potato (6 ounces), peeled and diced
lemon juice, to taste
3/4 cup yogurt (whole or low-fat), or crème fraîche
zest of 1 small lemon (meyer or regular)
Fill a pot with 2 quarts of water and bring to a boil. Snap the woody ends of the stems off of the asparagus spears and discard; they will naturally break at the right spot. Keep the heads in tact and slice the stems. Blanche the asparagus in the simmering water for 1-2 minutes, until bright green and crisp-tender. Strain through a colander and into a large bowl, reserving the asparagus water. Rinse the asparagus under cool water to stop the cooking, and set aside.
Trim the root ends off of the green garlic and leeks. Slice the green garlic (leafy green parts included) crosswise into thin rounds, and place the rounds in a large bowl. Slice the leeks in half lengthwise, then slice the white and light green parts crosswise into 1/4″ thick half-moons. Place the sliced leeks in the bowl with the green garlic, fill with cool water, and separate the rings, swishing occasionally as they soak to release any sandy dirt, which will sink to the bottom. Scoop the leeks and garlic out of the water (you can repeat the soaking/scooping process if the leeks are super dirty), drain them in a colander and give them a final rinse.
Melt the butter and olive oil together in a soup pot or dutch oven over medium heat. Add the leeks and green garlic and saute until bright green and tender, 5-10 minutes. Add the salt, potato, and enough of the reserved asparagus cooking water to cover the vegetables, 4-6 cups. Bring to a boil, then cover the pot and simmer until the potato is very tender, 10 minutes.
Remove the lid and let the soup cool to warm, 30-60 minutes. (This is to preserve the color of the asparagus, but you can skip the cooling step if you prefer.)
Add the asparagus, reserving several pretty heads for garnish, and puree the soup with an immersion blender, or in batches in a regular blender, thinning with more asparagus water as needed. Stir in the juice of half a lemon, taste for salt, adding more salt or lemon as you see fit.
Meanwhile, stir together the yogurt and lemon zest.
Re-warm the soup, and serve in bowls with a dollop of lemony yogurt and a couple of asparagus tips. The soup will keep in the fridge for up to three days.