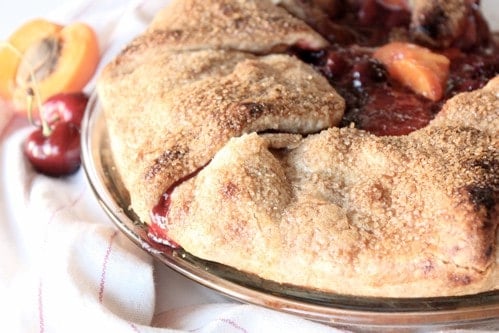 Lately, I've been quite inspired (or should I say "ins-PIE-ered") by the Three Babes Bakeshop. Anna and Lenore (who are in search of a third babe, lest you accuse them of false advertising) create pie-fection, from deeply caramelized, flaky crusts, to unbelievably tasty fillings such as local key lime, salty honey walnut, apricot tayberry, and cherry berry crumble, just to name a few. Their selection changes weekly, and their ingredients are always organic and locally grown.
Pie mecca can be found(unfortunately close to my yoga studio)every weekend at a be-tableclothed stand on the sunny patio of Stable Cafe where the babes sling pies by the slice, whole, and even in individual mason jars. Every pie is a star, and it's hard not to order one of everything.
Inspired by their luscious fruit pies, and by a Deborah Madison recipe for apricot fold-over pie, I set to work to make some pie.
Fold-over pie (a.k.a. Lazy Ladies' Pie) is essentially a galette baked in a pie pan. It's a simpler way to get fruit into crust than dealing with two crusts, weaving a lattice, or making a crumble topping, and it satisfies like a pie with a high fruit to crust ratio. Just roll out a larger-than-usual round of dough, letting its copious edges hang over the pan, fill it with fruit tossed with sugar and thickener, and fold the top over the fruit.
Apricots and cherries work together the way strawberries and rhubarb do, the apricots becoming more tart with baking and giving dimension to the sweet cherries. The apricots break down into soft slivers, while the cherries stay whole and slightly toothsome. Instant tapioca thickens the pie to a gooey compote, staying clear and disappearing on the palate; 6 tablespoons makes a messily-sliceable pie. I added only a bit of lemon zest and juice for flavor, but when I took a bite of pie with vanilla ice cream, I could have sworn I tasted ginger, and several guests at the party where it was served asked which spices I used. A scant cup of sugar in the filling lets the sweet-tart flavors of the fruit come through, also working with the tapioca to set the fruit.
Though the fold-over pie is a snap to assemble, it did take me four tries to achieve a Three Babe's-worthy dessert that was pleasing to look at as well as to eat, with a softly-set filling that was firm enough to slice.As with any pie, using locally-grown fruit at the peak of its season, and taking care to make a flaky dough, will ensure deliciousness. But here are a few tips specific to fold-over pies that I've picked up during my week of pie experiments:
Pie #1 – too little overhang
Shake it, Sugaree: Sugar in pie dough adds tenderness and flavor, but it also promotes browning, which this pie does a lot of, so leave it out this time. (A sprinkling of coarse sugar on top makes a pretty pie with a bit of crunch, however.)
Size matters: Use a ruler to check the size of your dough round. For a standard, 9″ pie plate, you want a good 3 inches of overhang, which means rolling the dough out to a 16-17″ circle for starters. A too-short overhang will tend to gap more (see the last tip); too long will mean that the dough is too thin and in danger of burning, and the fruit may be covered up entirely when the ends are folded in. You want about 3 inches of fruit peeking out from the center when the unbaked pie is assembled. As the pie bakes, the fruit will bubble and expand, pushing the dough outward, so you'll be left with a larger window when the pie has baked and cooled.
Fit and trim: Ease the dough into the pie plate, pressing it into the corners, and trim into an even circle. Trimming will create a pretty, pro-looking pie, and show off your flaky layers of dough.
Mind the gap: Fold-over pies (and double-crusted ones, too) tend to gap when the baked fruit cools and settles down away from the crust. Gently but firmly packing down the fruit into the unbaked crust minimizes this. Additionally, you can press the crust down, flush with the fruit, after the baked pie has cooled for 15 minutes but is still hot.
Pie #2 – too much overhang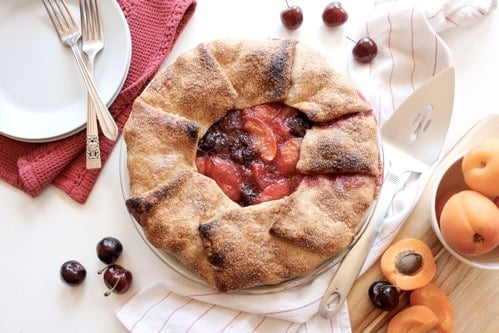 Pie #3 – overhang just right, but too soupy to slice
All in all, the fold-over pie is a lazy way to get your pie fix. Vary the recipe with any fruit (or combination thereof) you like. Some classics are blueberry-peach, apricot-raspberry, apple-blackberry, cherry-berry, cherry-rhubarb, and rhubarb-berry.
Pie #4 – just right (finally!)
And do have a pint or two of vanilla, ginger, or cardamom ice cream on hand (or at least a bit of whipped cream or crème fraîche), which rounds out the flavors in the pie.
Although if you're extra lazy (and live in the Bay Area), just visit The Three Babes at Stable for a slice – or five.
Stone fruit love:
Cherry Frangipane Tart
Apricot-Cherry Clafoutis
Vanilla Brown Butter Peach Buckle
High on pie:
Berry Crumble Pie
Meyer Lemon Buttermilk Pie
Huckleberry Fig Crumble Tart
One year ago:
Roasted Turnips with Bacon and Turnip Greens
Two years ago:
(Gluten-free) Chocolate Hazelnut Brown Butter Cake
Apricot Cherry Fold-Over Pie
Inspired by Deborah Madison's Seasonal Fruit Desserts
If you lack buttermilk for the crust, you can omit it, or try subbing sour cream or plain yogurt (the acids in cultured dairy promote tender flakiness, but aren't essential). For the flakiest dough and a well-set, sliceable pie, allow 5-7 hours from start to finish, which is mostly inactive chilling/baking/cooling time. (The dough can be made ahead and chilled for up to 2 days, or frozen for up to 2 months.)
I give two options for making extra-flaky dough: fraisage, and folding (details in the recipe, below). I always do both now, since it doesn't take much more time and effort, and results in a shatteringly-crisp, tender crust. But feel free to be lazy and stop after you've added the ice water. Also feel free to swap out other types of fruit for the apricots and cherries (I give some suggestions in the post, above), though the amounts of sugar and tapioca may need adjusting. 6 tablespoons of tapioca make this pie sliceable; reduce the amount to 4 or 5 tablespoons if you prefer a softer set. A scoop of ice cream (suggestions also above) turns a slice of this pie into a spiritual experience.
Makes one 9″ pie, 8-10 servings
Flakiest, All-Butter Crust:
3 tablespoons ice water
1 1/4 cup all-purpose flour
3/4 cup whole spelt (or whole wheat pastry) flour
3/4 teaspoon salt
12 tablespoons (6 ounces/ 1 1/2 sticks) cold, unsalted butter, sliced 1/4″ thick and chilled
3 tablespoons buttermilk
Cherry-Apricot Filling:
1 3/4 pounds ripe but firm apricots, pitted and quartered (about 5 cups)
1 1/4 pounds sweet cherries, stemmed and pitted (about 3 cups)
zest of 1/2 a lemon
2 tablespoons lemon juice
3/4 cup plus 2 tablespoons sugar
1/4 cup plus 2 tablespoons instant tapioca
1/4 teaspoon salt
For Finishing:
1 tablespoon milk or cream
2 teaspoons coarse sugar
Make the crust:
Fill a 1 cup measure with ice cubes, and add cool water to cover. Set aside.
In a large bowl (or in the bowl of a stand mixer fitted with the paddle attachment) stir together the flours and salt. Scatter the butter slices over the flour and rub in with your fingertips (or the paddle, on low) until the mixture resembles sandy gravel with lots of almond-sized butter chunks. Stir together the buttermilk and 3 tablespoons of ice water. Drizzle this mixture over the flour mixture, 1 tablespoon at a time, tossing with a rubber spatula (or mixing on low), until the dough just holds together when you give it a squeeze and no dry, floury bits remain. Add more ice water by the teaspoon directly to the dry bits if needed.
You can call it here, or you can do either or both of the steps below for extra flake:
Option 1 –fraisage:
Dump the dough out onto a counter, divide it roughly into 6 portions, andfraisageby dragging a portion of dough across the counter using the heel of your hand. (See the photo here.) Scrape up the dough (a metal bench scraper works well here), gently press it into a ball and flatten into a disc. Slip it into a plastic bag, and chill for at least 30 minutes.
Option 2 – roll, fold, roll:
On a lightly floured surface, roll the chilled dough out into a rough square that is about 1/4″ thick. Fold it in thirds like you're folding a letter, then roll up from a skinny end into a loose spiral. Gently press to flatten it slightly, and chill for 30 minutes to 1 hour.
While the dough chills, pit the cherries and quarter the apricots.
Remove the dough from the fridge, unwrap, and place on a lightly floured surface. Roll out the dough into a 16-17″ circle, dusting the dough lightly with flour as needed, rotating and flipping it to prevent it from sticking. (If you've folded the dough, it will want to roll into a rectangle, so make sure that the narrowest parts measure 16-17″ across.) Ease the dough into a 9″ (glass) pie plate, fit it into the corners, and trim it to a 3″ overhang. Place the plate on a rimmed baking sheet, lined with parchment for easy clean-up, and chill while you prepare the fruit.
Make the fruit filling:
In a large bowl, combine the apricots, cherries, lemon zest and juice. In a medium bowl, stir together the sugar, tapioca and salt. Gently fold the sugar mixture into the fruit, tossing to coat, and let sit for 10-20 minutes to begin to release the fruit's juices and dissolve the sugar.
Pour the fruit and its juices into the chilled crust, and pack it down gently but firmly; it should sit just above the sides of the pan. Fold the overhang over the top of the fruit, as if folding a galette; make the pleats as small or as large as you like.Brush the top of the dough with the cream and sprinkle with the coarse sugar. Freeze the pie for 20 minutes, while you position a rack in the bottom third of the oven and preheat to 450ºF.
Place the pie, still on its parchmented sheet pan, in the oven and bake for 15 minutes. Reduce the temperature to 350º and continue baking until the fruit is bubbling furiously and has overflowed the crust a bit, 60-70 more minutes. Let the pie cool completely, at least 2-4 hours, or up to overnight. The pie is best shortly after being cooled, but will keep at room temperature for a day or two, and longer in the fridge, though bring slices to warm room-temperature for the most pleasant experience.