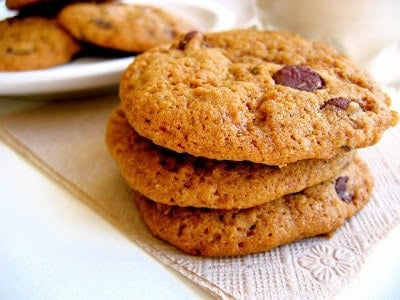 After making almond milk, I can't bear to throw away the pulp that's left over when all of the love has been squeezed out. I've been drying the pulp in a low oven, and whizzing the clumps out of it in a coffee grinder. The result is a rather bland but probably quite healthy powder consisting mostly of the fiber from the almonds. It's taken a bit of experimenting to bake with as it as it doesn't absorb liquid the way 'normal' flours do.
So three unsuccessful recipe trials (one cakey 'blondie', one 'carrot puddingcake' and one cakier but unpalatably chewy carrot cake) later, I finally managed to bake some tasty cookies. I swapped a rather small amount of flour for a larger amount of almond flour and increased the amount of egg to make up for the lack of sticky glutens in the almond flour. I also used unrefined sugar in place of the white and brown, and even shamefully used grain-sweetened chocolate chips from Sunspire, which I really don't love the taste of, but wanted the bragging rights to say that the cookies contained no refined sugar. I also used whole spelt flour, making these cookies wheat-free as well.

This recipe is adapted from my favorite chocolate chip cookie recipe from Cook's Illustrated. I love it not only for being the best chocolate chip cookie recipe in existence, but also because the dough takes about 30 seconds to mix up. The butter gets melted, and the dough stirred by hand; no waiting impatiently for the butter to soften, or dragging out the mixer to cream the dickens out of it. My mixer lives on top of the fridge, and I am lazy enough to resist hoisting it down unless it is really, really necessary.
If you give the almond milk a go, save the precious pulp and try baking these cookies. Of course, nothing washes down warm, gooey cookies quite like a cold glass of vanilla-maple almond milk…
All things almond milk:
Banana-Berry Almond Milk Smoothie
Vanilla-Maple Almond Milk
(Raw, Vegan!) Chocolate Pudding
Almond Pulp Chocolate Chip Cookies
Makes 1 1/2 dozen 2″ cookies
6 tablespoons unsalted butter, melted and cooled
3/4 cup (4 ounces) unrefined sugar (or use brown sugar)
1 egg
1 teaspoon vanilla extract
3/4 cup whole spelt (or wheat) flour
1/3 cup almond flour (left over from making almond milk, dried in the oven and ground)
1/4 teaspoon salt
1/4 teaspoon baking soda
3/4 cup chocolate chips
Position racks in the upper and lower thirds of the oven and preheat to 325º. Line 2 cookie sheets with parchment paper.
In a medium bowl, whisk together the flours, salt and baking soda. In a large bowl, whisk together the butter, sugar, egg and vanilla to combine. Gently stir the wets into the dries until almost combined, then fold in the chips to combine.
Scoop the cookies into 1″ balls (I use the purple-handled ice cream scoop) and space 2″ apart on the lined cookie sheets. Bake for about 12 minutes, rotating once, until puffed all over and just set around the edges. Let cool, then use a thin metal spatula to remove from the sheet.
These stay moist for several days after baking, stored in an airtight container.