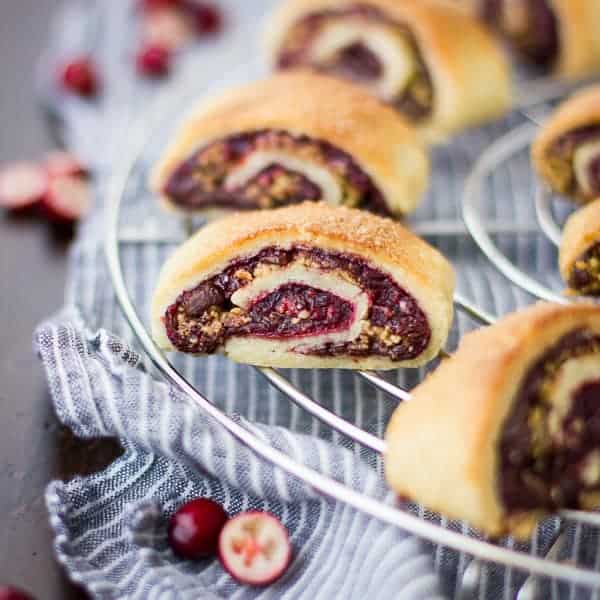 Critics have accused Thanksgivukkah, the once-in-a-lifetime convergence of Chanukah and Thanksgiving, of trivializing both holidays. The next collision of the two holidays won't occur for another 80,000 years, and many companies are cashing in on the coincidence.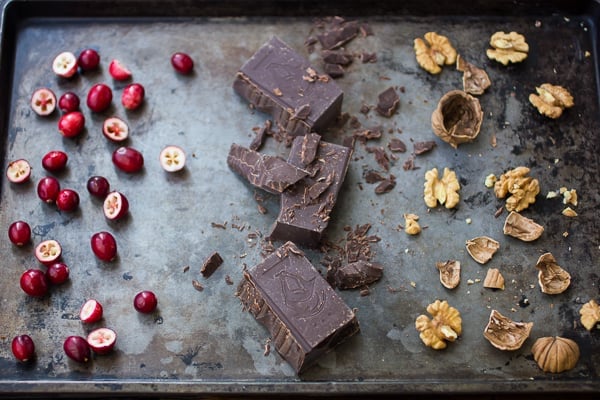 But when a family member suggested having a Thanksgivukkah feast this year, my main concern was for my poor brother, who somehow gets stuck making both the Thanksgiving turkey and the Chanukah latkes. I worried that he might implode into a pile of turkey-and-potato pancakes (which actually sound kinda good…).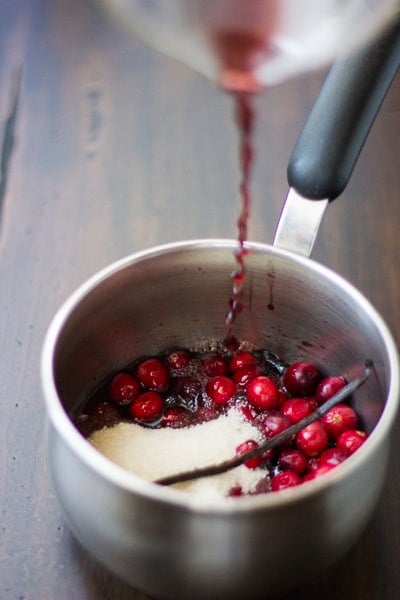 My other concern was that between the prayers, Menurky lighting, and the pre-feast giving-thanks rituals, it would be about 80,000 years before we would get to actually tuck into the pumpkin kugel or sweet potato tsimmes (which also sound kinda good).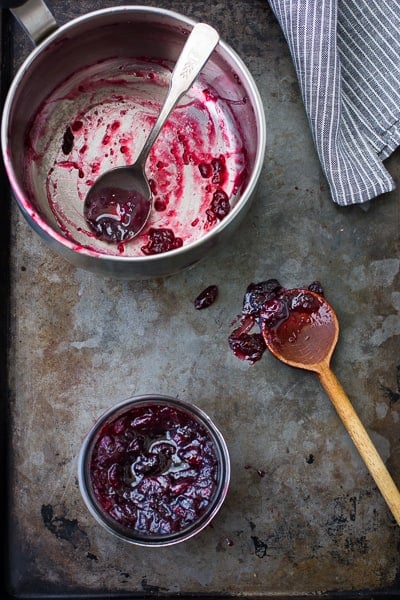 My brother, who is hosting the dinner, wisely declined all Thanksgivukkah festivities (except for lighting the Menurky given to him by my mother). And while I'm not sad to have to forgo caraway-crusted pumpkin pie this year, I decided to bake up some cranberry rugelach. Because while I hope to still be baking when I'm 80,031-years-old, I thought I'd better seize the opportunity while I could.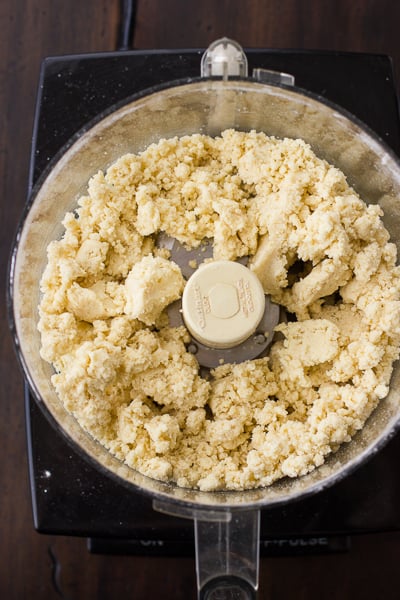 I've been on a low-gluten kick lately, and was curious as to whether my gluten-free pie dough recipe could become rugelach dough simply by trading the ice water for cream cheese.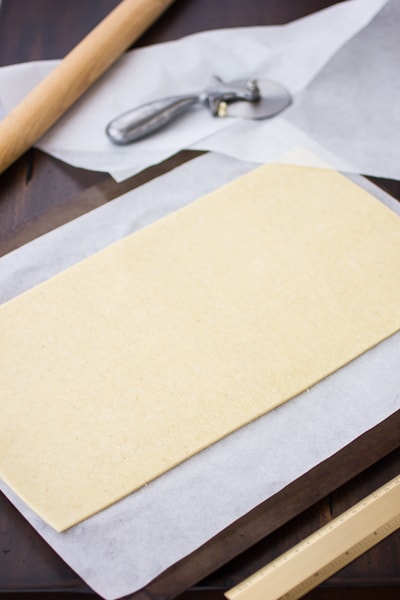 I filled the dough with a cranberry jam flavored with port and vanilla bean. The jam is also delicious on its own, spread on biscuits or toast slathered with almond butter. (Though I'm not sure it would go with Manischewitz-brined turkey.)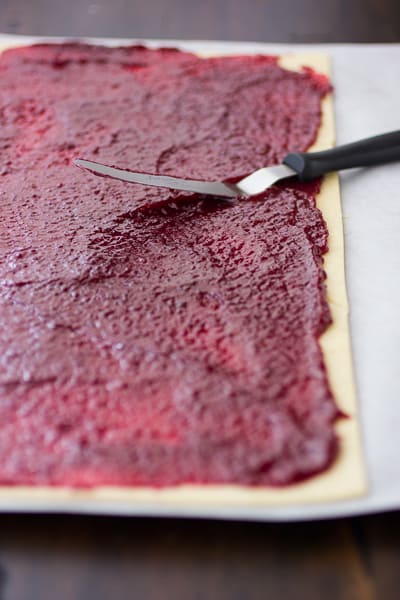 I topped that with chopped bittersweet chocolate and finely ground walnuts.
Since this dough is more delicate than wheat-based dough when it's uncooked, I opted for the "roulade" style of rugelach, in which the dough is rolled up as though making cinnamon buns. Using parchment paper to roll out (and then, roll up) the dough makes this a snap.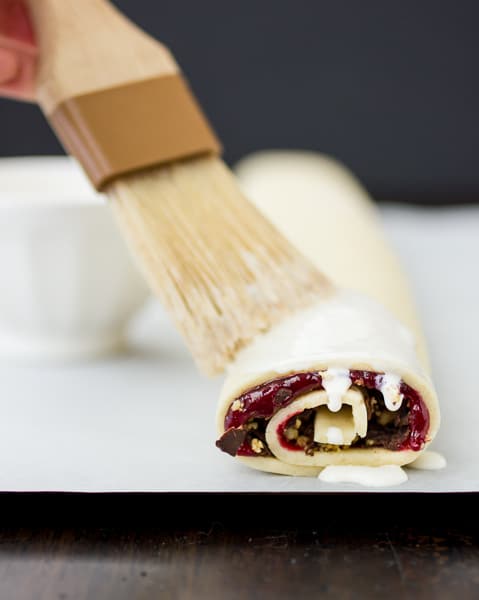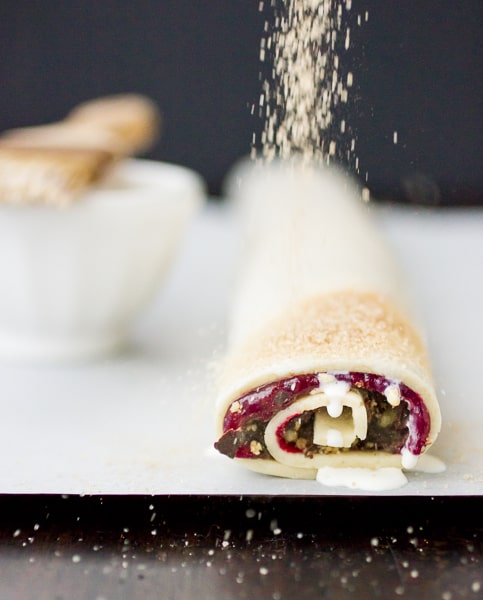 Unlike wheat-based doughs of this ilk, which must be chilled to keep the butter cold and relax their glutens, this dough prefers to hang out at cool room temperature prior to being rolled, which keeps it pliant. Glutens, of course, are a non-issue here, since the dough is comprised of sweet rice, oat, and millet flours with cornstarch and xanthan gum to help it stick together. I do, however, freeze the pre-baked rugelach log (from here on out known as a "rugeh-log") in order to make the rugelach easier to slice. Freezing also helps them hold their shape as they bake, though it didn't stop a couple of mine from flopping over in the oven. (Don't worry, I disposed of the evidence immediately. In my mouth. Shhh.)
Lots of sweet-tart cranberry makes these taste like a cross between a cookie, a pastry, and a pie. The port and vanilla give the jam a cherry/raspberry vibe, and it blends just as seamlessly with the chocolate and nuts. The tender dough carries the slightly salty tang of cream cheese, which is part of what makes these so addictive. The pastry is less flaky than the wheaty rugelach I've made in the past, but its melt-in-your-mouth texture is such that you would never be able to differentiate it from a wheat-based dough.
A warm-from-the-oven rugelach, oozing with melted chocolate and gooey jam, is positively transcendent. The crisp shell of pastry gives way to sweet-tart filling, with bitter notes in the cranberries and chocolate tempering the richness of the nuts and dough. They remain just as addictive when cool, serving as the ideal not-too-sweet accompaniment to a cup of morning tea or a postprandial glass of red wine (or the rest of that port).
These puppies will keep well for at least several days. Although, if you're like us, you'll be hard pressed to stop your hand from wandering into the cookie jar any time you go near the kitchen, which may become a disturbingly frequent occurrence.
And if you're like me, you'll have a hard time not saying, with a put-on East Coast accent to everyone you see, Have a rugelach, bubbeleh!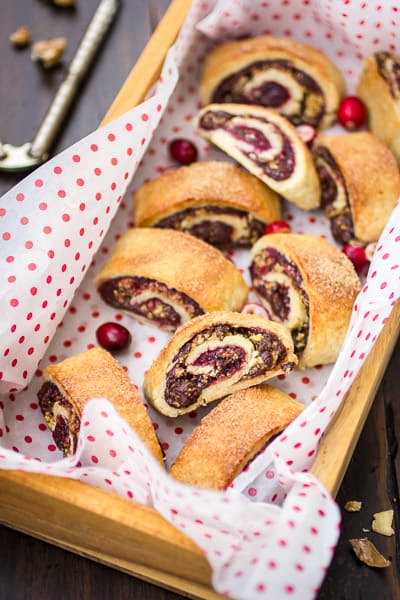 If you want to get your Thanksgivukkah on, try this Pumpkin Challah or these Pumpkin Challah Cinnamon Buns, which I concocted years ago, before Thanksgivukkah was even a twinkle in Stephen Colbert's eye.
Mazel Tov.
Thanksgiv/ukkah:
Chocolate Pistachio Rugelach
Gluten-Free Apple Quince Tart
Kinda Raw Marbled Pumpkin Tart
One year ago:
Gluten-Free Rugelach with Cranberry Port Jam, Chocolate, and Walnuts
This recipe makes a relatively small number of rugelach, so feel free to double or triple it if feeding ravenous guests or giving them away as gifts. Do yourself a favor and be sure to chop the chocolate and nuts for the filling super-fine; big chunks will make the rugelach difficult to slice. I used a not-ultra-sweet Zinfandel port from Sobon Vineyards in the jam; if your port is very sweet, you may want to take the sugar down a bit. Ditto if you're using chocolate with a lower cacao mass than 70% (or one that doesn't specify).
Sweet rice flour (such as Mochiko) has a stickier texture than regular rice flour that makes it ideal for gluten-free baking. If you or your guests are super sensitive to gluten, be sure to seek out certified gluten-free flours. If gluten isn't an issue for you, use half of this wheat-based rugelach dough in place of the dough here.
All ounce measurements are by weight.
Makes 12-15 rugelach, each about 3 bites
Cranberry Port Jam:
1 1/4 cups (4 ounces / 115 grams) fresh (or frozen) cranberries
1/2 cup (4 ounces / 115 grams) sugar
1/2 vanilla bean, split lengthwise and scraped
1/3 cup (90 ml) ruby port
Cream Cheese Dough:
1/2 cup (2.75 ounces / 75 grams) sweet white rice flour
1/4 cup (1 ounce / 30 grams) millet flour
1/4 cup (1 ounce / 30 grams) gluten-free oat flour
1/4 cup (1.25 ounces / 35 grams) cornstarch
2 tablespoons (.75 ounces / 25 grams) sugar
1/2 teaspoon xanthan gum
1/4 teaspoon salt
6 tablespoons (3 ounces / 85 grams) cold, unsalted butter, in 1/2-inch (1 cm) chunks
8 tablespoons (4 ounces / 115 grams) cold cream cheese, in 1-inch (2.5 cm) chunks
Filling and topping:
2/3 cup (2 ounces / 55 grams) walnut halves, lightly toasted, and cooled
2/3 cup (3 ounces / 85 grams) finely chopped chocolate (70% cacao mass)
1 tablespoon sugar
1/4 teaspoon cinnamon
1 tablespoon heavy cream (or milk, or water)
Make the jam:
In a small, heavy-bottomed saucapan, combine the cranberries, sugar, vanilla pod and scrapings, and port. Bring to a boil over medium heat, then simmer over low heat until thick and chunky, 10-15 minutes, stirring frequently to prevent burning. Let the jam cool completely.
Meanwhile, make the dough:
In the bowl of a food processor, pulse together the rice, millet, and oat flours with the cornstarch, sugar, xanthan gum, and salt to combine. Scatter over the butter and cream cheese pieces, and process until the dough comes together in large clumps, 15-30 seconds.
Dump the dough onto a piece of parchment paper and gather it into a rough log. (No need to wash the bowl just yet.) Place another piece of parchment on top of the dough, and use a rolling pin to roll the dough into a long, skinny rectangle that measures 16 x 8 inches (40 x 20 cm) and is 1/8-inch thick (1/3 cm). With every few strokes of the pin, peel back the top piece of parchment, place it back on the dough, flip the dough and papers upside-down, peel back the new top piece of paper, place it back on the dough, and proceed. If the dough sticks to the paper, dust it lightly with millet flour. If your rectangle is more oval, you can trim the uneven ends, stick them onto the corners, and continue rolling in order to form an even rectangle.
When the dough is rolled out, trim all the edges flat and straight. Reserve the dough at cool room temperature while you prepare the fillings. (The dough becomes brittle when chilled; but if it's warm in your kitchen and the dough becomes sticky or melty at any point, stick it in the fridge to cool it off a bit.)
Prepare the fillings:
Pulse the toasted and cooled walnuts in the food processor until finely chopped (but don't let them become nut butter). Dump the walnuts into a bowl and wipe out the food processor. Remove the vanilla pod from the cooled cranberry goop, and add the goop to the food processor. Puree smooth; you should have about 3/4 cup. In a tiny bowl, stir together the 1 tablespoon sugar and the cinnamon. Set aside.
Assemble the rugelach:
Slide the rolled-out dough, still on its parchment, onto a rimless cookie sheet for easy maneuvering. Thinly spread the cranberry jam over the dough leaving a 1/2-inch (1.25 cm) border on both long sides (a small, offset spatula works well for this). Sprinkle the chocolate evenly over the jam, and sprinkle the ground walnuts over the chocolate. Use your palms to pat everything down; the nuts and chocolate will adhere to the jam, making the rugelach easier to roll.
Lift up a long edge of parchment and use it to begin to rolling up the rugelach as tightly as possible. It's ok if the dough cracks a little; it will sort itself out as it bakes. When the rugelach log is rolled (which I now dub the "rugeh-log"), leave it seam-side down. Cover it with parchment and give it a gentle squeeze, as though you were rolling sushi. Transfer the rugeh-log, still on its pan, to the freezer and leave there until firm, at least 30 minutes. (At this point, you could wrap and freeze the log until ready to bake.)
Bake the rugelach:
Position a rack in the upper third of the oven and preheat to 375ºF (190ºC). Line a baking sheet with parchment paper.
Remove the frozen rugeh-log, unwrap, and place it on a cutting board. Brush it all over with the heavy cream, and sprinkle with the cinnamon sugar. Slice the rugelach into scant 1-inch thick pieces (2 cm). Too thin, and the rugelach will flop over as they bake, so use a ruler to be safe. Place the rugelach seam-side down on the lined baking sheet and bake until golden on top and cooked through, 25-30 minutes. Immediately use a spatula to remove the rugelach from the baking sheet and onto a cooling rack. Let cool at least 10 minutes.
Store the rugelach airtight at room temperature. They should keep for up to a week.