It's been years since I braved the gluten-free chocolate chip cookie. My only excuse (aside from not actually being gluten-intolerant) is that my first try was such a spectacular failure.
A senior at UC Santa Cruz, I decided to follow the lead of my crunchy housemates who read astrological charts, experienced past lives, and eschewed wheat in all its forms. I mixed up a batch of cookies, substituting brown rice flour for the wheat flour one for one. The cookies spread nicely, and when they had cooled, I scooped them off the cookie sheet with a spatula and set them in a tupperware to bring to a party. They looked like normal cookies.
At the party, the hostess's face lit up when she saw them, and she immediately reached down to pick one up. But the cookies were like a hologram: seemingly 3-dimensional, but eluding every attempted grasp. They crumbled at the slightest touch, slipping though our fingertips as we persisted, until all that remained were crumbs. (Which we still ate, natch.)
I now know to add something sticky, like xanthan gum, to crumbly rice flour, and that sweet rice flour is naturally stickier and smoother than the regular stuff. But despite such successes as gluten-freeblondies,brownies, and über-chocolate cookies over the years, all of which get help sticking together from melted chocolate, coconut, or plenty of egg,I still put off tackling the gluten-free chocolate chip cookie.
Alice Medrich gave me renewed hope in her latest cookie book Chewy, Gooey, Crispy, Crunchy, Melt-in-Your-Mouth Cookies, which contains plenty of gluten-free recipes. Her gluten-free chocolate chip cookies call for brown rice flour, oat flour, and xanthan gum in addition to the usual suspects. Since I only had sweet white rice flour on hand, I mixed up a batch with a few substitutions. These were good, but they didn't spread as much as I would have liked, and the texture was a bit sandier than I was hoping for (probably because I failed to agitate the dough long enough to activate the xanthan gum). They wanted more depth of flavor and more chocolate. I used walnuts, but their bitter flavor exaggerated the bitterness in the flours and wasn't a happy pairing with the bittersweet chocolate.
But I loved the basis of the recipe, and especially loved that the butter gets melted and stirred with the other ingredients, rather than spending an hour softening and then getting whipped in my heavy kitchen aid that lives on top of the fridge and is a pain to drag down. Alice claims that stirring the dough vigorously for 30 seconds activates the stickiness of the xanthan gum, making for chewier cookies, which is brilliant. Finally, she lets the dough sit for at least an hour post-mixing, which allows the starches to absorb more moisture, smoothing the rough edges of the rice flour. This leads to thicker, chewier cookies.
So as I melted the butter for trial 2, I thought, "Why NOT brown the butter?" I wanted more depth of flavor, and butter caramelized with vanilla bean is nothing if not flavorful. I also used super-molasses-y organic dark brown sugar, and increased the chocolate, hand-chopped Scharffen Berger bittersweet, by 50%. I used sweet, toasted pecans in place of the walnuts. As for the texture, I decreased the flours a bit to allow for more spreading, and I swapped in some tapioca flour, hoping it would make the cookies chewier. Finally, I added a few flakes of Malden salt to the top of each cookie prior to baking.
I couldn't have asked for more in a cookie. They melt into rippled puddles in the heat of the oven. Each bite is redolent with the flavor of salted butterscotch dough encasing deep, dark chocolate chunks. The occasional nip of flakey salt is addicting. When properly baked, the texture is indistinguishable from a wheaty chocolate chip cookie. Fresh from the oven, the cookies are crisp outside, soft and gooey inside, with big pockets of melting dark chocolate and toothsome nuts. But I find that they actually improve on the second day.The butterscotch flavor of the cookie blossoms, and the cooled chocolate tastes softer and less sharp, blending more readily with the vanilla, nuts and toasty butter. I've made four batches this past month; I want to share them with everyone.
To put these cookies to the test, I mixed up a batch of my heretofore favorite chocolate chip cookies: the Thick and Chewy ones from Baking Illustrated. (Actually, I made 5 batches for a bakesale at my dance collective's annual charity showcase.) I was happy to find that my gluten-free cookies had double the flavor, and the texture was on par. No one will ever guess that these are gluten-free.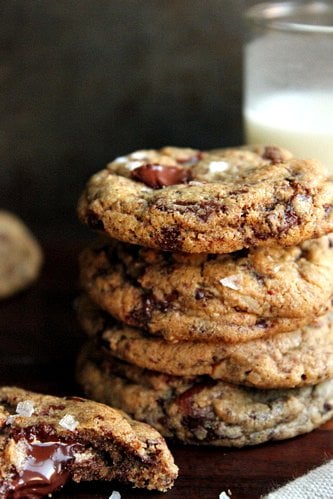 Cookies are at once one of the simplest treats to bake and one of the most sensitive. Here are a few tips to ensure cookie nirvana:
Ingredients for success: Flavorful cookies start with flavorful ingredients, so be sure your flours, butter, sugar, eggs and chocolate have been purchased within the past month or so, and have been properly stored. European-style butter (such as Strauss or Plugra) has a higher fat content and is better for browning. Brown sugar should be soft and full of molasses (I love Wholesome Sweeteners brand). Choose the organic, more flavorful and less processed turbinado sugar over the pure white stuff.
Chocolate deserves its own section; after all, there is nearly half a pound of the stuff in this recipe. Buy a couple bars of the good stuff and chop it by hand; the dust that flakes off is important to the texture of the cookies, and the uneven chunks look pretty, too. Since cookie dough needs to be sweet to stay moist and chewy, I like to pair it with a bittersweet chocolate with around 70% cacao mass. I usually use Sharffen Berger or Guittard as they are tasty, fairly inexpensive, and local brands, and I've recently discovered Theo Chocolate, which is made from bean to bar in Seattle, Washington. In addition to tasting as good as esteemed conventional brands, Theo chocolate comes from organic and fairly traded cacao. Theo partners with charities such as the Jane Goodall Institute and World Bicycle Relief. I gave these cookies a go with Theo'sRich 70% dark chocolate and am enamored of the chocolate's smooth flavor and coffee notes. That being said, use any chocolate that you like the flavor of.
Measure for measure:Accurate measuring is crucial for cookies, where too much flour will lead to thick, dry cookies, and not enough will lead to thin, greasy ones. For best results, weigh your ingredients with a food scale. Lacking a scale, stick to the flours listed here, as rice flour weighs substantially more than oat flour, and both weigh in differently than wheat flour. Use the dip and sweep method for flours: fluff up your flour, dip in your dry measuring cup, and use a flat butter knife or your finger to sweep away the excess so that the flour is level with the cup. For brown sugar, pack it well into the cup; it should mostly hold the shape of the cup when turned out into the mixing bowl.
Temperature: If your oven is too cold, your cookies will spread too thin, and will overbake in the centers before the edges show signs of doneness. Too hot, and the cookies' outsides will firm up before they have a chance to spread; the outside will be overdone before the innards get a chance to cook. Since most ovens don't run true to temperature (mine runs 50º cold, for instance) spend the 5 or 10 bucks on an oven thermometer. Your cookies are worth it.
Timing is everything: An extra minute in the oven can mean the difference between soft and hard cookies. Set the timer, and know the signs. Pull the cookies when they look underbaked. The edges should be just starting to color, while the tops should be puffed and soft, collapsing when you touch them gently with a fingertip. Use rimless cookie sheets and parchment paper so you can effortlessly whisk all the cookies off the sheet and onto a cooling rack to stop the cooking. The cookies' residual heat will bake them fully. Much of the softness of hot cookies comes from the melted butter and chocolate, both of which become solid at room temperature. The properly baked cookie will stay soft in the center when cooled.
Hopefully you won't wait as long as I did to brave these cookies. If you give them a try, please let us know what you think in the comments section below. Happy baking!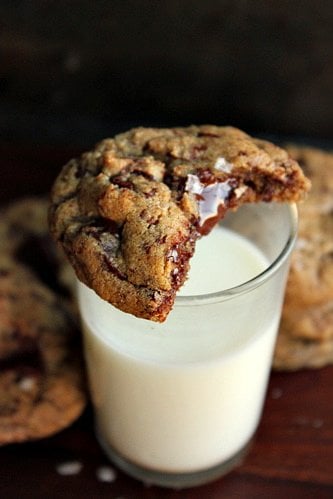 C is for Cookie:
Gluten-Free Über Chocolate Cookies
Gluten-Free Chocolate Rum Coconut Blondies
Flourless Chocolate Peanut Butter Cookies (gluten- and grain-free)
Buckwheat Chocolate Chip Cookies
One year ago:
Two years ago:
Three years ago:
Soft and Chewy Gluten-Free Chocolate Chip Cookies with Brown Butter and Flaky Salt
Adapted loosely from Alice Medrich's Chewy, Gooey, Crispy, Crunchy, Melt-in-Your-Mouth Cookies
As I mention above, don't overbake these! The cookies should seem underbaked when you pull them from the oven, but will continue cooking from residual heat. Even a minute can make a difference, so set a timer, and watch these like a hawk.
Vanilla bean brown butter adds incredible depth of flavor, but if you lack vanilla bean, add 1/2 teaspoon vanilla extract along with the egg. For the chocolate, I like Scharffen Berger's Bittersweet or Theo's Rich; both have a 70% cacao mass. Valrhona and Guittard are also excellent choices. For best results, chop up a bar of chocolate into pieces the size of a hazelnut; smaller shards will flake off, and the cookies will have a mix of different sized pieces throughout, which is nice, and the chocolate dust improves the texture of the dough and helps the cookies spread. Sweet rice flour, such as Mochiko brand, is stickier and more finely ground than other rice flours, and is important to the texture of these cookies. Look for it in the gluten-free baking section in well-stocked grocers, or order ithere. If you're extremely sensitive to gluten, be sure to purchase certified gluten-free oat flour.
This makes a relatively small batch of cookies, as far as batches of cookies go, so feel free to double it. The dough keeps beautifully in ready-to-bake balls in an airtight container in the fridge, or longer in the freezer. Let the (defrosted) dough balls soften at room temperature while you preheat the oven.
All ounce measurements here are by weight.
Makes fifteen to twenty 2 1/2 – 3″ cookies
4 ounces (1 stick, 8 tablespoons) unsalted butter
1/2 vanilla bean, split lengthwise and scraped
1/2 cup (3 1/2 ounces) packed organic dark brown sugar
1/4 cup (2 ounces) organic granulated sugar
1 large egg (2 ounces by weight out of shell)
1/2 cup (2 3/4 ounces) sweet white rice flour
1/2 cup (2 ounces) oat flour
2 tablespoons (1/2 ounce) tapioca flour
1/4 teaspoon baking soda
1/4 teaspoon fine sea salt
1/4 teaspoon xanthan gum
7 ounces bittersweet chocolate, chopped (1 1/2 cups)
1/2 cup (2 ounces) toasted pecans, cooled completely and coarsely chopped
flaky salt such as Maldon for the top
Make the dough:
Brown the butter: Melt the butter and vanilla bean and scrapings together in a small, heavy-bottomed saucepan over medium heat. Continue to cook, swirling occasionally, until the butter turns golden and smells absolutely amazing, 5-10 minutes. There should be brown bits (not black) on the bottom of the pan. When the butter starts to foam up, watch it very closely.
Place the sugars in a large bowl and when the butter has browned, scrape it and the browned bottom bits into the sugar immediately to stop the cooking. Let cool, stirring occasionally, for 10 minutes.
Meanwhile, sift together the flours, baking soda, salt and xanthan gum (I like to sift as oat flour tends to be clumpy). Set aside.
Whisk the egg into the sugar mixture until well-combined and emulsified. Use a sturdy wooden spoon to stir the flour mixture into the sugar mixture, stir until well combined, then continue to stir vigorously for 45 seconds; the mixture will firm up slightly. (Doing this activates the sticky power of the xanthan gum and leads to chewy cookies.) Stir in the nuts and chocolate until evenly distributed.
Cover the dough and let it sit at room temperature for 1-2 hours (alternately, scoop the dough into individual balls and store in the fridge or freezer until ready to bake – the dough is harder to scoop when cold).
Bake the cookies:
Position racks in the upper and lower thirds of the oven and preheat to 375º. Line two rimless cookie sheets with parchment paper.
Scoop the dough into 1 1/2″ diameter balls(about 3 tablespoons; a size 24 or 30 spring-loaded ice cream scoop works wonderfully) and place on the prepared cookie sheets, spaced 2-3 inches apart.Flick a few flecks of flaky salt over the top of each cookie.
Bake the cookies about 7-10 minutes, rotating back to front and top to bottom after 5 minutes. When the cookies are ready, they will seem underbaked. The edges should be just starting to color, and the tops should bepuffed all over with soft centers that collapse when gently touched with a fingertip. The centers will look wet under thin surface of dry, cracked-looking dough.
Remove the cookies from the oven and pull them, parchment and all, onto cooling racks. Let cool for at least 10 minutes before devouring. Or cool completely and store in an airtight container at room temperature. The cookies are best within 2 days of being baked.