A few kind souls have asked recently how I improved my food photography since my early days of blogging. I studied photography a bit in high school and college, but had never realized how much is involved in shooting food. It's surprisingly complicated! So, since there is no quick answer to that question, I wanted to share a handful of the resources, materials, and tools that I've found helpful over the past 5 years along with some fun (i.e. embarrassing) before and after shots.
A note about affiliate links in this post: some of these links will take you to Amazon where I may receive a small percentage of sales, at no extra cost to you. I actually prefer supporting local businesses, and buy all my photo equipment from Samy's in San Francisco. B&H is another excellent resource for photo equipment with prices competitive to Amazon (and a much nicer website with more trustworthy reviews from the pros).
1. A dSLR camera
One morning three years ago, I dropped my camera in breakfast. At the time, this seemed like a great tragedy, but it ended up being for the best. I'd been using an outdated point and shoot courtesy of Jay. The viewfinder was so small that shooting on anything but auto was impossible; I couldn't control anything. In an attempt to get the dramatic blur that I thought of as "professional-looking" I would get up as close as possible to the food. (I also didn't have any interesting props or backgrounds to merit pulling back from the shot – more on that later.)
OMG, what is that? Is it going to eat me?! Oh, it's bacon.
I didn't know about white balancing back then, so my photos often had a (then) undesirable blue cast that I wasn't able to adjust adequately. (Now I've learned to love and work with that cool light, and how to balance color more effectively when shooting RAW in Lightroom - more on all of that later.)
This blue-hued light drove me nuts. Warming it up in iPhoto just made it look off.
Choosing a camera was agonizing. I spent months buried in specs and reviews, asking every photographer I knew for advice. Finally my friend Pete Lee said, "I don't trust technology with my images. Get a dSLR." But which one? I eventually headed to a camera store and found it supremely helpful to be able to hold the various options. Canon's Rebel T2i, their second cheapest dSLR at the time, felt the most comfortable in my hands. It was small and easy to grip, and it didn't scare me the way the larger bodies did. I went for it. (The current model is the T5i.)
With this camera, I had more control over the images, and felt more comfortable pulling away from the shot to show more of the set-up. (Plus I began investing in some more interesting props: silver flatware, linens, and some small bowls – more on this later.)
2. Shooting in RAW format
Digital cameras can convert the information that their sensors capture into either RAW or JPEG format. JPEG files have the advantage of being smaller files (only by a factor of 2 or 3) but the way they slim down is by throwing away information. They also alter the images, giving them a boost in contrast and color, which can make everyday shots pop more from the get-go. The downside is that you lose some control over your image. If it's over- or under-exposed, or if it contains very dark shadows or bright highlights, the JPEG will throw away the information within the black or white areas. If you want to bring back that detail, you can't – it's gone for good.
Two-Persimmon Tea Cake and too-bright whites in 2010
A bright, RAW shot with detail brought back by decreasing the highlights in Lightroom, 2014
(and GF Grapefruit Custard Pie)
But the biggest difference that I noticed when shooting RAW was that my images looked softer and more natural, with even tones and fewer glaring highlights. They looked more like the professional photographs I was trying to emulate.
(That being said, one of the best photojournalists out there, Craig Lee of the Chronicle, shoots entirely in JPEG. He's a master of getting the image just right in the camera, even in difficult lighting situations. His latest book, San Francisco Chef's Table, overflows with these stunning images.)
3. Editing images in Lightroom
I had been using iPhoto for edits, and later Picasa. Both of these programs helped to brighten, sharpen, crop, and saturate images, but often left them looking fake.
A not-so-hot shot of a favorite pie: Maple Bourbon Pecan
At the suggestion of my photographer friend Stephen Texeira, I invested in Adobe's Lightroom, which was $120 well spent. Lightroom is downright magical. It's easy to learn (thanks to Julieanne Kost's great tutorials) and it can make images look amazing. Lightroom's basic edits, such as vibrance, clarity, and exposure, look more subtle and natural than those functions in iPhoto and Picasa. Additionally, Lightroom has a host of functions that iPhoto didn't (though it may now, I haven't used it in a couple of years).
With Lightroom, I can now:
-process RAW images
-balance color on two axes: yellow/blue, and green/pink
-make lens profile corrections (undoing distortion caused by lenses, such as making the center of the image look closer than the corners)
-vignette images (darken the corners to bring the focus to the center of the image)
-create radial and graduated filters (to adjust the lighting and other factors in specific areas or sides of the image)
-remove small splatters, spills, and specks with the spot removal function
-paint adjustments on specific areas with the adjustment brush (I will often brush over the main focal point of an image and increase the exposure, clarity, and sharpness to make that part pop.)
-adjust a particular color on the axes of tone, saturation, and luminance (such as bringing out the greens or making the yellows pop)
-get rid of grain and make images easier on the eye by using the luminance smoothing function
The list goes on and on. Long story short, I LOVE Lightroom. Here's an example of two images, before and after editing:
Un-edited RAW file: the image looks flat, dull, and the white balance is off, making the image look too warm and obscuring the greens in the shot
After editing in Lightroom: adjusted white balance, enhanced greens, added clarity, vibrance, and contrast, and painted over the two main objects with adjustment brush to increase clarity, exposure, and sharpness
4. Good lenses
I'd heard from photographers all over that it's a good lens that makes a good image, not the camera, but I never really knew what that meant. One day I headed to the camera store and tested out Canon's lowest-end macro, the 50mm f/2.5, which costs around $300. It was a little bit like driving a Lexus after owning an old Volvo 240. It was solid and serious, smooth to operate, and made my kit lens, the one that came with the camera, seem like a plastic toy in comparison.
This macro lens can get up close and personal, as close as 2 inches from the subject, and it opens up to a fairly wide 2.5 aperture, which allows for sharp images with softly blurred backgrounds. (The f-stop or aperture refers to how wide the "eye" of the lens can open up. Just to be confusing, a smaller number means a wider opening. The kit lens could only open to 5.0 when zoomed in, which is much smaller than the 2.5. For more on aperture, see #11.) It's a prime or fixed lens, which means it can't zoom in or out, rather you have to move the camera closer or further from the subject to change the frame. But this enables the lens parts, including the glass which effects the detail in the image, to be higher quality at a lower price point. (Zoom lenses of the same quality tend to be 3 or 4 times more expensive since they need more parts to allow them to move.)
This is one of the first images I shot with Canon's 50mm f/2.5 macro lens:
A year later, a photographer friend loaned me another lens, Canon's 50mm f/1.4, and it got me hooked. The lens made images look soft and dreamy, and the eye of the lens could open up really wide for extreme background blur. Here's one of the first images I shot with that lens:
This lens costs around $400. I had a bit of sticker shock at first, but quickly learned that you get what you pay for when it comes to lenses. The quality of glass is higher in pricier lenses. I won't pretend to understand the mechanics, but I can see a huge difference in the images I shoot with these lenses compared to the kit lens. The lenses also feel higher quality in one's hands and are a pleasure to work with.
This is now the lens that I use exclusively. I find it the easiest to manipulate, and I like the quality and detail that it captures. It's slightly less sharp than the macro, and I like the softness it lends to images. I'll use the macro if I need to get really close to a subject, but this doesn't happen that often anymore now that I'm pulling back from my set-up more.
Next on my list is a 28mm or 35mm which will pull away from the shot, getting more of the setup in the frame, and making top-down shots easier.
5. Books and tutorials on food photography
I've learned so much from these three books, and highly recommend them all:
Plate to Pixel by Helen DuJardin breaks down camera settings, lighting, and food styling in a simple and approachable way. Helene's photography is soft and natural, and she shows you how to take pictures in that style. I highly recommend this book as an accessible starting point for beginning or intermediate food photographers.
Food Photography: From Snapshots to Great Shots, by Nicole S. Young goes a bit more in depth into the technical aspects of food photography. Her style is different from Helene's, perhaps slightly more commercial, and I liked reading about some different techniques and explanations. This is a great second book for intermediate photographers.
Food Photography: Pro Secrets for Styling, Lighting, and Shooting by Lara Ferroni breaks down the basics. Additionally, she discusses the business of food photography including the different jobs of prop stylists, food stylists, photographers, and assistants. (I wish I had read this before taking a styling gig for a professional food photographer – I had no idea what I was supposed to be doing!) This is a great read for those interested in pursuing a carer in food photography.
And a great tutorial that helped me embrace that moody, blue light: Learning your Camera and How to Shoot Moody Images with Peter Georgakopoulos on Gourmand in the Kitchen
6. Getting Props (both literally and figuratively)
While praise is always encouraging, I'm (also!) always on the lookout for interesting kitchen props when I'm out and about. Friends and relatives have even been kind enough to lend me a thing or two when they notice me drooling over an old spoon or napkin. I'll even ask at cafes and restaurants if they'll sell me a glass or piece of silverware if it's one I particularly love. Yes, people think I'm crazy. And they're right.
My very favorite props that I own came from thrift stores, antique shops, and flea markets. These are genuinely old and somewhat one of a kind.
Black Sesame + Milk Chocolate Ice Cream, and some favorite flea market finds
I like having a variety of plates, bowls, glasses, flatware, and napkins in different shapes, sizes, and colors to play with, and occasionally I'll buy something especially for a certain shot, like this bowl and plate splurge from Heath Ceramics for this ice cream shoot.
Other great resources for props are:
Crate and Barrel
Anthropologie
Etsy (especially handmade pottery, wooden bowls, cake stands, serving boards, and vintage items)
Here's a great post on finding food photography props by Naomi Robinson on Gourmande in the Kitchen.
7. Background check
Over the years, I've collected several different backgrounds to shoot on. They range in color and material, and I can choose which one I want to use depending on the mood, light, and color scheme I'm going for.
I found this nasty old pan in the back of the cupboard. Neither Jay nor I know where it came from, but it's my absolute favorite surface to shoot on. I like the texture it adds, and the cool, charcoal tone that can offset warm-hued foods and make them stand out. A friend once told me they thought it was some sort of exotic marble. Awesome!
I found this little coffee table at Pottery Barn, which I shot on for a while. I like the dark, distressed wood, but it's fairly small and I can't always get the angles I want.
Ah well, at least it makes someone happy.
I found this tutorial from Whipperberry on how to mimic a slate background by simply rubbing black foam board with chalk.
Faux slate background made with chalk and black foam board
One day, Jay took me out to the woodpile at his parent's house. This may sound like the intro to a creepy, old-time murder ballad, but instead he uncovered some old wood boards from their house renovation. The wood was naturally weathered and stained. With the help of his mom's partner (Latvian waffle master Gunars), we screwed together some slatting to mimic table tops, each one about 3 by 4 feet. One we left bare:
Another I stained dark walnut, rubbed the edges with vaseline, painted over it in antique white satin furniture paint, then sanded off the vaselined bits to reveal dark wood underneath:
The third was the most fun. Inspired by this tutorial on how to make wood look old, and this one on how to make a faux vintage bread board, we torched the whole thing with a blowtorch, then used a rotating steel brush affixed to an electric drill to sand away the burnt bits and reveal the grain of the wood. We took a hammer to the wood to dent it in places, then I rubbed the whole thing with butcher block oil to seal it.
I also have one more background that doubles as a light diffuser:
8. White semi-sheer curtains
When I first started photographing food, I thought it would look best with lots of light, which meant direct light coming through the window.
Mmm, tasty!
I quickly learned that this was not the case; food shot in direct light generally looks harsh, greasy, and flat (unless you are a pro going for an edgy look and know how to make it work). I switched to shooting in the indirect light also coming through my bare windows, which had a softer look. But I still had some harsh shadows and highlights:
Our ugly aluminum-cased windows had plastic mini blinds from the '80's, which did nothing to help with the light situation (in fact, they barely even went up and down anymore). When we finally invested in some white, linen curtains (from The Company Store), I finally started getting light that I was happy with. The curtains soften the light even further. Since I have a bay window, I get a lot of control over the light that comes through. I can part the curtains on the side or to the back of the set-up if I want stronger light, or pull them all the way closed for a very diffused look. They make a nice background when I want a shot back-lit. Plus, they look nice, and hide the ugly windows. An
all around win. Just say no to ugly '80's blinds.
The lesson I learned is that food tends to look best, counter-intuitively, in fairly low light. This soft light can wrap around a subject, encasing it in a warm glow, evening out the lights and darks to make the image easy on the eye, enhancing the detail in the food so you can see what's going on. Low light means that it's harder to get sharp shots, but using a tripod solves this problem (more on this later). That isn't to say that harder light can't make beautiful food photos, but it's always nice to be able to choose.
9. Playing with light
In addition to softening the light coming through the window, I like to try different directions. Most photos look best with side lighting, or light that comes from behind and to the side. Backlighting can catch the shine on liquids:
enhance texture:
and make drinks pop:
Sometimes I'll block the light coming through the window if I want deeper shadows for more moody shots: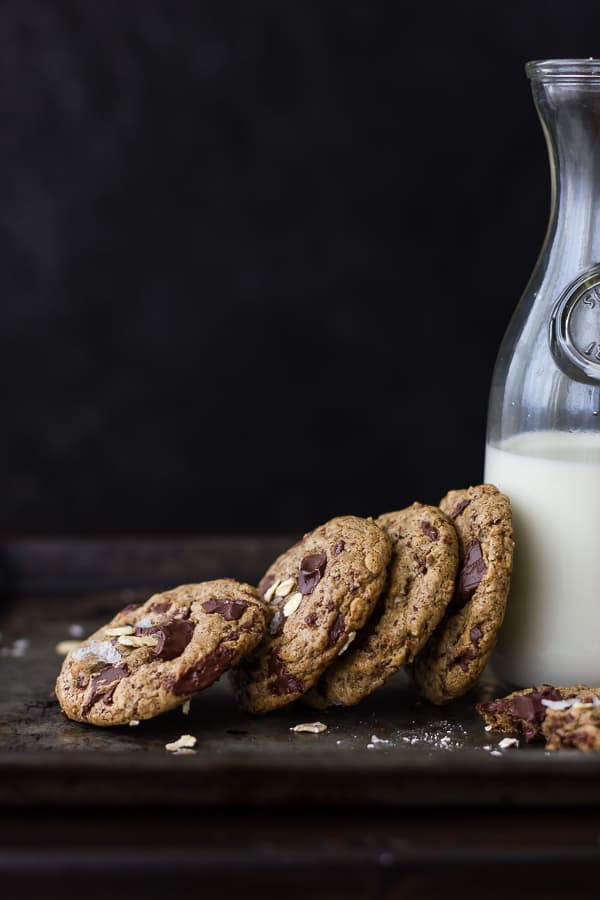 Since I have a bay window, I get multi-directional light by default. But occasionally I'll use a white board to the opposite side of the food to bounce some light back onto it if I want to eliminate heavy shadows. Occasionally, I'll use an actual bounce card to add a highlight to a specific part of the shot if the available light isn't picking up that particular detail.
Remember that blue light I used to hate? After reading the Peter Georgakopoulos tutorial I mentioned above, I've learned to love it. I use darker props and backgrounds, I under-expose the shots, and I leave the camera on automatic white balance which lets the hue stay cool.
Moody Blues and Greens
10. A tripod (and preferably, a good tripod)
I first got the cheapest, pan-head tripod I could find at my local photo store. I didn't know whether I would like shooting with one, so I figured I'd start with something low-end to test it out. And guess what? I LOVED using a tripod! First of all, my shots were tack-sharp. I hadn't realized how stressful it was to shoot free-hand; I would hold my breath and try not to move a muscle while I pressed the shutter release. Despite this, my shots were sometimes blurry. A tripod took away all of that stress.
Additionally, using a tripod got my camera up and out of the way of the messy food – I wasn't going to drop it in breakfast again. I could also set up a shot, then leave the camera to move things around in the frame, and return to the same frame again with ease.
Thanks to my trusty tripod, these Bergamot Truffles are sharp despite being shot in almost total darkness
Then my photographer friend Shelley loaned me a good tripod – Manfrotto legs with a grip-action ball head. These legs were so much sturdier and the head was easier to move around and get different angles. Then, thanks to Erin of Naturally Ella, I learned that Manfrotto makes some groovy legs with an articulating arm. This means that the top arm of the tripod folds down to a 90º angle making it easy to get top-down shots. My mind was blown. I needed to give Shelley's back to her, so I found those legs at my local Samy's. (They don't seem to be available online anymore, unfortunately.)
Another tripod bonus was being able to take action shots of my own hands using the 10 second auto-shoot option – no more holding the camera with one hand, or begging Jay to come take a picture of me.
Hand selfie and Bergamot Truffles
Which leads me to:
11. Accepting the Holy Trinity in my heart: Aperture, Shutter Speed, and ISO
When I first switched to a dSLR, I shot entirely in aperture priority mode, which means setting the aperture (how wide the "eye" of the lens opens up to let in light) and letting the camera figure out which ISO and shutter speeds to use to properly expose the image. At first, I kept it on the widest setting (1.4 or 2.5, depending which lens I was using), which gave me maximum background blur with just a sliver of the image in focus.
Ultra-wide f/1.4 aperture for maximum blur
After a while, though, I noticed that, while some shots looked nice this way, others just looked out of focus and difficult to view. Lately I've been scaling back my aperture to a smaller 3.5 for straight ahead shots and 5.0 for top-down shots, and am liking the versatility it gives me.
Sharper cookies with a smaller (f/3.5) aperture
Shooting in aperture priority helped me begin to understand how the other two settings, ISO and shutter speed, worked with aperture to expose the image properly.
Shutter speed refers to how long the eye of the camera stays open. I still don't understand the mechanics of ISO, but it too influences how much light enters the camera, and that I can explain. When I use a tripod with average light, I usually keep my ISO at a low 200, or 100 if the light is brighter than usual. This creates smooth images, though it means that the shutter speed has to compensate by staying open longer – not a problem with a still image and a tripod. If I shoot free-hand in low light, or if I want to freeze the action in an image, I'll bump up the ISO to a high 1600 so that the shutter speed can be faster and give a sharp image with frozen action. The high ISO creates a grainier image, but that's fixable in Lightroom using the luminance smoothing function.
A wide aperture, high ISO and fast shutter speed freeze the action
After shooting in aperture mode for a time, I eventually got annoyed when my camera would try to help me
out by adjusting the exposure. Now I shoot in full manual because I like being a control freak when it comes to my camera.
12. Time, practice, and a dedicated personal assistant
Two years ago, I found myself in dire need of leaving my pastry chef job. I was looking for another job, the most promising of which paid little more than minimum wage, was a 45 minute commute each way, and necessitated working every weekend for the forseeable future. And this was after having completed pastry school and worked in the industry for nearly a decade. That is the harsh reality of working in a kitchen in San Francisco. It was all rather depressing. Jay said, "Just take a few months off to focus on your blog and photography." What a nice guy, right? This afforded me more time for goofing off working really hard at my art. Instead of trying to squeeze in a shoot before or after work, I could plan my day around when I liked the light best in our apartment.
I take hundreds of shots of each finished dish that goes up on this site. I know the pros get this done much faster than I can, but it takes me that long to get something I'm happy with; or not, and I'll do a re-shoot. I've learned to leave a good 1-2 hours to shoot the final shots of a dish (yes, I'm really that slow).
Luckily, I have a very helpful personal assistant:
I'm sure I'll look back at these photos in a year or two and cringe, but I'm glad for everything I've learned so far and look forward to continuing the process. For now, all of my favorite images are gathered in my ever-evolving portfolio.
Now, if only I could figure out how to take good pictures on my iPhone...
Got any favorite tips, tricks, or resources for getting great food photos? I want to hear about it in the comments!
Check Out
Thanks for reading! For more Bojon Gourmet in your life, follow me on Facebook, Twitter, Bloglovin', Pinterest, or Instagram, or subscribe to receive posts via email.